Entrepreneurship is full of risks, mistakes, and learning. But with the internet at your fingertips, you can access some of the world's most reputable marketing, business, and entrepreneurship minds from the comfort of your own couch, making those mountain-sized challenges feel a little more surmountable. To help you start your online learning journey, we've gathered some of the best entrepreneurship courses online. 
Entrepreneurs will find a diverse set of courses in this list. Regardless of your budget, time constraints, location, experience, or education, this list will have multiple courses for every entrepreneur's needs. 
Click the links below to skip ahead.
16 Best online entrepreneurship courses
16 Best online entrepreneurship courses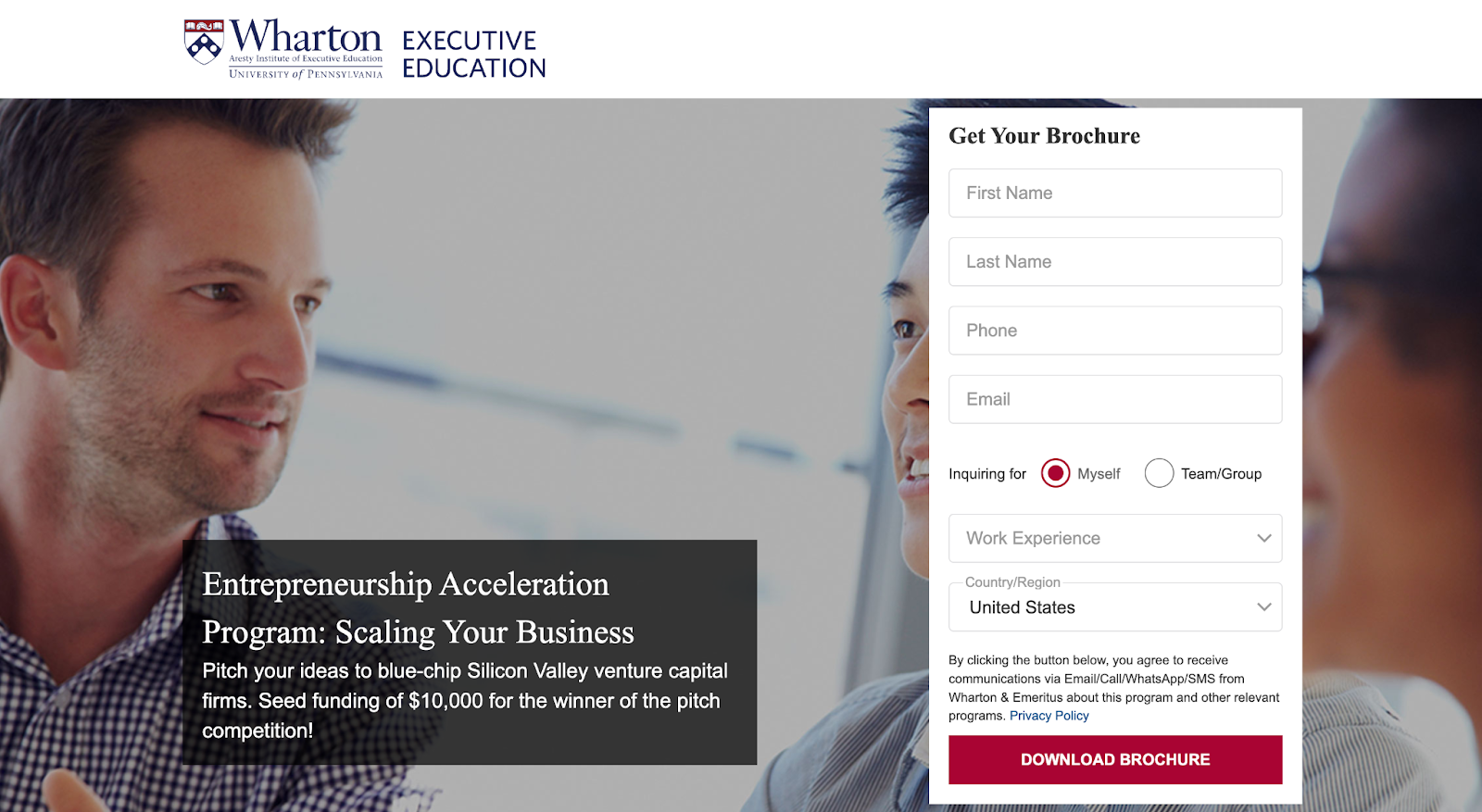 Course creator: University of Pennsylvania
Duration: 3 months, 3-4 hours per week
Price: $1,950
Description: This 11-module course features a mix of live and asynchronous video lessons, along with other engaging course material like quizzes and moderated discussions. In this world-renowned program, students will learn from real-world examples presented by faculty and special guests. You'll learn how to develop an idea, build a startup team, develop a business model, choose the proper funding for your startup, and more. 
In the course's final module, students will have the opportunity to pitch their venture to Wharton staff and worldwide VC firms for a chance to win seed funds of $10,000 and $5,000. After successfully completing the course, students will receive a digital certificate from Wharton School.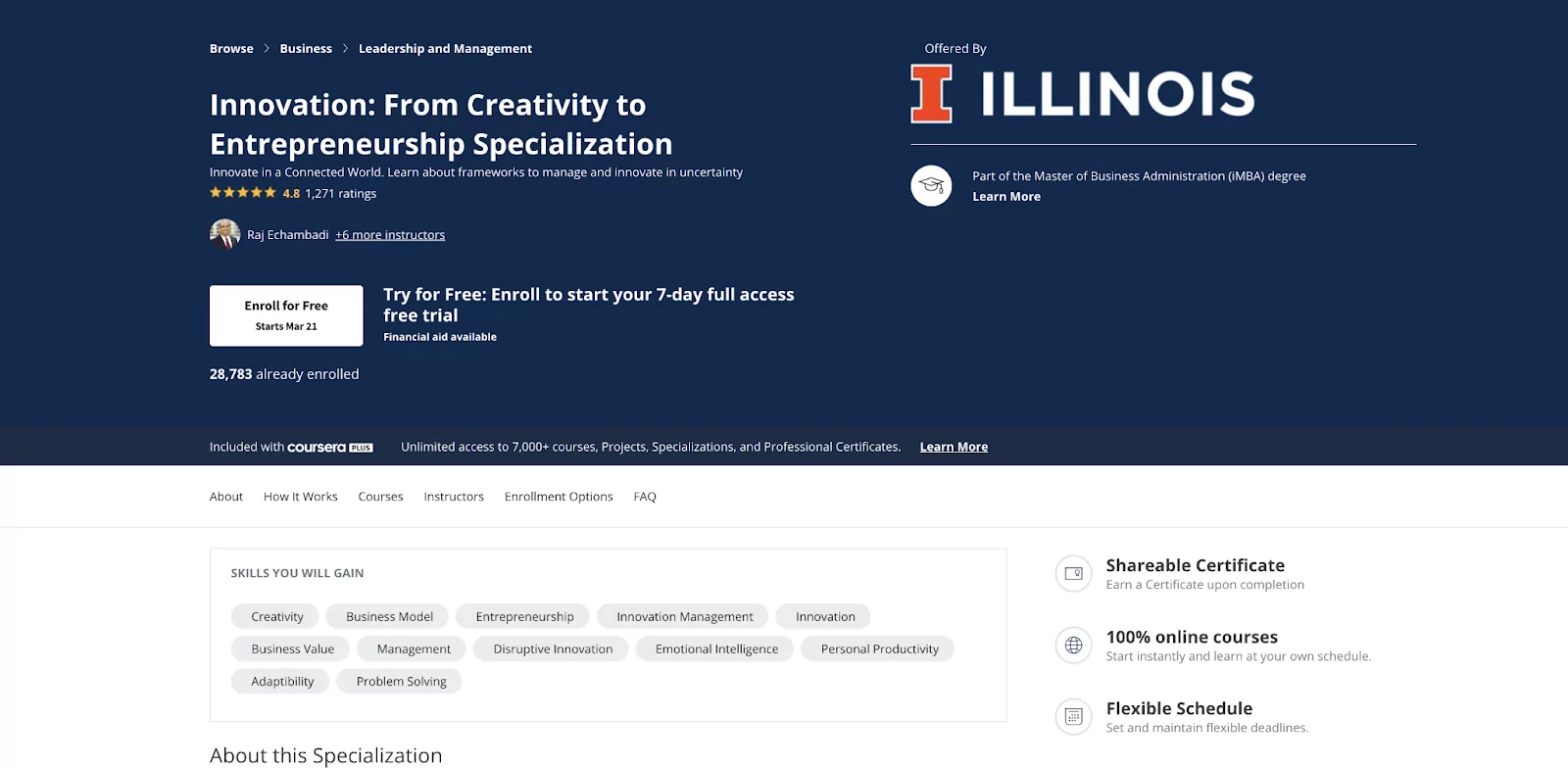 Course creator: University of Illinois
Duration: 8 months, 4-5 hours per week
Price: $554
Description: This specialization series features a total of seven courses, each priced at $79-$80. These courses are designed for entrepreneurs and employees interested in taking on more responsibility in their established firms or startups. The courses in this specialization include:
Strategic Innovation: Building and Sustaining Innovative Organizations

Strategic Innovation: Managing Innovation Initiatives

Creativity Toolkit I: Changing Perspectives

Creativity Toolkit II: Creative Collaboration

Entrepreneurship I: Laying the Foundation

Entrepreneurship II: Preparing for Launch

Innovation: From Creativity to Entrepreneurship Capstone
The first four courses heavily focus on a flexible, innovative mindset and entrepreneurial leadership. In the three final courses, students will learn how to turn an idea into a viable business ready to scale and develop a real-world business model. While students aren't required to enroll in a degree program, students accepted into the Gies College of Business may leverage these courses for course credit.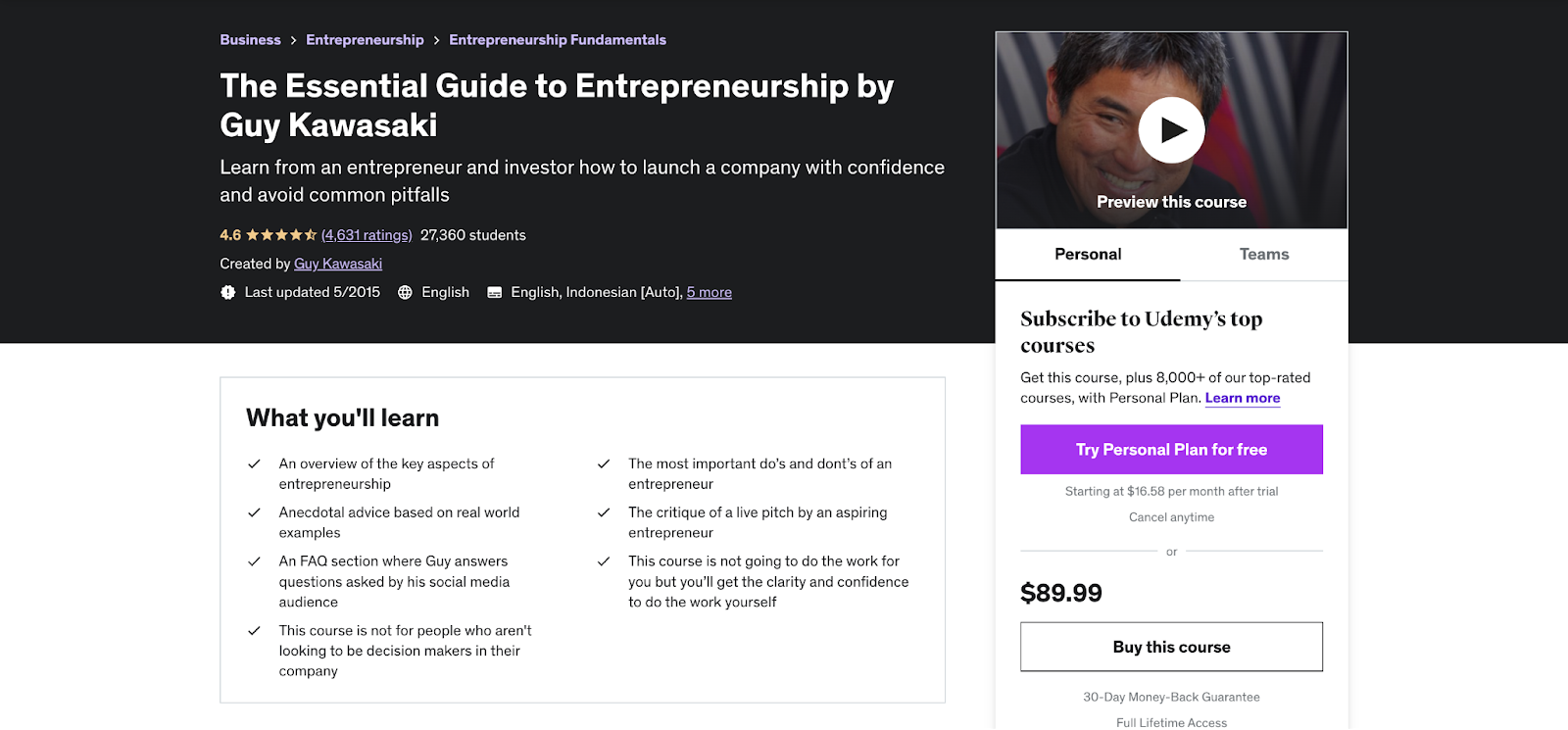 Course creator: Guy Kawasaki
Duration: 5 hours, self-paced
Price: $89.99
Description: Guy Kawasaki is a world-renowned marketing expert known for his former role at Apple and his current role as the Chief Evangelist at Canva. Guy's goal with this course is to teach you everything you need to know about entrepreneurship, starting with the fundamentals like launching, pitching, fundraising, team building, and evangelizing. 
In addition to the entrepreneurship basics, students will learn about the keys to networking success and social media marketing. This course is great for people looking for a holistic entrepreneurship course and who are new to the field.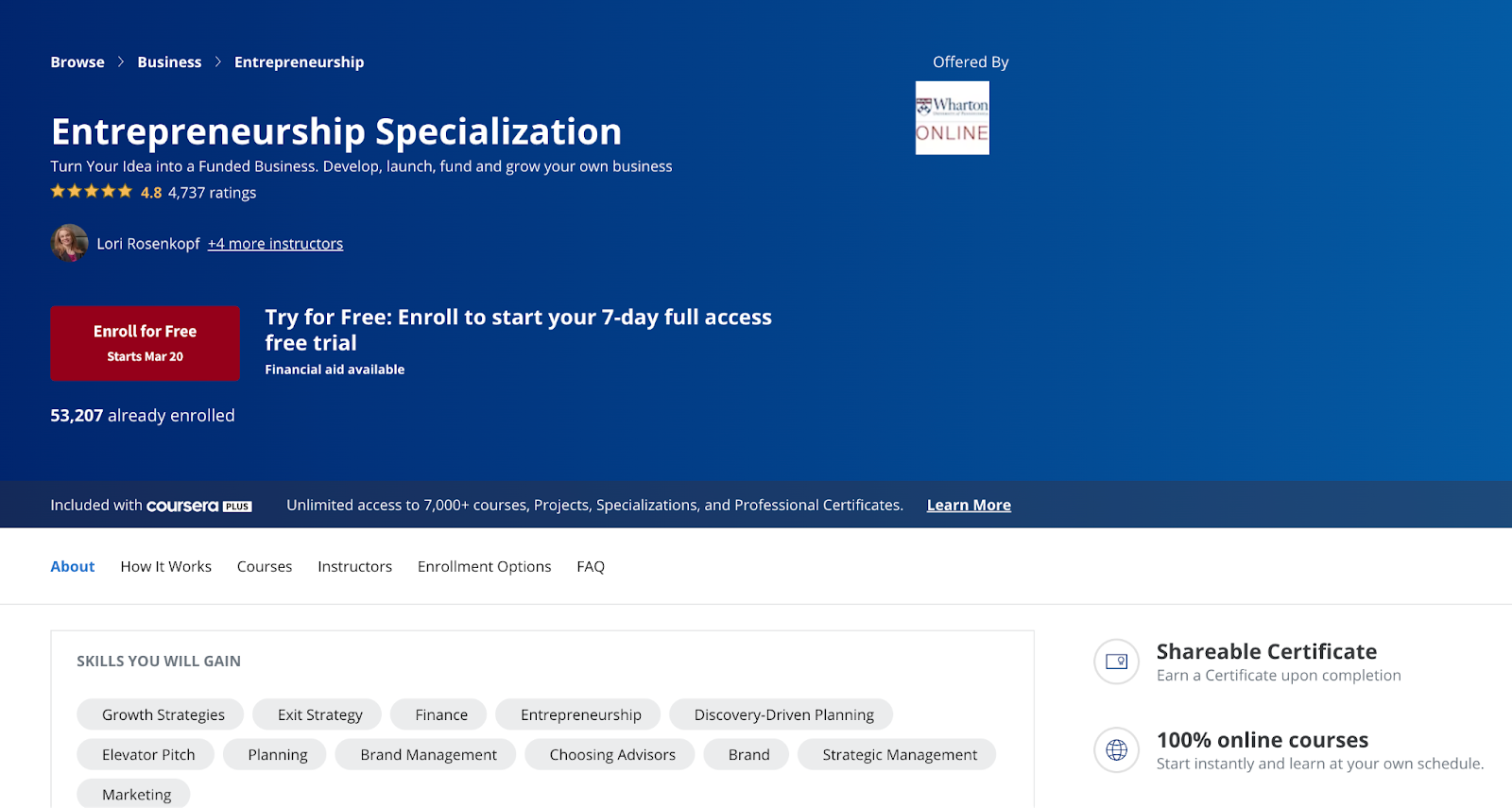 Course creator: University of Pennsylvania
Duration: 6 months
Price: $495
Description: Unlike the Entrepreneurship Acceleration Program that the University of Pennsylvania also offers, this program is a specialization series that features a total of five courses:
Entrepreneurship 1: Developing the Opportunity

Entrepreneurship 2: Launching your Start-Up

Entrepreneurship 3: Growth Strategies

Entrepreneurship 4: Financing and Profitability

Wharton Entrepreneurship Capstone
Each course is $99. The courses are offered a la carte, meaning students can take them in any order and aren't required to enroll in all of them. These courses will teach you how to take your ideas through launch to profitability, and students will leave with a shareable certificate. These five entrepreneurship courses are a great choice for those seeking in-depth coverage with smaller weekly commitments over an extended period.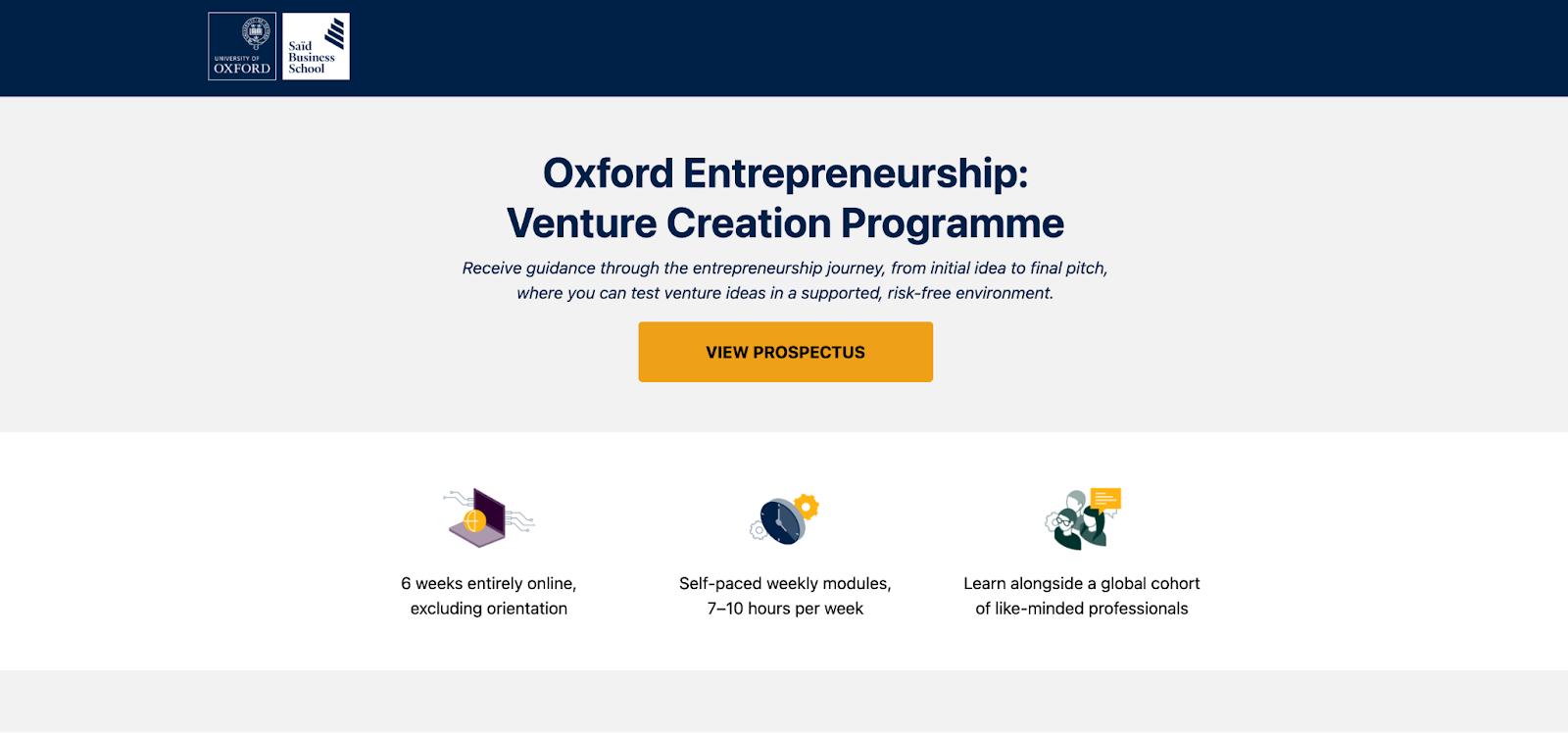 Course creator: Saïd Business School, the University of Oxford
Duration: 6 weeks, 7-10 hours per week
Price: $2,309
Description: Learn how to develop your business ideas from concept to final pitch with this six-module course. In these modules, you'll dive deep into the process of developing ideas, the entrepreneurial mindset, and market analysis. You'll also learn about the components of a business model, the various components of a development plan, and how to pitch your vision to key stakeholders.
This program is certified by the United Kingdom CPD Certification Service, and at the end of the program, you'll leave with a certificate recognizing your successful completion. This is a great online course if you want to join a global community of entrepreneurs, learn from accomplished Oxford faculty, or earn continuing education credits.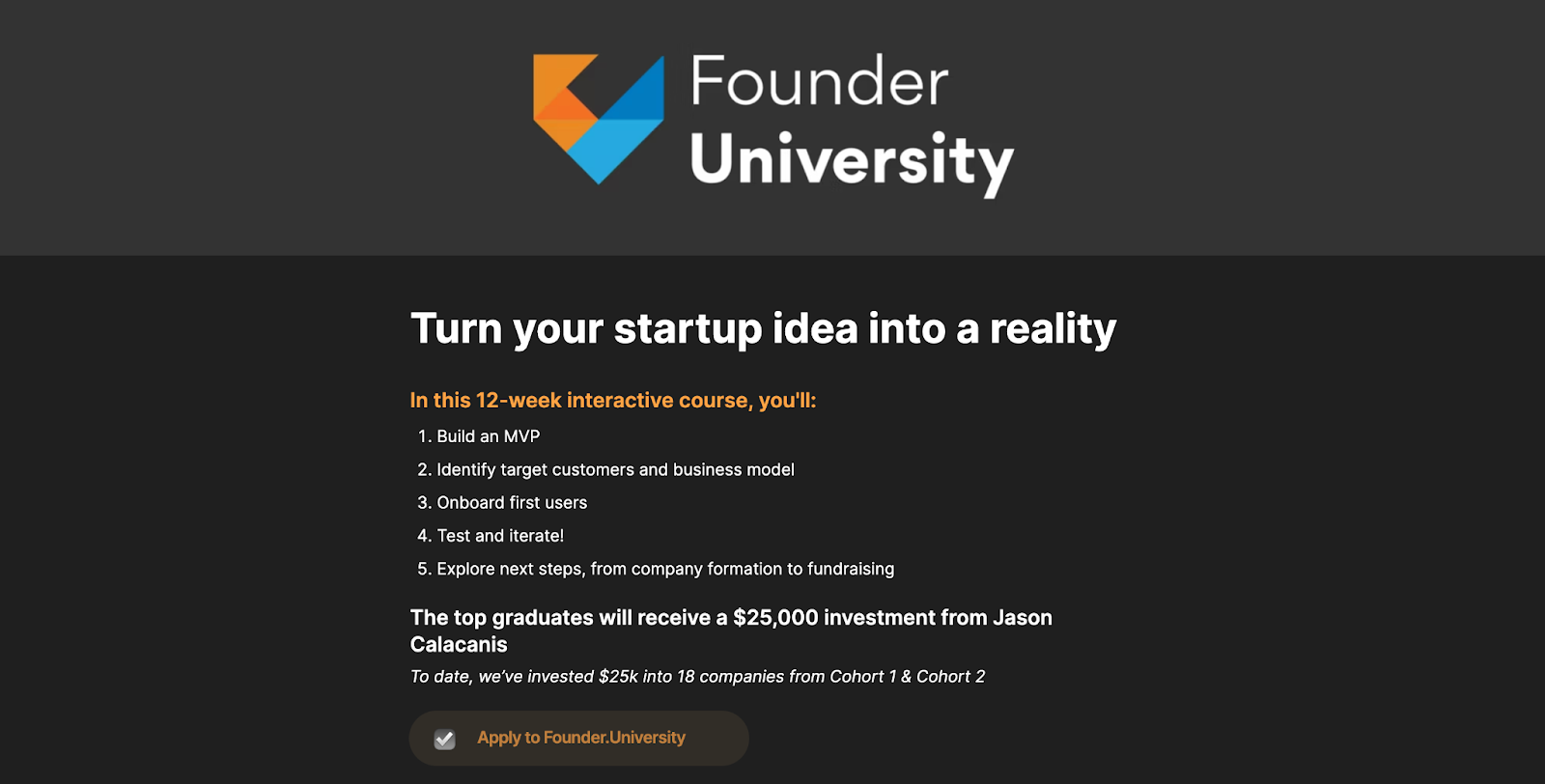 Course creator: Columbus State Community College
Duration: 12 weeks, 7-13 hours per week
Price: $500
Description: Founder University offers 12 weeks of comprehensive cohort-based instruction. Students will attend 60-90 minute lectures weekly, followed by a 30-60 minute check-in with instructors and other cohort members. They'll also receive asynchronous assignments and readings, which account for the remainder of the weekly commitment for the course. 
This course requires $500 upfront, but after attending all required lectures and launching your startup's first MVP, you'll receive a full refund, making this course effectively free. Throughout the course, students will learn how to be a founder, build an MVP, build a business model, conduct market research, secure funding, and improve their product. And while this course is an excellent choice for those looking to launch an existing business idea, having a product idea isn't required.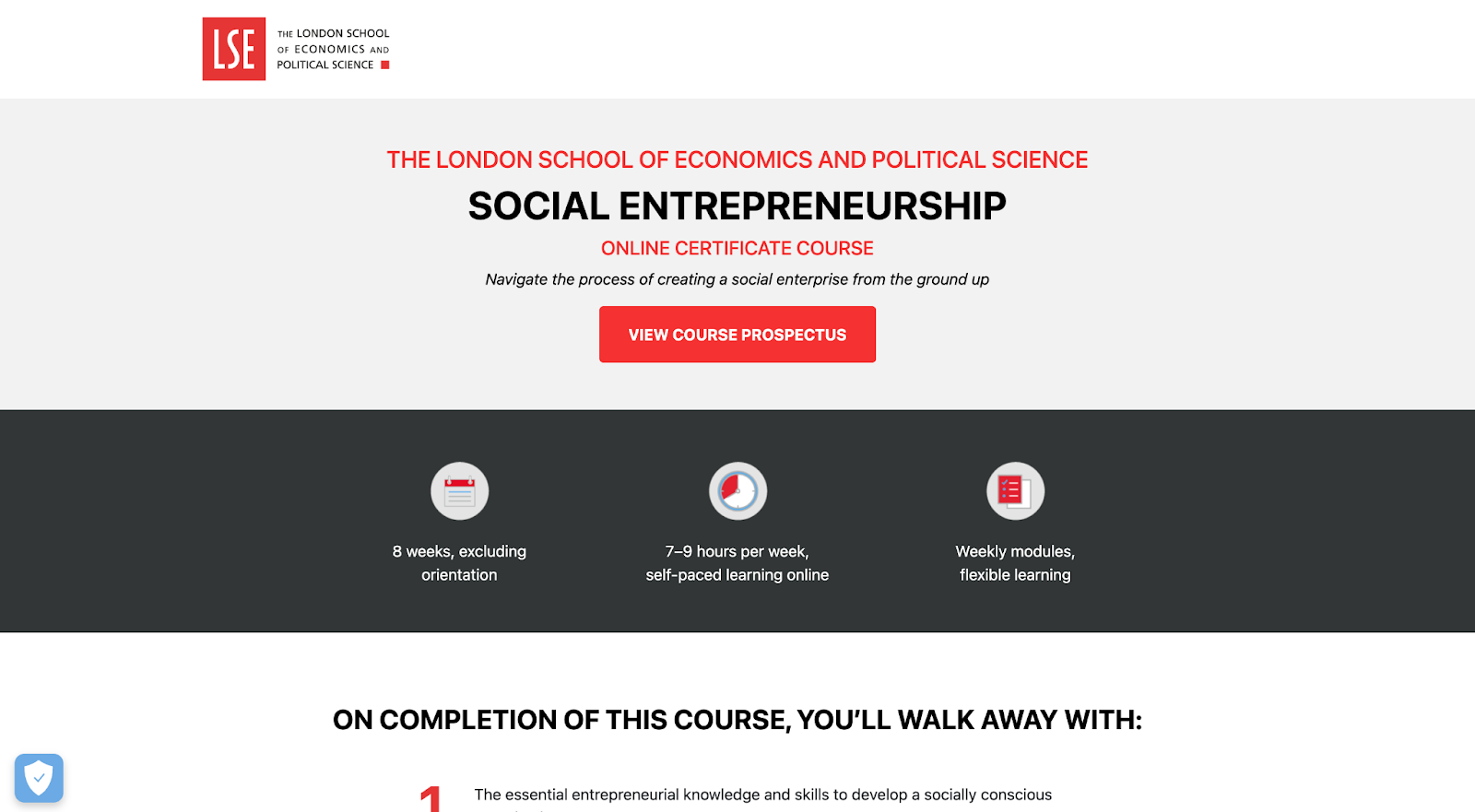 Course creator: The London School of Economics and Political Science
Duration: 8 weeks, 7-9 hours per week
Price: $2,188
Description: Certified by the United Kingdom CPD Certification Service, this 8-module social entrepreneurship course is designed specifically for founders looking to make a better social or environmental impact. You'll learn from one of the top economic schools in the world about what social entrepreneurship is, how to identify problems social entrepreneurship can help, and how to develop a business that makes an impact. Students will also learn to navigate criticism and find funding for their unique ventures.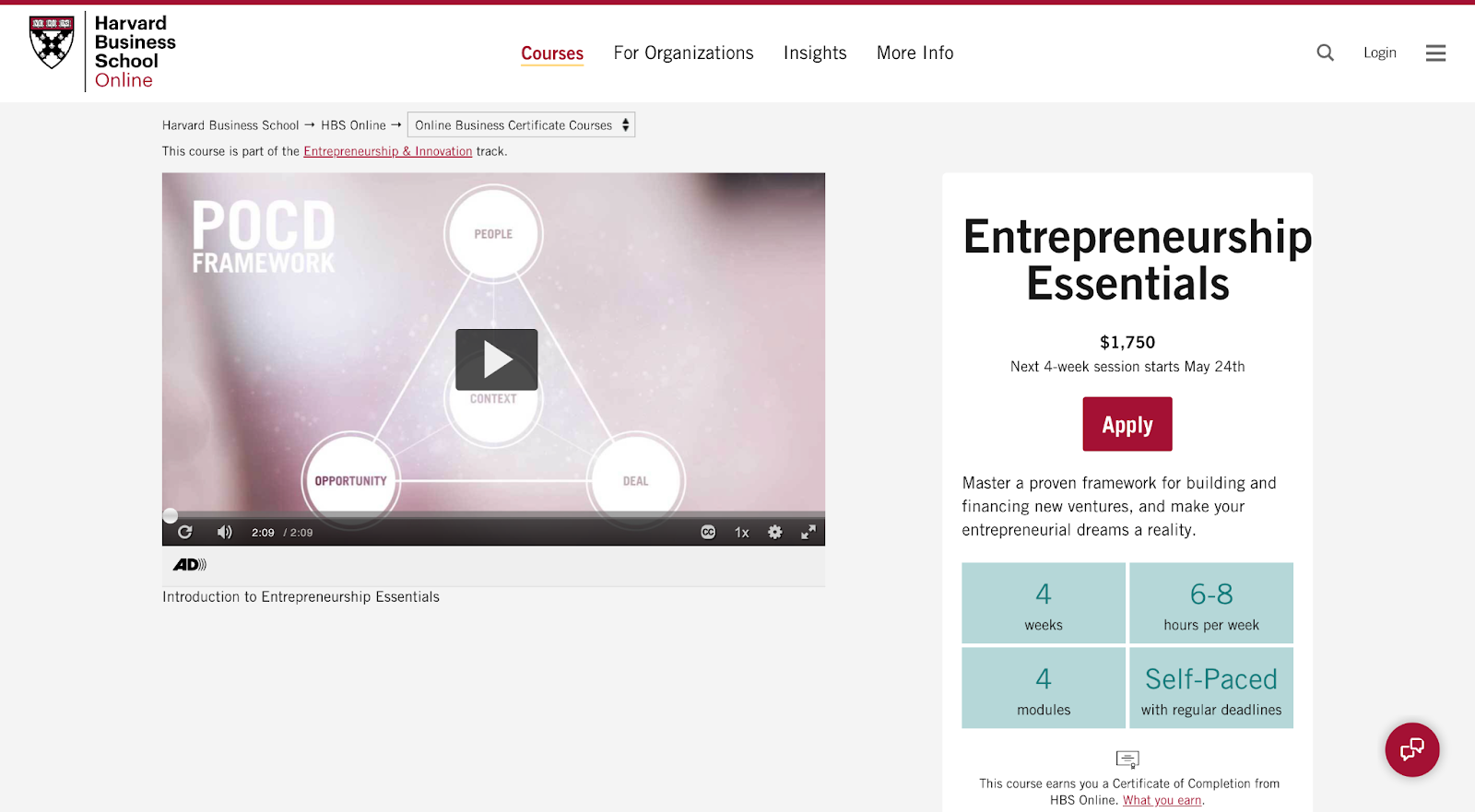 Course creator: Harvard Business School Online
Duration: 4 weeks, 6-8 hours per week
Price: $1,750
Description: This four-module course teaches students to identify opportunities, evaluate the market and current risks, and determine the best financial paths for early-stage startups. Modules are released on a schedule with engagement deadliness. Throughout the modules, students will hear from established entrepreneurs like Scott Cook, the founder of Intuit, and others. 
This course is offered in four and eight-week iterations. After completing the course, students will earn a Harvard Business School (HBS) certificate of completion. Students who complete three courses within the entrepreneurship focus will also earn a certificate of specialization. 
Course creator: Collaboration with MIT and Columbia Business School 
Duration: 9 months, 4-6 hours per week
Price: $3,000
Description: This digital business course teaches about the new and evolving online business landscape. Students must have a BA to enroll and will learn about real-world companies that have embraced digital business strategies. They'll also learn to innovate, prepare for the future of marketing, and implement digital marketing strategies. Of the many advanced marketing skills students will develop, they'll focus on performing search engine marketing through simulation, SEO research, and creating compelling email marketing campaigns. 
In this course, students will earn 4 certifications: Google Analytics for Beginners Certification, Google Adwords, Hubspot Content Marketing Certification, and HubSpot Social Media Certification. They'll also earn a completion certificate after successfully completing the course. This is an excellent program choice for people with the right budget who are looking to add multiple certifications to their CV or resume.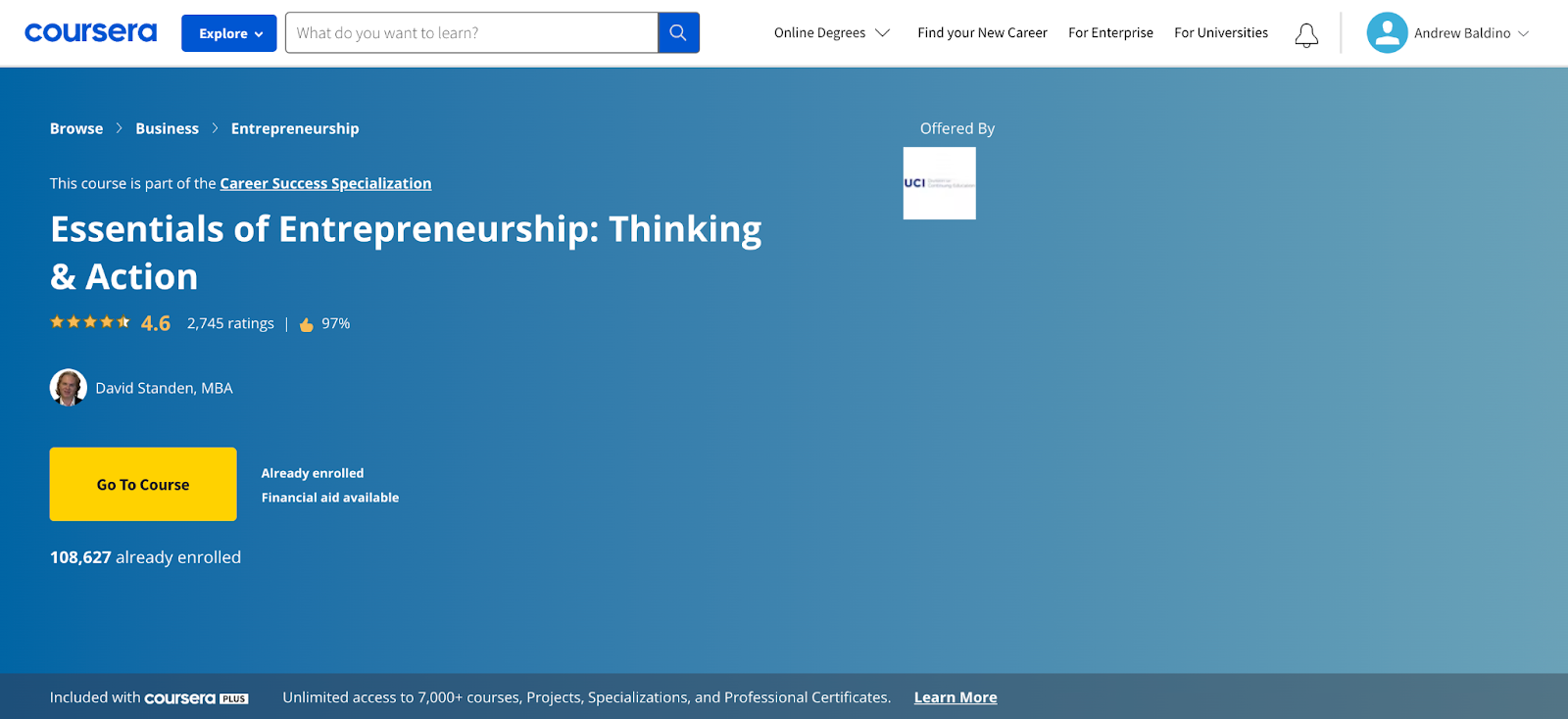 Course creator: University of California, Irvine
Duration: 4 weeks, 1-2 hours per week
Price: $35
Description: This 4-module entrepreneurship course teaches students about the beginning stages of starting a business. You'll return to the business fundamentals as you learn how to evaluate business ideas, think like an entrepreneur, and build a business plan. This is an excellent choice for those looking to focus on strategic managment and marketing skills or a low-cost and self-paced course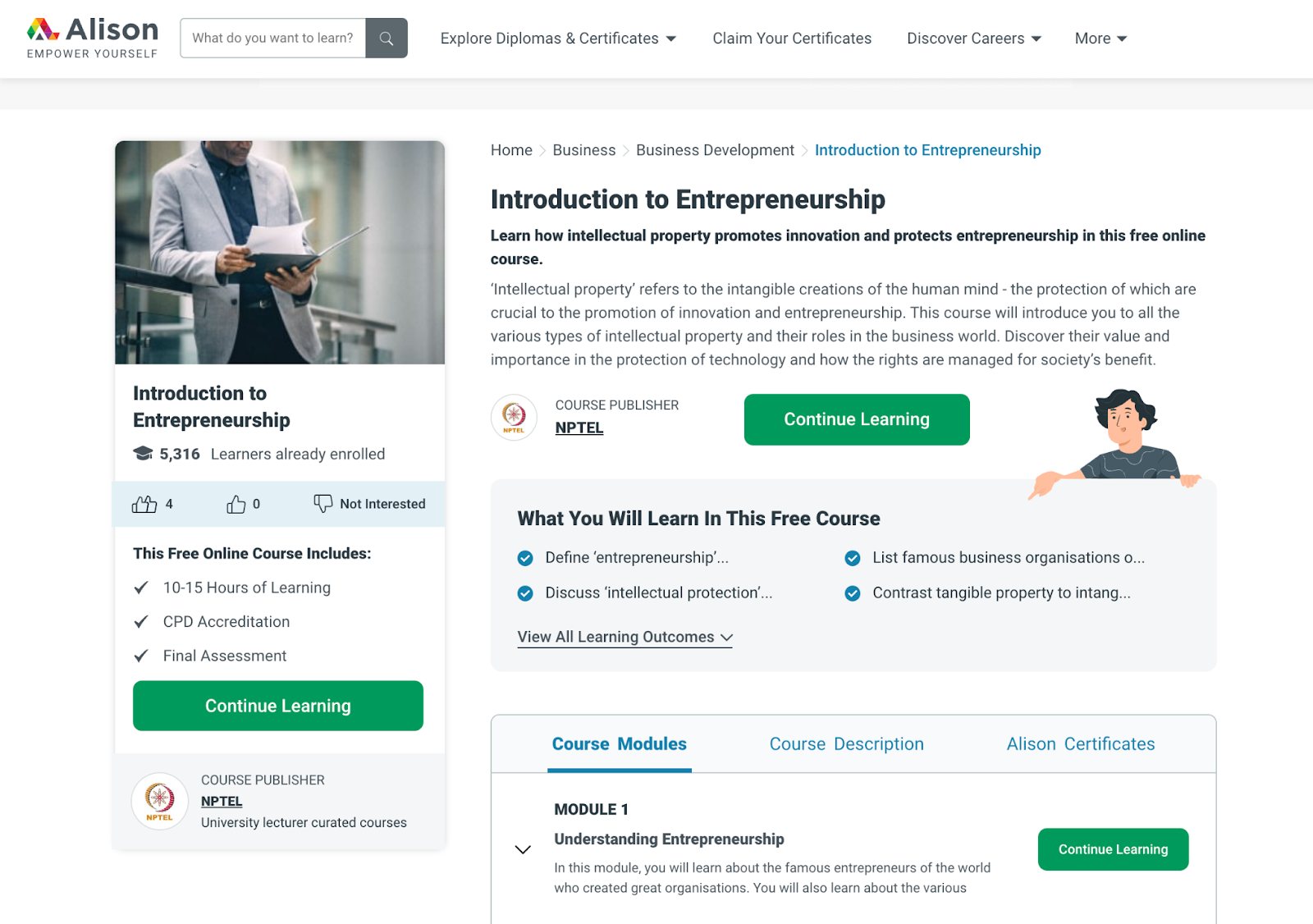 Course creator: National Programme on Technology Enhanced Learning
Duration: 10-15 hours, self-paced
Price: Free
Description: This free online entrepreneurship course includes three modules and will teach entrepreneurs of all backgrounds about the entrepreneurial mindset, intellectual property laws, and the classifications of innovation. Students can expect to walk away with a deeper understanding of how patents, trademarks, and copyrights protect their innovation. At the completion of the course, participants will receive an Alison Certificate. This course is an excellent choice for entrepreneurs looking to deepen their legal knowledge and learn more than entrepreneurship fundamentals.  
Course creator: Dr. Sean Wise
Duration: Self-paced
Price: $297
Description: This online entrepreneurship course is great for entrepreneurs with thought-out ideas or even those who don't have an idea for a startup yet. Students will learn to identify problems and formulate solutions that meet market needs. 
The course follows a 7-step process that takes students from preparation and planning through market analysis, developing your MVP, and scaling your business. 100 short instructional videos, 80 worksheets, and 80 worksheet completion videos are included. And at a competitive $297, if your startup isn't profit-positive by the end of the course, you'll receive 100% of your tuition back.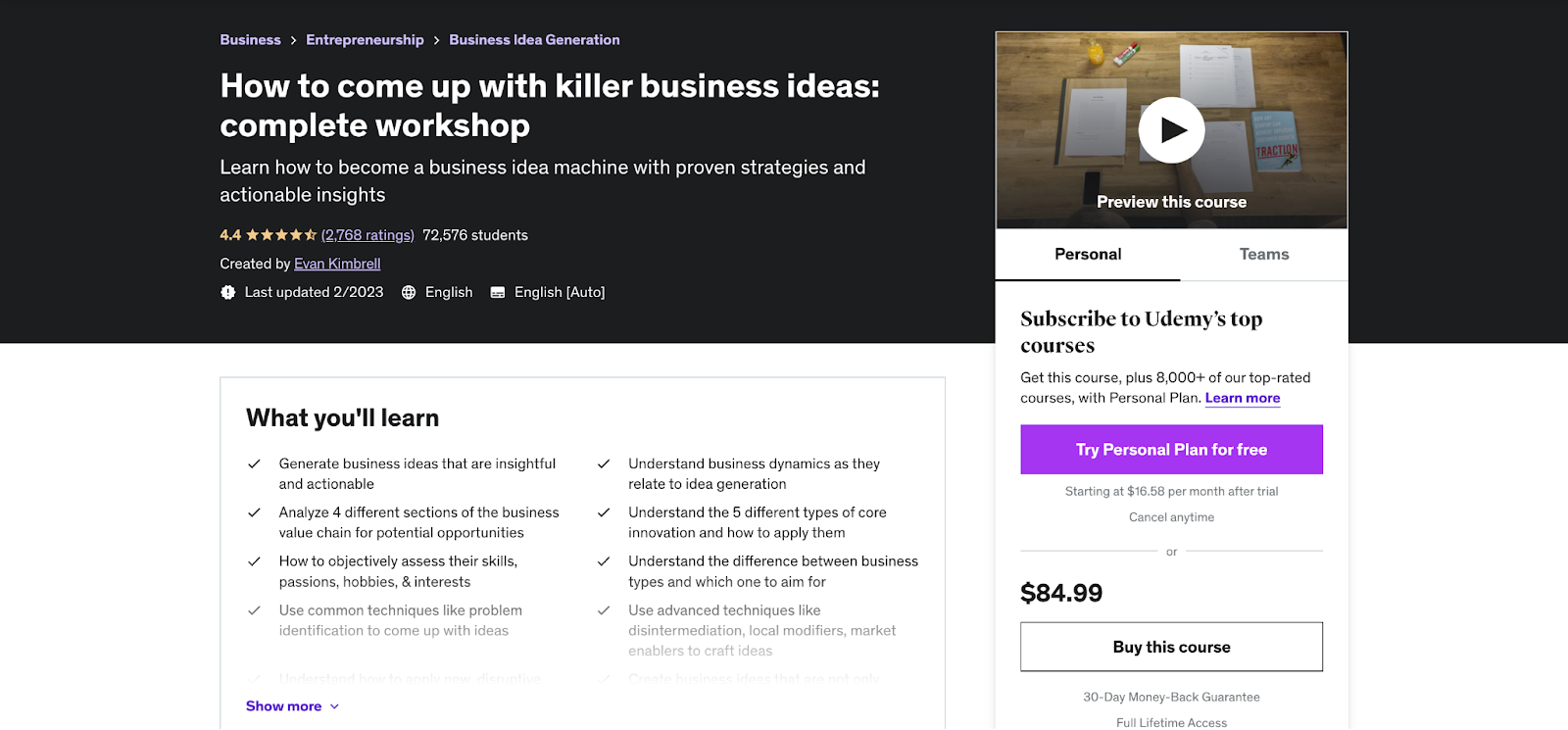 Course creator: Evan Kimbrell
Duration: 8 hours, self-paced
Price: $84.99
Description: This eight-module course has over seven hours of video content, 62 downloadable resources, and quizzes. Kimbrell's course focuses on idea generation and has garnered 72,000 students and counting. Students can expect to learn how to generate business ideas, analyze those ideas for opportunity, and determine which types of innovation and business are best for their ideas. This course is great for anyone looking to learn about, practice, and strengthen their business creativity.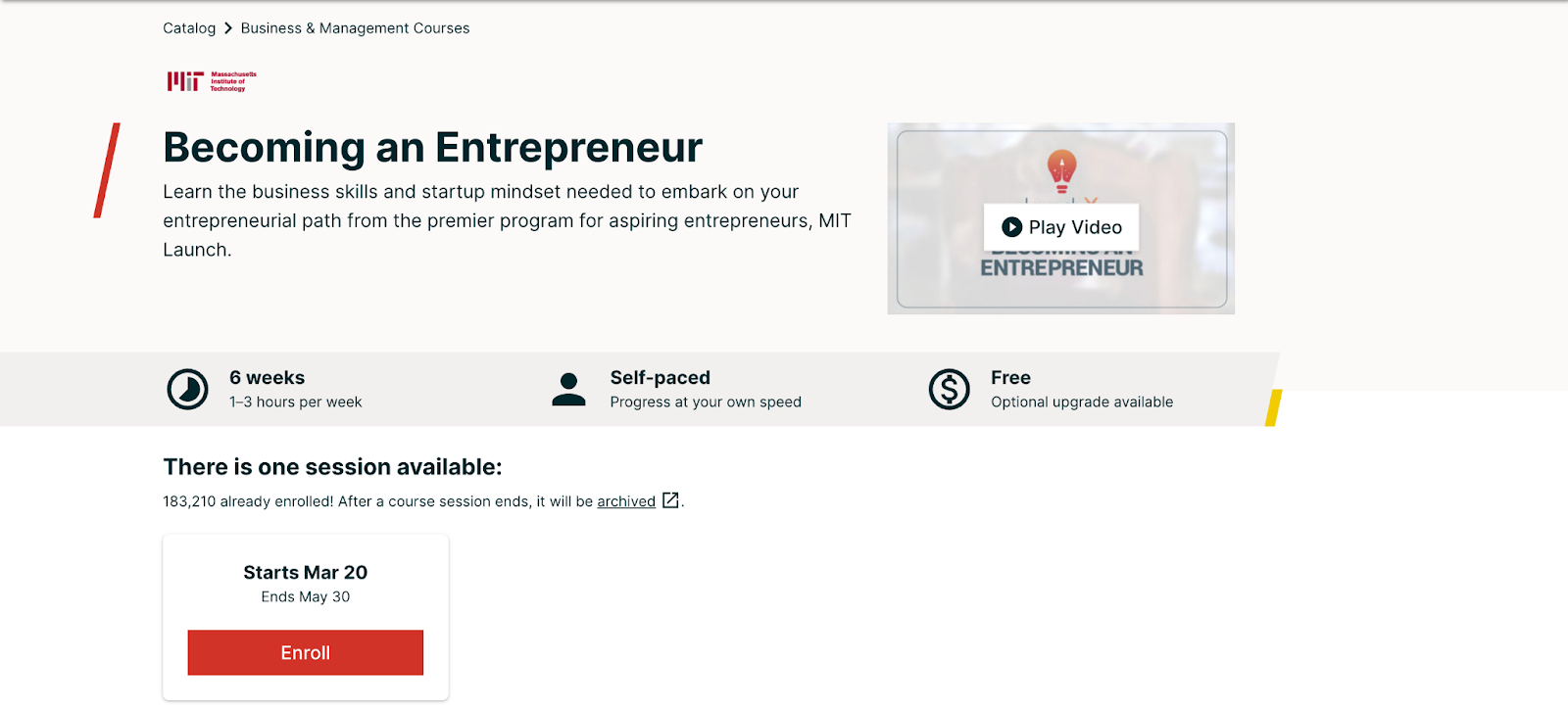 Course creator: Massachusetts Institute of Technology
Duration: 6 weeks, 1-3 hours per week
Price: Free, with an optional choice to upgrade
Description: This course offered by MITx is one of three free online entrepreneurship courses in this list. It's designed for beginners or people who don't have real-world experience as an entrepreneur yet. Students can expect to learn the basics of starting a business, the facts about common entrepreneurship myths, how to develop an idea, perform market research, design and test an MVP, and more. 
Additionally, students can opt-in for a paid version that will grant them a shareable verified certification of completion. While the course is self-paced, students are enrolled in sessions that span six weeks, giving the course a cohort feel with asynchronous flexibility. This is a great choice for new entrepreneurs looking to get their footing in business without investing thousands of dollars or months and months into their first course.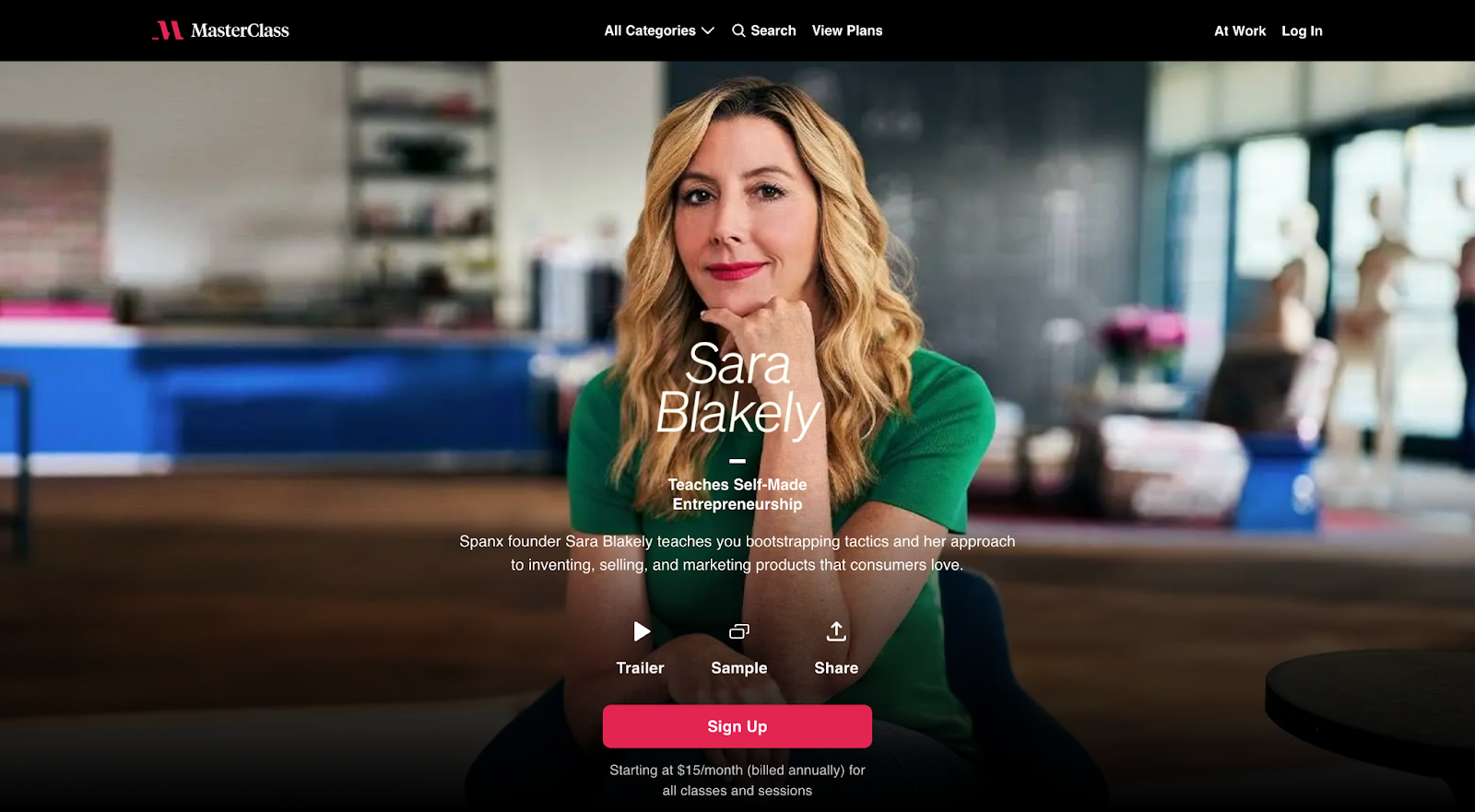 Course creator: Sara Blakely
Duration: 4 hours, self-paced
Price: $180 annually
Description: Sara Blakely's career in business started in door-to-door sales, where out of frustration, she created the billion-dollar product Spanx. Today, Sara teaches what she calls "self-made entrepreneurship." In the 14 included video lessons, students can expect to learn Sara's three-step approach to founding a startup, how to develop  a physical product, and how to build a company employees want to be a part of and consumers know and love. This course is a great choice for entrepreneurs with a bootstrap mentality who are  looking to develop and launch physical products but don't have the time for lengthy or synchronous onlinec entrepreneurship courses.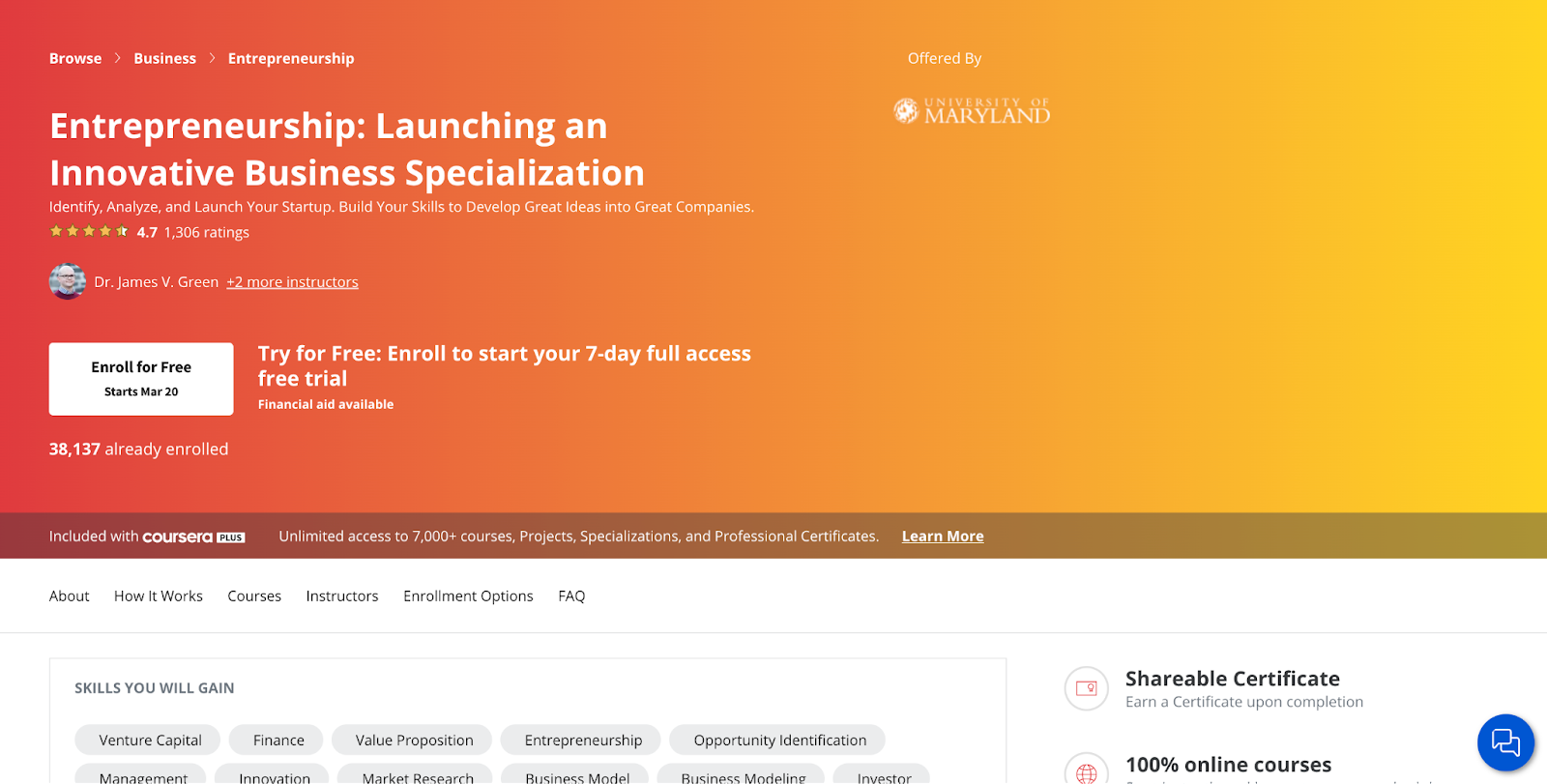 Course creator: University of Maryland
Duration: 5 months, 2 hours per week
Price: $196
Description: This entrepreneurship specialization features 4 courses. In this specialization, you'll learn about identifying opportunities for entrepreneurship in a strong economy, developing a business plan, and how, when, and where to find financing for your startup. The courses in this series include:
Developing Innovative Ideas for New Companies: The First Step in Entrepreneurship

Innovation for Entrepreneurs: From Idea to Marketplace

New Venture Finance: Startup Funding for Entrepreneurs

Entrepreneurship Capstone
Students can expect to have a business plan, business model, and investor pitch developed by the end of the course. In addition to the final capstone assets, students will receive a shareable certificate of completion. 
Sign up for the best entrepreneurship courses today
Whether you're looking to earn college credit, develop your professional skillset, or become a founder, enrolling in an online entrepreneurship course can help you reach your goals faster and, hopefully, with fewer mistakes along the way. 
Interested in sharing and monetizing your entrepreneurship knowledge with the world? Try Thinkific free today.