If you're not growing, you're slowing. As a business owner, it's vital to engage in online marketing in order to grow your customer base.
Digital marketing is constantly changing; in order to be effective and survive the competition, you must choose the best strategies to help propel real-time growth for your business. This is particularly true if you have a limited budget.
According to Google, businesses that use digital marketing strategies achieve revenue growth that is 2.8 times better than companies that don't.
If you want to join their ranks, use the 10 digital marketing tips in this article to grow your business. Each of them will help you strengthen your presence online and produce measurable results from your digital marketing efforts:
1. Using YouTube
Online video consumption is growing at a spectacular rate. It's estimated that by the year 2022, video content will drive over 82% of search traffic in the US.
The popularity of Youtube as a video marketing platform has not gone unnoticed by marketers, with 78.8% considering youtube the most effective video marketing platform.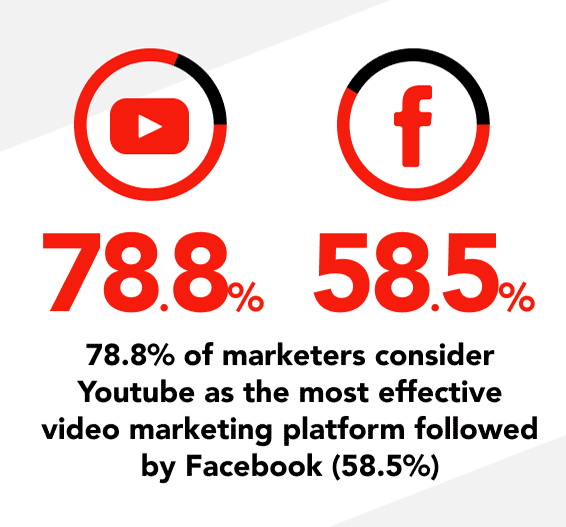 By including video in your own marketing strategy, you will be able to showcase your products and solutions in a captivating and engaging way to a ready audience of millions. 
Not only is YouTube great to grow your reach–it can help you monetize your content.
Going live might be a good path to start using youtube because there aren't as many expectations to have high production value, which may be a learning curve for you.
If you're keen to get going on youtube, but you don't know where to start, check out Thinkific's latest video production resources:
2. Understanding SEO
Search Engine Optimization (SEO) is a crucial part of any comprehensive online marketing strategy, and it's something that you must focus on if you want to optimize your digital footprint. Why? 
The compounding growth that evergreen content can contribute to your marketing mix. In other words, once you rank in search engines, you don't really need to actively promote it for the traffic to keep flowing in. Each additional piece of content you produce has the potential to build traffic on top of the content you've already produced.
This aspect of digital marketing evolves constantly and, as a business owner, you have to work hard to keep up-to-date with the latest SEO best practices. 
How to approach SEO for the first time
The first thing to do to optimize your SEO is to look at your current situation. Even if you're not ready to charge in head first, setting up your Google Search Console is a great first step because you'll need the data once you're ready. It's free to use, and easy to set up by pasting a few lines of code to your website.
Analyze your content so you can see where you are, what's working, and what's not.  Also, make sure you focus on index coverage to make sure Google and other search engines can easily index your site. 
This will allow you to create a plan that you can use going forward to help you get the best results from your efforts.
Site performance and usability matters
If your business already has a well-designed website, take the time to evaluate it in terms of usability and search engine rankings. Things don't always behave as you might expect them to, so in addition to the desktop experience, test your pages from your mobile device–things don't always behave as you'd expect.
No matter how good your content is, things like slow-loading pages and poor mobile usability can really weigh your rankings down. So use google's testing tools, like PageSpeed Insights, and the Lighthouse chrome extension, and address the recommendations.
Be sure to test your site on desktop and mobile to make sure nothing crazy happens on smaller screens– things like tables and images don't always behave as you'd expect.
An SEO content strategy
As much as professional SEO consultants would like you to believe it's a dark art, it's not that way anymore…  Stuffing keywords in your content, or buying fake links doesn't work, and can actually get you penalized.
At the most basic level, an SEO content strategy involves picking topics your audience would. And then creating content that they'll love. When you find a keyword you like, do a quick search on Google–your job is to one-up the top performing pieces. Pay attention to:
Style – is it a listacle? a deepdive? step-based?
Focus – how focused is the page on the topic? Is it an overview of multiple topics? Or is it laser-focused on helping the searcher do one thing?
How long the pieces are –

are they deep dives, or quick answers?

Their use of imagery, videos, and downloadables –

If all three of the top ranking sites have a diagram or a checklist to download, it's a good indication that these are what searchers want.
SEO takes time
It takes about 6-12 months to see the impact of your search engine optimization efforts. If you're serious about leveraging SEO for the long-term growth of your business, an early start will reap dividends in the long run.
Ranking for competitive keywords requires time, intent-based content, and a results-driven approach. If you're expecting your homepage to rank for competitive keywords, you're in for a surprise. The best way to start targeting keywords is to start blogging.
The good news is, optimizing your site for search engines does not require a huge advertising budget. All you need is a well-thought-out SEO strategy, some time, and you will be able to generate super targeted traffic to your website.
3. The importance of email marketing
Another important strategy for growing your business is to build and nurture a list of email subscribers. Building a list gives you direct access to your target audience. It provides you with an effective and affordable way to communicate with potential buyers and customers – and guarantee that they will get your message.
Even if your business has 50,000 followers on Twitter or Facebook, there is never a guarantee that they will see any of your posts. Even worse, the platforms are constantly changing their algorithms which makes it hard to keep up. You can get past all these challenges by building your own email list.
Engaging your customers using email marketing is one of the best ways to keep them interested in your business and products. That's why email marketing is a crucial element of any effective sales funnel.
Just keep in mind that not every email you send has to be selling something. You can use email to stay in regular contact with your customers and prospects and offer them valuable information and solutions.
4. Create unique email opt-ins to encourage sign-ups
Email is the ideal medium to connect with your customers on a more personal level. It's also cost-effective and offers a great ROI when used the right way.
You can use email to: 
Nurture your leads

Transform prospects into customers

Encourage existing customers to become repeat customers

Transform them into loyal fans of your business and brand

with a loyalty program

 
However, you won't get any of these benefits if people don't sign up for your email list. That's why you need unique email opt-ins that encourage sign-ups.
An eye-catching email opt-in form will help you boost subscriptions so you can grow your email list. All you need to create a great form is the right tools.
Most leading email marketing platforms offer simple, drag-and-drop content editors and tons of templates designed to help you create high-quality email opt-in forms that resonate with your target audience. 
Here are some best practices to follow when creating an opt-in form:
Add an incentive or lead magnet to entice people to sign up

Customize your sign-up forms for the different pages on your website

Keep the copy clear, concise, and to the point

Use visually striking images on your sign-up form

Use

A/B testing software

to test your sign-up forms to find the best performing version
5. Don't ignore social media
One of the biggest mistakes you can make in growing your business is to ignore social media. It's vital to develop a healthy presence on the various platforms where your target audience hangs out.
No matter what industry you're in, social media offers powerful opportunities to boost your reach, develop deeper connections with your audience, build community, and benefit from others sharing your content.
A lot of small businesses expand their customer base by creating and managing social media profiles on Facebook, LinkedIn, Twitter, Instagram, and other networks. To figure out where to focus your efforts first, a helpful tip is to look at established companies you aspire to be like:
Where are they focusing their efforts?

What kinds of posts get the most engagement?
Not every customer finds it convenient to communicate with the business through their website. That's why you need to give them different options – such as social media or feedback tools – to make it more likely that they will get in touch to ask questions or provide feedback.
Certain niches are better to use social media than others. For example, if you were looking to become an online yoga teacher, social media would be essential to your success.  But if you wanted to become a programmer and offer coding services, social media may not be a good fit because most of the information you discuss with clients would likely be better through email to keep records of everything. 
Exchanging messages directly on channels like Facebook is a great way to enhance your customer service. An active presence on social media will also benefit your business in a myriad of other ways. Use it to: 
Attract new audiences

Maintain engagement with your current customers

Keep your product top of mind.
Show your customer that you are always there to answer questions, give advice, and help them solve challenges. With channels like Facebook, you can also run paid advertising campaigns that will get you even quicker results for your business.
6. Importance of repurposing content 
One of the biggest challenges marketers face online is finding the time or resources to create high-quality content on a consistent basis.
Content marketing will help with your SEO ranking, it's vital to ensure that you have a strategy in place that will allow you to optimize the results you get from the content that your business produces.
One of the best ways to do this is by repurposing content. 
Also known as content recycling, repurposing is simply taking one piece of content and then using some or all of its elements to help expand the content's reach. 
You can keep that same format and freshen it up, or create new content in a different format. For instance, you can turn a blog post into either snippets or sections for social media posts, or transform it into a YouTube video or an infographic. Or you can spin out blog posts, or video clips from longer webinars you've hosted in the past.
Doing this makes it easier to make video marketing part of their overall strategy, which makes perfect sense if you're constrained with traffic or revenue sources.
Either way, repurposing allows you to breathe new life into your content so that you don't have to continually come up with new content topic ideas.
Here are some other examples of ways to repurpose your content: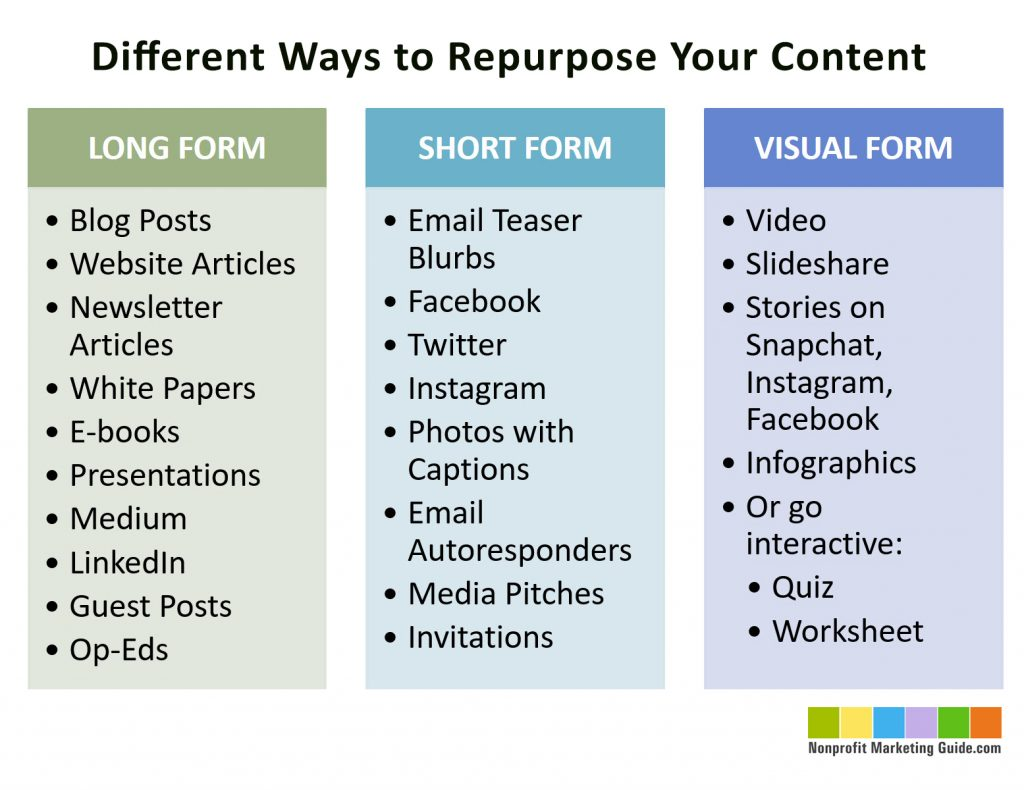 Repurposing comes with a lot of benefits
It gives you an opportunity to redeem less successful pieces of content and allows you to achieve multiple goals with a single piece of content. 
Repurposed content also expands your reach and helps you get your message in front of brand new audiences on different platforms. 
It diversifies your content, increases your online presence across a variety of channels, and maximizes your time and effort spent creating high-quality content for your audience. 
Here are some additional reasons why you should repurpose content:
Repurposing content allows you to reach your audiences and users across different platforms

Repurposed content increases brand credibility as it allows you to drive the message home on each of the different customer touchpoints.

Creating new content from old also allows you to improve your search engine optimization since you will have even more backlink opportunities, as well as additional chances to use the same keywords again and again in natural ways.
Keep in mind, you can also repurpose multiple pieces of content to create a more significant content offering.  
For example, if you have 10 in-depth blog posts explaining complex information that your audience would like, you can repurpose that content into videos and create an online course to offer to your audience.
7. Value First (Not Conversions)
Instead of always chasing after conversions, you must focus on providing value to your audience first. This will give you a greater likelihood to not only convert visitors into customers but also be able to retain them in the long run…
Holding on to customers for longer will help increase your business's average CLV (customer lifetime value). 
Creating engaging, value-packed content will help you in the following ways: 
It will fuel your marketing campaigns

It will help you build strong relationships with your audience

Quality content will also help you establish yourself as an authority in the industry 
With good content, you will find the job of promoting your business online much easier. When you offer your website visitors the information and solutions they seek, your product will be their number one choice when the time comes to make a purchase. 
That's because people love to deal with businesses that have a deep knowledge of the goings-on in the industry. Customers also prefer brands that provide them with actionable information that can help them improve their lives in some way. 
By offering this type of value with your content, you will effectively set yourself apart from your competitors. From ongoing blog posts and ads to web copy, off-site campaigns, email newsletters, and more – infuse your content with value regardless of the platform that you're using. 
An effective way to do this is by providing your audience with real-time solutions to some of their most common challenges or pain points. 
8. Connect with influential people 
Connecting with influential people will help you build your brand. It can also lead to a massive increase in sales. 
Influencer marketing is growing at a phenomenal rate, as the data below illustrates: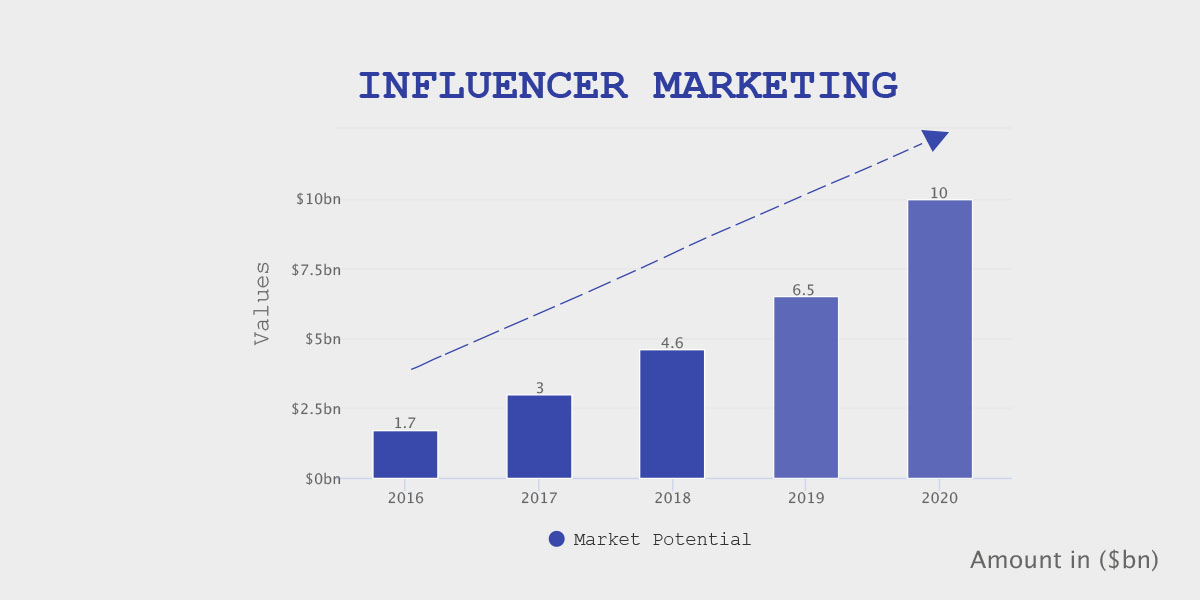 If you want to carve out your own slice of this pie, there are a lot of different ways you can connect your brand with influencers in your niche. 
Some of the most effective ones include using influencer platforms like Upfluence to find the best influencers in your industry. Use the searchable marketplaces to narrow down your list to just a few potential influencers that you can then reach out to based on your requirements. 
Undoubtedly, Linkedin is one of the better platforms to connect with influencers as it's a social network built specifically with professional relationships in mind.  That said, making these connections can be difficult if they're not in your network and you've never connected before.
For this, you can use these LinkedIn connection message templates that will help you establish those relationships with the influencers you'd like to work with.
Keep in mind that you don't have to work with the largest influences only. Even ones with relatively small audiences can bring phenomenal results to your business.
9. Test paid ads 
Organic traffic is great. But, as previously mentioned, you may have to wait six months to a year to start seeing results from your search engine optimization efforts. An effective way to get a steady flow of traffic to your website in the meantime would be to use pay per click (PPC). 
This is a type of paid advertising companies use to drive targeted leads and sales. If getting more clients for your business is a priority, then PPC is an opportunity that you must consider.
One popular PPC platform is Google Ads. It allows advertisers to launch ads online and only pay a fee whenever someone clicks on the ad. 
This sounds simple in theory, however, the actual process of creating a successful pay per click campaign takes a lot of research and experience. It's recommended to enlist the help of a professional or at least someone who is knowledgeable in the use of PPC ads for business growth.
You can also choose Facebook Ads as a means of growing your business's customer base. Facebook Ads are remarkably easy to create and you can target an audience by location if you have a local business. 
Another channel you can test is YouTube. Commercials on this platform can help you capture the attention of your audience and spread the word about your business and brand. 
YouTube uses AI to leverage the user's search engine history, and this makes it an extremely effective way to get super-targeted paid traffic to your website at a fraction of the cost of Google Ads. This results in a much higher ROI from your paid ads.
Just keep in mind that it's best to try one channel at a time in order to avoid overwhelming yourself and spreading yourself too thin. Once you've mastered the first channel, you can then move on to the next.
Side note, if you're looking for information regarding how to create proposals for new clients, the better proposals blog can be incredibly helpful in steering you in the right direction.
10. Use analytics 
When working to grow your business, you need to use analytics so you can see what's working and what's not. Though there are many helpful articles related to marketing statistics out there, that's not exactly what we're referring to here.  
This will help you target the areas for improvement so you can optimize your results. A tool like Google Analytics will clearly show you all the data you need to succeed. 
You can't improve something if you can't measure it and even the best digital marketing strategies won't help you unless you have a clear picture of which marketing tactics are bringing results to your business and which ones aren't. 
You can integrate GA with your website and keep track of your marketing activities every day. Make sure you add your IP address in the account dashboard as a filter so that you eliminate your own visits, as well as those from any team members or colleagues using the same IP address. This will give you a more accurate reading of the data collected by your Google Analytics software.
Summary
Digital marketing plays an important role in growing a business. No matter what industry you are in or the size of your business, the 10 tips listed in this article are powerful ways to build your brand and will allow you to start driving a consistent stream of leads to your business in no time.
Here's a quick recap of what you learned:
Strategies for using YouTube to grow your business and brand

Understanding SEO

The importance of using email to build and nurture your audience

Why you should develop a healthy presence on social media

The importance of repurposing content

How to increase conversions by focusing on value first

Increasing sales by connecting with influential people

Using paid ads for growing your business

How analytics will help you optimize your results
We hope this article was helpful in helping you discover some of the most important digital marketing tactics to use in your business's overall strategy.
---
Which of the tips in this article do you believe plays the most important role in your business's marketing strategy? Join the discussion in Thinkific's community of like-minded course creators and let us know!