Selecting the right learning management system (LMS) can be a tough decision to make. There are numerous options on the market, they can be expensive, and finding the right fit for your business goal can be overwhelming. Then, once you've selected the right platform, the migration and implementation process can take months. But building scalable online programs doesn't need to be this complicated, time-consuming, or expensive.
To help ease your feelings of overwhelm, we've compiled all the information that you want to know about Thinkific Plus in one, easy to access place.
Introducing the Thinkific Plus Evaluation Guide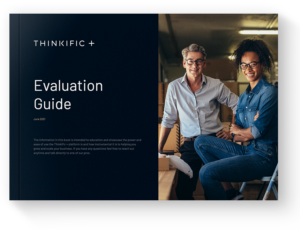 This free, downloadable evaluation guide provides a comprehensive look at Thinkific Plus, Thinkific's top-tier solution for mid-size and enterprise-level businesses. It covers everything you want to know including unique feature descriptions, testimonials from companies like Hootsuite and Keap, a detailed comparison between Thinkific Plus and other legacy LMS providers, and much more. 
6 tips for choosing the right LMS:
As you begin researching your next LMS, use these 6 tips to help you choose the right one.
1. Get buy-in from your stakeholders early
Determine which key stakeholders will be using the LMS, creating and administering courses, and analyzing student data. If certain stakeholders will be involved in the final purchase decision, set up a recurring meeting or communication channel to keep them in the loop as you conduct your research. Connect with stakeholders early to determine their pain points, needs, and overall goals. 
Ask your stakeholders some of the following questions in a survey or meeting:
How do you use or imagine using an LMS in your daily workflow?

Are there certain functionalities you rely on to complete your work?

What types of data and reporting do you or would you require from an LMS?

How would you describe your ideal user experience with an LMS?

How would you describe the ideal learner experience with an LMS?

How comfortable are you with building courses and using an LMS?

Would you benefit from additional training or one-on-one support?

What are some of the technical requirements that you need from an LMS (ie. API functionality, design customization, SSO, etc)?

What are the securities requirements that the overall company needs to consider when purchasing an LMS?
If your company currently has an LMS or other e-learning tool, what do you and your stakeholders like about it? What are some of the challenges that exist? Are there certain workarounds that have been implemented or any features you wish existed? Have you integrated any other software with your LMS that may need to be considered for the future? 
2. Determine what features and technical requirements are needed
Based on the conversations you've had with your key stakeholders, create a list of all the features and technical requirements needed in your new LMS or e-learning platform. Consider ranking them based on importance. Which features are "must-haves" and which would be "nice-to-have?" This list will help you easily evaluate the capabilities of each LMS you research and rank them based on your company's needs.
Pro tip: When researching an LMS, visit their features page to get a good view of what is included with certain plans. This is an easy way to cross-examine your list with its functionality. Check out Thinkific's feature comparison page here. 
3. Begin the research process
Do an initial search of e-learning platforms and LMS's. Be sure to consult third-party review sites like G2, TrustPilot, and Capterra for user feedback. Determine which platforms meet your initial requirements and which fall short. 
A few key areas to assess include:
Learner experience – What will the experience be like for a student? Is it easy and intuitive to use or hard to navigate? What lesson types are available? Is there a built-in course builder or would you have to build externally? Can you customize and brand the platform and make it your own? Are white labeling, single sign-on (SSO), and content scheduling available?
User experience

– What will the user experience be like for administrators, course creators, and other key stakeholders who will be using the platform? Is there a steep learning curve or is the software intuitive? Will internal training be needed to educate staff? What access levels and permissions are available? What is the reporting functionality like? Can you sell directly through the platform? How many unique sites are available on the plan?

Customer support

– How easy or difficult it is to find support resources? Is there a technical knowledge base readily available? What are the support hours like and how can you reach them  (ie. phone, email, live chat)? Do you get a dedicated support person or account manager on your plan level?

Integrations and third-party applications – What integrations and applications are available? Are there additional fees to access them or is it included? How easy would it be to implement these integrations?
Migration and implementation plans

– If you are making the switch from another LMS tool, what migration and implementation support are available, and what is the expected timeline to migrate? Is Support available pre and post-launch? Assess how their Customer Success team will work with you to achieve success on their software.

Selling capabilities – Look at your business model. Are you selling B2C? B2B? Both? Make sure that you research a platform that is able to support your company's requirements.
Learn More: Discover how to tier pricing with the Bulk Sell App
4. Speak to the team and request a demo
Now that you have completed some initial research, it's time to narrow down your search and speak to their sales teams. This is a prime opportunity to assess their level of service, experience how the platform works both from a front-end and back-end perspective, and request to see some client examples.
Prepare for your initial sales call by thinking about your business and project goals. Have a firm understanding of what you are hoping to achieve with an LMS  and what your success metrics will be. Leave some room for inspiration after seeing some client examples too.
Make a list of questions based on your initial research and don't be afraid to ask how their platform stakes up against the competition.  Finally, ask about pricing and how their pricing model works. Do they charge based on the number of courses? Do they have a tiered structure based on the total number of students?
5. Get a free trial
As you continue through the sales process be sure to ask for a free trial of the platform. This will allow you to try it yourself and test the user experience. Be sure to try the platform out as a student by creating a sample course. If time allows, have a few key stakeholders try it too and provide feedback on their experiences.
If a free trial isn't offered by the sales representative, be sure to ask for one!
6. Select your top choice
After you've tested the platform and consulted your stakeholders provide a recommendation on your top choice to the final decision-maker. Provide concrete examples of why it is the winner and use your stakeholder research to demonstrate it. If you are the final decision maker then confidently move forward with the purchase! 
Now that you have a good sense of how to choose the right LMS, grab your free copy of the Thinkific Plus Evaluation Guide and start researching your next LMS!
---
Here are some related reviews of top LMS platforms for different needs:
Interested in getting your LMS up and running in record time with an intuitive, user-friendly platform?
---
Learn from experts who plan and implement Learning Management Systems every day
Find out how
Thinkific Plus
can help you build a scaleable high-impact learning platform, for whatever your training needs.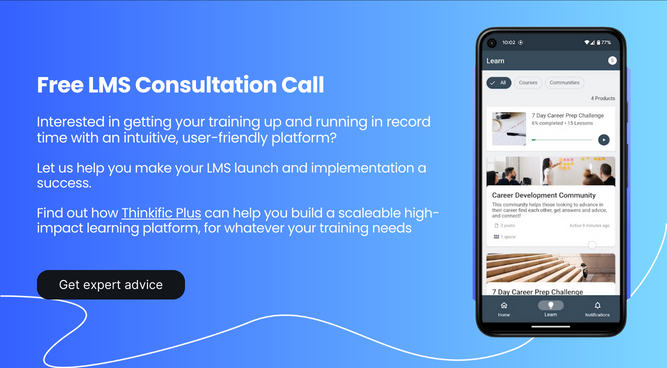 ---
Don't take our word for it…
This guide was published July 2021, and was refreshed August 2023.