How can a membership site benefit your coaching business? And are they better than simply creating online courses?
To help you decide whether a membership site is right for you, we spoke with Mike Morrison, a Membership Site Expert at The Membership Guys.
Mike has spent years guiding the growth of memberships, e-learning businesses and online communities. He runs the Member Site Academy, which teaches entrepreneurs the skills and strategies they need to build and grow their own successful membership site.
Watch the video and get all Mike's tips and insights for building a successful membership site to grow your coaching business.
What is a Membership Site?
How does a membership site differ from a stand-alone online course, and what are the benefits of having one?
A membership site is a broad term, but it always includes elements of e-learning and community. It usually refers to a site that is recurring, subscription-based and doesn't have an end date.
In contrast, online courses are usually finished products sold at a fixed price and have a clearly defined curriculum. Students pay for the course once, consume the content at their own pace, and once they reach the end, they'll get no more content unless they buy another course.
Membership sites are more open-ended. They serve up new content on a regular basis and continue to engage the community through exercises or challenges, justifying a continual monthly payment. Whether that's in the form of new courses, new content, or the founder of the membership being present to do Q&As, the recurring aspect that is the key differentiator.
A membership site helps you create leverage in your coaching business @membershipguys #coachtocourse
Click To Tweet
Benefits of owning a membership site
The first benefit that comes with owning a membership site is recurring revenue. This provides massive benefits because you are not relying on one-off sales or transactions.
With every customer that signs up, you'll have revenue coming in every month, and year after year. The sale you get today then continues to pay into the long-term. This can provide a lot of stability for your business.
Recurring revenue enables you to avoid the peaks and valleys that come from living launch to launch, and gives you something to fall back on should you ever have a misstep with your business decisions. Having a membership site allows your mind to worry less about meeting immediate financial needs, which will open your mind up to greater possibilities. As a membership site owner, your bank balance doesn't suddenly dip to zero unless all of our members have to leave, which isn't going to happen. That stability can be a game-changer for your online course business.
Related blog: Want more tips on how to build a membership site? Check out this article on How to Create a Membership Site for your Thinkific Course.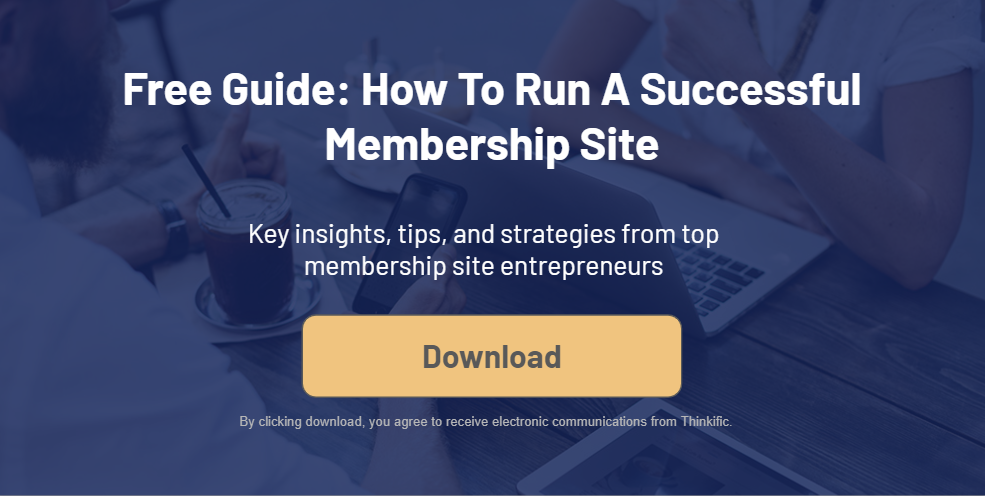 The key to good membership content
When creating content for your membership site, the most important thing to focus on is delivering real value.
Don't just create content for content's sake. People don't join a membership because it's got the most stuff. They join it because they want to reach a certain goal. If you're just churning out content to justify an ongoing fee, you're going to suffer for it.
"If you have a membership site, don't just create content for content's sake. People want to reach a certain goal. If you're just churning out content to justify an ongoing fee, you're going to suffer for it."

– Mike Morrison
Your members won't tolerate a consistent spew of generic content. They come to you to learn from the best and to really progress. The content for your membership site doesn't need to be content in a traditional textbook sense, either.
Hosting question and answer periods, having mini one-on-ones, and providing coaching within the group in a masterclass format are all great ways to engage your community on a membership site. Remember, your members want access to a community that will help them thrive, so be sure to give that to them.
How to know when it's time to start your membership site
Making the leap from online courses to a membership site can seem daunting.
Before starting down the path of turning your content into a membership site, make sure you already have a quality product to offer. Having an online course beforehand helps since you can expand and build upon that product.
A good indicator that it may be time for you to create a membership site is if your students are asking you for more. Whether it's more training materials, opportunities to interact with you, or more knowledge, ongoing interest signals that you may be able to monetize that energy through a member model.
How to transition from courses to a membership site
As an online course creator, you already have all of the necessary tools at your disposal to be able to create a successful membership site. You are an expert with a desire to teach and educate, know what kind of problems your audience is dealing with, and what solutions they need.
Combine existing courses and content
Many successful membership sites are built around a concept of combining two or three standalone courses. To start, you can sell those courses on their own. Then, you could offer people the option of joining a membership site to access all of them, as well as getting access to new recurring content.
Take a look at the content that you've already created – courses, webinars, resource guides – and think about how you could further monetize it through a membership model.
Add touch points
Once you have an idea of the content to start with, try adding more touch points to engage with your community. Holding time for live Q&A periods on Facebook or Instagram is a great way to deliver value. Q&A's don't need to be overly stylized or edited to be successful – just switch on a webcam and mic, and be yourself!
Once your students start asking questions, the content will start to create itself. Make yourself available to answer questions, show up every day for your community and people will experience value.
It takes real work
Owning a membership site is not something you can create once and forget about – it requires an ongoing commitment to add value for your community every day. If you're out to simply add a form of passive income into your business, this is not the model for you! And while recurring revenue is awesome, it takes work to earn it.
You need to deliver value on an ongoing basis by creating content and showing up in your community daily. The benefits of creating leverage in your business often outweigh this time commitment, however, as you'll be able to serve many more people in the same amount of time.
---
Watch the video to learn how to come up with the perfect name for your membership site, how to gain enough confidence to take the leap from courses to membership sites, how to create engagement and the best tools to use in building your site!