The COVID-19 pandemic has pushed people to find new ways to further their careers and personal development. In the "before times," most learning opportunities required physical attendance, be it in corporate coaching programs or extracurriculars. In the post-2020 world, online coaching practices are booming. 
Whether you specialize in life coaching, business coaching, fitness coaching, nutrition coaching, or anything in between — now is a better time than ever to run a coaching business online. But with more clients coming through your virtual doors, it's important that you work smart, not hard. The goal is to spend as much quality (billable) hours with your clients as possible, and not get lost in time-consuming admin work, like managing your contact lists or scheduling sessions.
A variety of online coaching platforms and other online tools can help you streamline your work. But how do you choose the best ones without wasting hours on research?
In this guide, we list the most essential online coaching solutions and tools you need to grow your practice and build client engagement, regardless of the type of coaching you do. 
8 types of online coaching platforms and tools you need to grow your practice
All online coaches can benefit from setting up the following essential systems: 
An online education platform for carrying out virtual coaching sessions

A project-management app to keep track of tasks and notes

A social media management platform

An email marketing software

A design tool 

A tool for setting up and keeping track of meetings

A reliable video conferencing software 

An all-in-one client management tool that manages the "business side" of coaching
These tools can help your business generate profit and operate at high efficiency. Below, we look into all of these categories in a bit more detail.
Thinkific: Sell online courses, memberships, and manage a coaching community
While traditional, one-to-one coaching might be the cornerstone of your business, it comes with a significant limitation — the time you can spend with your clients. And increasing prices for your services can only get you so far.

A better way to scale your coaching business is creating either one-to-many online courses or creating an online learning community (or both!). This way, you can reserve your one-on-one coaching sessions for high-profile opportunities, while having your core coaching program accessible to many clients through online coaching platforms and collaborative communities.
Thinkific Communities for coaching
Thinkific Communities are online learning environments that empower your clients to come together to build meaningful relationships with each other — leaving you with more time to build your business.  Whether you're looking to grow your coaching business, connect with your clients, or streamline your workflow, Thinkific Communities is an excellent solution.
Support valuable connections: Create a space where clients can connect with like-minded peers, learn from one another, collaborate in meaningful ways, and reach their goals together — all without constant reliance on you. 
Spend less time on admin: With one central place for clients to see answers to common questions, you're able to spend less time responding to 1:1  inquiries, and more time actually creating new content.
Focus on what matters most: Gather valuable feedback through discussions, Q&As, and threads to better understand and deliver the coaching content your clients actually want. 
Maximize your impact: Reach more clients in less time and build lasting connections with live events like group discussions, workshops, and 1:1 coaching. Your clients get more value while you save time.
Online courses for coaching:
Thinkific is also a flexible and powerful platform for creating online courses. It provides all essential features for creating a customized, engaging learning environment. Your courses on Thinkific can be live or on-demand and include all kinds of mixed media, from video and images to text, quizzes and surveys. You're only limited by your imagination. 
Once you build an online course with Thinkific, you can easily create a landing page to promote it. The software also automates payment processing and makes it easy to communicate with clients via in-app messaging.
You can also easily connect your course with your community on Thinkific, delivering a seamless, integrated learning experience for your clients across multiple learning products—something you won't find on other online course or community platforms.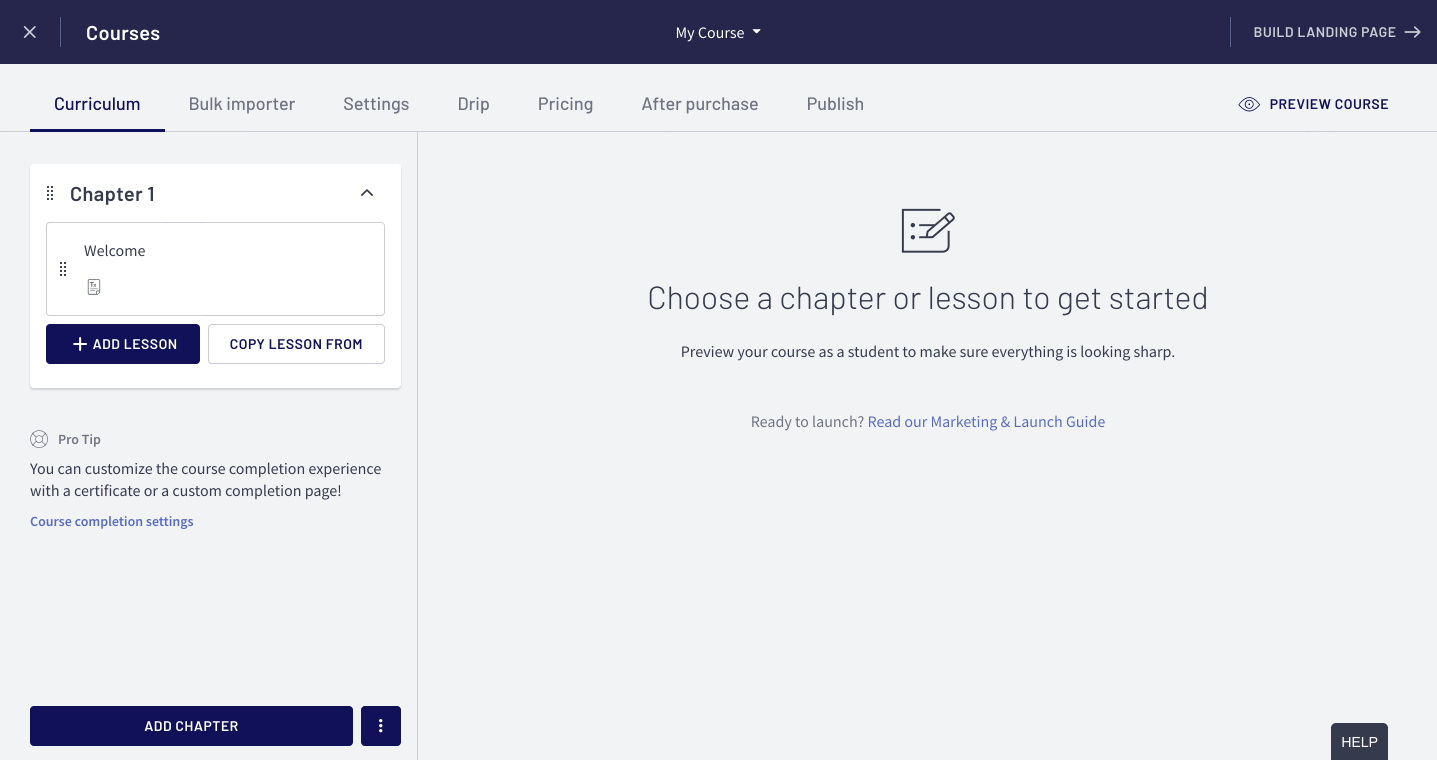 Features 
Drag-and-drop online course builder
Dozens of beautiful, fully customizable course themes
Ability to create standalone courses, bundles, digital downloads or memberships
Thinkific Communities
Community Spaces for focussed, dedicated conversations
Community Profiles & Mentions to drive engagement and connection
Live Events in Communities: host live Q&A, office hours, or 1:1 coaching sessions
Connect your course with your community for a seamless, blended learning experience
Thinkific Mobile and Branded Mobile apps to deliver your learning experience on the go
Progress tracking tools
Quizzes, assessments and certificates
Your own domain and tool integrations
Pricing
Use all the core features for free to get started

$99/month for a Start plan that includes unlimited courses, a custom domain, 1 community, live chat support and more so you can quickly launch your first course

$199/month for a Grow plan with advanced course-building features (e.g. bulk student emailer, bulk enrolments) and removes Thinkific branding

For enterprise clients that need scale and custom modifications, there's Thinkific Plus

Users also have the option to pay annually for a 25% discount.
---
Scale your coaching business for free
Use Thinkific to make a bigger impact on your clients and earn more revenue — without trading your time for money.

---
Notion: Keep track of tasks and notes
To run an effective coaching business, you need a system that makes it easy to manage all the information you come across. This includes meeting notes, tasks and projects that measure how clients progress, a CRM with client data, etc. 
In the past, you needed multiple tools to do all that. Think: a dedicated project management tool like Trello, spreadsheet software like Microsoft Excel, editing software like Google Docs, a CRM like Salesforce. Today, you can bring everything together in a note-taking and project management app like Notion. 
Notion is the only workspace professional coaches need to manage their business. It can be used to host documents, project workflows (e.g. kanban boards), client details, and much more. The possibilities are truly endless.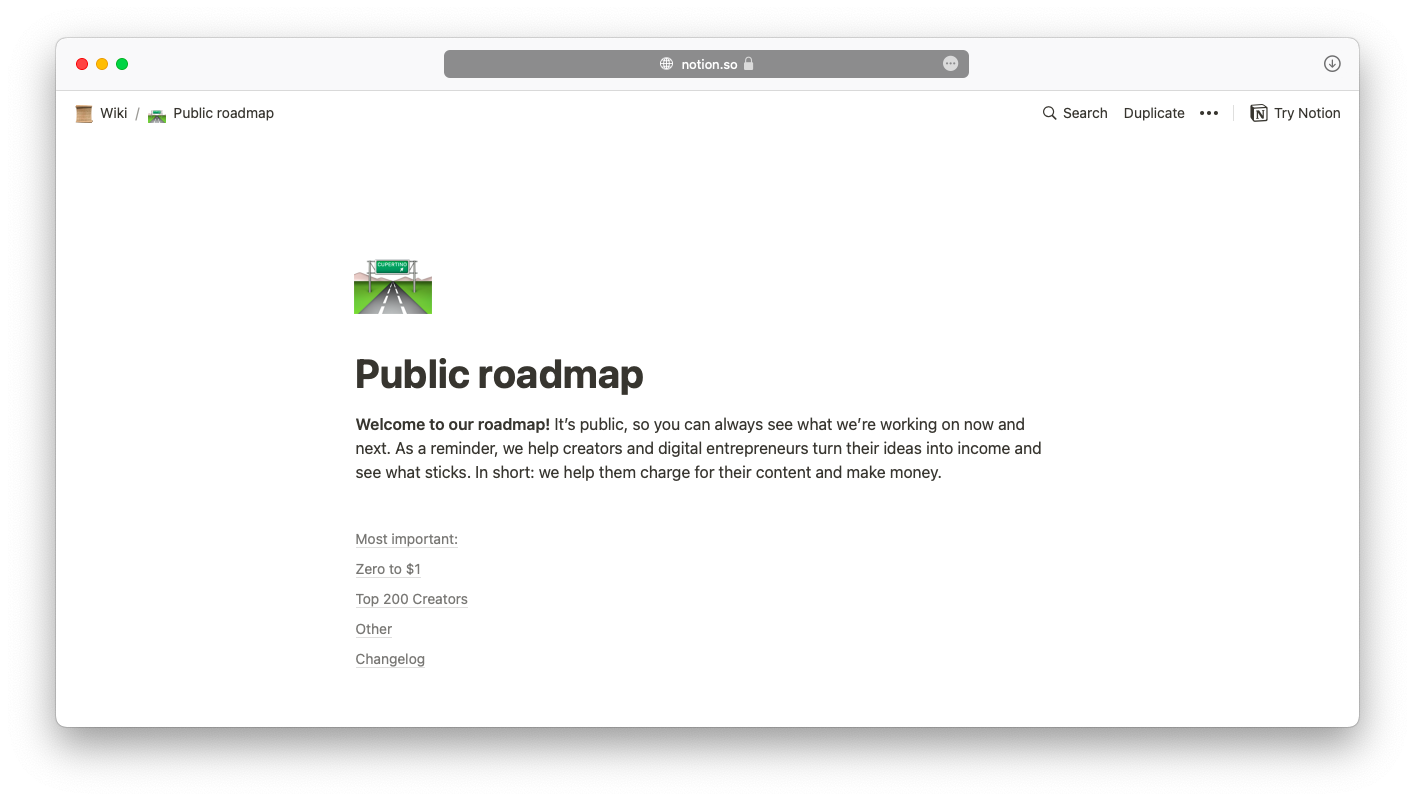 Features
Connect clients to their dedicated projects in Notion to track their progress

Write down and review coach and client meeting notes at any time, on mobile and desktop

Create a custom roadmap and milestones for every client

Share FAQs or descriptions of your practice with prospective clients

Keep all information related to your practice in one place
Pricing
Free for individuals

$5/month for Personal Pro with unlimited guests and 30-day version history

$10/month per user on a Team plan with collaborative spaces and sharing permissions

Custom quotes for other enterprise needs
Annual subscriptions reduce the monthly price for a Personal Pro plan to $4 and a Team plan to $8. 
Canva: Design marketing assets with ease
We all know how important visual content is in nearly every aspect of business, from website branding, all the way to social media. 
Unless you're a graphic design coach, chances are, creating design assets is something you'd be happy to delegate or simplify. 
Canva is a design platform that makes it easy to create beautiful images, videos, presentations, print collateral and much more — without advanced design skills. It features presets for any medium you can imagine and lets you put together high-quality designs in minutes.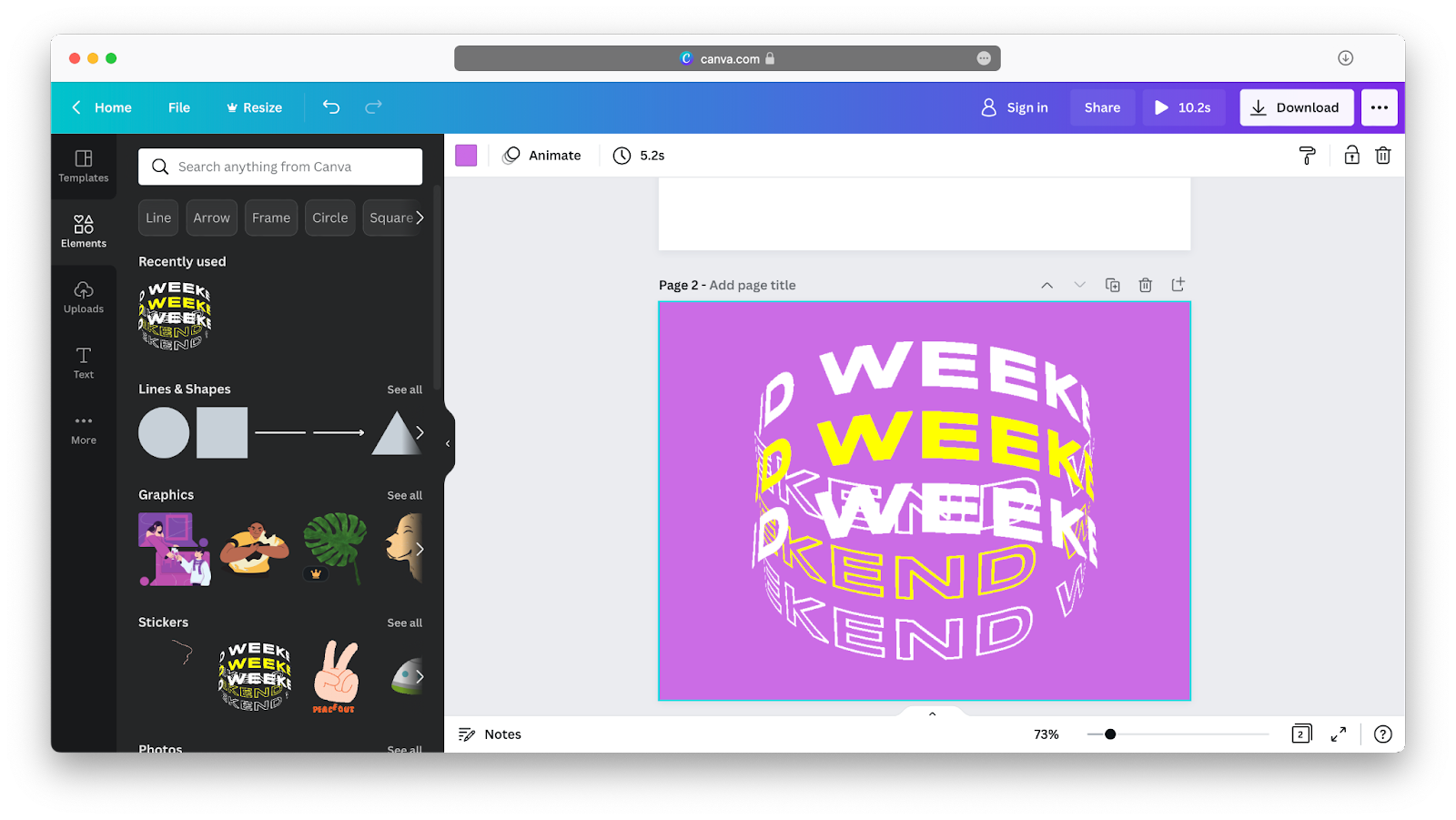 Features
Thousands of templates for any use case to get you started

Real-time collaboration on designs with others (for example, someone on your team or an external designer)

Testing, sharing and printing your results instantly
Pricing
A Free plan includes over 250,000 templates across more than 100 design types (e.g. social media posts, presentations, letters)

A Pro plan costs $12.99/month for teams of up to 5 people and adds even more templates and 100 million free stock photos, videos and audio tracks

An Enterprise plan is $30/month per person for a minimum of 25 people and features brand kits, workflows, and unlimited asset storage

Education institutions and nonprofits can use Canva for free
Buffer: Manage all social channels
Being active on social media — Twitter, Facebook, Instagram and/or LinkedIn — is essential for coaches building a personal brand online. Social media can help you find your audience, establish connections, and generate leads for free. 
The caveat is that if you devote too much time to social media, it'll consume you whole and leave no time for your actual business. So you have to establish boundaries. The sweet spot is checking the feed less often and scheduling posts in advance, while still being quick to respond to any comments and DMs. 
Buffer is a social media management platform that helps you do it all. You can queue social media posts for any platform (e.g. Instagram, Twitter, LinkedIn) on a custom schedule, analyze engagement, and get notified about any comments to quickly reply from your desktop.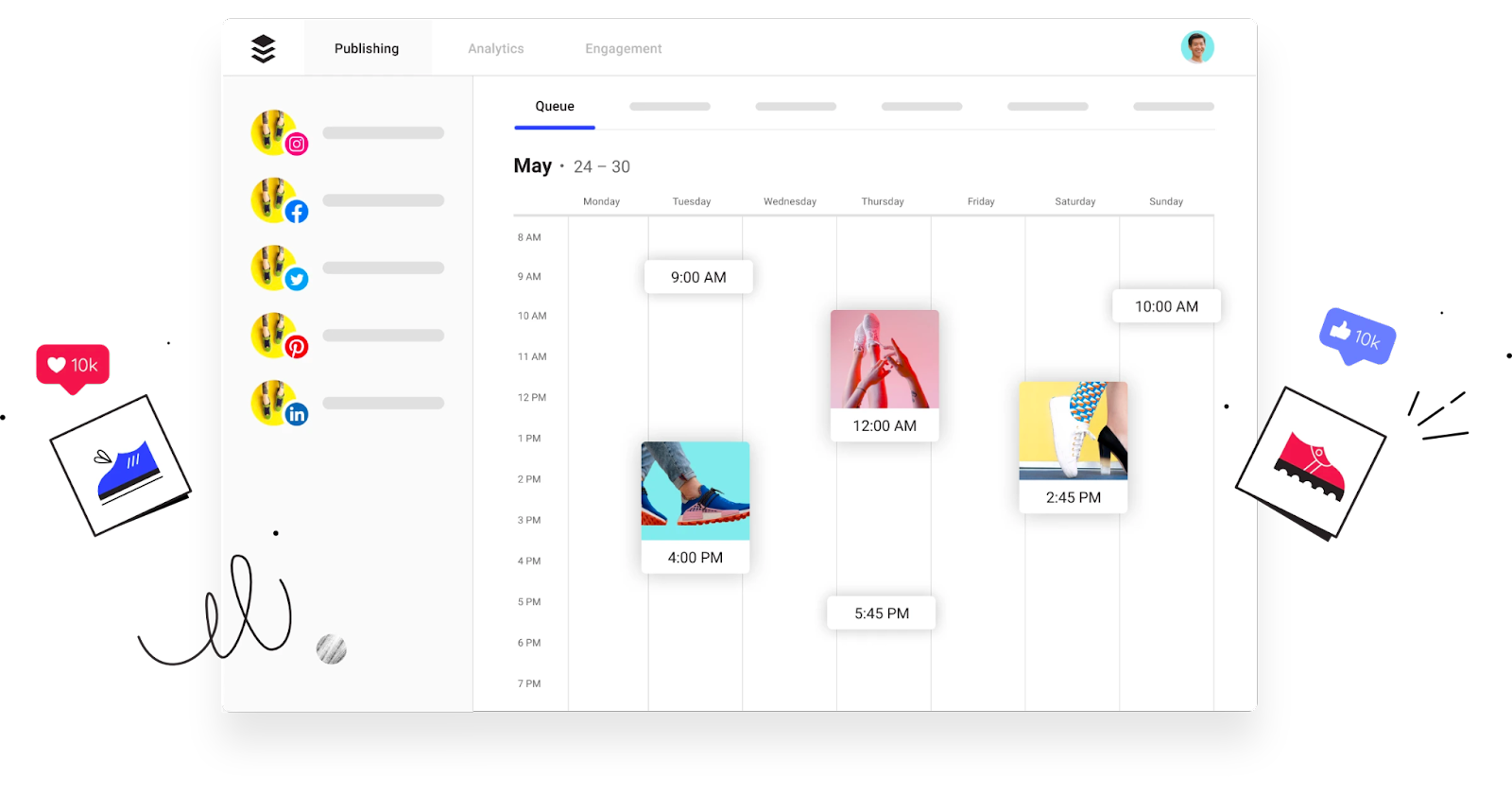 Features
Publish and schedule content for Instagram, Facebook, Twitter, Pinterest and LinkedIn from one place

Analyze performance for every social channel and create easy-to-read reports with a few clicks

Quickly reply to comments on any social channel

Create a mobile-friendly landing page to use in social media bios to present your coaching services, sell products, book appointments, and more
Pricing
A Free plan comes with basic publishing tools for up to 3 social network accounts

An Essentials plan costs $6/month per social network account and includes publishing, analytics and engagement tools

A Team plan is $12/month per social network account and adds unlimited team members and reports
Mailchimp: Send engaging emails
Email marketing is known to have a very high ROI — it doesn't require a big upfront investment, but it can be essential for converting leads into paying customers. You can, for example, use social media to sign up people for your newsletter and then send valuable content (e.g. blog posts, ebooks, insights) and CTAs (e.g. register for a course, book an appointment) straight to your contact list's inboxes. 
Mailchimp is an industry-leading email marketing tool that makes it easy to create outstanding newsletters using its drag-and-drop platform and analyze the performance of your email campaigns down to a click.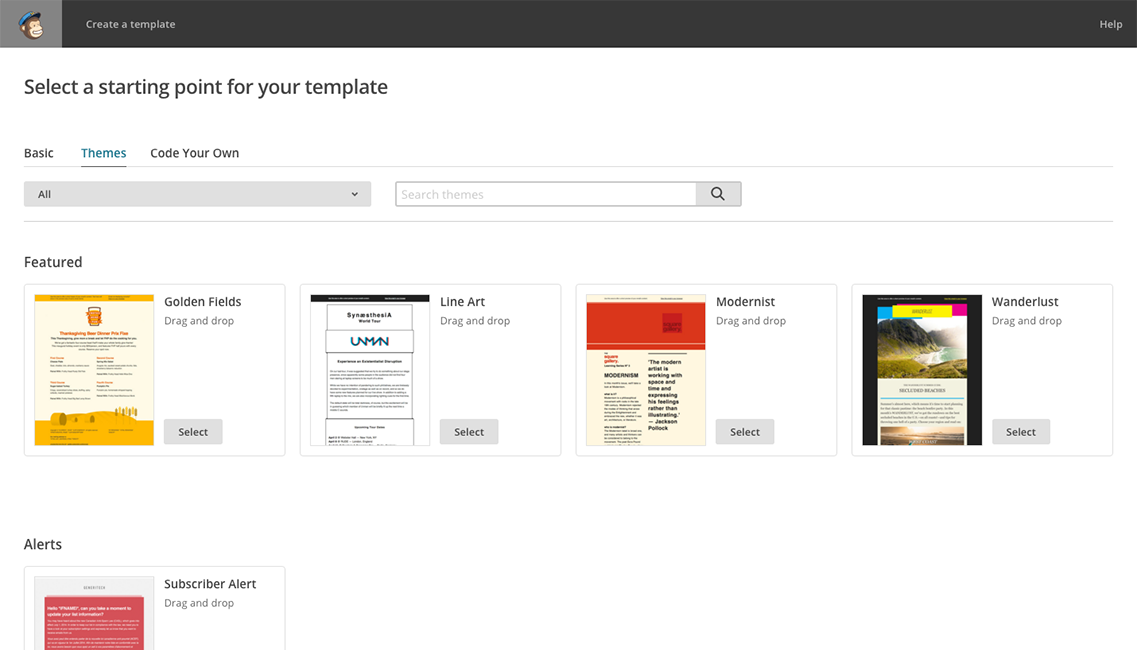 Features
Start with an email template or build your own with a drag-and-drop editor

Create branded designs on the fly with Mailchimp's Creative Assistant

Improve your copy and layouts with the automated Content Optimizer

Build behavior-based automated client journeys to drive engagement

Relax knowing that your email will reach its destination with Mailchimp's outstanding delivery rate

Analyze every aspect of your email campaigns with detailed reports
Pricing
The Free plan allows you to send up to 10,000 emails a month (more than enough for most coaching businesses)

The Essentials plan starts at $11/month and includes a custom journey builder

The Standard plan starts at $17/month and includes behavioral targeting

The Premium starts at $299/month and features various testing and reporting features
Calendly: Easily schedule meetings
These days, arranging meetings is like a never-ending game of ping-pong — you just keep emailing each other forever. Multiply that by the number of meetings you need to schedule on an ongoing basis, and scheduling might end up taking hours of your time every week.
Calendly is an automated solution for scheduling all your meetings. Just share your Calendly link with a client, and it'll display every available slot on your calendar — and let them schedule either in-person or virtual meetings at a time that works for everyone. Problem solved!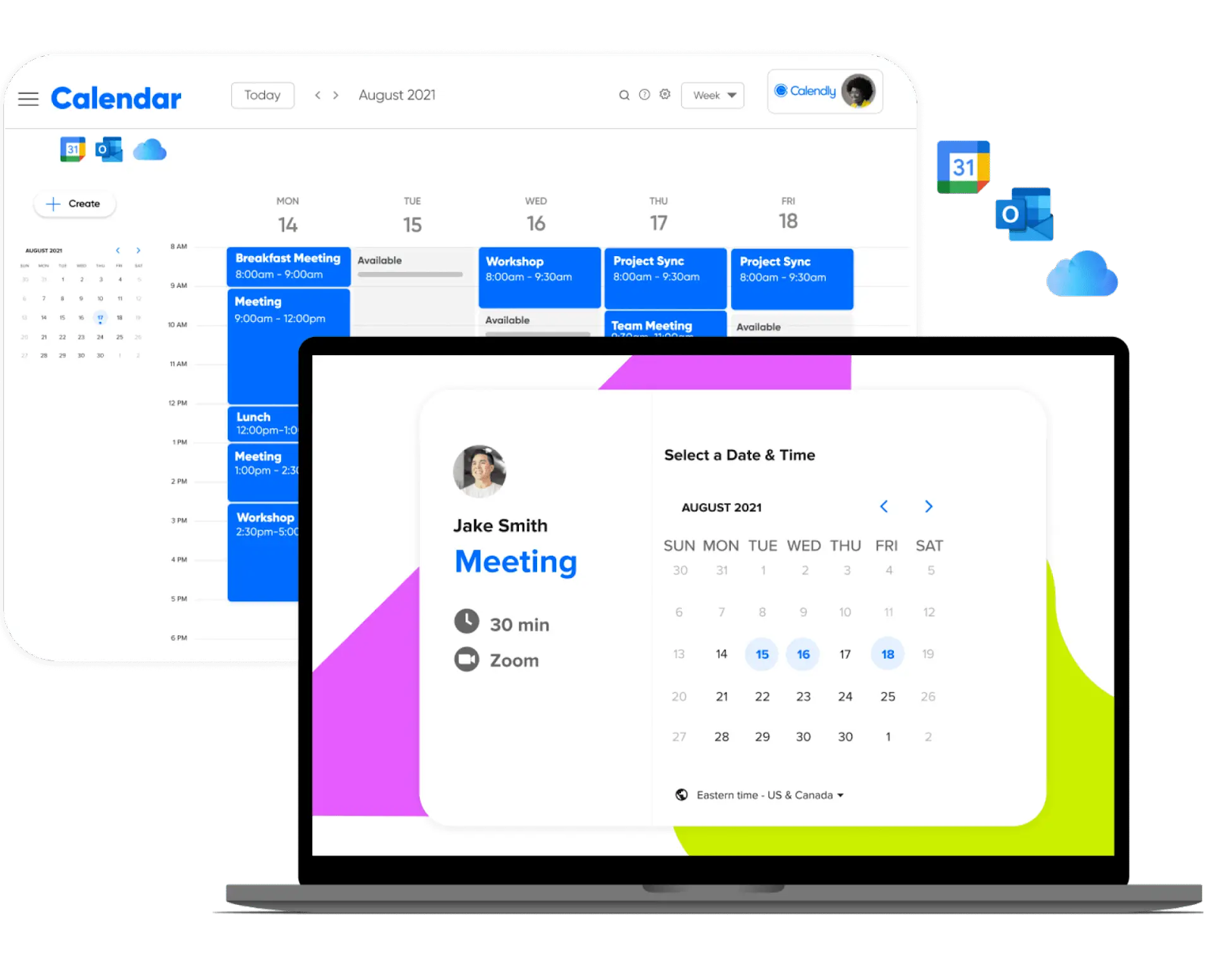 Features
Create a shareable calendar that lets your clients know when you're available and helps them book meetings

Connect up to 6 calendars

Create meeting polls where multiple clients can easily agree on a perfect time for a group coaching meeting

Embed your calendar on your website

Accept payments for appointments through PayPal or Stripe
Pricing
Basic features are available for free

The Essentials plan costs $10/month and automatically connects to your calendar

The Professional plan costs $15/month and features advanced integrations and customizations

The Teams plan costs $20/month per person for efficient team collaboration

Custom Enterprise plans are available for teams of over 30 people
Annual discounts are available. 
Zoom: Meet with clients online
Chances are, you're already using Zoom for virtual meetings. Its popularity during the COVID-19 pandemic has skyrocketed, and the app is now ubiquitous in nearly every organization. 
Zoom allows you to quickly create and join audio and video meetings from any device. It works just as well with one or 100 participants, features collaboration tools, screen sharing, chats and more. If you're thinking about offering virtual meetings for your coaching practice, Zoom is a perfect tool for it.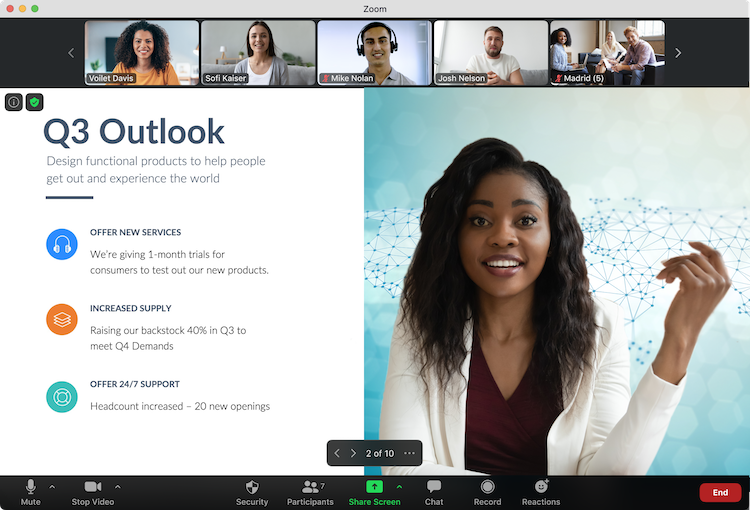 Features
HD video for all participants

Free

VoIP (Voice over Internet Protocol)

calls to join meetings from over 55 countries

Screen sharing and meeting recording 

Group chat with searchable history and file sharing
Pricing
A free Basic plan is limited to 100 participants, with a 40-minute cut-off for group meetings and 30 hours for one-on-ones.

A Pro plan is $14.99/month per license and expands the limit for group calls to 30 hours. It also includes 1 GB of cloud storage for recording meetings.

A Business plan is $19.99/month per license and allows company branding, recording transcripts and up to 300 participants in group meetings.

An Enterprise plan is also $19.99/month per license (minimum 50 licenses) and lets you host up to 500 participants and use unlimited cloud storage.
Paperbell: Easily manage all of your clients in one place 
Managing a coaching business has many moving parts, and it can be overwhelming to keep track of it. You'll often have multiple tools to schedule meetings, process payments, and send contracts. 
Paperbell eliminates the overwhelm and keeps your process streamlined in one easy and elegant solution. It's an all-in-one tool that allows coaches to schedule appointments, create multiple coaching packages, process payments, sign contracts, and keep track of every client.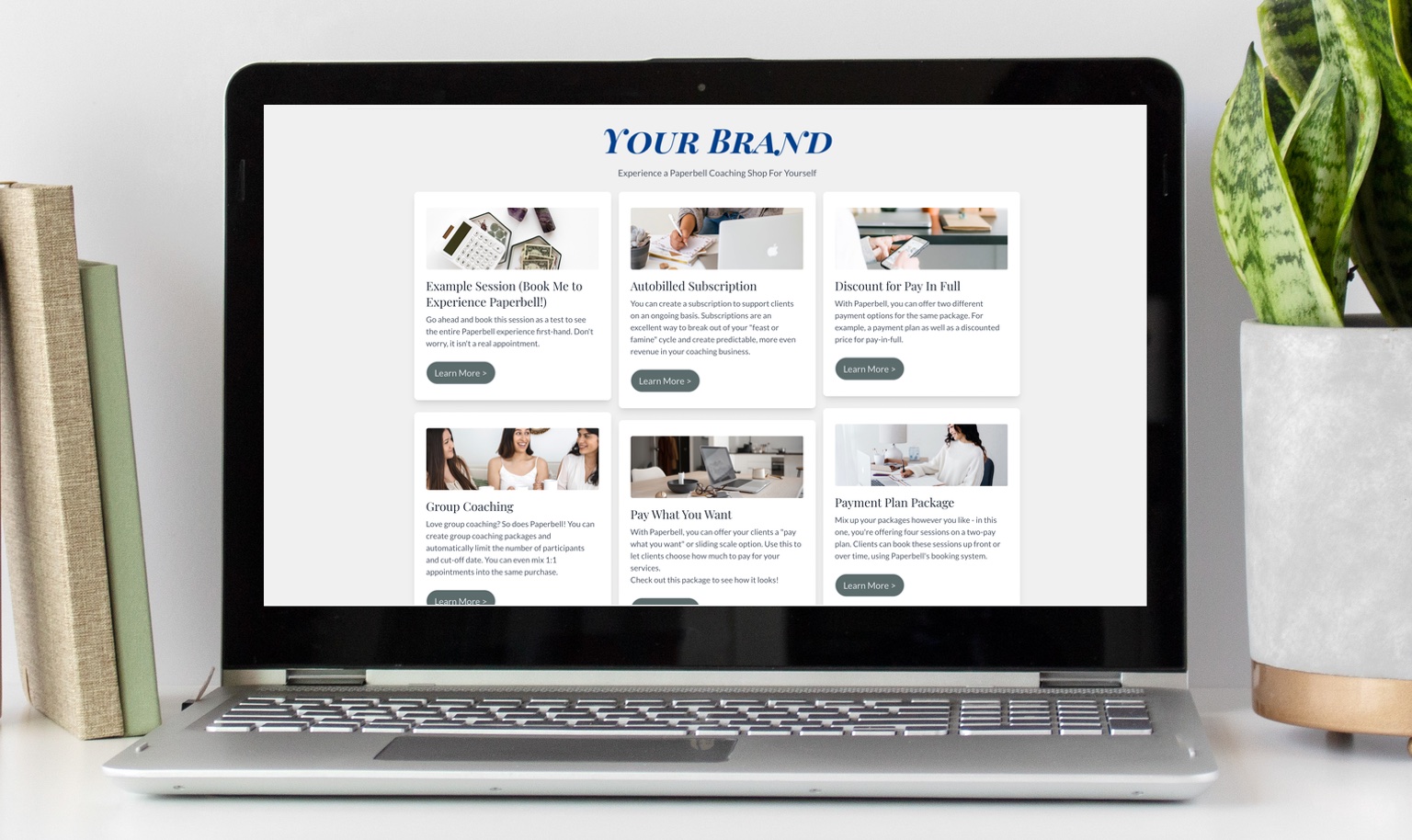 Features: 
Set different availabilities for different offerings 

Create A/B week schedules 

Create and sell single or multiple-session packages 

Offer free sessions and coupon codes 

Integrated onboarding processes with e-signatures provided by HelloSign 

A beautiful and visual dashboard where you can get a bird's eye view of your appointments, client notes, and signed contracts  
Pricing: 
Get a free plan for your first client 

Pricing starts at $50 per month for all features with unlimited clients 

A yearly plan is available for $480 (a $120 discount compared to monthly)
What's next?
Now that you have a handy toolkit of online coaching platforms and tools, you're ready to scale your digital coaching program. 
Start by joining Thinkific. We make it easy to scale your online coaching business by offering self-guided coaching courses and membership sites. Our easy-to-use course design platform helps coaches, educators, and digital content creators build custom, engaging eLearning experiences and grow sustainable online businesses. 
---
Scale your coaching business for free
Use Thinkific to make a bigger impact on your clients and earn more revenue — without trading your time for money.

---
This piece was published on April 21, 2022, and was improved October, 2022.