Building a plan for your coaching sessions is a bit like coaching yourself to become a better coach. (That's a lot of the word coach in one sentence!)
A good coaching session template goes a long way — it can help both beginners and seasoned coaches follow best practices, consistently deliver high-quality services, and develop signature coaching styles. If you're not sure how to build one, you've come to the right place.
This guide will help you put together a custom framework for productive coaching. It includes the 5 non-negotiable elements of a well-designed coaching session as well as specific examples of thoughtful questions that will guide you and your clients towards breakthroughs and "aha!" moments. We've also created a free coaching session template you can start using today.

Why does the structure of your coaching sessions matter?
Every coaching session is unique, so spending time on building a rigid session structure might seem unnecessary. But setting up a basic framework will help you stay organized and deliver quality coaching during each of your sessions.
Here are other reasons why sticking to a defined coaching session structure is a good idea:
It will help your clients feel comfortable.

Every session, they will know what to expect, and it will take them less time to open up to meaningful, out-of-the-comfort-zone conversations.

You'll never skip an important question.

We're all human. Without an action plan to follow, you might get caught up in client conversations and forget to ask important questions that could take the session from engaging to engaging

and

productive.

It makes for a signature experience.

Following a well-structured process during every session will help you come across as a professional and consistently deliver a high-quality service that is uniquely and recognizably

yours

.
Remember, you're only mapping out the most important, non-negotiable elements of your coaching sessions. You will still be able to tweak your coaching session template on a case-by-case basis and deliver great coaching that will help all your clients achieve their unique goals.
Thinking bigger? Check out our guide to building a coaching program. (It also includes a free template!)
---
Scale your coaching business for free
Use Thinkific to make a bigger impact on your clients and earn more revenue — without trading your time for money.

---
The 5 elements of a productive coaching session
The detailed structure of your coaching sessions will depend on many factors, including the type of coaching you offer, your preferred coaching tactics, and your clients' goals — but this generic framework is a great starting point for all business and life coaching sessions. You can build upon it and add transform it into a signature coaching experience as you go.
1. The warm-up
This first step is extremely important. It will help you create a safe space for your client and encourage them to open up to you. Think about it as a warm-up before the proper workout, a.k.a. the more mentally demanding coaching conversation that is the core of any session.
Use this time to engage your client and build your relationship. Simple but thoughtful small talk will help them relax, leave the tension of their day behind, and feel more grounded and present during the session. But rather than chatting about the weather, consider circling back to the previous sessions. Check if any questions came up since your last meeting or coaching call, and encourage your client to reflect on the progress they have made since they started your program.
You can also ask some general questions about how your client has been doing since your last session. Open-ended questions might uncover some truths about how your clients think — which, in turn, will help you understand them better, and calibrate your approach to best fit their needs.
2. Goal-setting
Based on your warm-up conversation, set goals for the session. Make sure that you and your client are aligned on the issue that requires work and on the desired outcome. It's important that these two elements are recognized and named by your client, not you — though you will, of course, lead them there throughout the conversation.
3. The "actual" coaching
This is the core of your coaching session. It's where you roll out your best coaching strategies and techniques, and assist your client out of their comfort zone to help them reach "aha!" moments that will lay the groundwork for changing habits or learning new skills. 
Two things are essential here: you have to ask the right questions (see examples below), and be an active, focused and present listener. Only then will you be able to lead the conversation in a purposeful, constructive way. Take note of what your client is saying — and what they're not saying.
Depending on your coaching style, you can also incorporate anecdotes and examples, roleplay scenarios, worksheets, roadmaps, and other resources into this part of the session. 
4. Defining commitments
It's not necessarily enough to help your client understand the path to success; "aha!" moments alone are just fleeting moments. 
Make sure to name action items in this segment in your session. They have to be relevant to your conversation and your client's goals, but also realistic — there is no point overwhelming your client with "homework" they simply won't do.
Build commitments around the habits your client is working to change or the skills they want to develop. Ask them to write the commitments down. They can follow a simple fixed formula, for example:
Every time [situation or circumstance], I will [action meant to instill new habit or skill]. I will be mindful of [old habit or existing emotional barrier].
5. Reflection
Don't let your client just leave the session and forget all about it. Once all the hard work is done, make time to reflect on the breakthroughs achieved in the session. Summarizing the most important learnings will help your client retain the new knowledge and skills — and it can support lasting change. 

6 questions that will carry your coaching session
In his book The Coaching Habit, Michael Bungay Stanier lists several questions that make for a productive coaching session. While he recommends them specifically for employee coaching, we believe that the questions listed below will work for nearly any type of coaching.
The kickstart question
The seemingly simple, open-ended question: "What's on your mind?" will get your client to (consciously or not) highlight the purpose of the coaching session. Make it clear to your client that they can answer in as much or little detail as they see fit. Either way, you will be provided with a great starting point for your coaching conversation.
The AWE question
AWE stands for "and what else?" Another simple, yet powerful question. This one will help you keep the conversation going and dig your way towards a breakthrough, even if your client isn't a great communicator. Using this question will help you uncover more insights and can improve your client's self-awareness. It can also buy some time when you're discussing a particularly complex matter and you need another minute to think of a constructive next action step.
Michael Bungay Stainer recommends that you ask this question at least 3 but no more than 5 times during a session. 
The focus question
This question will help you refocus the conversation if it starts getting drifty. It can also be used to understand your client's unique perspective on why they need coaching. The question is: "What's the real challenge here?" Asking it will help you identify the core issues that need work and segue into thinking about possible goals and solutions.
The foundation question
This question throws the ball into your client's court and inspires them to define their goals. Asking "What do you want?" will get your coaching client thinking about desired outcomes — and the first step to reaching any goal is becoming aware of it. 
The strategic question
"If you're saying yes to this, what are you saying no to?" This one might be particularly well suited for workplace coaching, but it can also be helpful in establishing priorities and understanding the implications of non-work-related decisions. Use this question (or a variation of it) to help your clients avoid tunnel vision and think about changes and goals in a holistic way.
The learning question
This last question will help you wrap up and circle back on the session's most important findings and breakthroughs. It's: "What was the most useful for you?" Use it to help your client retain any new knowledge or skills they're walking away with. 
It also packs a bonus: if you pair it with the AWE question and dig a little, you might get some very valuable feedback about the quality of your coaching.
Free coaching session template
Now that you know why all of these elements of a coaching session are so important, you can put them to work. We've put together a handy free template that you can print out and start using today.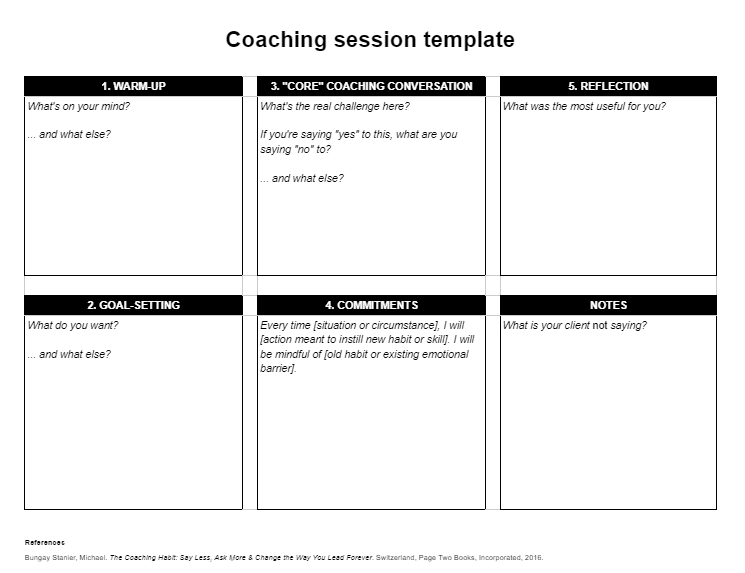 Scale your coaching business online
Ready to move beyond one-on-one coaching and scale your business? The fastest, most effective way to reach more clients and build passive income is to take your coaching practice online. 
With Thinkific, you can grow your business by adding self-guided coaching courses to your repertoire. Our easy-to-use online course design platform helps coaches, educators, and digital content creators build engaging, custom eLearning experiences and grow sustainable businesses online. 
---
Scale your coaching business for free
Use Thinkific to make a bigger impact on your clients and earn more revenue — without trading your time for money.

---
Try Thinkific for free and get the course creation, marketing, and selling tools you need to take your coaching business to the next level. (No tech skills required!)
References
Bhushan, Neeta, and Nawalkha, Ajit.

The Book of Coaching for Extraordinary Coaches

. United States, Mindvalley, 2017.

Bungay Stanier, Michael.

The Coaching Habit: Say Less, Ask More & Change the Way You Lead Forever

. Switzerland, Page Two Books, Incorporated, 2016.