The uncertainty of today's world made even the traditional teachers realize the importance of the digital space. It's been over a year since the 21st-century education system evolved to enable distance learning, with teachers and students worldwide adapting to virtual classrooms.
If you're in search of the perfect tool to create an online quiz, here are our top recommendations for quiz makers for students and teachers. We have based our research and selection of tools on the following factors:
Highly engaging UI and UX 

Easy to build within minutes

Customizable templates and designs

Data collection and lead generation for online courses and students' projects

Option to create different types of quizzes or assessments

Robust analytics 

Custom feedback for each student's performance

Integration capabilities
Did you know? – An impressive 81% of marketers state that interactive quizzes grab attention and engage audiences much more than static content. 
So if you want to empower your online teaching with the best interactive quizzes for students, you're bound to find the perfect solution here. Let's start the hunt! 
Name
Free & Paid Options
Benefits

Outgrow 

Free / from $14 per month

WYSIWYG builder, 1000+ premade templates, logic jumps, personalized outcomes, multimedia elements, robust analytics, lead generation, integration, and quiz embedding features, multiple languages

Thinkific

Free / from $99 per month

WYSIWYG text editor, online course builder, randomized question bank, multimedia elements, result export, and passing grade requirement features

Ceros

Custom pricing

Drag and drop interface, lead generation, experiential marketing, high-quality editable visual designs, customizable templates, collaborative workspace, deeper engagement analytics

ClassMarker 

Free for edu /

from $19.95 per user per month

Customizable quiz templates, instant test results, bulk students exam, embed on websites, pay to take quiz and payment collection feature

Kahoot!

Free /

from $3 per teacher per month

Gamified quizzes, game reports analytics, live games for distant learning, quizzes within Zoom, multiple languages

Google Forms x Flubaroo

Free

Easy-to-use, customizable quizzes, advanced grading options,

self-grading quiz, integrated reporting with Google Forms
Top 6 Quiz Makers for Students and Teachers 
Thinkific
Thinkific is an ideal choice for entrepreneurs who want to create, market, and sell their online courses. The easy-to-use builder gives businesses the opportunity to learn and earn online. Its unique features like randomized question bank and passing grade requirements make this quiz website for teachers stand out.
Outgrow
Outgrow is an interactive marketing platform that helps create an engaging online quiz for students, teachers, and marketers. It is a no-code user-friendly platform with various premade templates and question types for creating quizzes within minutes. Its robust analytics and customer support make it a top-notch tool to pick.
Ceros
Ceros is a cloud-based quiz maker and designing tool that helps marketers and educators to create experiential content without the need to code. The platform offers features like lead generation and collaborative workspace to engage multiple students in real-time that gives Ceros a unique touch.
ClassMarker
ClassMarker is a reliable online test maker for teachers and businesses. It is used both by business and educational centers to conduct training and create online exams. ClassMarker's minimalist interface and easy learning curve make the tool attractive for many.
Secure & reliable exam maker & online testing solution.
Unique Features…
Easy-to-use and customizable quizzes
Test results sent to your website in real-time
Embed exams in WordPress & websites
This is for you if…
You are a business, training centre, or educational body
You want to test 1,000s of users simultaneously
You want to charge users for taking your online exams and receive payments instantly
Kahoot!
Kahoot! is a global platform that has gamified the teaching and learning experience for students. It is an easy-to-use tool for any teacher or business to create, share, and play learning games that scream engagement. Its interactivity and high completion rate from the learners make it a popular choice.
Google Forms and Flubaroo
Google Forms is well known for its forms (of course). But what you may not know is that you can now create a quiz out of that form. How? Just create a form and turn on the "Make this a quiz" option. You can assign point values to your questions and let Flubaroo do the auto-grading. The simplicity of this free online test maker for teachers can make it a good choice for creating basic assessments.
Tips for creating a great quiz 
We've given you all the highlights of the top quiz makers for students and teachers. Once you pick your best fit, you should be good to go. However, to ensure maximum engagement and conversion, you got to take care of a few things. So here are a couple of tips for you (that no tool will tell you):
Don't ask too many questions
Don't overwhelm your students with super long quizzes. Quizzes with about 6-10 questions see the maximum conversion and engagement. 
Moreover, the number of choices given for one question should be kept between 4 to 5. Otherwise, your students are likely to get confused and leave the quiz halfway. 
For example, have a look at the clear and precise questions and options of this English Proficiency test.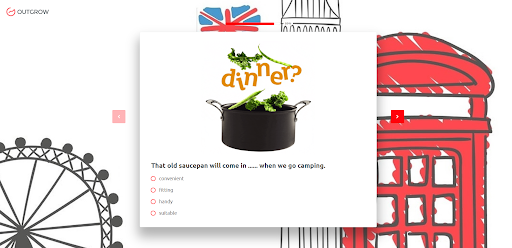 Add lead generation forms
Look for quiz makers that allow you to add a lead generation form to your quiz. This feature comes really handy especially if you are a training institute offering online courses or even a student wanting to circulate a quiz for their project. 
For example, Bolt IoT built an interactive quiz using Outgrow titled "IoT & ML Training Scholarship" to generate relevant leads and increase brand awareness.
This quiz came out to be highly beneficial for promoting their training program and gaining qualified leads.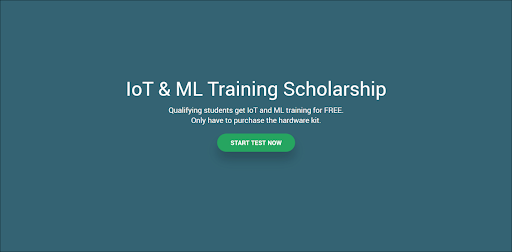 Results – They generated 62,000 leads and 98,000 visits. The quiz also helped increase their conversion rates by a whopping 62%.
Final Thoughts
With the right quiz maker for teachers and students by your side, creating online quizzes and assessments can be easy-breezy. 
And in order to give you the confidence to go ahead, most of these quiz makers mentioned in our listicle offer a free trial. We highly recommend you try the ones with the best features as per your needs before choosing the ONE.