In 2015, Jenny Shanks began to develop her gifts as a spiritual medium and psychic.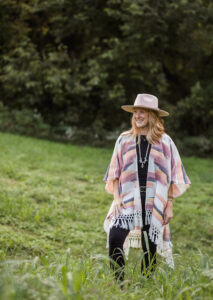 Through working with a mentor, she was able to further explore her intuitive capacity. Soon, she was offering readings — mainly to women aged 40-60. More and more, people were asking her to teach them what she knew. To do so, she began creating online Thinkific courses in 2019. 
At the time, she was still working in healthcare marketing for a corporate company. No longer feeling aligned with the company, she spent six months trying to figure out if she should stay or go.
At the beginning of 2020, she decided it was time to leave. "It's a big transition when you go from a steady paycheck to being on your own," Shanks shares with Thinkific. "But I've never regretted leaving."
She started full-time in her online course business right before covid and hasn't looked back. "I've finally stepped into my gifts where I'm free from judgment, opinions, and competition," she says. "Even on days that are challenging, I would much rather do what I'm doing now."
Now, Shanks has four courses: Intro to Mediumship, The Spirit Guides Connection, Root & Rise, and her monthly membership program called Love Warrior. In October 2022, she integrated Thinkific's mobile app to increase student engagement and make her online course content more accessible. "At the end of the day, if you're making content easy for the end user to access, the more likely they're going to convert and share your course with others," explains Shanks.
Thinkific's mobile app: Helping students learn anytime, anywhere
Designed to put course creators' knowledge at their audience's fingertips, Thinkific's mobile app offers students the ability to access course content anytime, anywhere. 
By delivering a mobile learning experience, creators are able to teach their students in a convenient way. This means that students step into the driver's seat of their own learning experience, as they can now be in control of when, where, and how they learn. Plus, the mobile app includes features like push notifications, activity feeds, and direct access to courses and communities. The result? Online courses stay top-of-mind and students experience a more flexible learning environment. 
For Shanks, integrating the mobile app has benefited her online course business in three key ways:
The mobile app increases accessibility to course content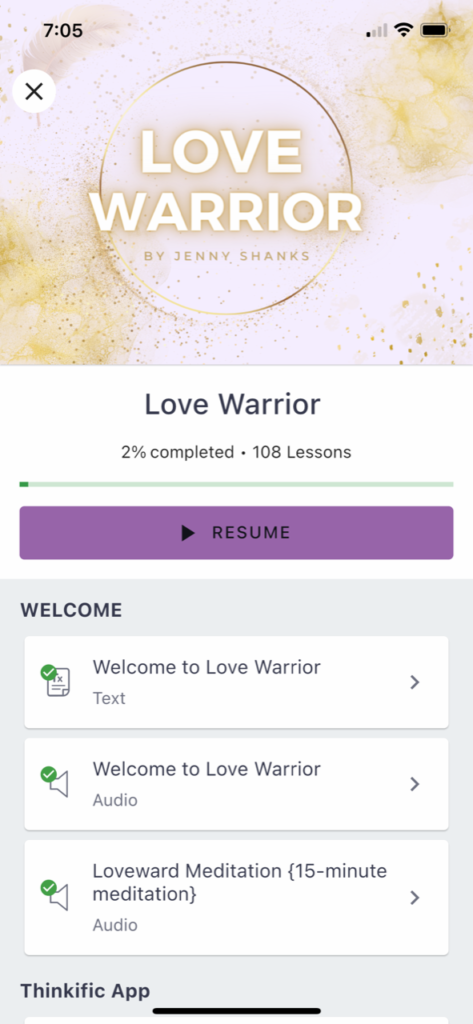 The main thing Shanks noticed since integrating Thinkific's mobile app is an uptake of consumed content. "Some people prefer to use an app on their phone versus a desktop computer," she says. "They use the app more because it's so easy to just plug in and listen."
Those in her monthly membership course use the app the most; since there are guided meditations and podcast-style conversations in the membership, people use the app to listen on the go. Her students love how easy it is to use — especially because they can lock their phone and still listen to the content without burning through their phone's battery. "So many people have told me that they needed to listen to one of my meditations because they were having a bad day at work, and were able to do so by just opening up the app and plugging their headphones in," she says.
Since people usually have their phones with them, Shanks has noticed that her content is consumed more frequently than before integrating the app. "The biggest turning point was the way in which the mobile offered quicker and easier access to course content without having to get a computer or figure out the URL on their phone," explains Shanks. 
What she loves most about Thinkific's mobile app is its simplicity —- especially the way in which it offers an easy navigation experience for her students, who aren't overly tech-savvy. She believes that the biggest role mobile apps play — and will continue to play — in learning businesses is increasing accessibility. "It's important to make it easy for the end user, especially in tech," she says.
The mobile app provides a user-friendly experience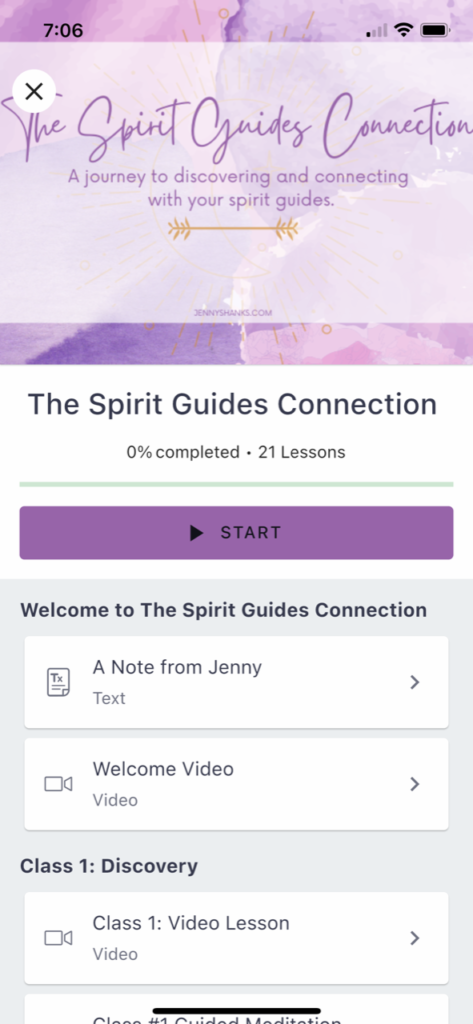 Shanks describes herself as an "A-type personality," and likes things to appear orderly. She finds the mobile app easy to use, and loves the way it presents and displays her course content. "I've used many different apps, and some of them can be really difficult to understand," she says. 
She loves that she can organize her content easily on the web app, where updates are automatically translated to the mobile app. According to Shanks, course creators need little tech knowledge to do so; rather, the web app offers drag-and-drop ability, making it easy to navigate. As someone who didn't want to spend a bunch of time building out a mobile app, Shanks says that Thinkific made the mobile app experience approachable. "I've used other digital platforms before, but they were complicated and I didn't want to waste time trying to figure out so much technology stuff," she says.
"If you give me something that takes a lot of my energy, I'm going to be irritated with it," Shanks laughs. 
"You can't mess things up with Thinkific," she continues. "It's all pretty self-explanatory. Course creators don't have to spend a lot of time building the app, making it much easier for them to actually implement it and share it with their students."
The mobile app can be set up effortlessly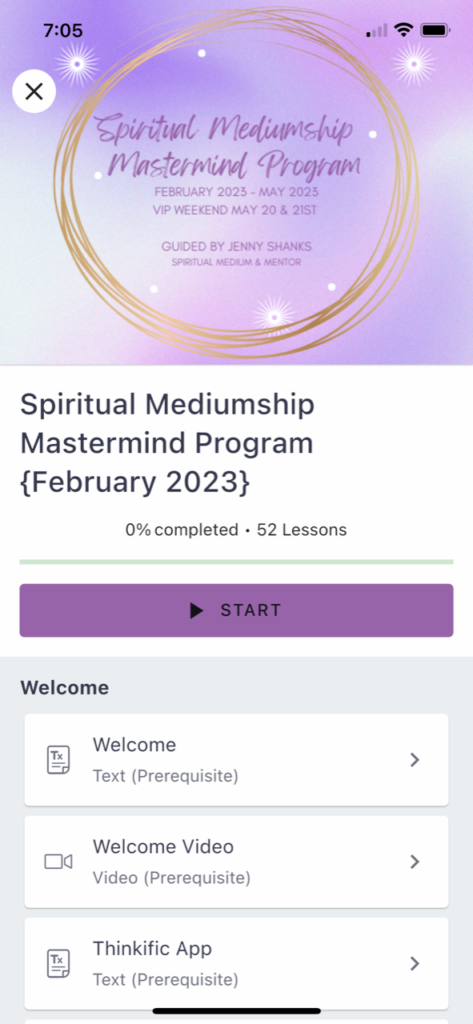 Creating a cohesive brand identity is important to most online course creators, and Shanks is no exception. 
To set up the app, creators simply need to enable the Thinkific mobile app from their account. From there, within their account, they can input their brand colors and logo. These changes will reflect in the mobile app, ensuring that the creator's branding is maintained across their courses and communities. By maintaining aligned branding with the desktop version of the course, it looks like a seamless add-on. "I love being able to personalize the course in a way that feels like it's my own," Shanks shares. 
Since she finds it so easy to make adjustments to the app content on the web app, creators like Shanks can navigate the design experience without any special tech or coding knowledge.  "I just love Thinkific," she says. "I've tried other competitor platforms before and I just genuinely love the usability of the front and backend."
During the whole process of integrating the app, Shanks felt supported by the Thinkific team. "The Thinkific staff have been wonderful," she adds. "The tech support has been incredible and the team has an amazing knowledge database that they can guide creators on."
If you're interested in integrating Thinkific's mobile app into your students' online course experience to increase accessibility, provide an easy front and back-end experience, and create a visually cohesive brand, learn more here.