First impressions last—and on YouTube, many viewers see your channel banner before they see all your videos. You'll want to get your banner art picture perfect, so you start off on the right foot with every new viewer.
Creating the perfect YouTube banner design is tricky, though.
For example, if you create a channel banner that's too simple, nobody will look at it. In the long run, that'll cost you subscribers and views. If you get too complex with your design, you'll make people scratch their heads. Because, they won't know what your channel's all about, and they'll take their attention elsewhere.
This article will help you create balanced YouTube channel art that grabs peoples' attention and directs it. We'll start by breaking down how to make a YouTube banner with Canva. Then, we'll dive into the core features of A+ YouTube banners, explore some of our team's favorite examples, and break down some common FAQs you might have. We've got you covered—and then some!
So let's dive in, and get you designing YouTube channel art like a pro. Here's some shortcuts, if you're eager to skip to a specific section:

How to make a YouTube banner 
Open a YouTube banner design tool like Canva
The first step to creating a YouTube banner is picking the right design tool. PicMonkey's YouTube Banner Maker is perfect for beginner designers. Intermediate and expert designers will probably feel most at home on Adobe Photoshop.
For this article, we'll stick to Canva. It's accessible for beginners, and jam-packed with design features that pros can use to create a standout banner. (You can even use it to make a YouTube banner on your iPhone.)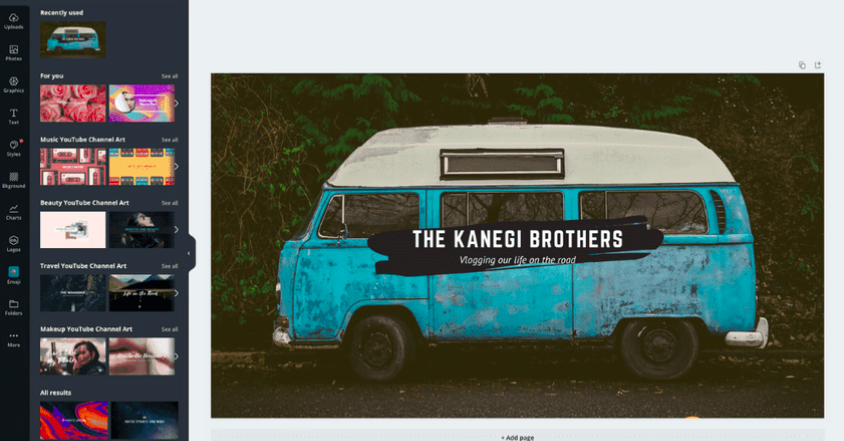 Search for a YouTube banner template you like
Once you've logged into Canva, click on Create a Design. Then head to the search box, and type in "YouTube channel art." Canva has a deep bank of templates, and you can search through pre-made youtube banner templates.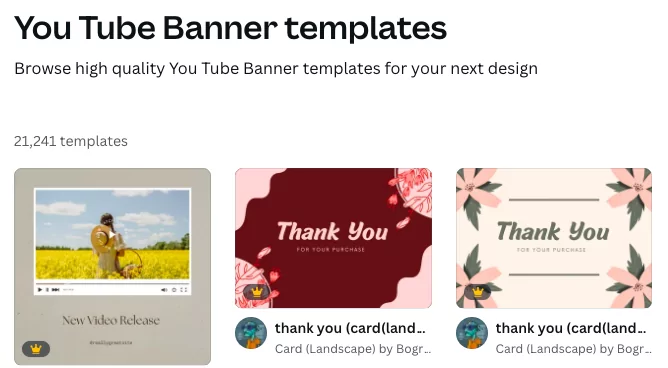 Modify your YouTube banner template until you love it
Once you've got the basic template you'll use for your YouTube banner picked out, customize it to make it truly one-of-a-kind.
Start your customization by deciding on your copy. If you're using a tagline, pick a clear one that represents your brand, like Nike's "Just Do It," or Apple's "Think Different." Next, write any CTA text you'd like to include on the banner (like "subscribe for weekly videos.") Keep the text you include simple, short, and instructive, so viewers don't have to search for hidden meaning.
Next, bring your text into the template, and start replacing the template elements with your own. Swap out the stock fonts for your brand typeface, flip the color scheme, and tweak the text spacing to bring your brand identity to life. There's no formula—but you'll know when your channel banner is just right.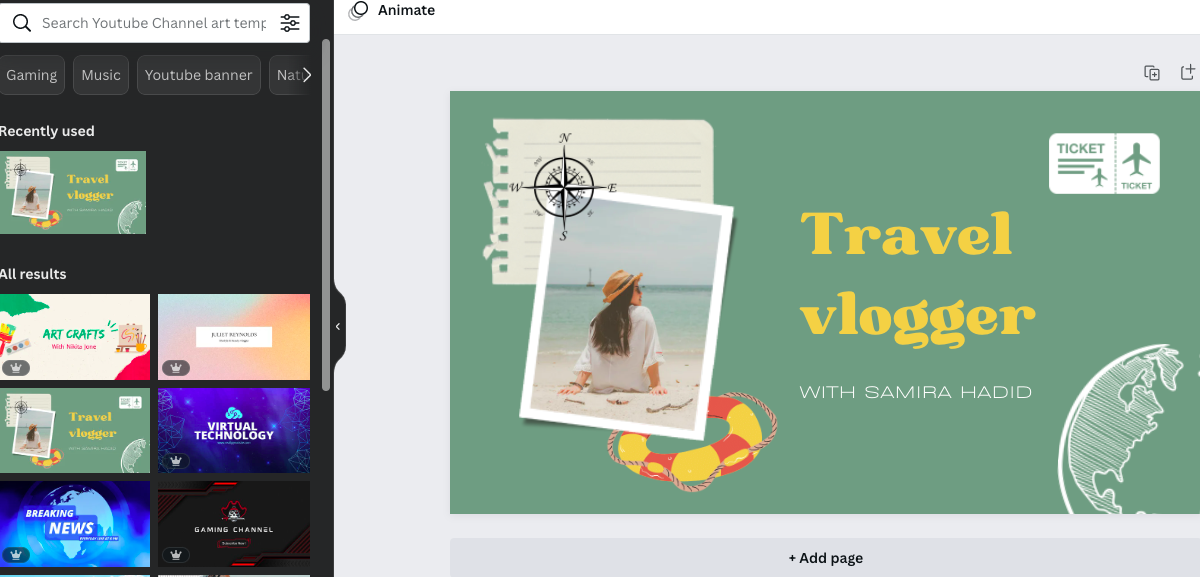 Import images from your computer 
You don't need to work purely with Canva's youtube banner design template feature. Instead, import an image from your computer into Canva by clicking on the Uploads tab located on the far left-hand side of the editor. Click on the Upload Media button, pick your photos, drag them and drop them where you want them. Suddenly, your YouTube banner design will look way more personalized.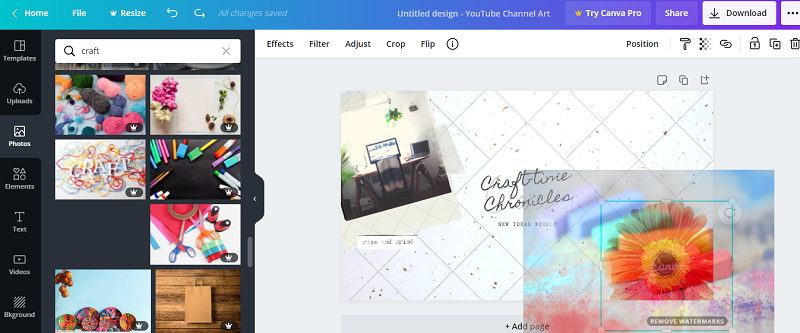 Download your finished YouTube banner design
Once you've finished designing your YouTube banner, save your image file to your computer by clicking the Download button. Canva lets you choose your file types. , and make sure to choose a JPEG, GIF, BMP or PNG file. These are the file types that YouTube accepts for banner images.
What makes a good YouTube banner? 
Use simple imagery and large text
When it comes to banners: keep it simple, especially if you're new to design. You'll need a central piece of imagery that hooks viewers. This could be a still from a video, a shot of your business, or a piece of graphic art. Then, you want your brand logo, your tagline, and your CTA to jump out at viewers.
That's literally all you need.
Your YouTube channel banner doesn't need to be a literal masterpiece—and honestly, it shouldn't be. It just needs to hook viewers, show them what your channel is about, and get them to subscribe. The simpler you keep it, the better you'll be at hitting your conversion goals.
Consistency with your branding outside of YouTube
Your YouTube banner design should fit in with the rest of your brand identity. Many people who see your channel banner will have never heard of your brand before. This will'll be their entry point. If they're interested enough to subscribe or visit your website, you don't want the banner art to clash with the rest of your aesthetic—that will just just confuse people.
If your brand uses playful, bright visuals, don't design a YouTube banner with dark, edgy imagery and typography. Similarly, if you're selling B2B products, you might want to steer clear of referencing your favorite dank meme from Twitter in your YouTube banner. Just sum up the impact you have on customers in five words or under—and call it a day.
Include clear taglines and instructive CTAs
Your designs should catch viewers' eyes, but your copy's job is telling them what to do while you've got their attention. In most cases, that means including these two key elements:
Tagline: The tagline is a short line of text that sums up what your channel's all about.
Call-to-Action (CTA): The CTA tells viewers what action you'd like them to take after seeing your ad. For a YouTube banner, this will usually be a variant of "subscribe for more."
Unclear copy dilutes the meaning of your banner (or any ad, for that matter). For example, "watch my YouTube journey" is not strong banner copy. Because, this line doesn't give any context about the channel, and it makes you seem interested in an audience for fame's sake.
Read More: Best Call to Action Examples That Convert (and How to Replicate Them)
On the flip side, clear copy tells viewers exactly why your channel content is valuable. "Exploring the Midwest," "Go From Zero to Guitar Hero" or "Cook Like a Pro" are examples of what clear copy could look like a travel, music or cooking channel, respectively. They tease the channel's content, and show viewers why they should pay attention.
Examples of great YouTube banners
Learn with Shopify

Learn with Shopify's YouTube banner is mostly empty space—which makes the central image stand right out. They've included a short, memorable tagline ("Learn With Shopify"), and a promise for what they'll deliver on their YouTube channel ("The knowledge you need to grow your online business.)
Refinery29

Global creative platform Refinery29 creates YouTube videos about fashion, social dynamics, and modern life. Their YouTube banner puts their focus on people right up front, and fills in the bold typeface with images stills from their YouTube videos. It's simple, memorable, and very hooky.
Tasty

Tasty's YouTube banner is downright mouth-watering videos. Their channel is all about food, and the banner is a great example of the "show, don't tell" principle. You don't need to include a tagline if your banner's imagery reflects what your YouTube content is about.
AirBNB

AirBNB's YouTube banner has a tagline, but no logo. Instead, they use the center of their banner to promise what they'll show on their channel (a "new video every week"). Then, they use the banner's sides to show memorable stills that prove why they're worth subscribing totoo.
Ebay

No videos yet? No problem—Ebay proves you don't need pictures to make a memorable YouTube banner. Write a simple, memorable tagline that sums up the content you'll be publishing on YouTube, and design a colorful collage of shapes. That should more than do the trick.
HeyNadine

Travel vlogger HeyNadine's YouTube banner shows how you can drive subscriptions with a CTA. Keep your imagery simple so your text has space to breathe, and include a CTA like "click and subscribe." Then, follow that CTA with a proof point ("new videos every week") that shows why viewers should hit that subscribe button.
Lofi Girl

Lofi Girl's channel is a non-stop stream of relaxing beats to study to and the channel banner reflects the mellow mood of the videos they publish. Their tagline describes how you can use the channel: to "study, chill, sleep and repeat." Plus, their YouTube banner has really good v i b e s.
FAQs about YouTube banners 
What is the correct YouTube banner size? 
A standard YouTube banner size is 2560 X 1440 pixels. The minimum image dimensions are 2048 X 1152 pixels, with an aspect ratio of 16:9. The safe area that will be displayed on all devices is the central area of 1235 X 338 pixels, so keep your important text and logos here.
What is the correct YouTube banner file type?
YouTube banners can be uploaded as JPEG, GIF, BMP or PNG files. Files must be no larger than 6MB.
What do I include in my YouTube banner art?
Your YouTube banner art should introduce your channel. Include an eye-catching image and a tagline that shows what your channel is all about. Your banner can also include details about how often you upload or use a simple call to action that prompts viewers to subscribe.
Is Youtube channel art the same as a YouTube banner?  
YouTube channel art and YouTube banners are one and the same. A banner or piece of channel art sits at the top of your channel and tells viewers what types of content they should expect from your channel.
So, what's next? 
Now that you know how to create a stand-out banner for your YouTube channel, you might be looking for more ways to take your video creation game to the next level. If you're an entrepreneur or educator, you should consider packaging your expert-level knowledge into video and selling it as an online course.
That's where Thinkific comes in. We make it easy to scale your business by offering self-guided online courses and membership sites. Our easy-to-use course design platform helps coaches, educators, and digital content creators build (and market, and sell) engaging, custom eLearning experiences and grow sustainable online businesses. 
Try Thinkific for free and get the course creation and video creation tools you need to take your business up a notch. (No tech skills required!)