Jacob Sewell is the Training and Certifications Manager at Procurify. The company is a cloud-based procurement software solution that helps companies generate cost savings by increasing visibility throughout the entire procure-to-pay process.
Founded in Vancouver, B.C in 2012, the company has grown at a rapid rate, experiencing hypergrowth in 2018 to reach a team of almost 130. Growth has no signs of slowing. In June 2019, Procruify raised $20 million to continue to expand internationally and grow its sales and marketing efforts. 
With Thinkific, their hyper-growth has been scalable, saving Jacob and the HR team 15+ hours a week in product and employee onboarding. Recognizing an opportunity to take their program further, Procruify now uses Thinkific to train their global customer base, from over 50 countries, on their product. 
So how did Procurify manage to build such a successful multi-department employee training program to manage their hypergrowth? 
It all started with noticing a learning gap…
Building an employee training program
When Jacob first started at Procurify he noticed a gap in the internal team's product knowledge of their platform. With product education as a passion of his, Jacob started training new hires on the product in addition to his day-to-day role. Jacob quickly built a formal product training program and would spend an average of 3 hours a day with each new employee during their two-week onboarding going over the inner-workings of the platform. While Jacob enjoyed training the team, he found it became repetitive and was taking up a lot of his time.
In 2018 this employee training process went from time-consuming to simply not scalable as Procurify went through hypergrowth, hiring over 50 employees in a year. Most of the new hires came through in small groups which meant a lot of one-on-one product training. Jacob quickly found himself spending over 15 hours each week going over the same content.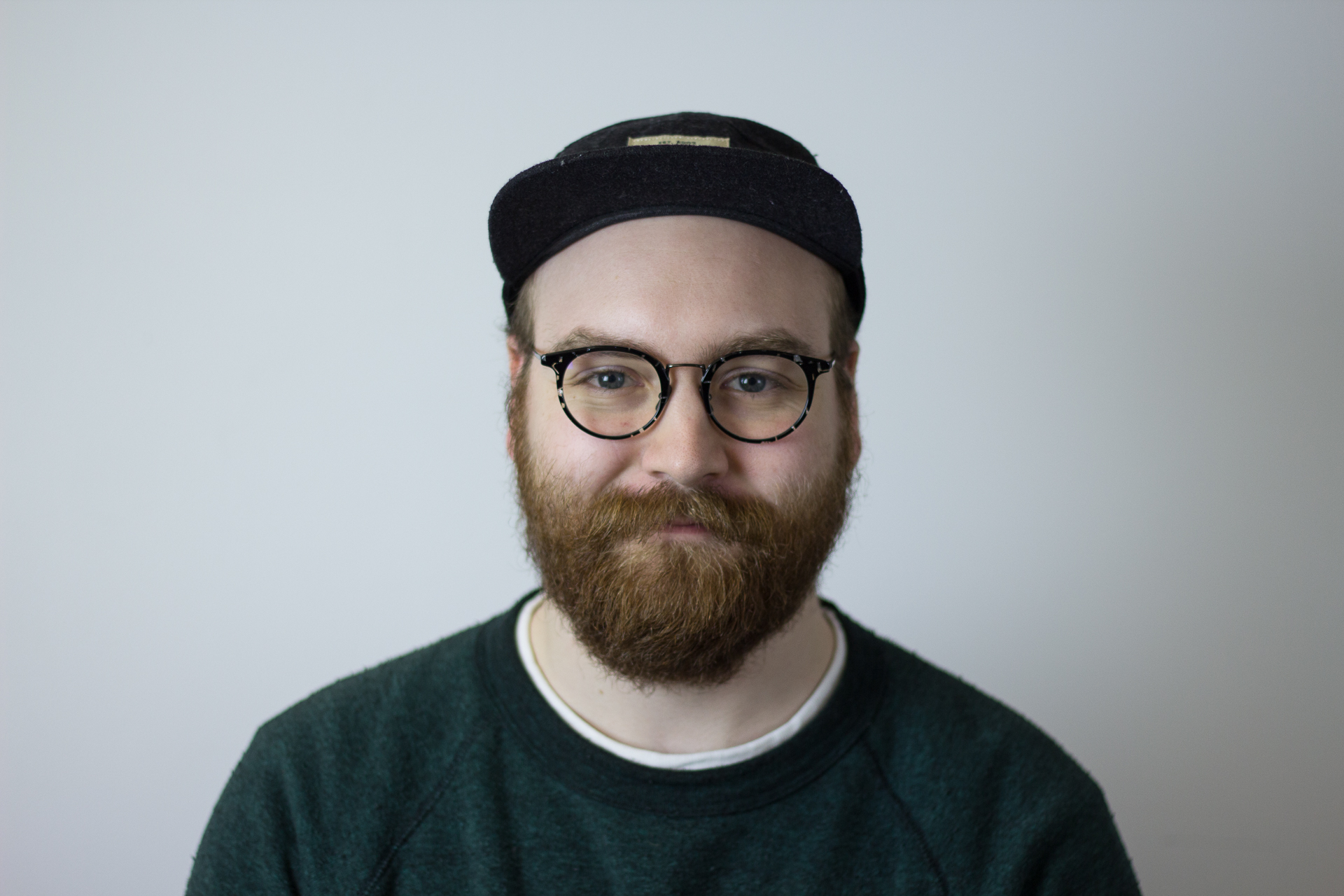 "It was a lot of saying the same thing over and over again," says Jacob. 
In addition to the content being repetitive, it wasn't sticking with employees. Jacob got feedback that the team found the training to be too information-heavy all at once. They also wanted resources to go back to after leaving the in-person sessions. 
"It was frustrating because I was training back to back and I knew it wasn't the best way for people to learn," says Jacob. "So I started looking into alternatives. At my previous company, there was a role doing in-person training which was replaced with a self-led video series. This is what sparked my idea for our current training program."
Jacob decided to build an online academy that would support his team in understanding the product better and save him time each week to be able to make improvements to the program. 
"Thinkific seemed simple to use, which was important to me as I had no hands-on experience with an LMS before." Jacob Sewell
Choosing Thinkific to build an employee training program
After looking into a few solutions Jacob decided on Thinkific because of its ease of setup for someone without previous LMS experience. 
Jacob uploaded his first video into Thinkific and launched Procurify's academy with a product overview course. He had recorded the employee training videos while doing a live training with a recent new hire in the format of a screen recording with video. 
"Initially I was concerned about a lot of things – I was self-conscious about my voice, my video editing skills, and the overall quality… but I found that I was my own worst critic, these things didn't bother people and I got a ton of positive feedback, "says Jacob. "Having an actual plan/program in place was better than having only unscalable in-person training. Getting it up was the most important thing."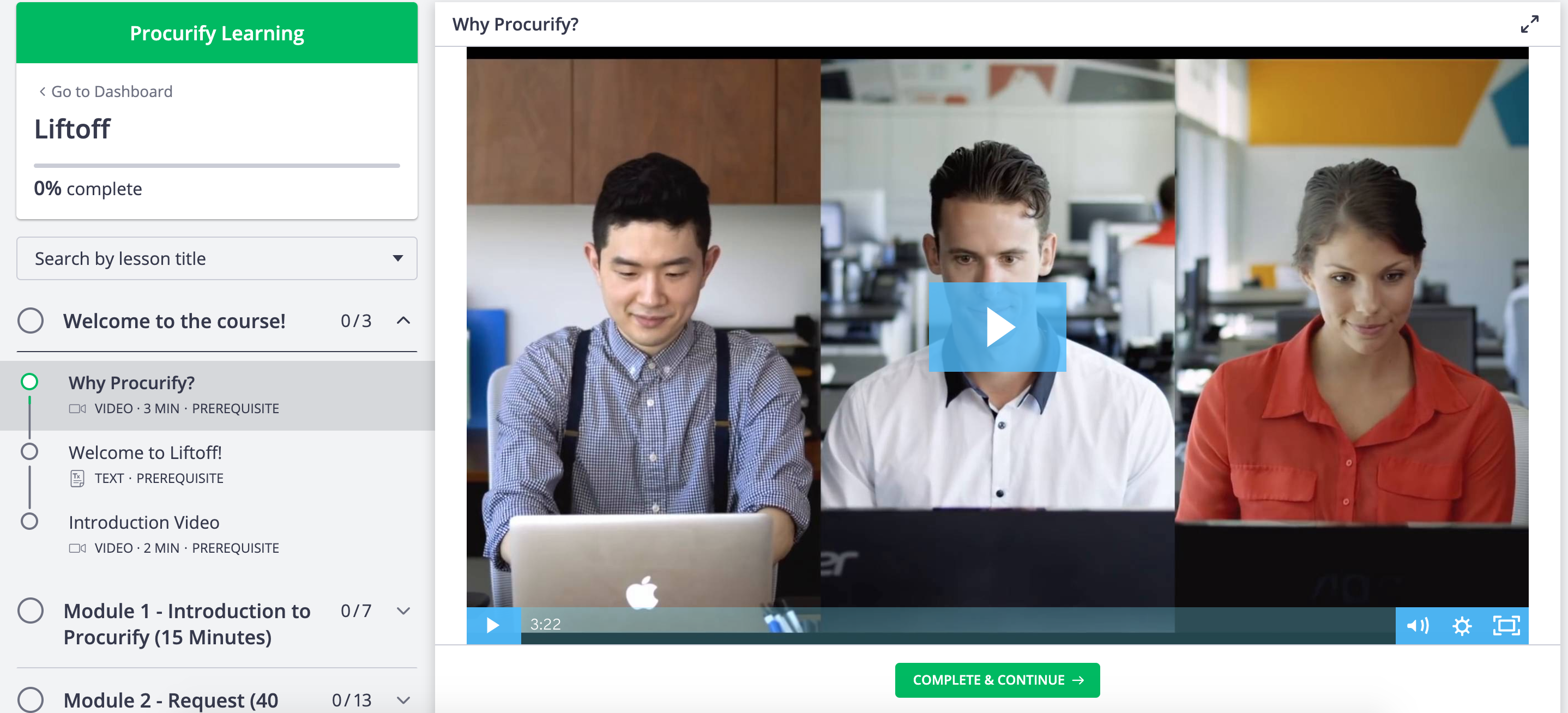 With constructive feedback from his team, Jacob continued to make improvements to the program. He added higher quality videos and edited the content into different topics and modules. To create employee engagement, he supplemented the learning with assignments, PDF downloads, and verified how the team was understanding the concepts through quizzes. 
The benefits were quick. Once launched, Jacob went from spending 15+ hours of in-person training per new hire to 1 hour with occasional check-ins. The employees felt the benefits too, finding the content easier to digest and appreciated the ability to go back and review modules. 
"Initially, the product training for new hires was the only course we created online but when HR saw how it was going they decided to jump on it as well, "says Jacob. "They took a lot of the onboarding training and presentations they do for each employee and put them into Thinkific."
The team is looking to use Thinkific to expand their employee training even further. After completing the core training and product training, their team noticed a gap in educating new team members on their role expectations. The Procurify team is currently working to build out role-specific courses for their sales team and will be expanding it into other departments. 
But their training isn't stopping there.
"Initially, I wanted to get a platform like Thinkific for internal purposes only but things evolved when we started to see the potential." Jacob Sewell
Using online education to drive customer success 
Like Jacob, the Support team found themselves spending hours doing additional basic platform training rather than being able to support customers with achieving their growth goals.
Procurify was using a combination of in-person training and live webinars to educate their customers about their platform. As their procurement software touches almost every employee within an organization, these training sessions involved coordinating hundreds of staff in multiple time zones – it simply wasn't scalable.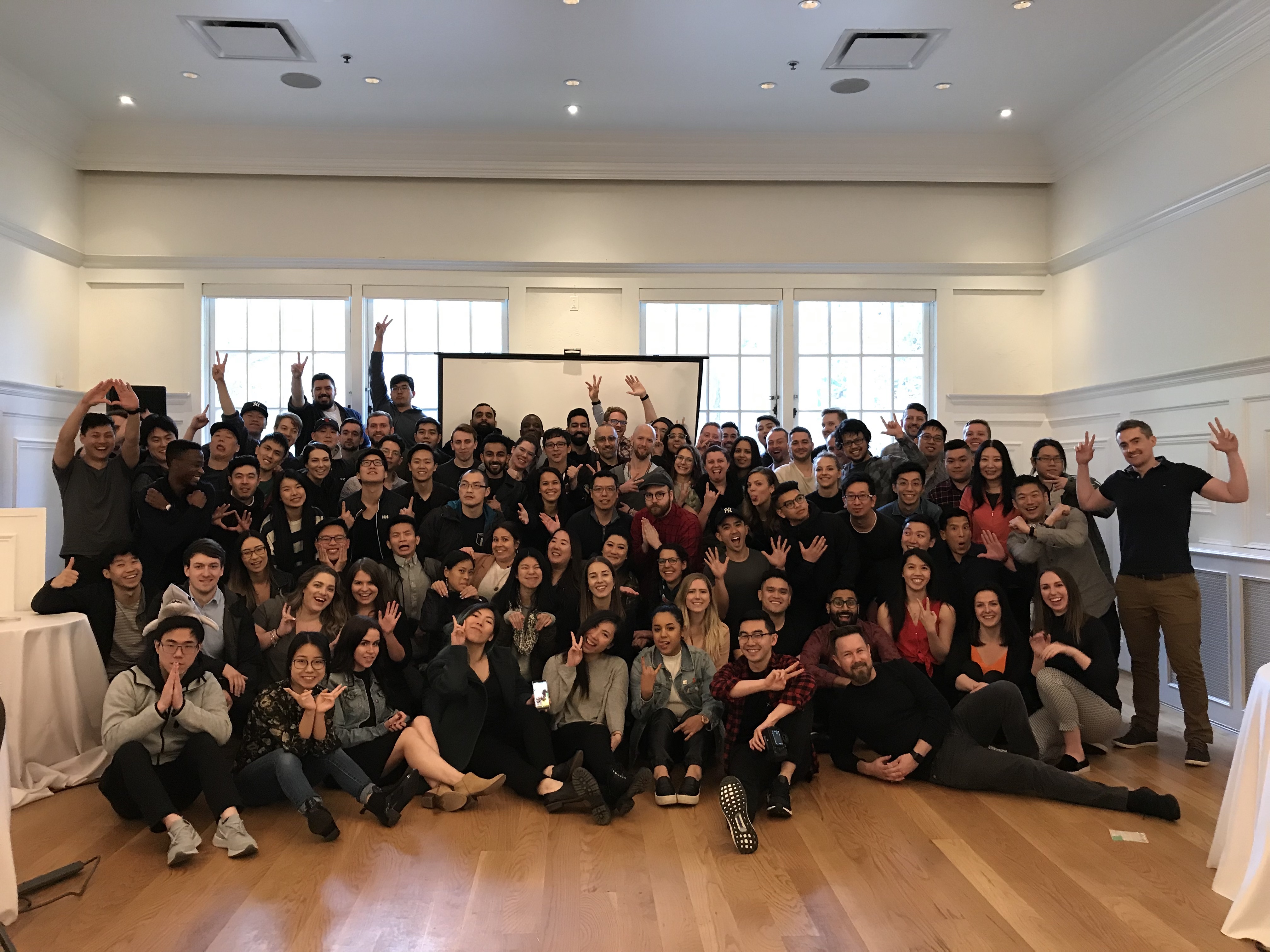 "Our Consultant team aren't trainers, but that was where they were spending most of their time," said Jacob.  "We wanted to give that time back to them so that they could get back to their roles."  
After seeing the success of the internal training program the customer success team recognized the opportunity to leverage the product training to better support their customers. Using the same online courses that Jacob created, Procurify launched their online customer training academy. 
Through the reporting and survey tools, their team quickly learned that while the training content was valuable to their customers, the length and structure of the presentation wasn't working. Unlike their internal team who needed a full understanding of the platform, their customers only wanted information on the elements of the system they were using for their role.   
Taking their customer feedback to heart, the team quickly restructured the program. They split the content into smaller courses and bundled them into applicable categories for each end-user. The average course length dropped from 7 hours to 1 and the registration and completion rates increased. To remove further barriers, Procurify used Thinkific's API to import users directly into the academy to guarantee all end-users were able to easily access the content. 
Since making these changes and investing in online education as a customer onboarding and retention strategy, Procurify's consulting team has been able to get valuable hours back to focus on further supporting their customer needs.  
"Our end users are more educated and we have better product adoption because they are more confident in what they're doing in our system." Jacob Sewell