"You should never judge a book by its cover." People always say that…but does anyone actually ever follow the advice? The answer 99.9% of the time is a resounding nope. Audiences are busy — especially online — and so they have to make snap decisions based on a quick first impression.
(It makes you think: would "Harry Potter" have been nearly as popular if it was called "Wizard Boy Friendship Adventures"? Methinks not.)
That's why the name you choose for your online course is one of the most important business decisions you can make. People generally only stay on a web page for 10-20 seconds — so if the name you choose doesn't grab their attention right away and communicate value, then most of your audience will bounce.
So how do you create a good first impression with your course title? How do you create a headline that draws people in, gets them to click, and makes them want to follow-through to enroll? And how on earth do you pack it all into 65 characters or less?
Here are the seven steps to craft the perfect title for your online course, plus some real examples to jumpstart your ideas:

Step 1: Know your audience
The first step to create a best-selling course title is to get to know your audience. (Like, really, really, really well.) Hopefully, you've already done some of this legwork ahead of time while you were validating the idea for your course content. But if not, there are a few questions you'll want to answer as part of your research.
First: what is the demographic profile of your target audience? These are the basic questions you'll want to answer to get started:
Where do they live?
What do they do?
Are they mostly male or female?
What is their marital status?
What's their highest level of education attainment?
How old are they? Are they clustered in a specific age range?
Demographics are a great way to get to know your audience — but it's really surface-level stuff, for the most part. To craft a truly exceptional course title, you'll also want to dig deeper into your audience's psychographics as well. This means getting to know their personality, values, attitudes, interests, and lifestyles.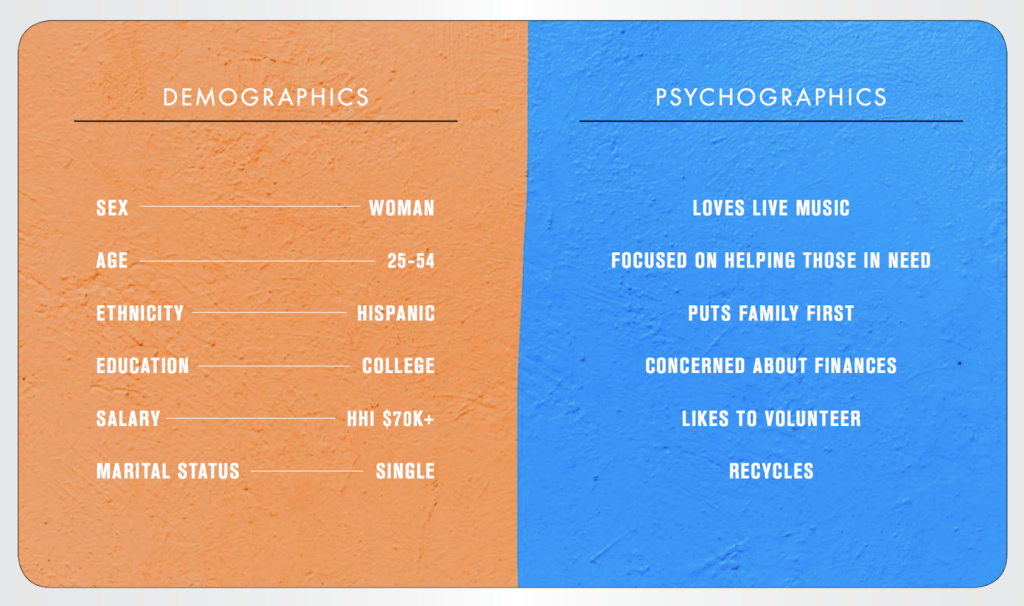 Here are a few questions you can ask to build a psychographic profile of your target market:
What are they interested in?
What do they want to learn more about?
What activities do they participate in?
How do they feel about [topic]?
You can identify your audience's psychographic information by putting out a short survey or interviewing potential customers. And when you're done, you can use this information to craft a title that speaks directly to your audience.
For example, Rigging Lab Academy named one of their courses: Tower Rescue for Emergency Responders. Before you even read the sub-heading or scroll down on the page, you already know exactly who this course is for: emergency responders.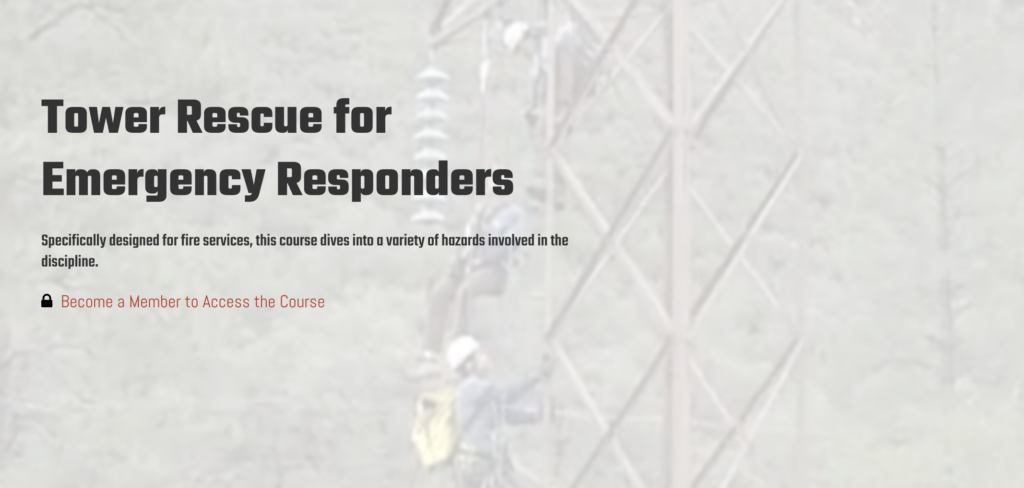 The same is true for this free course, from DRVR Training & Transport Alliance Australia: COVID-19 Hygiene Awareness For Passenger Transport Drivers. Limousine drivers, taxi drivers, and ride-share drivers all know explicitly that this course is for them.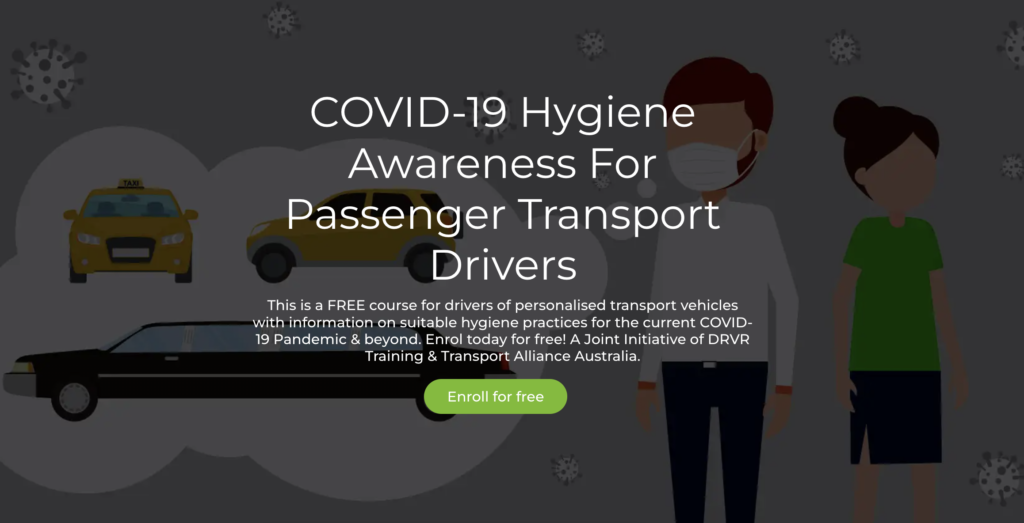 And while those two examples nail the demographics of their audience, this third example gets more into the psychographic angle. Notice the way Online Yoga School uses the word "immersion" as part of this title: Restorative Yoga Teacher Training & Immersion.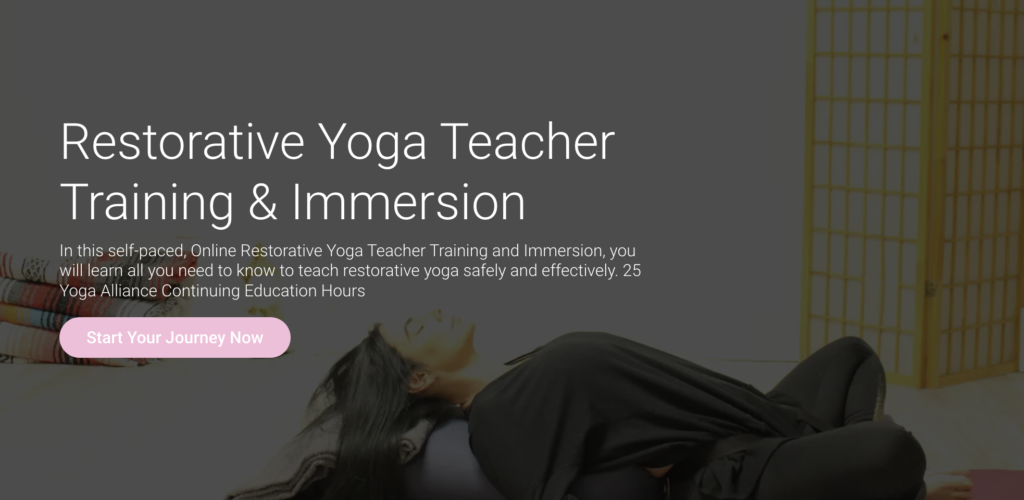 Not only does this title describe exactly who the course is for — it also uses the same type of language and terminology that yogis are interested in. (Immersion implies that the course will go deep into the materials, but, like, in a peaceful "namaste" sort of way.)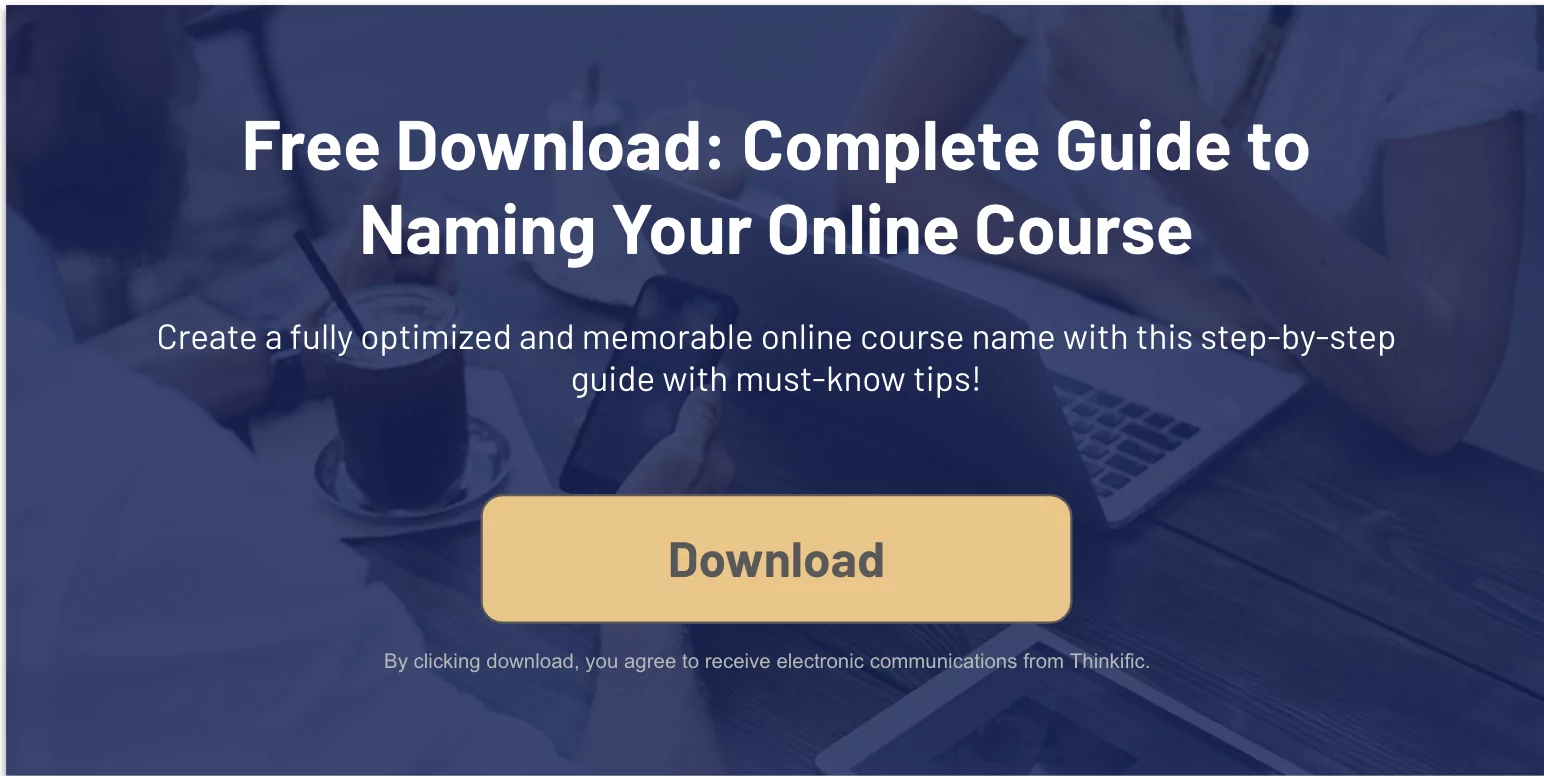 Step 2: Target SEO keywords and phrases
As you start brainstorming some ideas for your course title, another thing you'll want to consider is search engine optimization (SEO). Because if you set up your title juuuust right, you might be able to win some powerful keywords and rank on search engines like Google.
You can do this using a keyword research tool, such as Ahrefs. To get started, all you would need to do is type in an idea you have for a course title. The tool will then help you find similar phrases, keywords, search terms, and suggestions that you can consider for a course title — along with how difficult it would be to rank for each option.
Let's try an example. Say you wanted to create a course on vlogging. You might start with an idea like: "how to vlog." Ahrefs would give you a host of similar keywords that you could target, such as:
how to vlog
youtubers life how to vlog
how to vlog on youtube
how to vlog in youtubers life
how to vlog with iphone
how to start a vlog
how to make a vlog
how to do a vlog
how to edit a vlog
how to make a vlog
For each option, you'll see the keyword difficulty. This refers to how difficult it would be to rank in the top 10 results for a keyword. Ahrefs' keyword difficulty score ranges from 0 to 100. The higher the keyword difficulty, the harder it is to rank for the keyword.
Another tool that you can use to find target keywords is Google Trends. This free service can help you identify search volume patterns across regions, time frames, categories, and properties. (You can also check out related search queries. In this example, "how to vlog" showed us people also search for "vlogging for beginners" and "how to vlog with a phone." Great ideas for course names!)
I know, I know. This seems like a lot of work right? But if you nail the right keyword with your course title, it can bring you in organic business for years to come. Take this example from Long Thread Media, for instance: Tablet Weaving Made Easy. It appears on Google for anyone searching for "tablet weaving easy."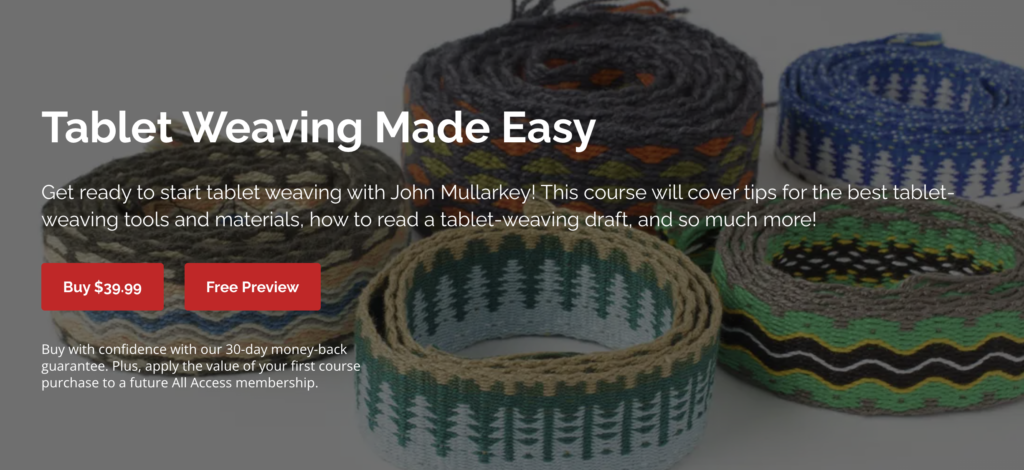 The same is true for this course from Brit+Co: Intro to Chalk Illustration. Type the phrase "intro chalk illustration" into Google  (like any aspiring chalk artist would), and this page will be the first thing you see.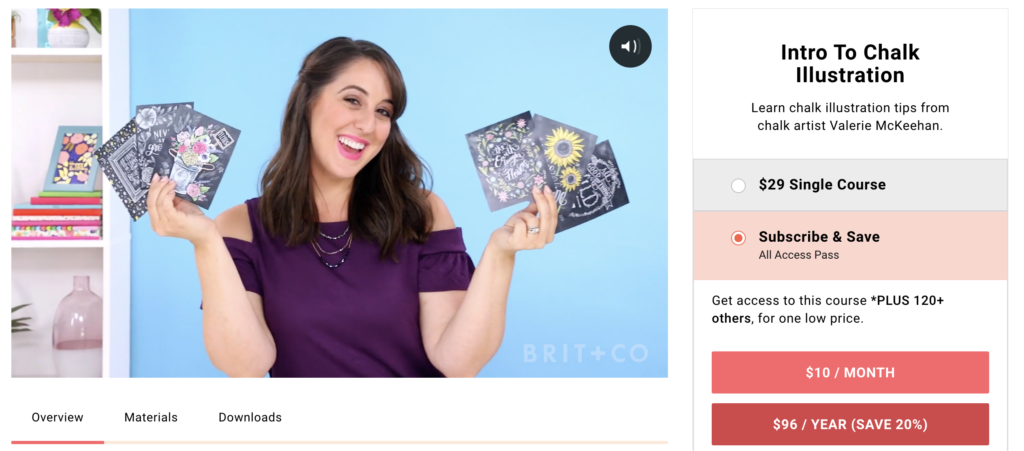 ---
Launch your online learning product for free
Use Thinkific to create, market, and sell online courses, communities, and memberships — all from a single platform.

---
Step 3: Go clear over clever
One of the biggest mistakes you can make when you're naming your online course is to get too cute or clever with the copywriting. Puns, acronyms, double entendres, and other turns of phrases are a lot of fun to brainstorm — but you need to be careful you don't confuse or mislead your audience.
When it comes to copywriting, clarity should beat cleverness every time.
You want your audience to instantly understand what your course is about and what value they will get out of it. This is their first impression, after all — so you don't want them scratching their head trying to figure out what the heck you're even trying to sell. This is something Gerald von Stoddard of GVS Design put well in the Thinkific Studio for Online Course Creators Facebook community:
I think sometimes it can be a detriment to spend way too much energy being clever and [it's] best to just name it what it is, hopefully the course addresses a problem and offers a solution… I always [prefer] simple, and would stop scrolling on a name that says exactly what I am looking for.
Take a look at this example, from Maven Analytics: Microsoft PL-300 Exam Prep. Is it a title that completely wows you? Probably not. (Unless you're really into data visualization.) But do you instantly understand what it is this course is and what it will help you achieve? You betcha.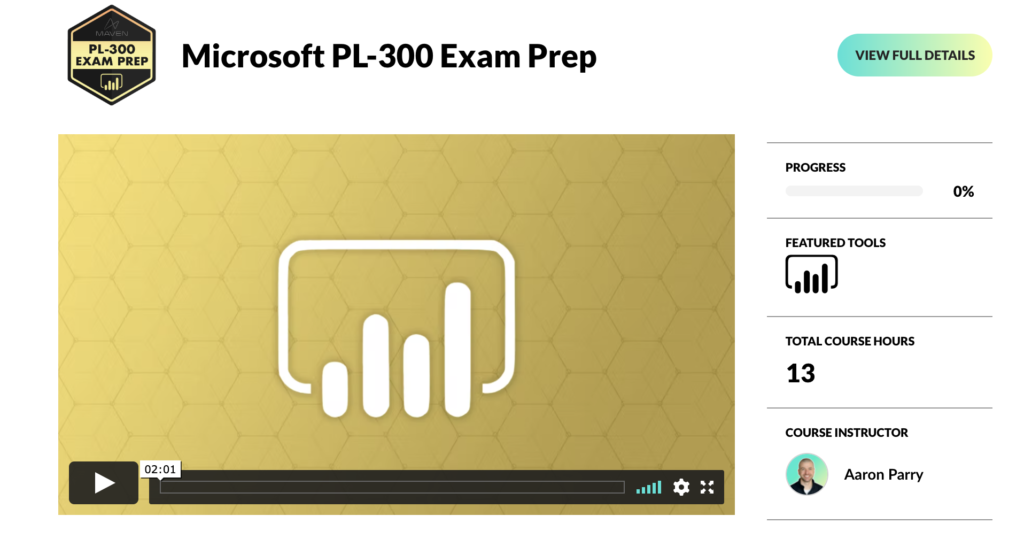 And hey — just because your course title is clear, doesn't mean it has to be ultra-boring either. This example from New Scientist Academy gets you interested in learning more by teasing just how much you don't know: Gut health: How your microbiome shapes your health and wellbeing.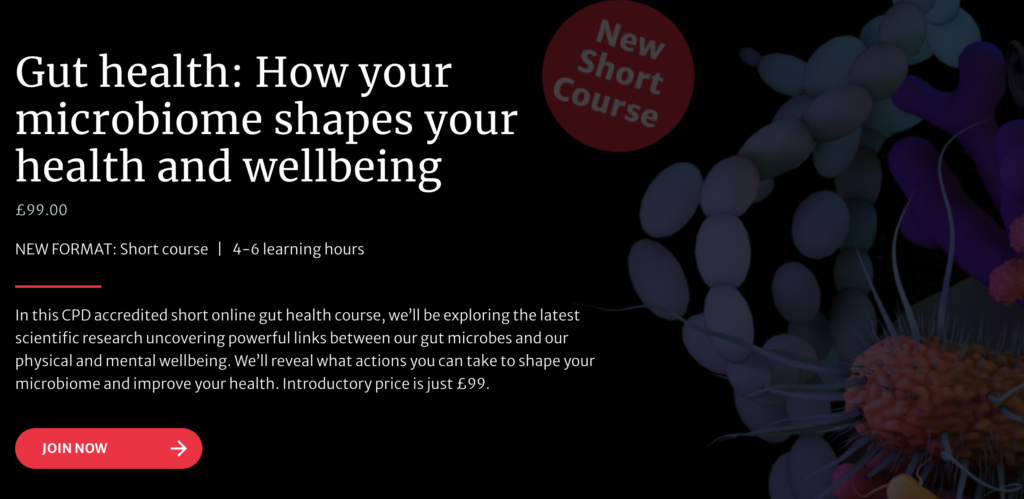 Of course, the debate on clear vs. clever copy is always in flux. And in some cases, if your idea or turn of phrase is clever enough, then you may want to run with it all the way. But in general, it usually makes more sense to be crystal clear with your course title — and save the clever copywriting for your subheadings and supporting copy.

Step 4: Focus on the outcome, not the learning
OK, ready to strap on your copywriter goggles? Now comes the fun part — this is where you get to channel your inner Don Draper and really drill down into the single most important question: "what is the value of your course?" The way you answer this question is what separates a good title from a great title.
Because nobody is buying an online course for the videos. (Or the live lessons. Or whatever other methods you're using to teach.)
What they're buying is the transformation.
A great course title will sell people on the benefits they'll get from taking the course. Not just what they're going to learn — but how they can apply it, and what they'll be able to do with their newfound knowledge. How will it make their lives better?
Take this example from the Online Wine Academy. Their course is titled: Enjoy Any Wine with Any Food. They could've easily called this a "Wine Pairing Course" — but instead, they focused on the benefit. You imagine yourself sitting at a fancy restaurant, knowing exactly which bottle of wine to order to go with your foie gras and escargot.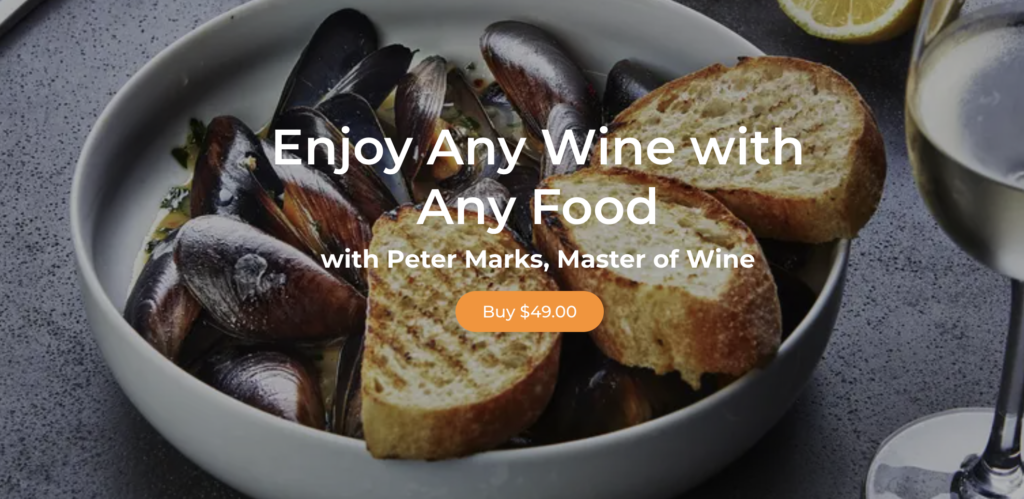 That visualization of the benefit is also clear in this next example, from Packt. Their coding crash course is called: 50 Projects in 50 Days – HTML, CSS, and JavaScript. As a novice just starting out, you can immediately see how appealing it would be to have 50 projects under your belt in just under two months time. There's power in the specificity.
When you focus on the outcome, you are tapping into the aspirations of your audience. They'll be much more likely to purchase the course if you can show them a clear image of who they'll become once they complete it.
Step 5: Use power words to get attention
Did you ever wonder why some courses are popular while similar courses fall flat? The answer lies in the use of power words.
Power words are meant to trigger an emotional response that gets customers to read, click, and buy. You have to imagine most of your audience isn't paying strict attention when they see your course for the first time. Maybe they've got your page open on one of 50 tabs that they forgot to close. Maybe they're scrolling through Instagram on their phone at the same time.
With power words, you can get them to sit up and take notice.
This is something Hannah Karanja of Course Boss Academy put well in the Thinkific Facebook community:
I keep it simple by naming the outcome then ending with a power word. E.g. Bootcamp, Formula, Blueprint. I know these words are overused but I find that they work.
Here are some power words that you can use in your online courses.
Power words that trigger excitement: bold, exciting, fascinating, transform
Power words that trigger authority: masterclass, complete, comprehensive, exclusivity, powerful, surefire, proven
Power words that trigger exclusivity: priceless, little-known, secret, unique, hidden
For an example, check out how Latasha James names her courses and learning products. She doesn't offer social media templates, she offers a Social Media Toolbox. She doesn't call it a social media guide, she calls it: The Freelance Social Media Management Roadmap.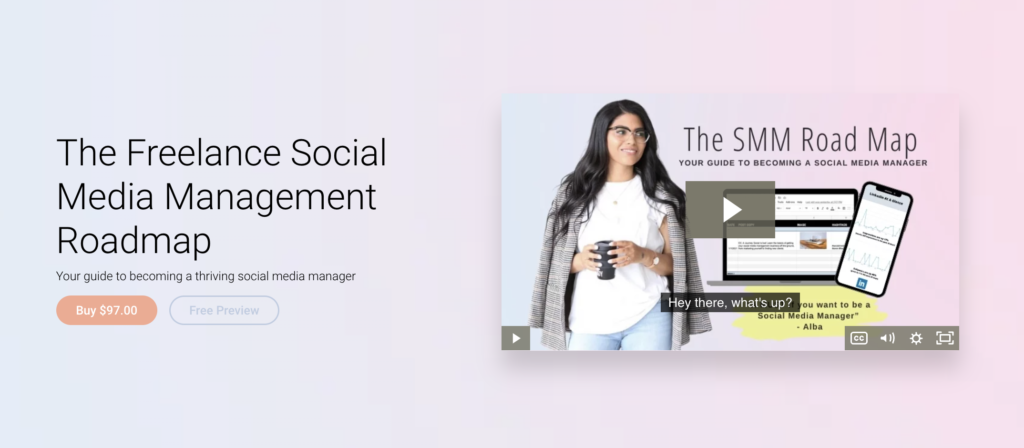 The same is true of this example from HoopStudy. They call their five-week basketball program: Summer Player Transformation. Not only is that a power word — it also helps you visualize the outcome in a really visceral way.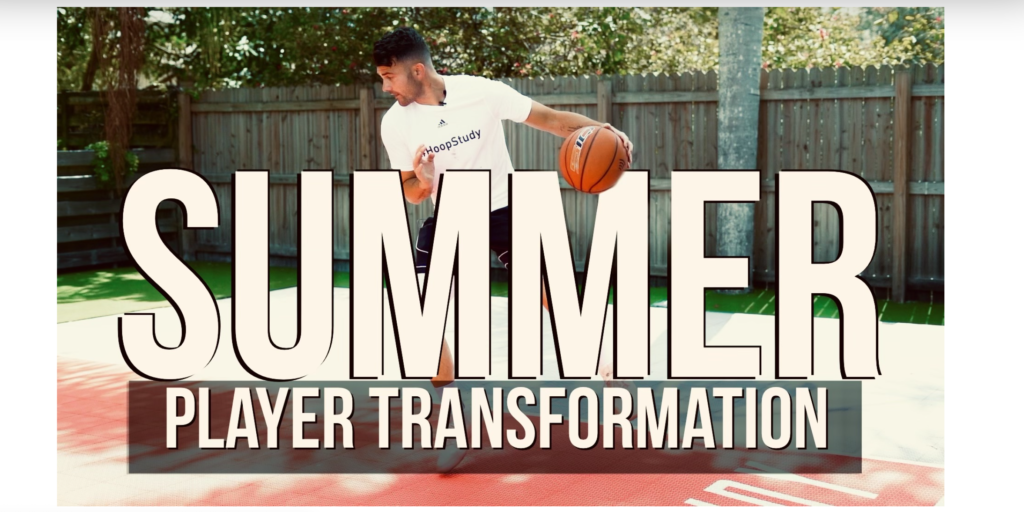 Step 6: Make it memorable
At the end of the day, you're going to want people to remember what your course is called. If you're hoping to build a strong personal brand, then you want people using the actual name of your course when they talk about it or recommend it to others. (Not just, "oh I took a course about this topic.")
Crafting a memorable name can be tricky though. And in fact, you may need to break some of the earlier rules we outlined to make it work. Let's look at some examples.
Layla Martin, a brand all about sex, love, and relationships, came up with this evocative name for one of their courses: Obliss. Have you ever seen a course with a shorter name? (And as we all know: short = memorable.) The title doesn't clearly explain what the course is about, but the promise of "bliss" certainly makes it memorable.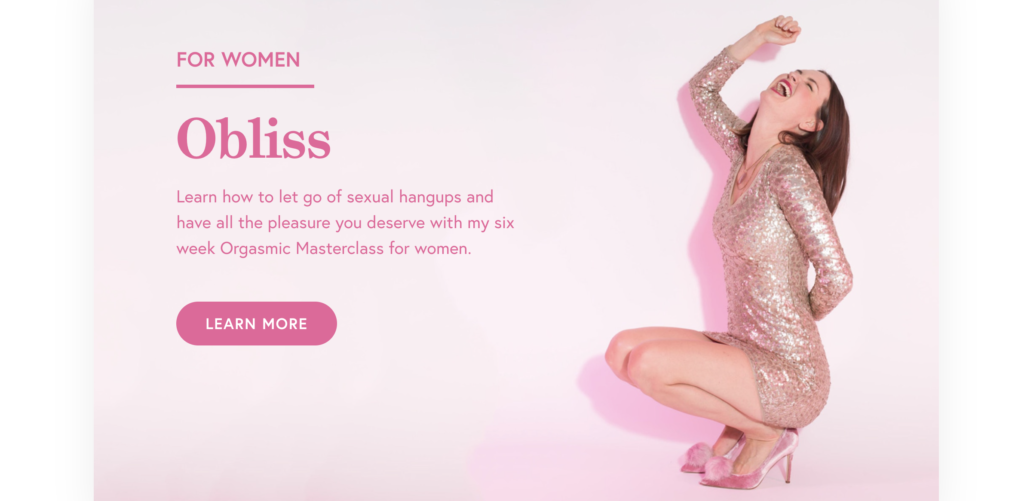 How about another one? Shine Creative Coaching has this program designed to help people with their public speaking. It's called: Freeing Your Voice. This evokes an emotional response that makes it so much more memorable, compared to other "Public Speaking 101" courses.

Finally, let's look at an example that tips a bit more towards the clever side of the clear vs. clever debate. Miss Excel has several courses that help individuals improve their Microsoft Excel skills — but none of them are as aptly titled as: The Excelerator Course. (Puns aren't usually the way to go when you're naming your course — but when they're this punny, you might want to make an exception.)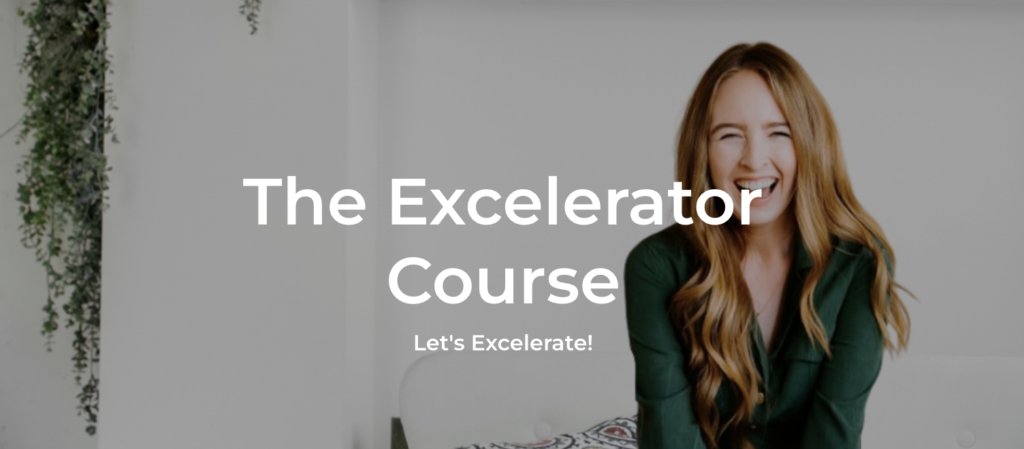 Step 7: Limit your title to 65 characters
How long should your course title be? If you'd like to make it onto the front page of Google or plan to market on YouTube, you'll want to limit your title to not more than 65 characters.
This ensures that your title isn't cut short on Google's results pages. Choose your words wisely!
For example:
How to Become a Popular and Successful Online Vlogger and Gain Millions of Followers on YouTube
This title is simply too lengthy. Google will most likely cut it off and make it appear as "How to Become a Popular and Successful Online Vlogger and Gain Mi …" So what could be a short and sweet version of this title?
Here's an example from Amy Schmittauer: Vlog Like a Boss.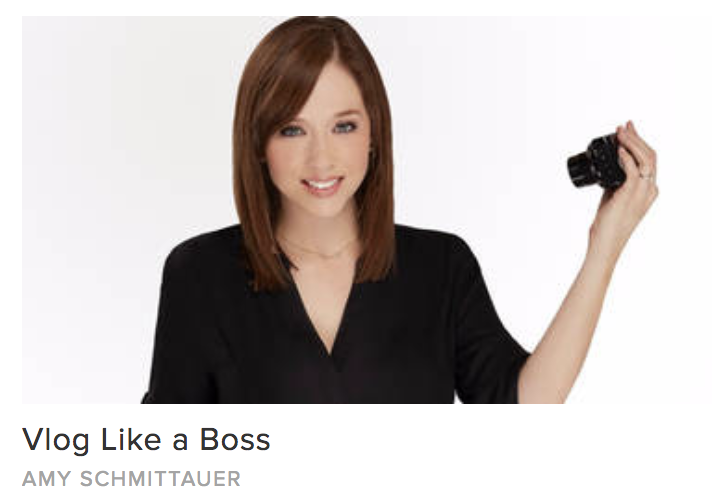 ---
Top 3 Course Name Generators
Looking for an easy way to brainstorm some ideas for your course? There are a number of online name generators you can use to get started. Take a look at some of the top options:
Power Word Generator: Sometimes all you need is the right power word to make your course title really pop. Use this power word generator to find some inspiration. (Tip: start out on the "Encouragement" and "Safety" categories.)
Adjective Generator: Looking for random adjectives you can add on to your course name? This generator is perfect for finding that extra bit of oomph you can't quite put your finger on.
Yale Course Name Generator: Want something a bit more off-beat? The Yale Course Name Generator is designed to create realistic (albeit, slightly silly) course names. But hey — they might just give you a good idea.
In general, you should be wary of course name generators that promise to give you a ready-to-use title. If you want your course title to really work — you're going to have to put in the effort and craft it yourself.
Download your copy of the free guide to naming your online course and create your perfect name. 
Ready to go with the perfect course name?
William Shakespeare once wrote: "What's in a name? That which we call a rose by any other name would smell just as sweet."
Well, with all due respect to Mr. Shakespeare — some of us put a lot of effort into a good name, okay?! That's why this guide is here anytime you need it. Because it helps a lot when you know your target audience, conduct keyword research, and create a catchy and benefit-driven title. (Eat your heart out, "Romeo and Juliet.")
Already got the perfect name for your online course cooked up?
---
Launch your online learning product for free
Use Thinkific to create, market, and sell online courses, communities, and memberships — all from a single platform.

---
---
This article was originally published In March 2018, and updated in 2022 to provide more recent tips and examples of how to name your online course.