Creating and launching an online education academy for your current and prospective customers is a major accomplishment. But throw in the fact that you're a one-person team leading the project and the deadline is in 10 weeks, you would likely feel overwhelmed. 
That's precisely what software and development tool provider LANSA did when they formally launched Learn LANSA, their e-learning platform for the world's most powerful and versatile low-code platform Visual LANSA.
For more than 30 years, the LANSA platform has transformed programmers into full-stack developers, with its ability to quickly and easily deliver advanced software to meet critical business needs.
"We have our flagship product that allows you to develop applications faster. We are all about the modernization of legacy software," said Anthony Graham, Product Marketing Manager at LANSA. 
As Product Marketing Manager, Anthony wears several hats within the organization. He has worked as a developer, which helps him in communicating the technical aspects of LANSA's products to customers. Most recently, he spearheaded the launch of Learn LANSA. 
Anthony approached Thinkific in March 2020, intending to refresh the company's e-learning platform and customer educational material by early June 2020. That meant transitioning from one learning management system (LMS) provider to a new one and re-creating online course materials from scratch.
Let's look at how Anthony successfully created and launched LANSA's revamped online academy 30 days ahead of schedule – and our best practice tips so you can do the same.
How to create online courses ahead of deadline like Learn LANSA

Adding value with online customer education
As a technology company grounded in the mission of helping customers build their applications faster, LANSA knew there was an opportunity to improve their online customer education offerings that would keep pace with customer expectations.
"Even with our written documentation, there was a lot of demand from our customers and potential customers for a formal learning experience. To provide this, we were selling blocks of time with our mentorship team to instruct new customers on how to use the product and best practices," stated Anthony.
However, the LANSA team quickly found the mentorship hours were not being utilized for profitability. There were many areas of training – such as learning the basics of the platform and how to best use the Visual LANSA system – where customers didn't want to use their mentorship hours.
Additionally, the LANSA team found customers frequently asked the same questions as they got to know the technology better – which, if packaged together in an online training course, could be useful to other new customers as they onboarded.
Knowing there was a need for more valuable online customer education that allowed Visual LANSA users to self-navigate the system, Anthony set out as a one-person team with the goal to optimize customer success and customer education for the Learn LANSA academy.  
But first, Anthony needed the right LMS partner in his corner to help him achieve his goals.
Transitioning to Thinkific Plus
LANSA's first online education program was built with a legacy LMS provider, AbsorbLMS. Unfortunately, the company quickly realized the platform was not easily scalable to its growing needs. 
"We were at the point where releases from our product team started coming out fast, and our product documentation was coming out even faster – yet, our e-learning system updates weren't keeping up," Anthony explains.
LANSA began outreach to other platforms and quickly decided to make the switch to Thinkific Plus because of the team's quick response time and high-growth, flexible features that fit the company's needs.
"The idea was to start fresh. We found that AbsorbLMS was more expensive with low user limits, and we were looking to really expand the program. We felt that we didn't have room to grow without spending a lot more money. So, we decided to look at some other platforms" shared Anthony.
"We were able to scale with Thinkific Plus easily. The ability to work with the team and have pricing bands instead of users in case the trial experience takes off was key."
Anthony also wanted the ability to track student engagement with data and analytics. For example, they wanted to focus on tracking the effectiveness of the trial experience by being able to see if users were engaging with the videos and how far trial users were going through the program. 
LANSA would then use that information to adjust their course offerings and make the learning experience valuable for their two audiences: paying customers and no-cost trial users. 
Leveraging your Customer Success Managers' expertise
When selecting Thinkific Plus as LANSA's new LMS partner, Anthony noted the one-on-one Customer Success Manager (CSM) access was a critical deciding factor. 
Pro tip: CSMs are not just experts in the Thinkific platform, they also dig into the details to best understand the context around customer businesses and objectives.
Being a one-person team, Anthony saw extreme value in having a trusted partner guiding him through the launch process. Together, Anthony and Poornima Sethu, Customer Success Manager at Thinkific Plus, quickly went to work. 
"We had an organized approach from the get-go. We established weekly tasks and then had weekly check-ins to go over the tasks that had been completed and reviewed the next steps for the following week," said Poornima.
By assigning weekly tasks, Anthony and Poornima were able to break down a long list of action items into digestible pieces that made the project seem more achievable by the day. 
According to Poornima, "we just focused on those 7-8 tasks for the week, got it done and moved on to the tasks for the next week. It reduced how overwhelming the tasks can feel when launching a project of this size."
With their organized process progressing the project at a faster pace, Anthony was ready to start testing the new online education program with a three-tiered launch approach.
Launching in Phases for the best user experience
Beta Launch
At the recommendation of Poornima, Anthony decided to do a beta launch of Learn LANSA two weeks before expanding out to the LANSA customers. For the beta launch, Anthony had everything prepared and a small set of users who weren't involved with the project and Poornima to go through all of the course content and learning paths to ensure the process made sense and provide feedback.  
"The beta launch was really helpful. While working through it, we found a few of the processes we had set up on our end were manual and not scalable. With our CSM we were able to identify what needed to be changed and formally put it in place before the soft launch," said Anthony.
Soft Launch
Following the beta launch, Anthony worked on implementing the changes generated from the beta feedback before moving into the second launch stage.
During the soft launch, Anthony made access to Learn LANSA available to a select group of customers to test out the platform's capabilities. Before distributing out to masses, the soft launch tests a higher volume of system stressors than the beta launch, while also allowing the users to confirm the changes made as a result of the previous feedback was implemented accurately.
Official Launch
Finally, Learn LANSA was ready for its official launch in mid-May – approximately 30 days ahead of the scheduled deadline in June. 
Generating leads and optimizing customers' time
Since launching Learn LANSA, the program has:
Reached 5,700+ enrollments
Offered 30+ courses with more in development
By creating online courses as a free trial experience, LANSA has the ability to quickly convert leads into customers of the platform, while also addressing some of their most common questions head-on. 
For existing customers, LANSA offers courses that cover the basic training of the platform and services – which resulted in better usage of mentorship hours to best fit the needs of their customers.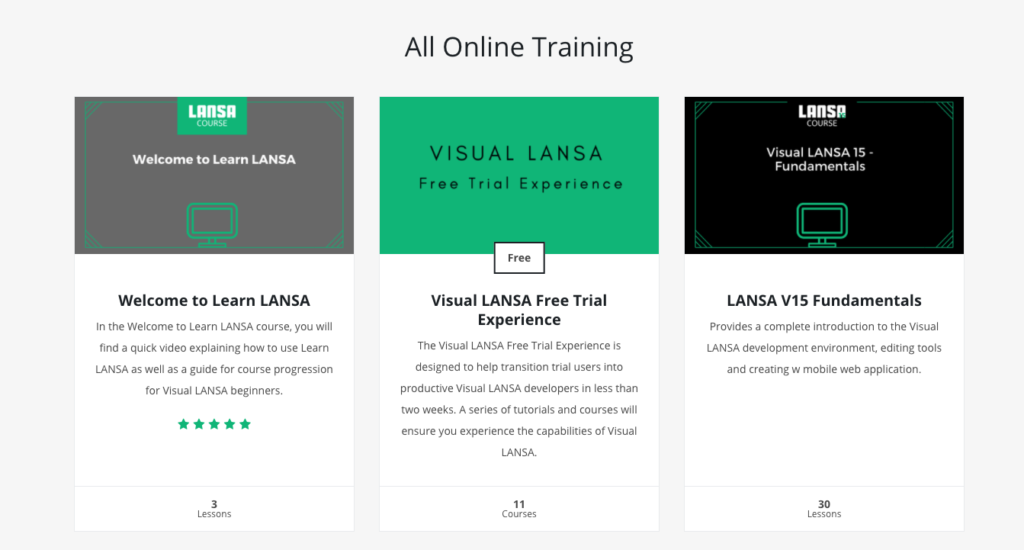 Related article: check out these Steps To Creating A Wildly Successful Online Course
Best practices: create online courses successfully with these 6 tips
While the idea of launching an online education academy 30 days ahead of a deadline seems a bit daunting, Anthony and the Learn LANSA team have proven it can easily be done with the right tools, resources, and processes in place. 
Here are our six tips to keep in mind when you are ready to create online courses for your virtual education program.  
1. Take an organized approach
When taking on a new project like creating online courses from the ground up, we recommend getting all your ducks in a row to make the process as organized as possible. 
When starting the planning process for Learn LANSA, Anthony and Poornima collectively began with one big goal and took actionable, digestible steps to make that goal happen. For example, Anthony and Poornima broke down the tasks that needed to be completed ahead of launch so they could stay accountable in making steady progress every week.
"Our primary goal was to support our customers who had been asking for online learning and showing them our commitment to the program. Now that it has launched, we are working to make the trial experience even easier for our users," said Anthony.
Pro Tip: Start with a checklist of items that need to be completed to get the online course off the ground. Then, break those items down into digestible tasks and assign deadlines to each one.
2. Set a realistic timeline – and stick to it
Ideally, 6-8 weeks for launch is more than enough time to create your online course and get the program up and running. However, that timing also depends on the project team leading the effort.  
"It's nice to have a team when you have a concise timeline. That said, if you have a distributed team, having the central point person helps go over things faster because then they can independently allocate tasks to the other team members," according to Poornima.
In Anthony's situation, even though he was the project leader and executor, the process went quicker because he had the decision-making power. Alternatively, if working with a large project team, it is essential that at least one person, typically the project lead, can make quick decisions to keep from holding up the project timeline.
Our bottom line: having someone dedicated to the project that can make decisions, whether as a one or ten-person team, can get things done faster – and that is critical.
3. Keep weekly or bi-weekly check-in calls
Having regular meetings with the project team and your Thinkific Plus CSM is a great way to make everyone stay accountable in managing timelines, no matter how aggressive.  
According to Anthony, "having calls weekly with Poornima was key. We would go through a checklist on each call of what we wanted to accomplish and get answers to any questions we'd had. She'd send me the follow-up documentation after each call with action items on both sides to keep the launch on track."
4. Plan for a beta launch
Beta launches are great ways to test your program before it's available to a larger number of users. A beta launch can tell you if your content is what your customers are looking for, while also testing the technical aspects to ensure a seamless official launch.
"I am a huge proponent of beta launches because what typically happens ahead of launch is that everyone involved in the project has a very biased view on what the user experience will be like. When you introduce the program to someone that knows nothing about the ideal user flow, you can get quality feedback on confusing aspects," said Poornima.
Pro tip: When selecting beta users, make sure they are individuals that haven't seen the platform before, so you receive authentic feedback from a wide range of users. For example, pull in employees that aren't on the project team or some of your newest customers that aren't as familiar with your platform.
5. Be flexible to other features and programs
Similar to Anthony's situation, you may find yourself needing to change LMS partners and in that case, we recommend being open-minded to the new platform's features. 
"We always ask when moving to Thinkific Plus that you emphasize what your end goal is. Then, the CSM gives you a couple of avenues to explore to achieve that end goal if it's not easily replicable from past experiences or platforms. And usually, it ends up working better," said Poornima.
6. Tap into your CSM's expertise
Finally, remember to utilize the experience of your dedicated CSM, who will support you in finding the best way to achieve your goals.
With Thinkific Plus, Anthony benefitted from Poornima's expertise in successfully launching other online education programs and trusted her experience in getting Learn LANSA off the ground with a three-tier launch phase approach. 
"My main advice is to listen to your success coach. She gave us a ton of advice," said Anthony.
Looking to improve Customer Success in your organization? Access your free Ultimate Customer Success Guide now.