Launching an online course is a smart way to earn passive income and build your authority as a creator — but it can be expensive to pull off. Between purchasing course creation equipment and paying for software, putting out a new course typically costs thousands of dollars, which discourages creators with small budgets. 
What if you didn't have to break the bank to launch your new course? Thanks to free and low-cost tools and software, you can now create stellar online courses on a budget. 
In this article, we'll share our top recommendations for affordable course creation tools and software, so you can launch your own course for free, and start earning from your knowledge. 
Free course creation tools and software
There are free and low-cost tools and software for every course creation stage. 
Skip ahead: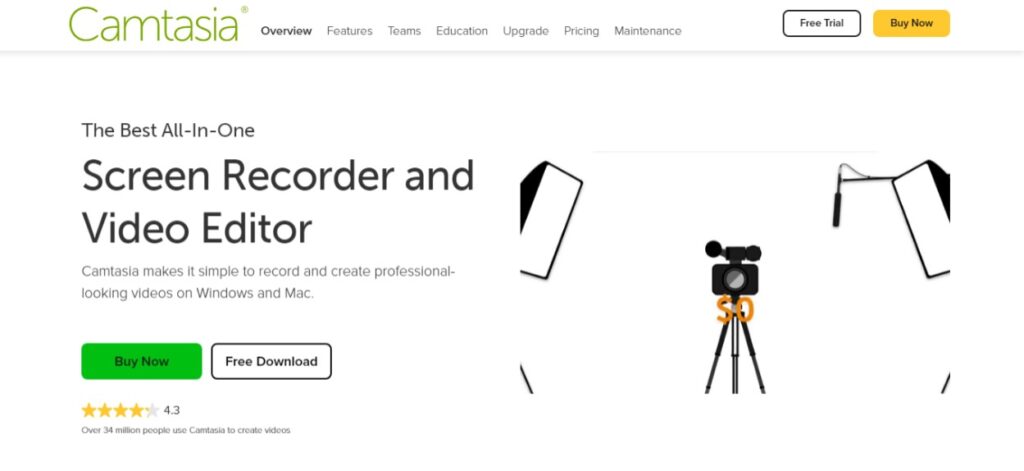 Videos are a great way to provide information to your online course participants as they cater to all learning styles (visual, audio and kinesthetic). Visual learners can watch the videos, audio learners they can listen to the videos and by adding a downloadable action-orientated workbook you can cater to the 'doers' (kinesthetic learners).
Read more: Best Equipment & Software for Creating Online Courses
Camtasia is a great tool for creating videos as it allows you to record and edit them to look like professionally filmed videos. I use Camtasia to record the Powerpoint presentations of my webinars. While this is a paid service, you can get a 30-day trial and it is very simple to record and upload to your chosen video hosting service.
This is perfect for online course creators who want to provide demonstrations and tutorials for their participants.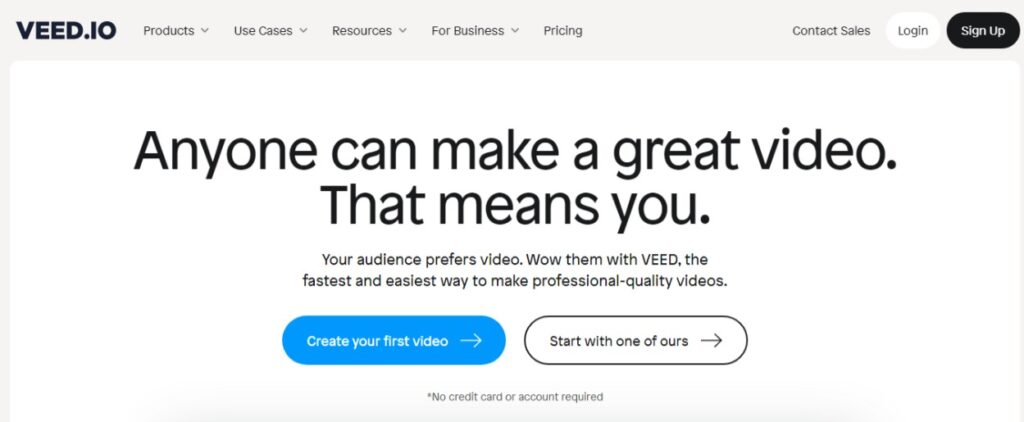 Recording and editing videos can be a nightmare for non-tech-savvy course creators. You literally spend hours trying to figure out how professional video tools work — like where to click to record a new video, find prerecorded content or add subtitles to your clips. 
Veed simplifies the video creation and editing process, so your content is ready in no time — and with minimal hassles. You can record new videos right in the web application using your phone or laptop, or upload pre-recorded clips to your Veed portal. 
After recording or uploading your new video, use the in-app editor to make professional changes in minutes. Add subtitles, captions, thumbnails, images and more to your video with the click of a button. 
When it's all set, you can host the video on Veed, export the file to your computer or embed the link to your course landing page. 
Veed has a free plan but you can upgrade to a paid subscription for $12 per month only to access more features. 
---
Launch your online learning product for free
Start selling your online course and community on a 100% free plan that actually remains free.

---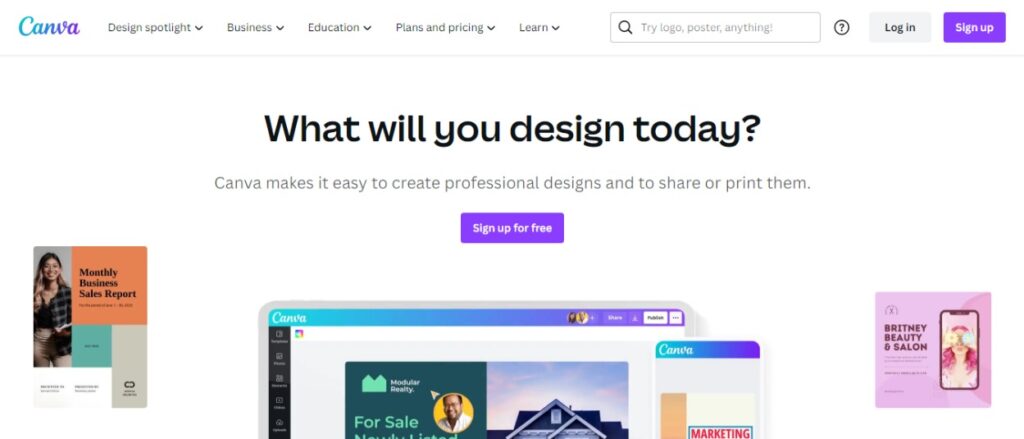 Having your online course content designed can cost anywhere between $500-2,500 (depending on the quantity of content and hours required) but if you're happy to invest your own time then Canva makes it super simple to create PDF workbooks.
The free version is perfect for online course creators without a brand as it provides a range of layout suggestions and fonts that you can play with. But don't worry if you've already invested in a brand identity (logo, brand colors, fonts, and textures), you can easily bring these all together using Canva for Work.
This is perfect for online course creators who are happy to do a little brand DIY.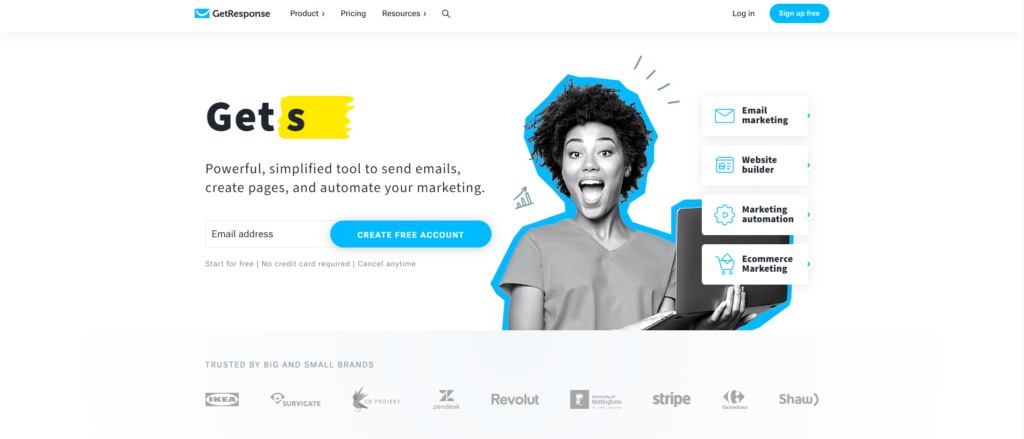 Once your course content — videos and workbooks — is ready, you'll need to host it on a landing page. This is where people will go to learn more and access the course content. 
GetResponse is a great option for building course landing pages. It has a drag-and-drop feature that allows you to add multiple elements to your landing page easily. And you can customize these elements to match your brand identity — colors, font, logo, images and the like. 
Read More: Need some inspo? Check out 25 of the best landing page examples here.
It also has a rich analytics tool for tracking your landing page's performance. You can track the number of visitors, enrollments and course completion rates. These insights help you figure out what you should focus on to improve your course's success. Say only a few people visit your landing page; you can invest in marketing to drive more traffic to your landing page. 
Don't want to build a landing page from scratch? Get ahead with over 200 ready-made and mobile-responsive templates from different use cases.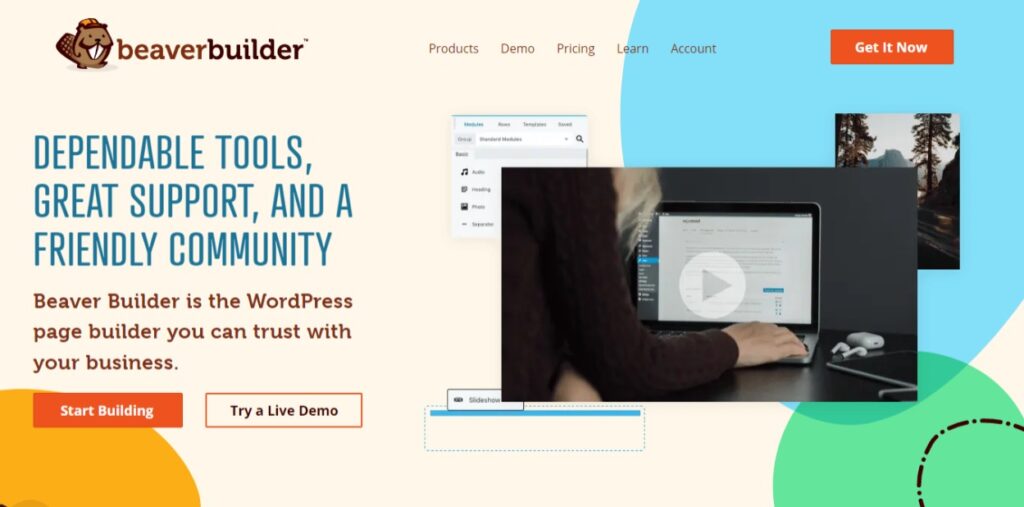 Already have a WordPress website and want to host your online course there? Then Beaver Builder is an affordable drag-and-drop WordPress page builder. The page builder plugin will work with your existing website and is great for designing sales pages and membership sites that look totally professional. All you have to do is choose a template, insert your content and hit publish!
This is perfect for online course creators who already have a WordPress website and want to host their own sales page.

Now that you have professionally filmed and edited videos, you'll need somewhere to host them. Vimeo has both free and paid options that allow you to upload, host and share videos in high-quality HD. Once your videos are uploaded to Vimeo then you can share the link or embed them to your website for online course participants to watch. Even better, there are many privacy options to ensure that only paying participants can see your videos.
This is perfect for online course creators who have created videos and want to host them online with options to share the link or embed into a website.
Side note: Video hosting is included in all Thinkific plans. So if you're using Thinkific to host your courses, you don't need to spend any money on video hosting. 
Related: How to sell a video course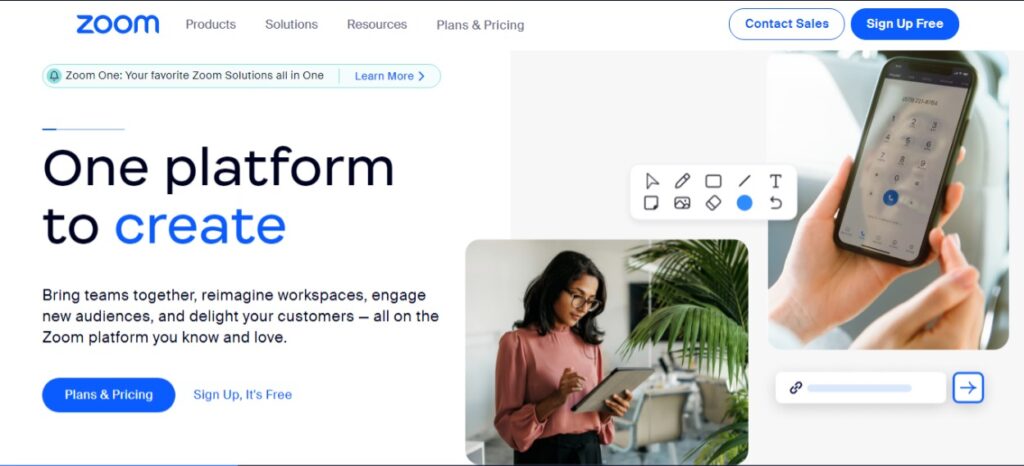 Is there a live element to your online course content? Perhaps you're hosting live calls each month? Or using free webinars to promote the content? Zoom has both a free and paid option that allows you to host live calls with your online course participants and integrates directly within Thinkific. The free version is perfect for short calls with less than 50 participants but if you want the call to go for longer than 40 minutes make sure you upgrade to the paid version or Zoom will kick you out.
This is perfect for online course creators who want to promote their offering with a series of free webinars or live calls and zoom is one of our favorite top remote working software picks.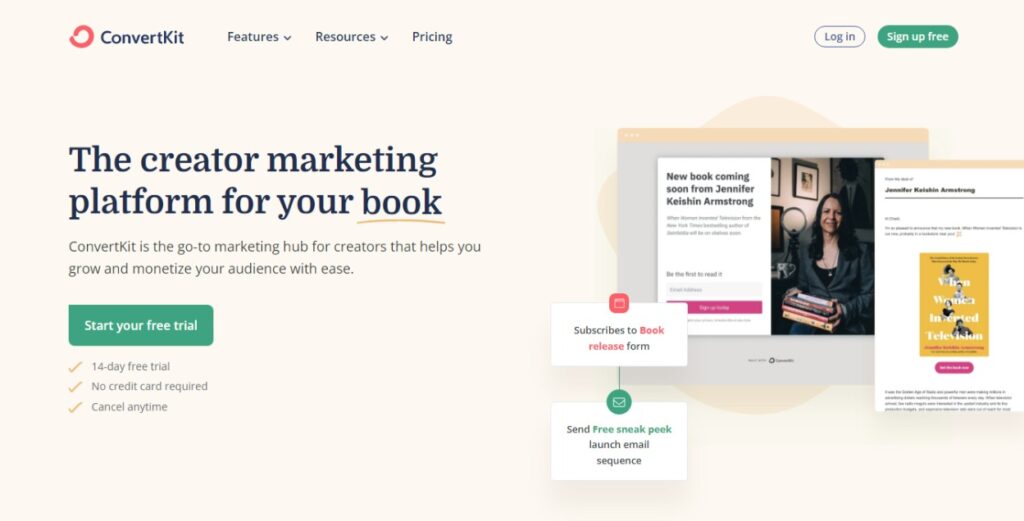 Email marketing is an important part of launching a successful online course. It helps you to generate and nurture leads, and drive conversations with course participants.
ConvertKit makes email marketing seamless for creators. It has tons of branded templates that you can customize for your email marketing campaigns — including newsletters, nurture and welcome emails. You can set up automated email funnels for drip campaigns too. 
The best part of ConvertKit is its segmentation feature which allows you to send hyperpersonalized emails to different subscribers within the same email list. No need to create a new list for each course launch; simply use tags and categories to organize subscribers in your list, and share targeted content with the relevant groups. 
Related: How To Build An Email List (Complete Guide)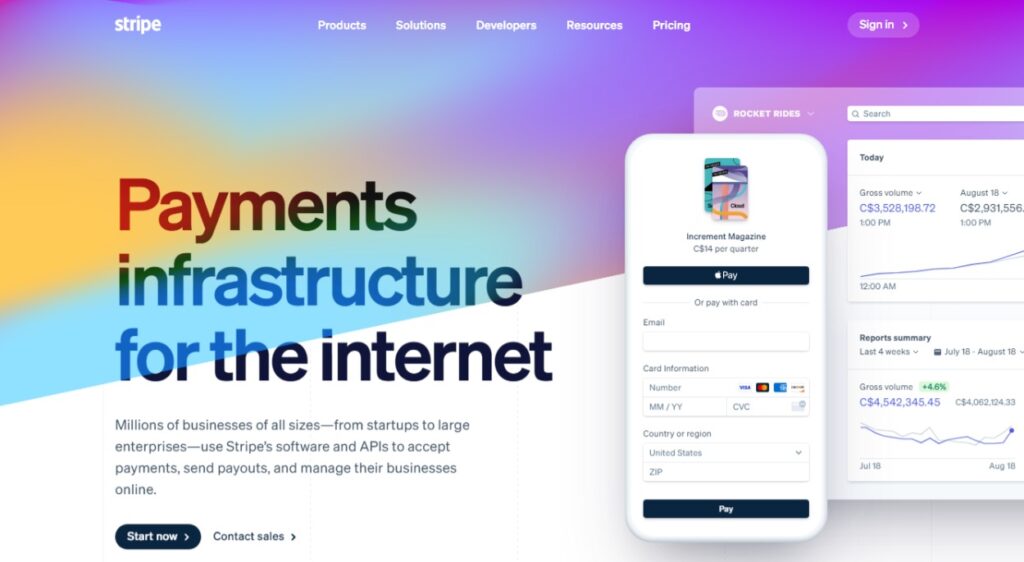 Stripe allows you to receive payments from more than 47 countries and in 135+ currencies. 
Once you've created your free Stripe account, you can add it to your course's checkout page via the Stripe payment integration feature to start receiving payments. You also get access to a dashboard that allows you to track and manage transactions efficiently.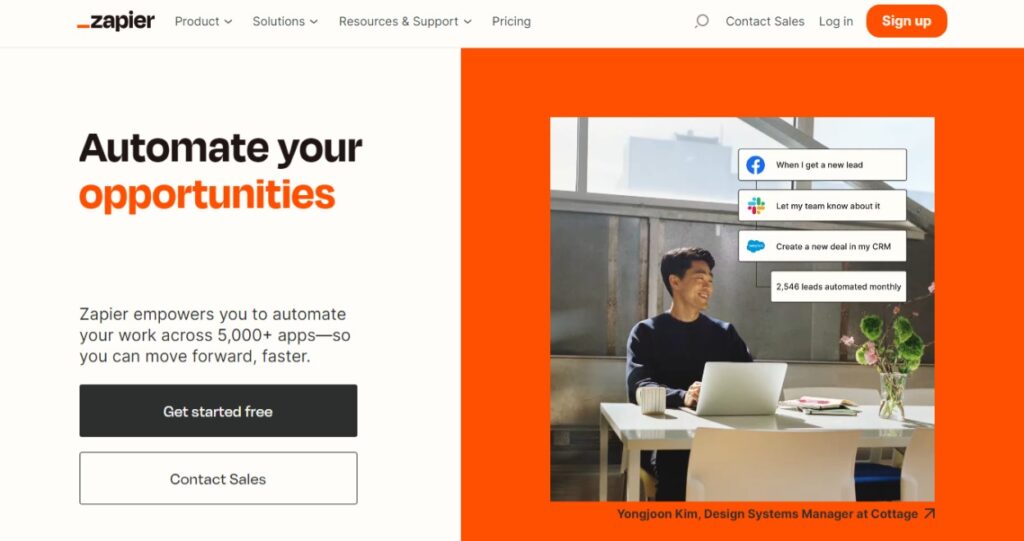 Zapier is an app that allows you to connect different apps and create an automation. Not only does Zapier already link with Thinkific, MailChimp, and Zoom, it also recommends Popular Zaps depending on the tools you use. For example, you might want to create a 'zap' that subscribes new Thinkific students to Mailchimp.
This is perfect for online course creators who value ease and flow in their systems and processes.
Related: Discover how to launch a successful online course.
Thinkific is the all-in-one low-cost tool for online course creation
.
Thinkific is the perfect platform for online course creators looking for a low-cost solution to easily create, market and sell their content. Best of all, it's free to create and sell your first course.
(Thinking about taking the leap? Take the work out of creating your online course business plan with our free template below.)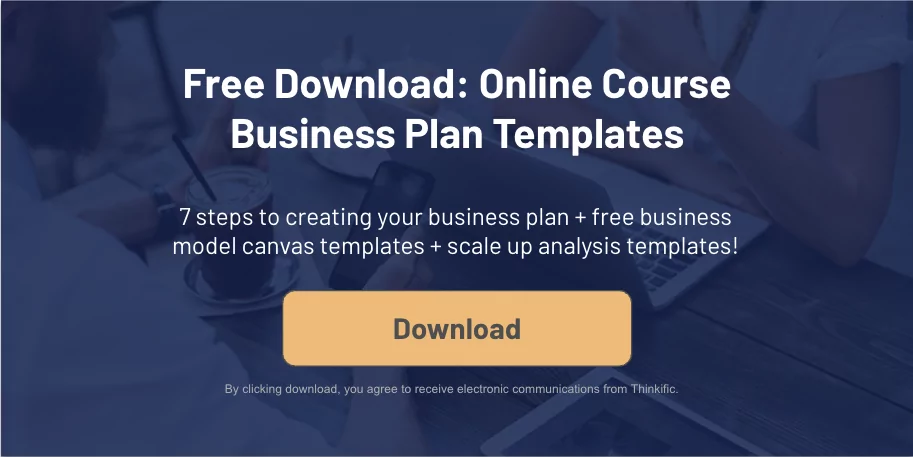 It is a one-stop shop that gives you the ability to host your content and course materials (including PDF, video, audio and more), sell your online course with instant access to your funds (and ability to deliver free, paid and subscription courses) and market your online course with a custom domain and branded landing page.
This is perfect for online course creators who have invested in a brand identity but want to save funds on sales pages, membership sites, and shopping carts. 
---
Launch your online learning product for free
Start selling your online course and community on a 100% free plan that actually remains free.

---
---
This blog was originally published in August 2021 and was updated February 2023.