Remote working is now a way of life for most companies. Whether you're looking to give your employees more flexibility or need to adapt to the global pandemic, there are many remote work tools available to help you set up a remote team.
Selecting the right remote work tools will help bring your distributed team members together, improve collaboration, engagement, and productivity. To help you decide which tools are right for your team, we've put together this list of the best technology and tools for working remotely.
Whether you're new to remote working or are looking to evolve your existing toolkit, this list will give you a good overview of the best tools in each category, from project management to video conferencing, and team collaboration.
Looking for the best remote work tools to get your team online? Here's a list of the top 20 tools for project management, team collaboration, and video conferencing #remotework
Click To Tweet
Top 21 Remote Work Tools
Top Team Collaboration Tools
1. Slack
Slack is a cloud-based messaging platform that allows your entire remote team to communicate from wherever they are working. You can create dedicated Slack channels for specific projects and working groups and efficiently send files. It was developed to replace email and is being used by thousands of companies to streamline communication. This is a must-have remote work tool for collaboration!
Pricing: There is a free option available for small remote teams and also monthly pricing plans that scale based on team size.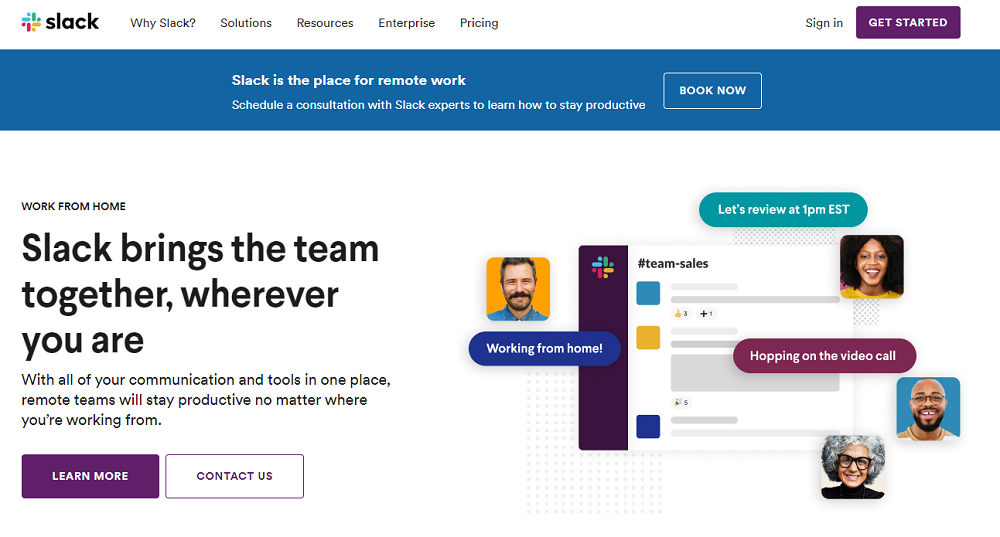 2. Microsoft Teams
Microsoft Teams is a one-stop-shop for remote working collaboration. In Teams, remote team members can send instant messages, make clear 1-to-1 calls, meet with up to 10,000 other team members with audio, video and web conferencing capabilities and collaborate in real-time with access to edit and share documents – all within the application itself. The platform also comes with support for technical needs and know-how. If your remote teams haven't discovered this platform yet – download this one today.
Pricing: Microsoft Teams is offered through select Microsoft Office 365 plans, so check with your technology team to see if you already have access to Teams.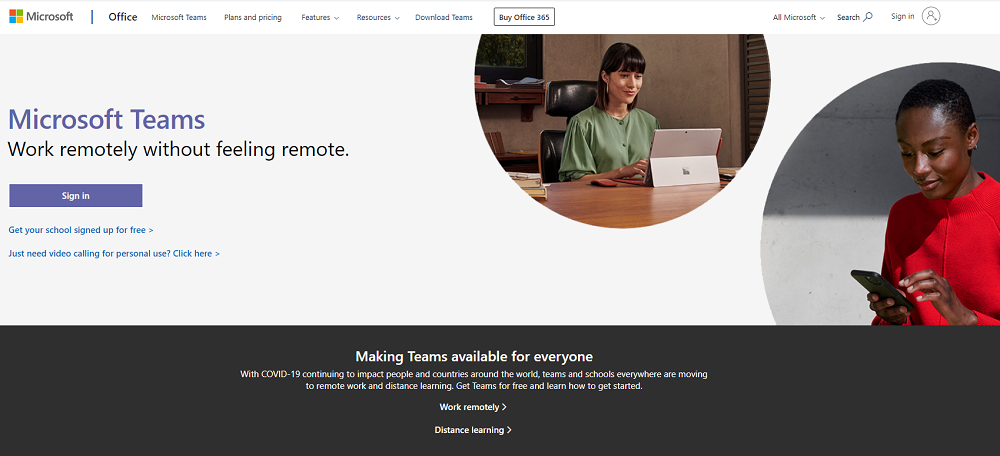 3. Basecamp
Basecamp is a project management and team communication software. Trusted by remote teams across the globe, Basecamp puts everything you need to get work done in one place. The program is organized, centralized, and clear so everyone knows what to do and is up to date on project status. Platforms like Basecamp provide a calm, organized way to manage projects and work with clients efficiently, so we recommend checking one out to save you time and stress.
Pricing: A free option is available with a limited number of projects, users and storage space. Basecamp Business is $99 per month and provides access to all available features, including unlimited projects, unlimited users, 500GB of storage, team projects and priority support, among others.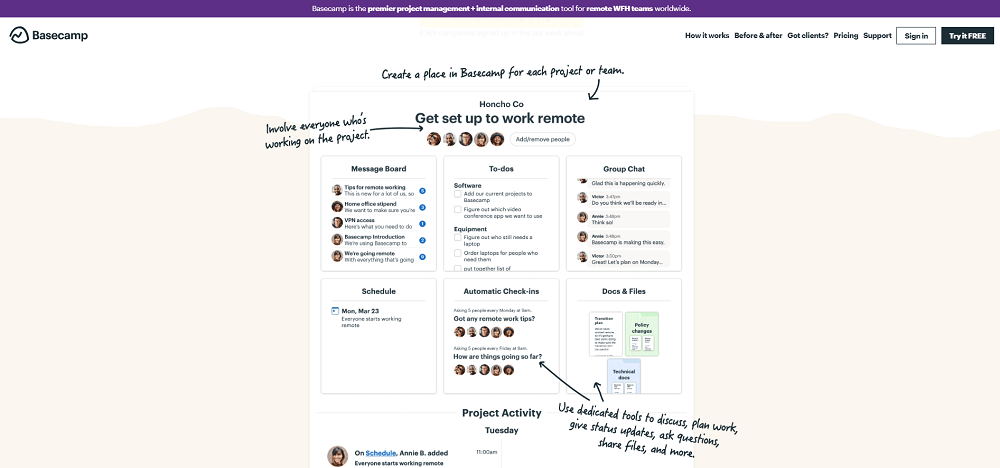 Related article: for more remote work tool suggestions including social media, email marketing, and market research tools, check out our article The Top 40+ Online Business Tools Used by Entrepreneurs.
Top Project Management Tools
4. Asana
Project management systems like Asana help your remote team stay up to date with what everyone is working on and keep organized. Asana is a comprehensive remote work tool that lets you assign different project tasks, set and shift deadlines, and take notes on project progress – no matter where you are.
Pricing: There is a free Basic option available for those getting started with the platform and Premium, Business or Enterprise monthly pricing plans per user offer more feature access.
Related blog: For more tips on how to build a strong remote workforce, check out our latest article, How to Bring Your Offline Business Online.
5. Jira
Jira is a project development tool that allows remote workers to plan, track and release projects directly from the platform, as well as run real-time data reports to enhance overall team output. The platform is designed to fit agile project management practices and while the website indicates it focused on software development, many types of remote teams use it to keep track of and manage projects ranging from small to large scale.
Pricing: Jira offers a free pricing plan, in addition to Standard and Premium monthly paid plans per user that would be beneficial for teams of 11 users and more.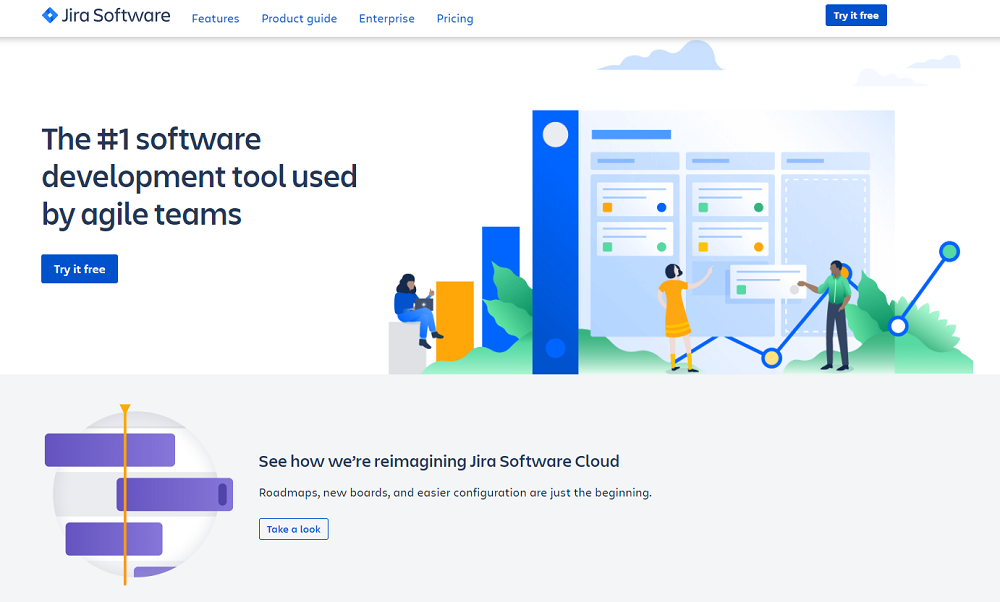 6. Trello
Trello is a collaboration tool that organizes your projects into boards. At one glance, Trello tells you what's being worked on, who's working on what, and where something is in a process. Trello's boards, lists, and cards enable remote teams to organize and prioritize projects in a fun, flexible, and rewarding way. It's incredibly easy to use and accessible on any device.
Pricing: Offers a free pricing plan with common features like unlimited personal boards, 10 team boards, unlimited lists, and simple automation. Move into Business Class or Enterprise for an annual payment per user with access to the more standard, team, power-up, automation, and security features.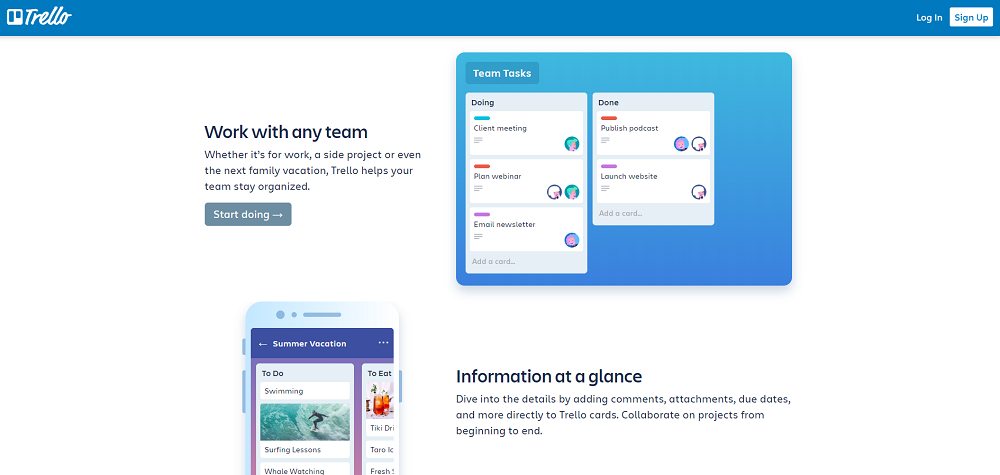 7. ProofHub
ProofHub is a project management tool that helps teams easily plan, collaborate, organize, and deliver projects. Their project planning software includes everything your team needs in one place – from kanban boards and custom workflows for planning, to discussion and chat features for collaboration.
Pricing: They offer two pricing options, the Ultimate Control plan at $89/ month, and the Essential plan at $45/ month. You can also try out their platform with a free trial to decide which level is right for your team.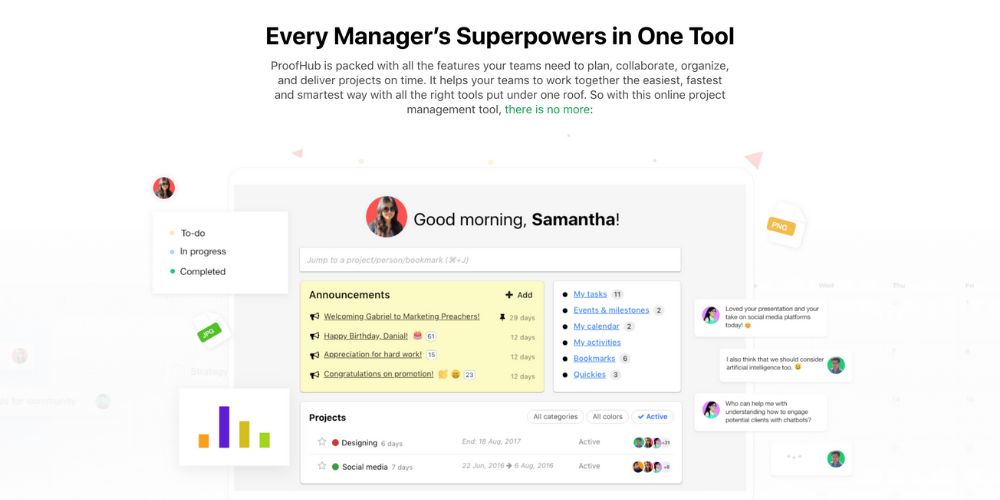 Download our checklist of the Top 40 Online Tools Used By Entrepreneurs below!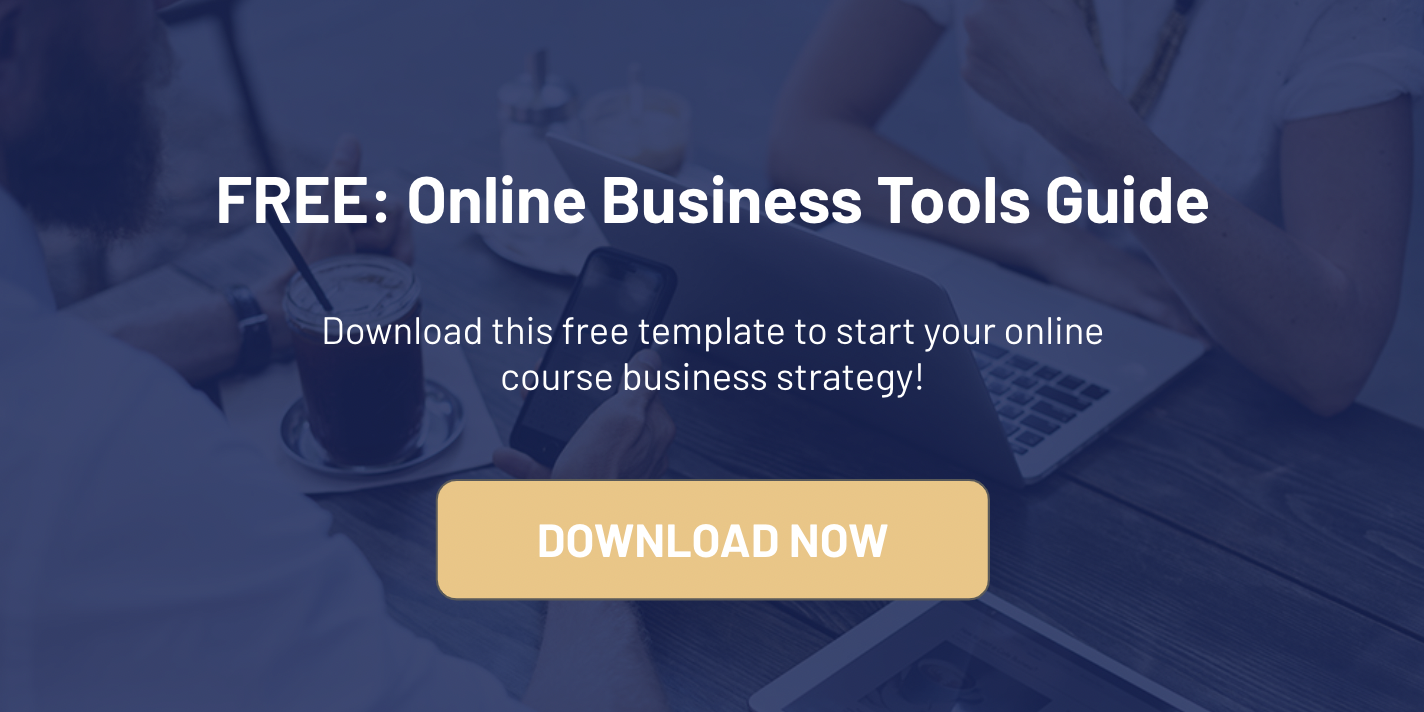 Top Online Training Tools
8. Thinkific
If onboarding, client training, or product education are your top priorities, using an online course platform to deliver your content is a great way to adapt to a remote environment. Thinkific enables you to deliver your information in a way that is engaging, effective and allows you to stay true to your brand and culture.
Pricing: The free plan lets you test-drive Thinkific's core features and publish up to three courses with unlimited students and content. For more advanced features, Basic, Pro, Premier and Plus packages are available.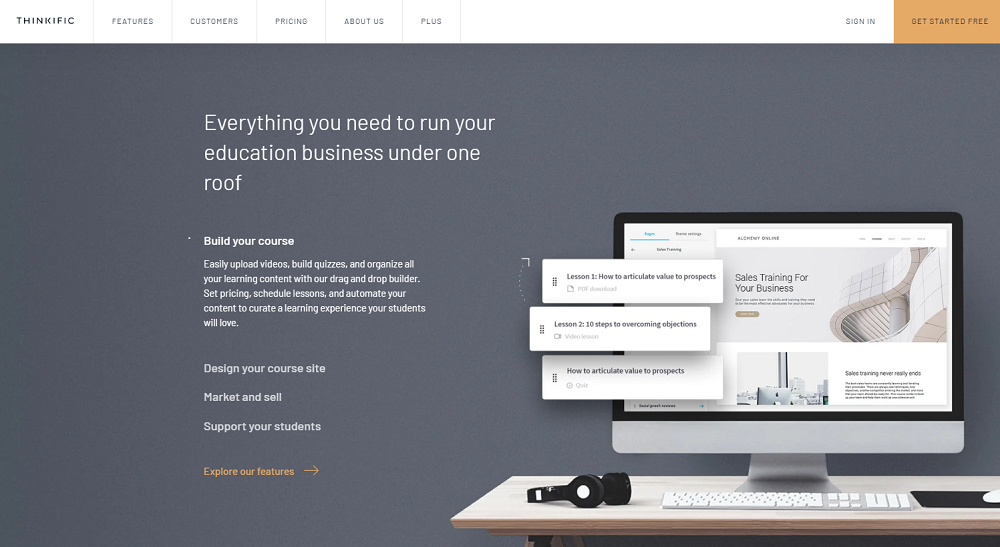 9. 15Five
15Five is an online employee engagement and recognition platform designed specifically for remote teams. This remote work tool enables continuous performance management, even when employees are not right down the hall, by establishing OKRs for team alignment, facilitating weekly check-ins and 1-on-1s, recognizing employees with high fives, and providing 360° reviews to further enhance performance. 15Five helps busy teams remember the important things, like employee engagement, recognition, and celebrating successes – which we can all use a little more of.
Pricing: All plans are paid, starting at $7 per person/month, with Plus and Enterprise options available, allowing for more feature access.
Top Meeting and Video Conferencing Tools
10. Zoom
Zoom offers remote conferencing services including video conferencing, web conferencing, webinars, and screen sharing. Offering both meetings and webinar software, Zoom combines video conferencing, online meetings, and mobile collaboration for remote work teams – a great all-in-one remote work tool when it comes to video.
Pricing: There is a free Basic plan option available for those hosting a personal meeting and then Pro, Business or Enterprise monthly pricing plans per host which offer more feature access.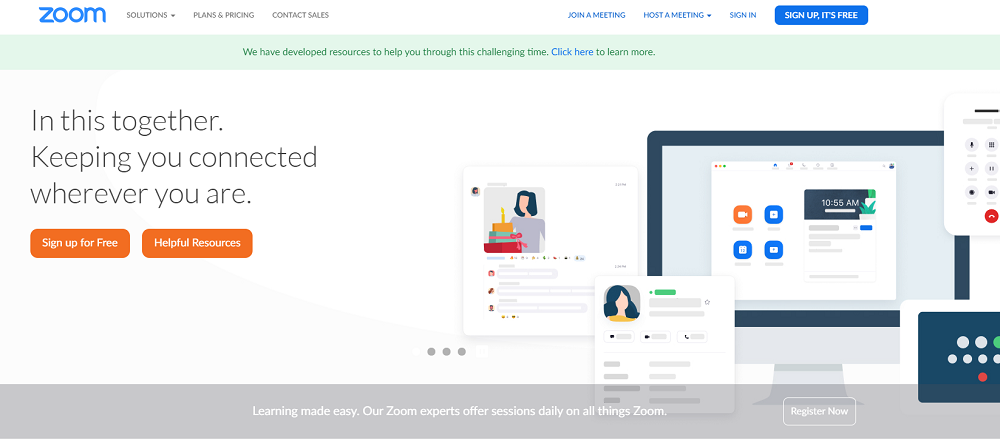 11. Google Hangouts
Google Hangouts is another great remote work tool for staying in touch with team members regardless of location. Message contacts start free video or voice calls and hop on a conversation with one person or a group. Sync chats from any device and keep the conversation going wherever you are.
Pricing: Google Hangouts is free for up to 25 participants in a meeting. To increase the number of participants, G Suite offers Basic, Business and Enterprise monthly paid plans per user.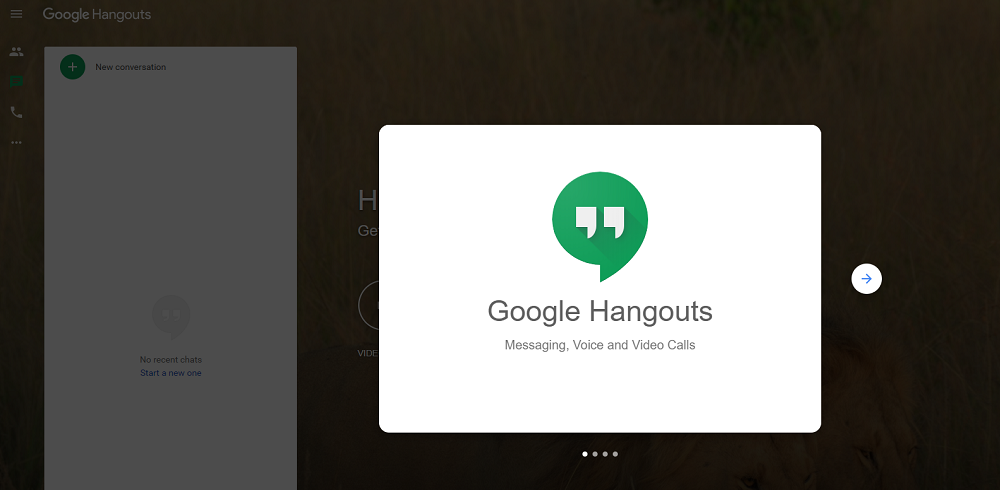 12. Skype
The great thing about Skype is that almost everyone has it! It's a great tool for free long-distance calls, group video calls, instant messaging, and screen sharing to keep your remote team connected and engaged. It also works on any device.
Pricing: Skype is free when connecting with other Skype users, but does offer a monthly subscription and additional options for paid service and use, particularly when making calls internationally.
Tips for working remotely: Finding a video conferencing tool that works well with your team is one of the most critical tools to keep remote team members happy, engaged, and productive.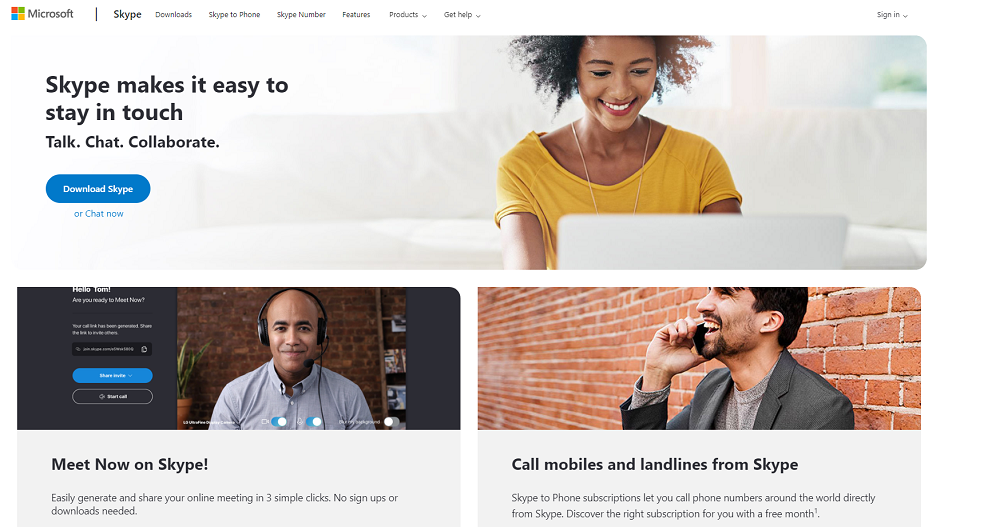 Top Writing and Editing Tools
13. Evernote
Capture, organize and share notes from anywhere. With Evernote on your desktop and mobile devices, your notes are always with you and in sync. Enhance notes with links, checklists, tables, attachments, and audio recordings. Even handwritten notes are searchable.
Pricing: There is a free pricing plan available that offers the program basics such as note-taking and organization features. Upgrade to Premium or Business paid plans for sharing, integration, and collaboration features.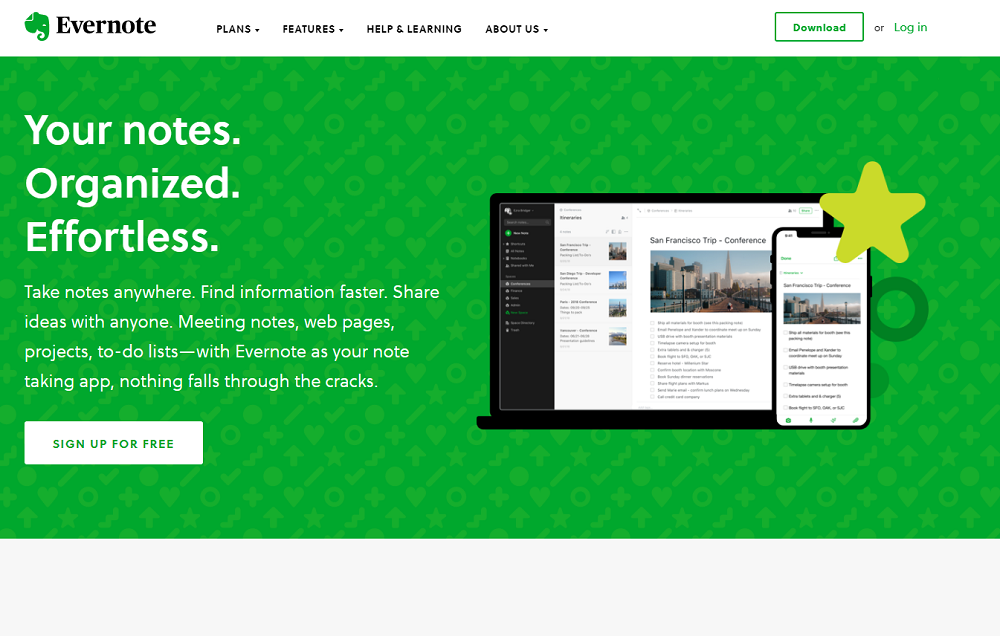 14. Grammarly
Have you ever thought, 'I wish I had an editor to look over this document quickly,'? Well, someone did and Grammarly came to life, making our writing lives so much easier. The online writing and editing tool helps strengthen written communications through AI-driven writing support. The tool, which can be downloaded as an extension of your web browser, Microsoft Office, and others, provides suggestions to help your writing come off clear, concise and error-free.
Pricing: Grammarly is free but does offer a Premium pricing plan that digs into the next layer of editing, including reviewing for readability and detecting plagiarism.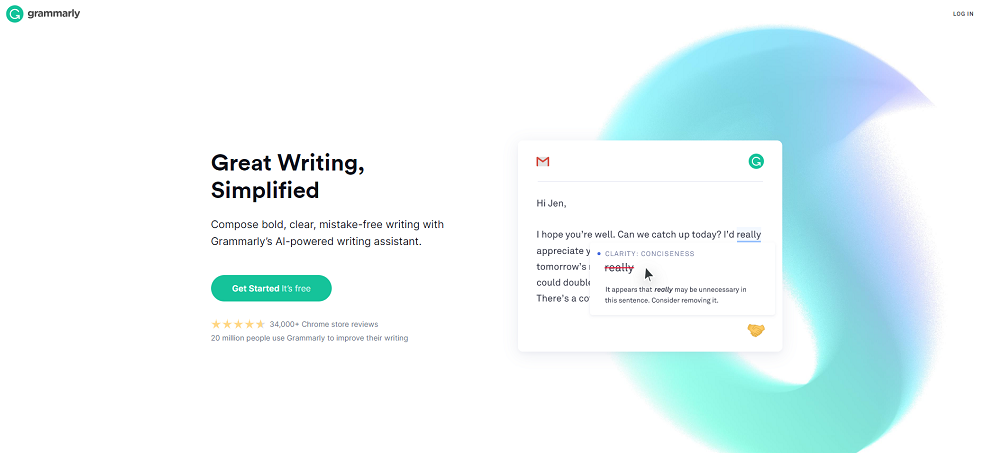 15. Google Docs
As an alternative to Microsoft Word, offering cloud-based storage and access, Google Docs provides your team with an easy-to-use and edit remote collaboration tool. Google Docs allows you to share your document with anyone you choose, and you can provide permissions to have them edit your document right then and there. You can also access and edit via mobile, taking your documents on the go with you.
Pricing: Google Docs is free for Gmail users. Access is also included for any G Suite monthly pricing plans, should you want more access to other applications.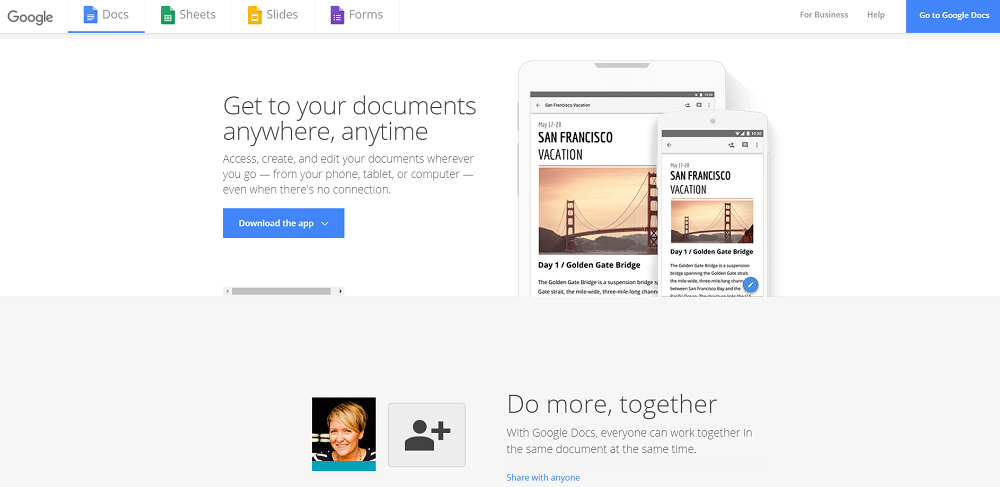 Looking for the best remote work tools to get your team online? Here's a list of the top 20 tools for project management, team collaboration, and video conferencing #remotework
Click To Tweet
Top File Sharing Tools
16. Google Drive
This cloud-based platform allows for easy file sharing and seamless collaboration on presentations, documents and reports. Google Drive enables work to happen in real-time and eliminates the need for back and forth emailing and version control issues. You can easily store important documents and resources for all team members to have as a reference, whether they are in the office or not.
Pricing: The free plan includes 15GB of storage, whereas paid monthly G Suite subscriptions from 100GB to 30TB worth of storage also come with other benefits like access to Google experts and money back in the Google Store.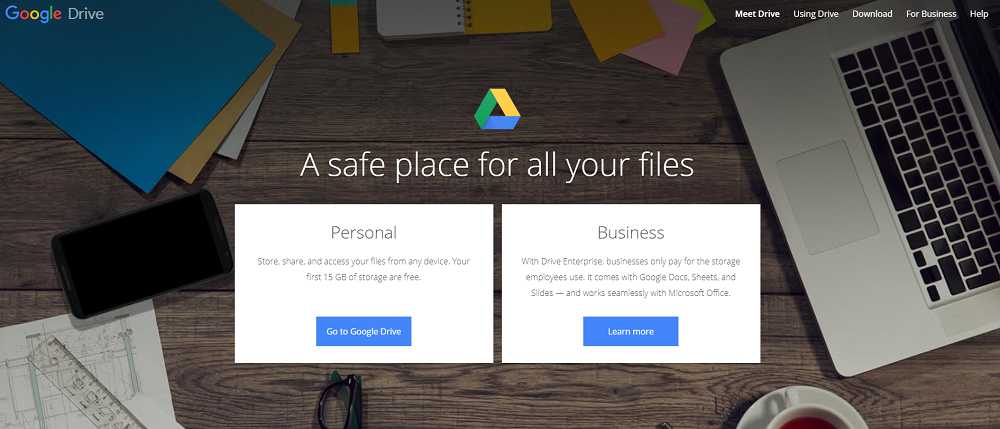 17. Dropbox
Dropbox not only allows you to safely and securely store your business files but if you're working remotely with other people, it makes it easy for you to collaborate on shared documents. Dropbox brings your files together, in one central place. Documents are easy to find and safely synced across all your devices—so you can access them anytime, anywhere. No more wasting the day tracking down work.
Pricing: Dropbox's Basic plan is free, allowing access to 2 GB of storage and some sharing tools. Businesses have the option of Standard, Advanced, and Premium paid monthly plans per user with access to more storage space and added features.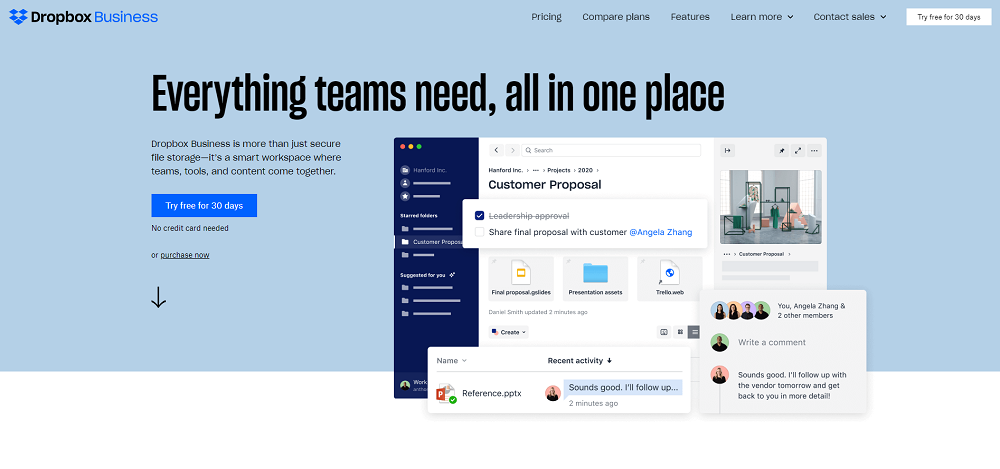 18. OneDrive
Microsoft's OneDrive, while seen as a competitor to Google Drive, is deeply ingrained with Microsoft Office tools, making it even easier to share important files and documents with colleagues. As a favorite remote work tool, OneDrive makes life just a little bit easier by making file sharing and collaborating even more seamless.
Pricing: OneDrive is available through Microsoft Office 365 plans, as well as Microsoft's OneDrive for Business Plan 1 and Plan 2, which differ based on security and support features.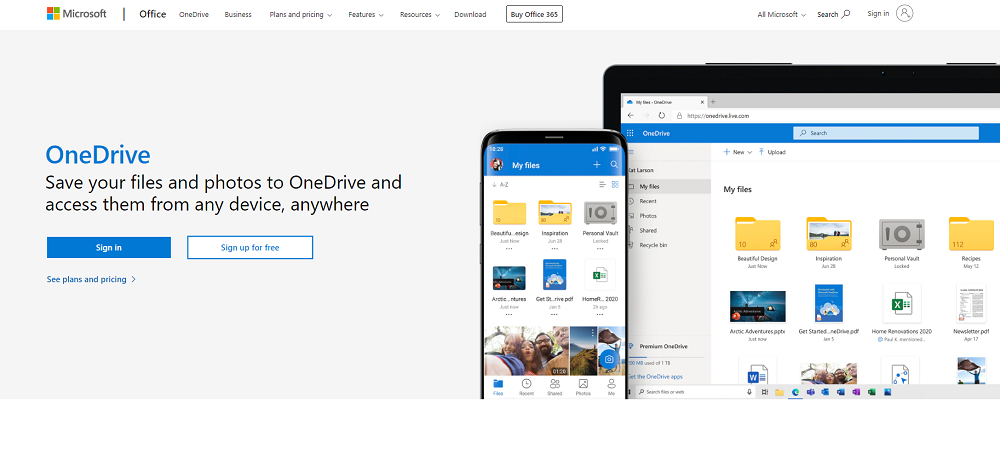 Tip for working remotely: With Microsoft being a dominant player in remote technology, check with your technology team to see what you have access to.
Top Task and Time Tracking Tools
19. iDoneThis
As an online task management tool, iDoneThis helps individuals and managers track daily task progress. The program offers daily status updates, via their web browser or email, as well as detailed reporting tools. iDoneThis helps remote workers ensure they are on the same page for daily tasks, enhancing overall productivity and time management.
Pricing: Provides a 3-day free trial for any paid plan, allowing users to try out the features ahead of time. Pricing per user/month starts at $9 (when paid annually).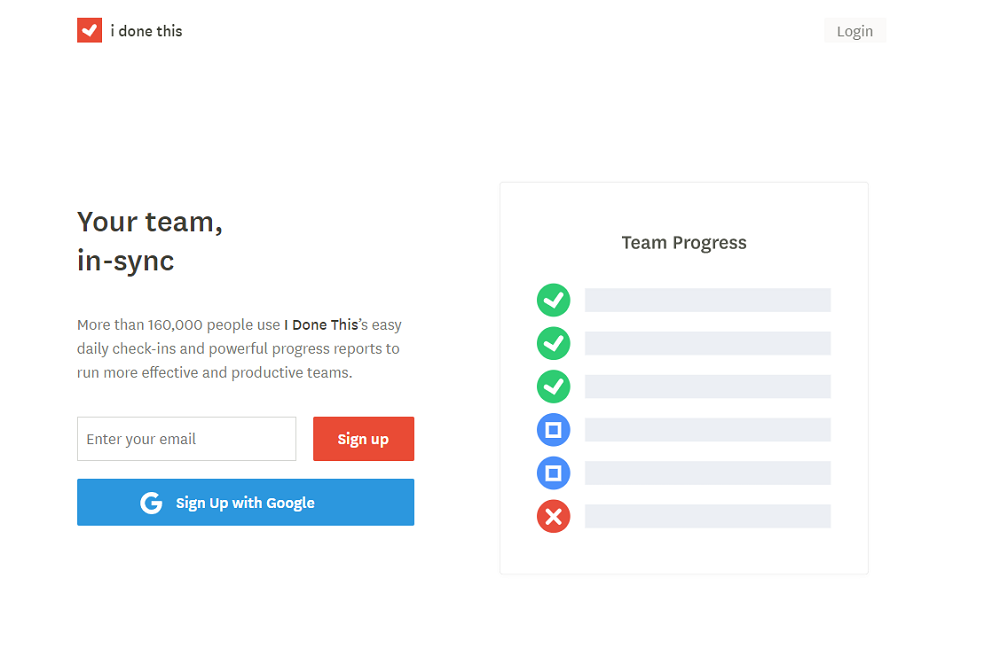 20. Toggl
Toggl is a time management application that helps users keep track of their time spent on projects, tasks, and deliverables. This remote work tool also has a comprehensive reporting feature to know how much and on what employees are spending their time working.
Pricing: Toggl is free to download, so you can start tracking your time right away. For those looking for a more robust time tracking features for larger teams, paid plans per user/month start at $10.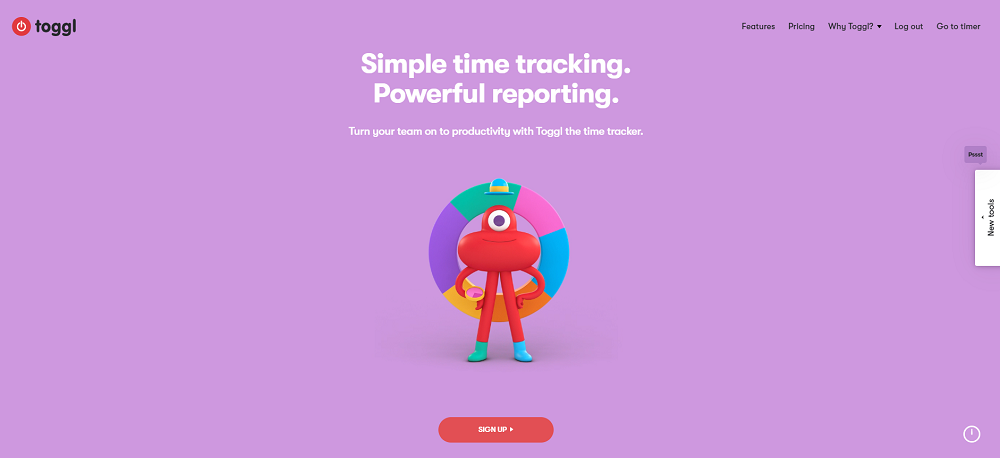 Tip for working remotely: Remote work tools like Toggl are great for workers that struggle with making the most efficient use of their time and are also beneficial for tracking employees' billable hours.
21. Time Doctor
Similar to Toggl, Time Doctor helps remote workers keep track of their time, while also giving managers better insight into what their employees are working on, how long it takes them to complete a task and how productive they are with task management. The feature we love most is the off-track reminders, where users get prompted alerts to get back to work when visiting non-working websites.
Pricing: Time Doctor offers a 14-day free trial for any of the various monthly pricing plans. Pricing for Business and Enterprise plans are based on team size.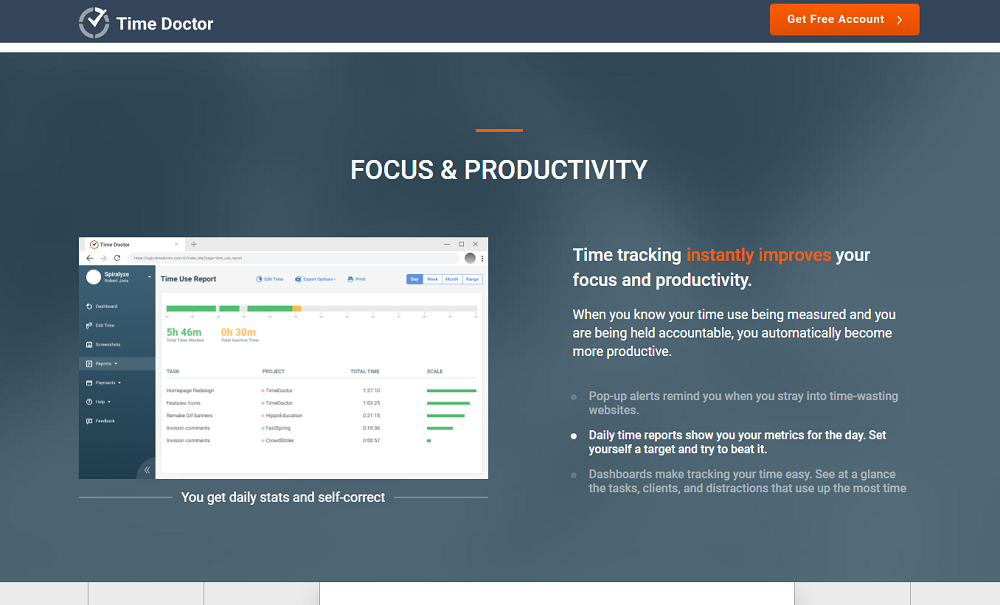 These remote work tools give you the power to help your team stay connected, enhance productivity and show up every day with the resources they need to do their best job – no matter their location. Give them a try and watch your remote teams thrive!