When I first had the idea to create an online course about writing, I knew it was one worth following.
(Psst…this is part 2 of Riley's course creation journey. To start from the beginning read part 1 here.)
Perhaps this is because us humans have an innate desire to give back to others; being able to help people through offering my knowledge felt like the natural next step of my freelance writing career.
If you've been following along with my online course creation journey, you know how much I believe in the power of writing to be both a creative outlet and a therapeutic tool. Since deciding to turn my idea into a digital product, I've been wowed by how much this philosophy resonates with my students.  Receiving positive feedback along the way has helped to affirm that what I'm doing is serving others and helping them to grow creatively.
Starting with Authenticity
While creating content for my first online course, Your Inner Writer, felt easy, marketing and selling it felt like a much more intimidating process. As someone who doesn't like to promote myself, I had to overcome the thoughts that ran rampant in my head — thoughts like: What if people think what I'm doing is stupid? What if this course doesn't resonate with people like I thought it would? What if people think I'm being annoying or 'salesy' when I talk about my course?
Clearly, I get hung up on putting myself out there. But, when I thought about the high-earning Thinkific creators I've written about — creators like Sunny Lenarduzzi, Mimi Goodwin, Mina Irfan, Kat Norton, and Tori Swanson — I was able to reframe my mindset and stay focused on sharing my passion with others. I decided that I would make my marketing and sales approach work for me, rather than do things that I thought I 'had to' in order to get students in the door. Really, it all came down to authenticity: in my marketing and sales efforts, I continually asked myself: What needs to be communicated? What feels like the best platform in which to communicate? How would I like to be spoken to if I were a potential student of my course? What feels exciting to share right now?
In this blog, I'm sharing with you — the first-time online course creator — how I marketed and sold my first course. Remember: this is what worked for me, and I'm sharing these steps to help you discover what works for you. In my experience, the best sales tactics always come from a place of genuine authenticity. Let these words inspire you to look inwards so that you can sell and market your course with ease, and in a way that works for you!
Here's how I did it:
I created a realistic goal
A quote I continually return to from one of my favourite authors, Paula Coehlo, is this:
"When you want something, all the universe conspires in helping you achieve it."
I decided that the first step to selling and marketing my online course was to create a goal of how many students I wanted to enroll. That way, the universe (and tactical marketing efforts) could conspire in helping me to make it happen.
I kept my goal simple and realistic; I wanted to enroll 10 people in my first launch of Your Inner Writer. Creating this goal helped me to hold myself accountable and determine what action I'd need to take to get that many people in the door. It also gave me a north star to keep me on track, and contributed to a feeling of mental clarity; as long as I was doing everything in my power to get these 10 people enrolled, anything beyond that was a bonus. 
Turns out, I exceeded my goal by 12 students, enrolling a total of 22!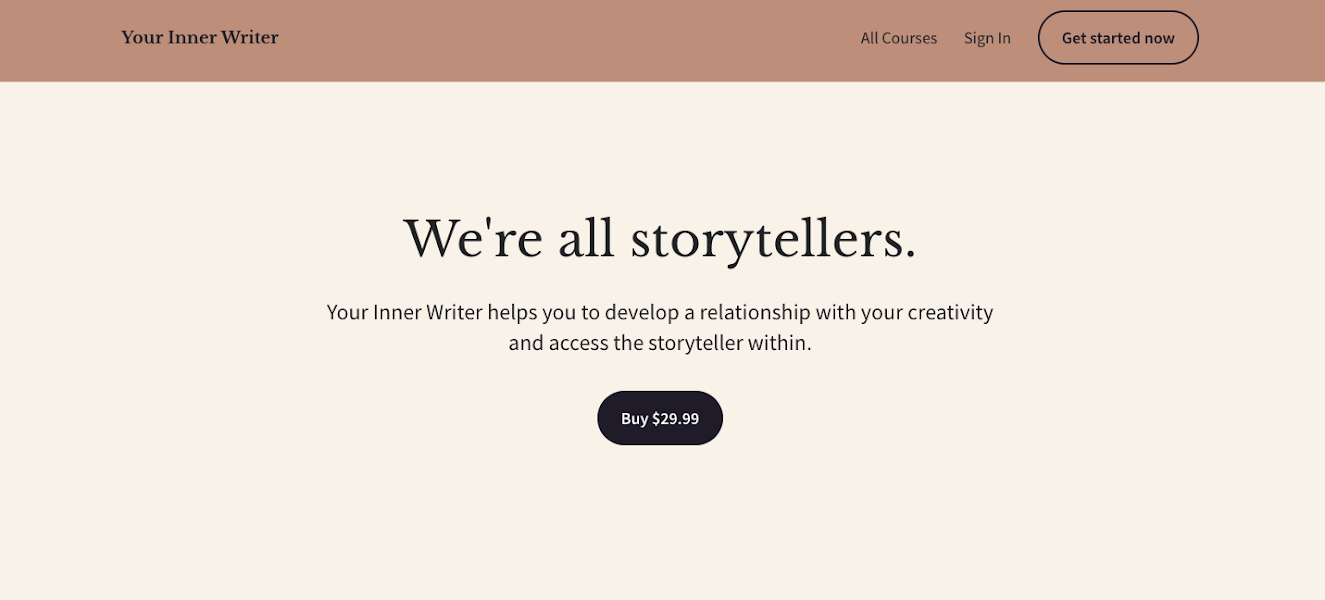 I created a timeline
Once I'd created my goal for how many students I wanted to enroll in my course, I made a timeline for all of my marketing efforts. Creating a timeline helped to remove overwhelm about the process and keep it as simple and stress-free as possible. 
As mentioned in part one of my online course creation journey, upon deciding that I was going to create my first online course, I made a landing page where I could send prospective students to learn about it and make a purchase. Once the landing page was live, there were three weeks left before my course started on July 6 — and three weeks to market it.
I added the landing page link to my Instagram bio and website to encourage organic traffic. Next, I mapped out the necessities of what marketing and sales efforts I'd have to execute. I was going for the 'quality over quantity' method. I wanted to be super intentional with what I shared with my audience, so I drafted four emails, three Instagram posts, and kept Instagram stories unscheduled; I decided I would post stories when I felt like it, and when it felt most aligned. Turns out, Instagram stories were how I created the most leads, and how I converted the most followers into students.
 I determined which platforms I'd use to share my message
Since I'd built a small (but loyal!) following over the past three years of running my freelance writing business, I decided I'd use my two main platforms in which I already communicated with my audience: email and Instagram.
I posted one Instagram post each week for the three weeks on my feed. The first post was announcing my online course, with a call to action to sign up through the link in my bio. The second post talked about why writing is both a creative outlet and therapeutic tool, and again encouraged people to sign up through my bio. The last post showed the signups so far (at that point, I had 12 people in the course) to create a sense of urgency and let people know that there was only one week left to enroll.
Next, I re-purposed these Instagram posts into emails, which I sent the same day that I posted on Instagram. I sent the fourth email the day before enrollment closed to, once again, create a sense of urgency for my subscribers to sign up.
I spread the word
Instead of relying solely on my email and Instagram audience, I decided to reach out to those in my personal network — and who I didn't have on social media — who I thought could benefit from Your Inner Writer. 
I liked the personal touch of this step. There were a few acquaintances and colleagues who I knew would be interested in developing a creative writing practice. Each person I reached out to ended up signing up for the course.
Turns out, those who signed up for my course also helped me to spread the word. Without asking (however, next course launch I'll make a point of asking to encourage even more of it), many students shared their excitement about Your Inner Writer through Instagram stories. I'd repost their stories, which helped to build more hype around my course and show that people were actually signing up.
Having my students talk about my course online was crucial when it came to marketing and selling it; not only did I gain new followers from other people sharing about my work, I even had two people sign up for my course who found out about it through their networks!
I spoke about my course authentically
In all of my emails, Instagram posts, and stories, I spoke about my own experience using writing as a powerful tool for creativity and self-exploration. Of course, I shared the value that my students would get from Your Inner Writer, but I used my personal experience as a way to lead into my course's learning outcomes. 
Since I wanted to stay authentic to myself throughout my marketing and sales process, sharing these personal experiences felt important to me. I wanted people to emotionally connect with my philosophy, learn about what drove me to create this course, feel inspired by the idea of creating a writing practice, and discover what they'd learn from Your Inner Writer.
I also used other people's quotes about writing and the creative process to inspire people. Each time I posted a quote on my story with a write-up about how it related to Your Inner Writer, I had someone sign up shortly after. 
I avoided being 'salesy'
If I'm being honest, I cringe when I'm bombarded by tons of social media posts and a mass amount of emails during a course launch. This is why I believe in being intentional with marketing and sales efforts, and why I employ a 'quality over quantity' mindset.
Since I'm passionate about writing, creating quality, intentional content to promote my course was easy — I had so much to talk about! In all of my sales copywriting, I spoke about my course in a way that showed my genuine love for it and how it would help people. 
I believe that being genuine in all aspects of sales and marketing shifted me from being 'salesy' to straight up excited about it and eager to get people in the door — not so that I could simply make money, but so that I could help people develop a relationship with their own inner storyteller. I think this mindset proved itself since more than doubling my original enrollment goal!
I sold a transformation, not information
In every piece of content I put out to my audience — including emails, Instagram posts, stories, and even landing page content — I made sure I was selling a transformation, not just information. 
This is a tip I gleaned from successful Thinkific creator Sunny Lenarduzzi — and something that helps to position creators as an authority in their industry. I wanted to help people get in touch with their own creativity and inner storyteller, rather than simply give people information that they could have just found on the Internet. 
Sharing my personal experiences with writing helped me to showcase the transformation writing has provided me, and thus demonstrate that this transformation is possible for my students, too. I believe that my transformation-focused content appealed to my audience. 
With just one week left of my course, I've received incredible feedback that speaks to this transformation, such as:
"Carving these pockets for creativity feels like such a nurturing thing to do." – Bree C.
"I am inspired by the idea of embodied writing – and love all the ways you define and invite us to explore it." – Alex W.
"I'm so grateful for your course already and all the inspiration it is bringing me. So thank you!" – Claudia H.
"Thank you thank you for creating such a safe space for creatives. I was in desperate need of this." – Megan Z.
Get Started with Thinkific
I hope that learning about how I marketed and sold my first online course has helped to inspire you to think of how you'll do it for yourself. Remember: there is no right or wrong way to share your gift with the world, and you have to be willing to experiment and explore what works for you and your audience.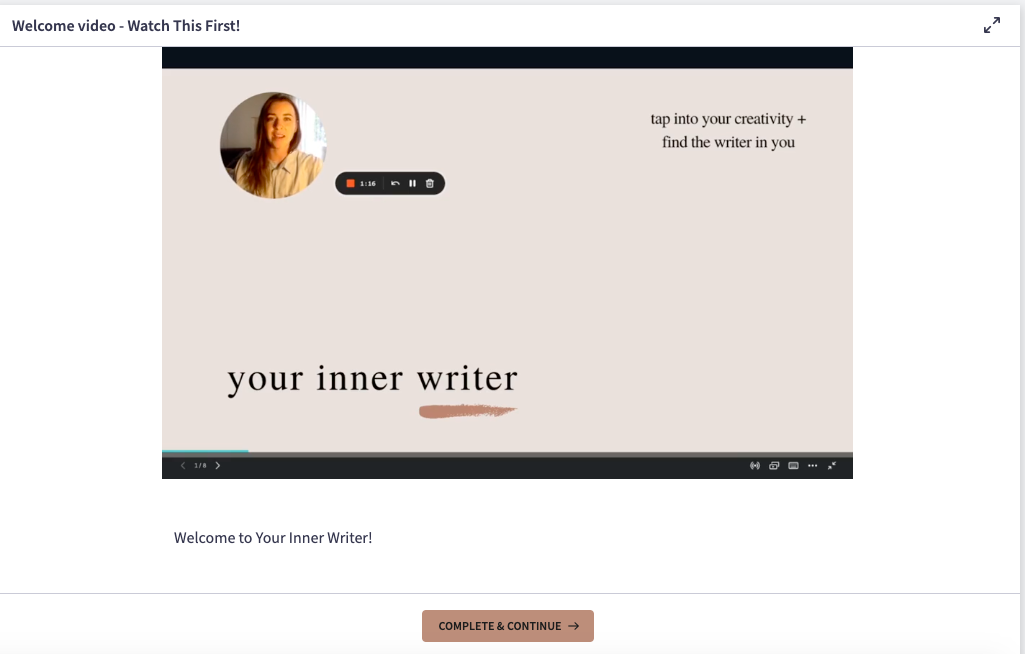 If you're like me and feel resistant to putting yourself out there, just remember that when you share your voice, you give others permission to share theirs, too. Trust yourself, remember how powerful you are, and don't be afraid to share your unique knowledge with the world!
Stay tuned for My Online Course Creation Journey, Part 3, where I dive into everything I'd do differently in my next launch. 
By the way, if I can create an online course, so can you. Don't wait! Get started with Thinkific today.
Read part 1 here: My Online Course Creation Journey, Part 1: From Idea To Digital Product (thinkific.com)