Mimi Goodwin started sewing when she was 12 years old.
Growing up, she'd spend summers visiting family in Puerto Rico, where her aunt was an avid seamstress. "I'd spend the entire summer sitting in her studio watching her sew amazing things," Goodwin shares with Thinkific.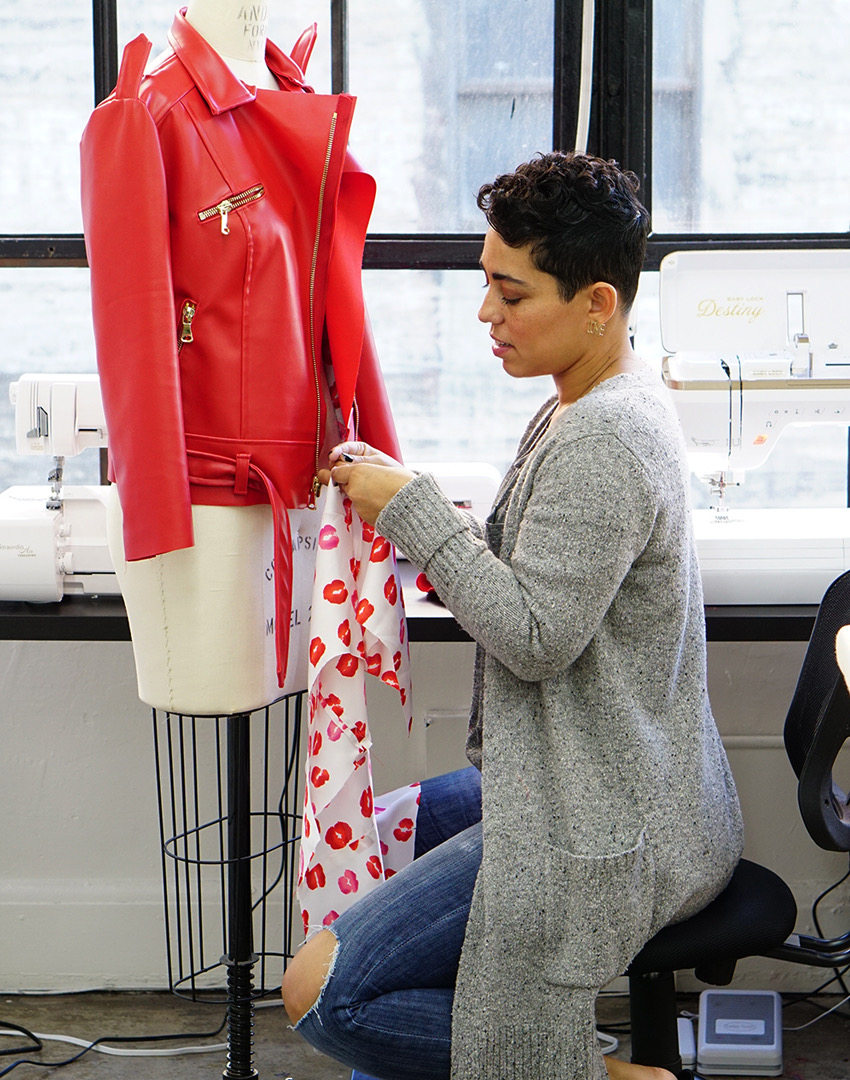 Soon, Goodwin "caught the sewing bug." When her dad noticed that she was making all of her own Barbie clothes, he bought her her first sewing machine. "I loved it," she says. "I would take apart all of my clothes, trace shapes around them, and then put them back together. I didn't know what I was doing at the time, but apparently I was teaching myself pattern making and construction."
At age 15, Goodwin left home as a domestic and sexual abuse survivor. It wasn't until she was in her late twenties — and in a more stable environment — that she picked up sewing again as a kind of self-therapy. "It was something I did to feel calm," she says. 
Remembering how much she loved the craft, Goodwin began sewing more and more. Inspired by her forgotten passion, she began searching for fashion sewing blogs. The thing is, she couldn't find any. "Most of the sewing blogs were pictorials of crafts, home decor, children's clothing, and quilts," she says. "But I was really just into fashion sewing. I only wanted to make things that I could wear."
Jump ahead:
To fill this need, she started her own fashion sewing blog as a creative outlet in 2012. Instead of featuring pictorials, she used video tutorials on YouTube. Quickly, her blog gained traction; she grew her following to over a million in her first year, began monetizing it, and launched Sew It! Academy — an online, Thinkific membership course that teaches people of all shapes and sizes to sew. "If you know how to do something, the fastest way to make money is to teach someone else how to do it," she says. 
"I'm a high school dropout and I don't have any college education. My story gives people hope that despite the circumstances they may find themselves in, they can do really great, amazing things in their lives and see that all things are possible."
Monetizing her blog
According to Goodwin, her success came from teaching fashion sewing at a time when it wasn't overly saturated. "This space was open and I took full advantage of it," she says. "I was creating sewing tutorials more often than anybody else, and I did it in a way that felt authentic to myself. I think people related to that."
She began monetizing her blog quickly; in 2014, she got her first licensing agreement with Simplicity Patterns. "At the time, most people were doing the traditional monetizing through Google AdSense and working with sponsors, but I wanted the bulk of my revenue to come from my own products," she says. "I thought, If I'm putting something on my blog, why not my own products and services?"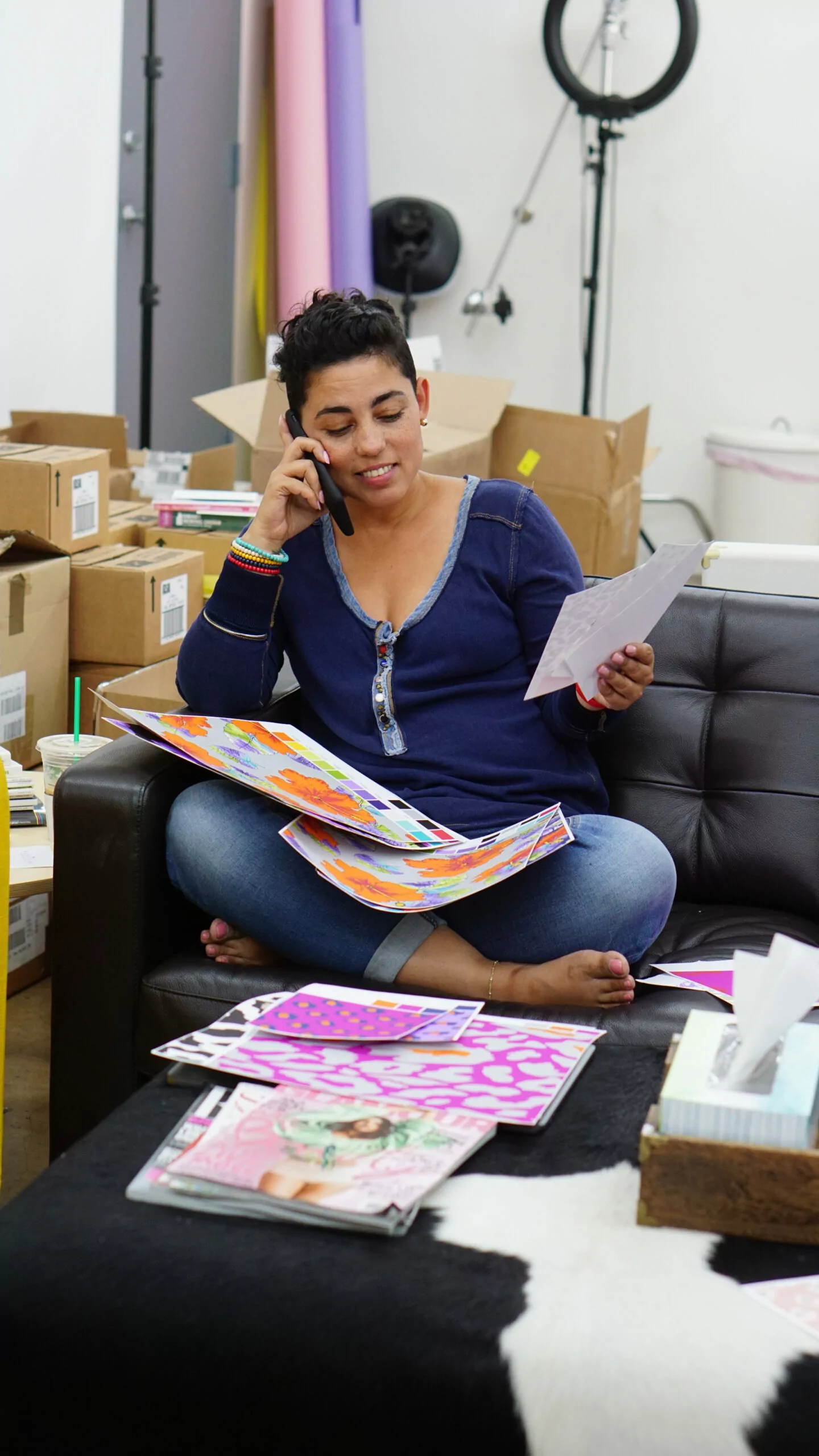 She says that her designs for Simplicity Patterns — over 44 of them — were a big hit.  This collaboration is also what put her in front of a wide audience, since her patterns were sold in popular big box stores, like Walmart.
"Up until that point, there wasn't anyone who looked like me in the industry. There wasn't anyone designing clothes for women shaped like me."
Eventually, she built online communities of hundreds of thousands of men and women on Instagram and Facebook who were sewing and creating their own clothing, but who weren't represented in the sewing patterns, fabric stores, or sewing magazines. "I was the first one to do that," says Goodwin. "So when they saw me, they saw themselves. The support and loyalty that came from my followers was a really big deal in helping me grow."
Read more: The Top 15 Membership Retention Strategies For Sustainable Growth
Creating a membership platform
Although Goodwin was providing value in her YouTube tutorials, she wanted to be able to give people more foundational sewing knowledge. "A lot of my videos were about creating one specific project," she says. "But if you didn't know the basics before that project and had never worked a sewing machine, it would be hard to follow."
Soon, she had a dream to create an online, subscription-based fashion and design school that taught people everything they needed to know about sewing. In 2016, this dream manifested into what is now Sew It! Academy. The goal: break down sewing into incremental, bite-sized classes to make learning easy.
"Learning anything new at the beginning can be really frustrating. That's why I wanted to break down the process."
Prioritizing accessibility
Now, Goodwin has a womenswear, menswear, and womens & menswear memberships, as well as a course dedicated to teaching kids between ages 8 – 14 how to sew. 
Her womenswear and menswear memberships each cost $11.97 per month, the womenswear and menswear combined membership costs $17.97 per month, and her kids course is a one-time payment of $39.99. Members gain access to 60 courses, and every month they get a new course. She also gives the option for a free trial.
She chose to price her membership affordably. "Design school is expensive, and people that come from communities like mine can't afford it," she says. 
In fact, Goodwin is a firm believer in prioritizing affordability when it comes to online courses.  "The more I give, the more I get back in return," she says.
"I call myself a social-driven entrepreneur. I know that if I give because I want to give and educate and provide resources, that money always comes back."
Keeping content creation simple
When it comes to creating content, she keeps the process as simple as possible; her assistant helps her with prepwork and scheduling, and her husband does all of her filming and editing. "We film one day, my husband edits, and we publish. That's it," she says. 
Goodwin's audience ranges between ages 28-39, but she also has students that are starting as early as 12 years old, and as late as 80. 
Strategically using Instagram
When it comes to social media, she has a Sew It! Academy Instagram page that caters specifically to her students. There, she highlights many of their successes. "I see a lot of my students go off and create their own brands or work in the fashion industry. It's amazing," she says. 
View this post on Instagram
She also has her own Instagram page, which connects everything she's doing in her career. This is where she includes more personal information, and she believes it's important to share this personal element in order to connect with her audience. "People need to see that I'm a real human, trying to take care of my family," she says. 
Read more: How to Repurpose Social Media Content for a Membership Site
Creating brand loyalty through student engagement
Goodwin believes that one key to her growth is being reachable. "People buy into the people, not so much the brand," she says. 
She handles her own social media and regularly checks in with her Facebook community, which her students are invited to join via an automated email that they receive once they sign up. "If people get a response from me, it's me," she says.
"The only time you'll get an admin response is if I'm out of town. But for the most part, I try to stay really engaged and ask a lot of questions."
Goodwin recommends that, like her, course creators engage with their students as much as possible. "It's important that people get to know you because you're the person behind this business that you're trying to grow," she explains. "And it creates a sense of loyalty between you and your followers, which is instrumental in the success of your business."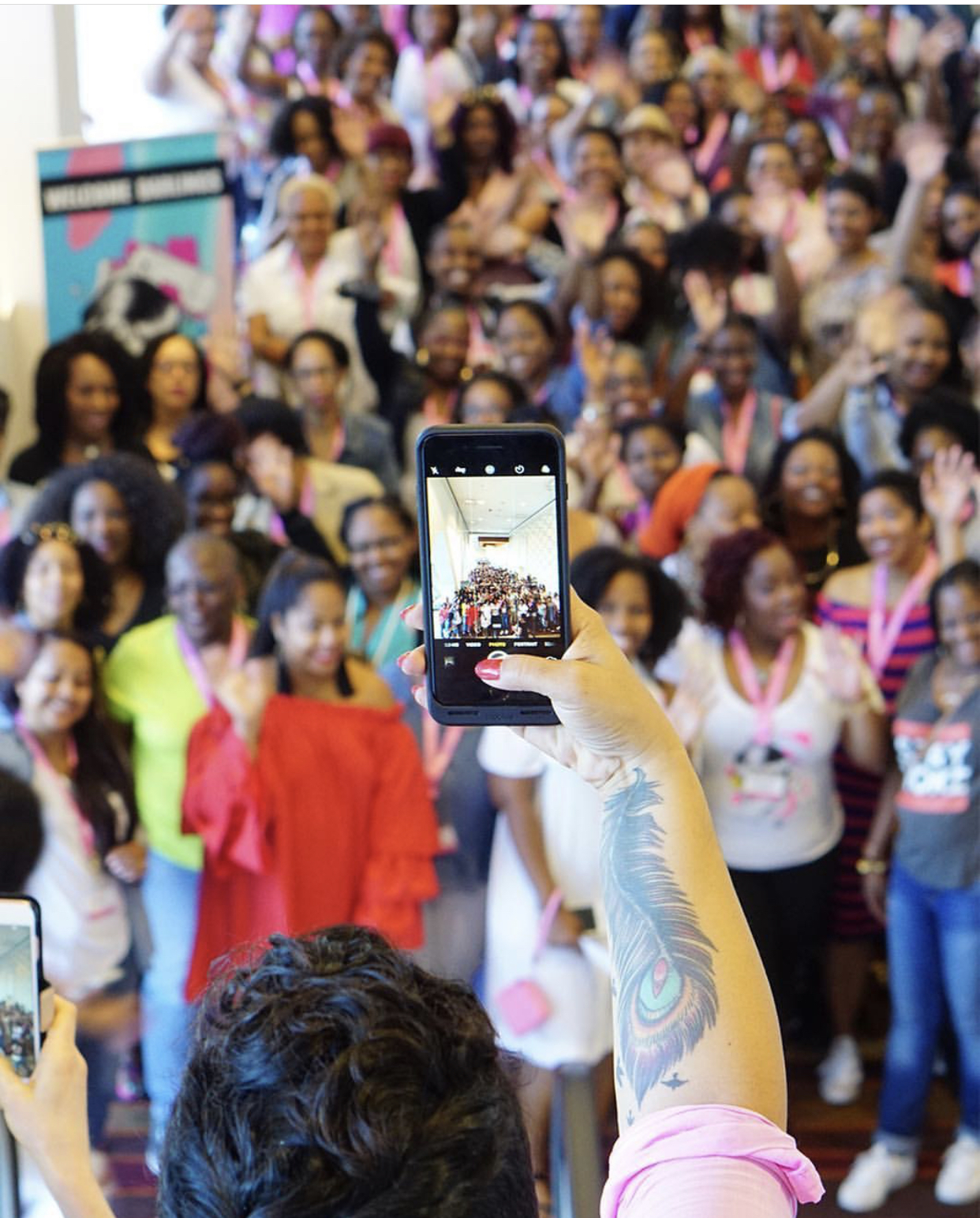 Her philosophy: Sell without selling
Goodwin has a unique approach to sales. "Sell without selling," she says. "That's my philosophy."
When asked to break down this 'selling without selling' ideology, she says she leans heavily on her YouTube content to do the heavy lifting for her.  "The number one way for me to get sales is through YouTube," she says. "That's my funnel."
Plus, she says that her followers help her sell her membership by sharing about Sew It! Academy . "My fan base is amazing in that they are constantly sharing and posting about how great my courses are," she says. "I always see a great return there."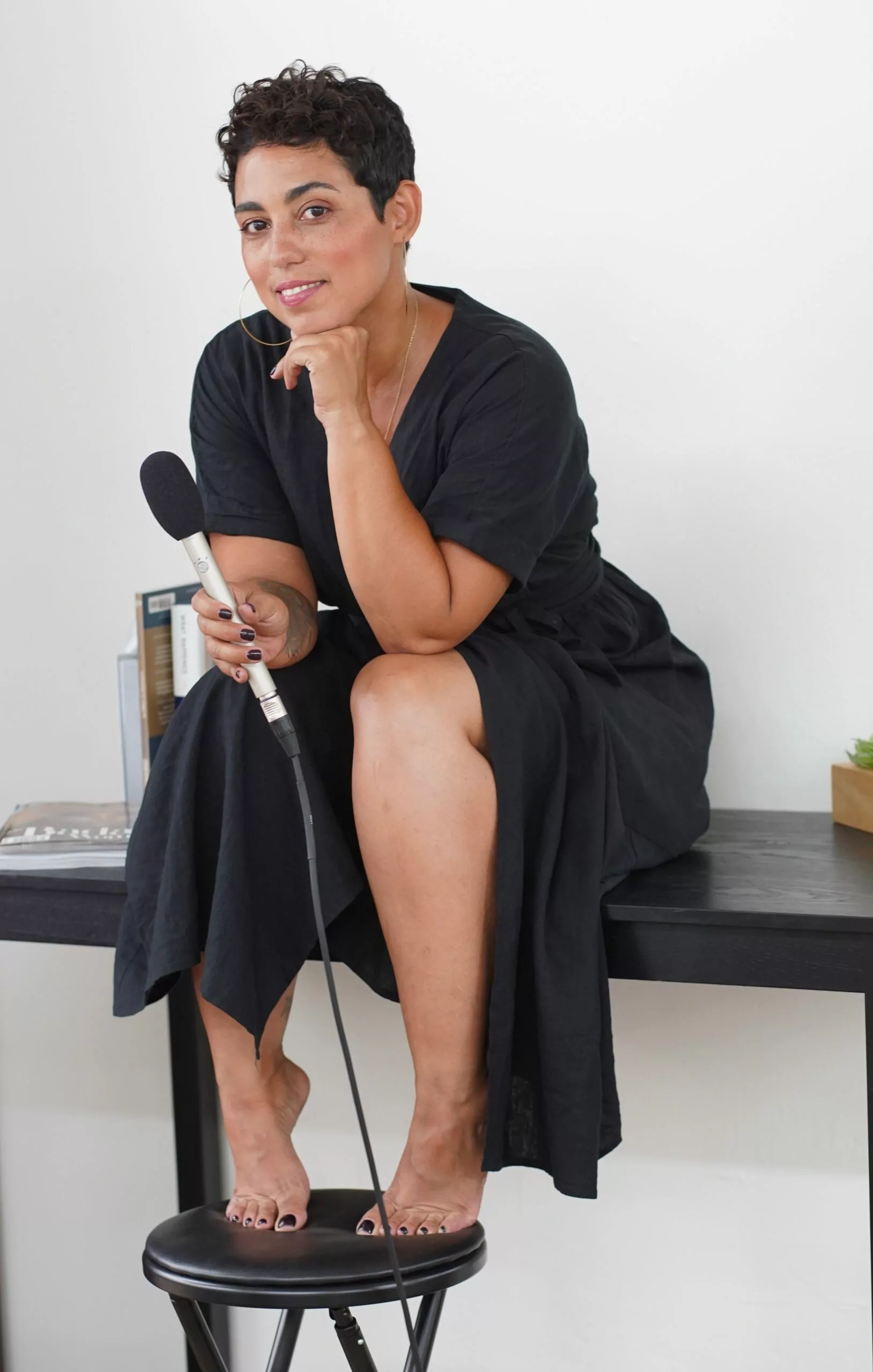 She recommends that course creators approach sales in a way that feels most aligned to them as a consumer. "I hate when I see something online and I have to scroll through a massive sales page," she says. "It irritates me to no end. I try to do things that don't irritate me as a consumer."
"If you're not the kind of person to post a ton of content, and then all of a sudden you're posting a million things, it's going to come off as revenue-driven," she continues. "Talk about it and post about it, but do it in a way that is genuine and authentic to you."
Read more: How to Start a Mission-Driven Membership Site
Why hard work always wins
Goodwin's best advice for online course creators is to create a course because you genuinely enjoy it — not because you're looking to quickly make some cash. "If you're trying to get rich tomorrow, good luck," she says. "It's a very small percentage of people who do that. At the end of the day, it really just takes a lot of heart and dedication to what you're teaching."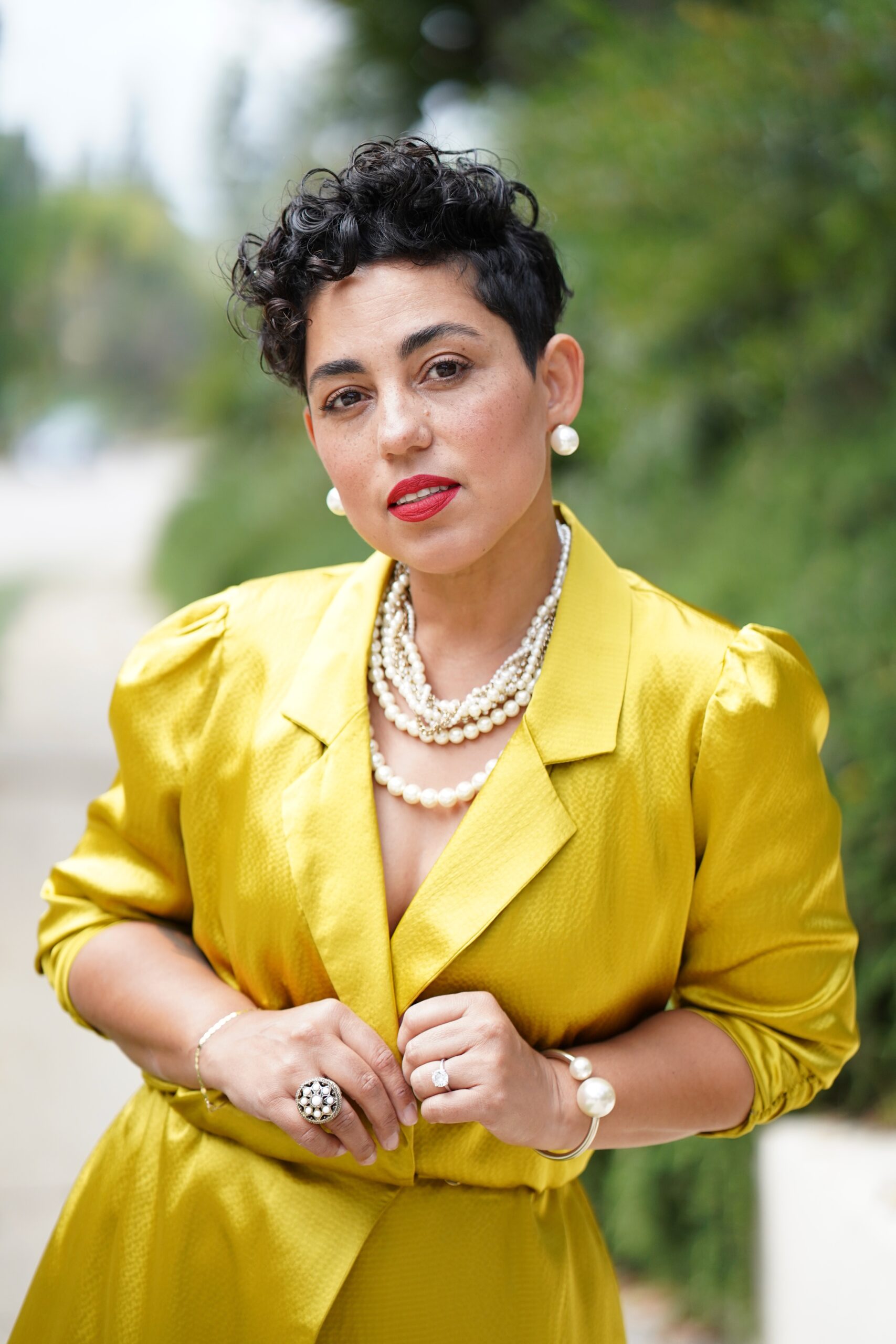 In fact, many people think that course creation – and being successful at it — is easy. "That's far from the truth," she says. "It takes a lot of work, time, and dedication. And I think that's where people misjudge what they see about the creator economy."
Her recipe for success? Be excited about what you're creating.
"If you truly enjoy educating people and feel good about your content, you're off to a better start than most people," she says. "I can talk about Sew It! Academy all day long and it will seem genuine 100% of the time, because it is. If I was selling you a course that I didn't feel was 100% genuine and was just a way to generate revenue, you would feel it."
Plus, she recommends that creators brush off negative feedback and stay focused on their vision. "For every person who says your course sucks, there will be five people who say it's great," she adds. "You have to develop thick skin when you put yourself out there, but as long as you stay focused and really listen to your own inner guide, you'll do well."
---
Feeling inspired? Check out more creator stories here.
Sign up to the newsletter for more creator story inspiration.