YouTube is the number one channel to sell courses online, and for good reason.
Through your YouTube channel, you can build a real name for yourself as a course creator. You can also garner a following that will become potential leads for your course business. 
So in this post, let's explore the best way to create a YouTube channel that will set you up for success! We also include a handy YouTube checklist to help you along the way.
If you're interested in saving all these actionable tips to read later, this is also available as a YouTube-for-Beginners guide you can download for free! Check it out here:

Now, let's jump right in. Click to skip ahead:
Why YouTube for courses?
Out of all the channels to help promote your course, YouTube is probably the most similar one: You're talking to your audience through a camera, and you're aiming to educate them about something.
Which means that with a YouTube channel, you can:
Practice the essential skills of public speaking and persuasion

Build a following that will become leads for your courses
And yes, course creators have definitely made money with a YouTube channel, and it doesn't even have to be a big one. Creators with 10k or 20k YouTube subscribers can make six figures a month selling courses.
So if you're thinking of building a name for yourself on YouTube to help sell your courses, you're thinking right.
4 key Principles you need to know
Now, as you're considering building a YouTube channel for your course business, time to get yourself in the right mindset. Here are the four key principles you need to know before getting started:
Don't think of yourself as a YouTuber
What separates you — a course creator — from a YouTuber is that YouTube is just a channel to help people get to your courses. 
Which means you don't need to look at metrics like views, subscribers, or ad revenue. At the end of the day, your money needs to come from your courses. So start thinking as a business and ponder these questions as you begin building your YouTube channel:
What should my video topics be to get sales?

How would I schedule the content out? 

How would I push people to my course through YouTube?
Once you have your goals ready for your YouTube channel, it's time to explore the type of content you can create.
Don't hold anything back when creating YouTube content 
Gone are the days when you can just tease a bit of your courses on YouTube, hoping people will purchase them to get the full scoop.
Now, people expect to see everything on YouTube. This applies to other social media platforms as well — people take to social media to access educational content and they expect to read everything there, without having to click away. 
So instead of holding back, start sharing everything you know as much as possible on YouTube.
Get used to the "talking head" style of video
What do we mean by the "talking head" video style? 
This is when a YouTube video contains just the YouTuber presenting the content by talking to the camera. They may apply some styling or special effects, but not too many so it's distracting from them speaking.
You may feel uncomfortable doing this at first, especially if you're not used to filming yourself. But the more you do it, the easier it'll be and you will get used to it faster than you think.
Understand how YouTube works to your advantage
Going back to the point of you not being a YouTuber — if you want your YouTube channel to support your course business, going viral isn't that important. 
Rather, you want to create videos so you have a consistent amount of views coming in. This is because once a video is uploaded, it will keep getting views every single hour.
So if you have, say 100 videos on your channel, each getting a low estimate of 5 views an hour — that's 500 views an hour, 12,000 views a day, and 360,000 views a month. 
At this point, you could be driving your potential leads regularly to your course and could be making six figures selling courses by promoting them through YouTube.
4 Simple steps to get started 
Step 1: Knowing what to create
Essentially, you want to create video content based on the niche of your own choosing. 
But this doesn't mean you can create just any videos — you also want your YouTube channel to be discoverable, which means you need to look at your YouTube SEO strategy.
Building an audience on YouTube with an SEO strategy is a bit different from building a following through SEO blogging. This is because people often discover new videos through the "Recommended" tab. 
People will discover you through keyword optimization (SEO), but you will mainly build your following through recommended views. 
Plus, YouTube is all about spotting trends and riding waves on your niche — if you want to set your channel up for success from the start, you need to come up with relevant content ideas. 
This can be done through conducting competitive research. You want to look into:
The type of content your competitors have been creating

Their most popular uploads

Content they've been uploading over the past 2-3 months
And then come up with relevant content for your own channel.
Following this, you also want to look into the exact keywords or key phrases you can use to optimize your content for search. Let's explore the tools to help you do that.
Step 2: Getting the tools and equipment
VidIQ is a good tool to look for keyword opportunities: it gives you all kinds of keywords you can target for your videos, competitor research, etc. Plus it comes with data and metric measurement as well.
Adam Enfroy's Building a Content Machine course walks you through how you can conduct keyword research on VidIQ, step-by-step. Take the course here.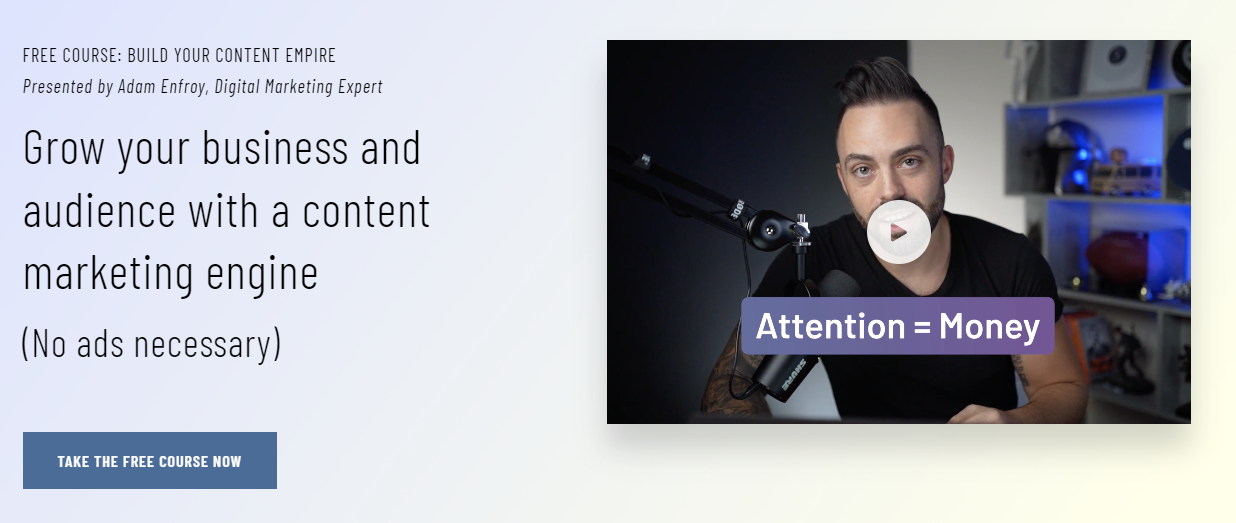 Besides Vid IQ, you also want to have tools for:
Organizing video content calendar

Writing video scripts

Creating slides

Editing videos

Editing images (like thumbnails)
Once you've got the script done, it's time to record the first draft. If you plan to create a "talking head" kind of video, you'll need:
A camera

A lens

Good lighting

Good sound
Our free YouTube guide explores further what you can get as your first YouTube equipment set (recommendations included!) Check it out here:

Step 3: Organize your content calendar
Essentially, your video posting schedule is determined by your niche and your life.
If you have a full-time day job, it's best to start with blogging first because it won't take up too much of your time. 
You should also take competitive research into account at this point. 
If you're selling courses full time, you want to dedicate your time to building YouTube so you can get as many leads from it as possible. This means you need to beat the other channels in your niche — so research their posting frequency and aim to surpass them in terms of monthly view counts if you can.
Step 4: Script and shoot your video content
When it comes to scripting "talking-head" videos, there are two different types:
Fully scripted — you write the script for the entire video in a Google Doc and read it off a teleprompter.

Partially scripted — you script the intro and/or the outro only. 
Depending on how you want to present your content and how knowledgeable you are, you can choose either of these methods. 
If you know a lot about what you're teaching, maybe it's easier to just script the intro and/or outro and let yourself naturally talk about the topic. You can of course create an outline or note down some bullet points on what you're planning to talk about — but you won't ‌have to script the entire video.
Besides this, you also want to have a good intro that will hook your audience in and keep them watching. Check out how to create a good YouTube intro here.
Creating your YouTube channel: a checklist
Do you know how to create your channel? Secure your YouTube handle? Build a playlist? We've gone ahead and created a handy checklist for you! This checklist breaks down the four steps above and will help keep you on track to create the best YouTube channel for your course business.
Interested in grabbing this (plus tons of other actionable tips on creating your first YouTube channel)? Download our free guide: