You can now combine your Shopify store directly with your Thinkific education products because Thinkific now has a Shopify app!
That means Thinkific courses can now be added directly to a Shopify store, so students are enrolled automatically when someone buys them.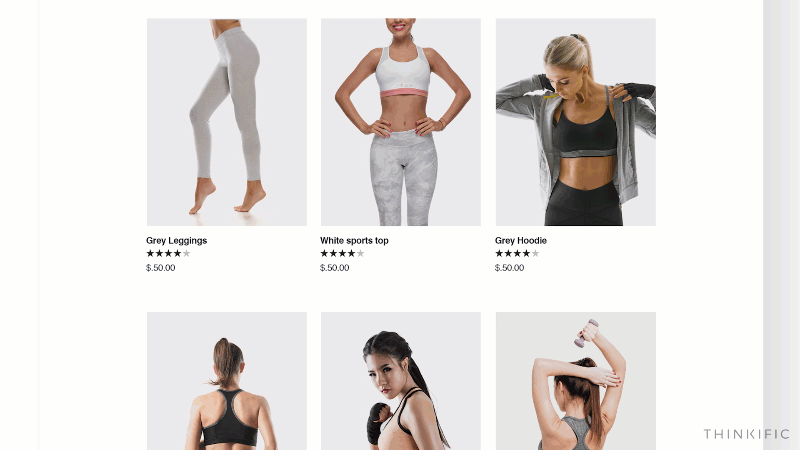 This is a huge opportunity for:
People looking to expand existing knowledge businesses with courses. This includes authors selling their books like Dorie Clark who now has multiple successful income streams including earning over $250k from her Thinkific courses.
People looking to grow their online store by adding digital products to their physical goods. For example, adding a fitness course to your sports apparel store, or a cleanse to your supplement store.
Simplifying your setup if you're already using both.
For people selling on Shopify
(Head here if you're already teaching on Thinkific » )
If you're already selling on Shopify (whether that's ebooks or yoga mats) it's now easier than ever to add courses to your offering using the Thinkific app.
Get revenue for your knowledge
Your audience respects your expertise — online courses can add an additional source of revenue to your business with significantly better margins than physical goods. There's no shipping, storage or inventory management required.
Increase customer loyalty
Courses are great for building loyalty with your audience — they differentiate you from your competition so you can better retain your customers, provide more value and sell more.
Grow your audience
Courses help you grow your audience and move them closer to purchase. They're a great next step from ungated content like YouTube, or blog posts.
The Thinkific App is now available in the Shopify App Store »
For people already teaching on Thinkific
If you're a Thinkific customer already selling through Shopify: Good news! Setting up and managing your courses is now even easier.
Using the Thinkific integration you can now add your Thinkific courses directly to any of your Shopify sales channels (eg. your online store, via buy button, or Instagram).
Once you have Shopify and Thinkific connected, when customers purchase your courses through any of your Shopify channels, the courses will be automatically fulfilled on the Thinkific side. 🎉
Not everything in Thinkific is available to be sold via Shopify — for example you can currently only offer free or 1-time payments courses. Learn more about what you can do with the Thinkific Shopify App »
Existing Thinkific customers: Connect your Shopify and Thinkific accounts on your integrations page — login now »