Are you looking to add audio, narration or voice-overs to your Powerpoint or Keynote slide presentations? This is a great way to make your presentations more engaging. We'll show you how to do it within PowerPoint, and how to do it within Thinkific!
Related: Complete guide on How To Add Voice Over On Google Slides Or PowerPoint
How to do voice over PowerPoint
Microsoft Powerpoint has a feature that many average users don't know about, which allows you to add voice-over narration to your slides.
For this option, all you'll need is Microsoft PowerPoint, and a computer with microphone.
Step 1 – In the top menu, go to Slideshow >> Record Slideshow
You have the option to record from the beginning of the presentation, or from the current slide that you're on.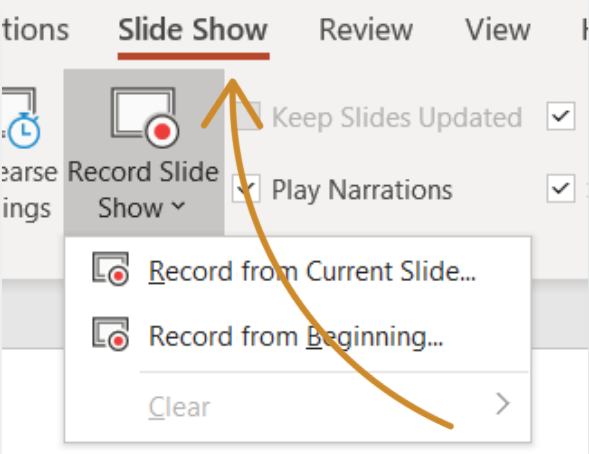 Step 2- Start recording
Once you select which recording you'd like to do, you'll be in full-screen mode with options to record, stop, and replay.
Once you click record, there will be a countdown timer from 3.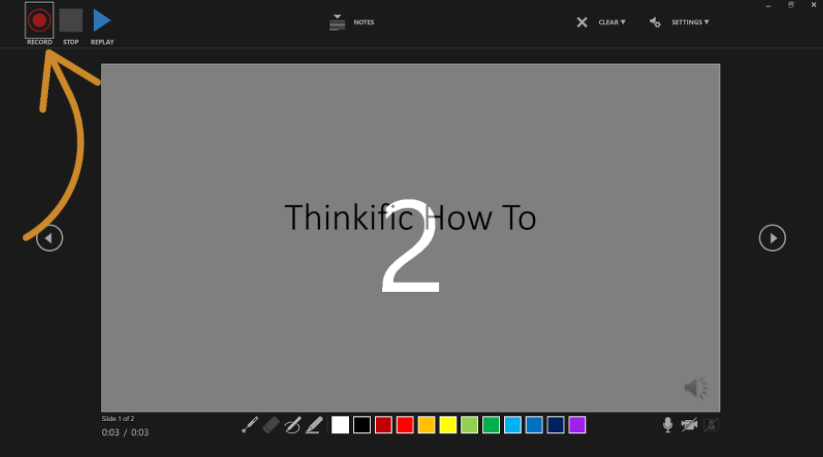 Anything you type in the notes section of the PowerPoint can be viewed by clicking on the notes button at the top.

The recording will stop automatically once you make it to the final slide. You can also pause, stop, or replay a recording any time by pressing the pause button in the top left of your screen.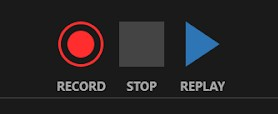 You can also record video of yourself in the corner by selecting the video option in the bottom right corner.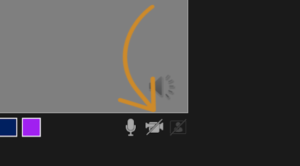 Step 3 – Testing your narration
Once you're finished, a speaker icon will appear at the bottom right corner of all the slides with recorded narration.
To play the narration, just hover over the speaker icon to play, skip to time, or adjust the volume.

Voila! You have now added a voiceover to your PowerPoint.
If you're interested in creating voiceovers for an online course, next we'll show you how to do it in Thinkific.
Why not monetize your presentations with an Online Course?
Download this Guide To Earning $100,000 In Online Course Sales: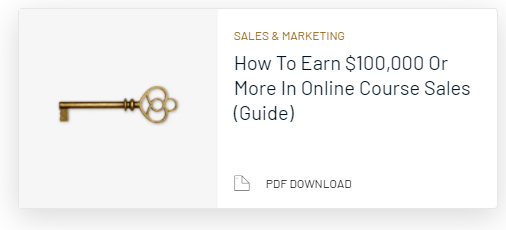 Using Thinkific for voice-over presentations
Voice overs can now be done directly within Thinkific, and you can deliver it as part of your online course!
Often, simple is key. We've heard from many of you that you'd love to create your course by simply adding audio to your Powerpoint and Keynote slide presentations, without having to fight with technology in the process. So, we built it for you.
Easily Create Voice Over PowerPoint Presentations with @Thinkific
Click To Tweet
Simply:
Save your slide presentation out of Powerpoint or Keynote as a PDF file
Add a new presentation lesson type to your course, importing the PDF you just created
Record audio narration slide by slide, directly within the system
And you're done! With voice over PowerPoint, students will be able to flip through your presentation slide by slide, and your audio will play automatically. This makes it super simple to convert existing presentations for your courses.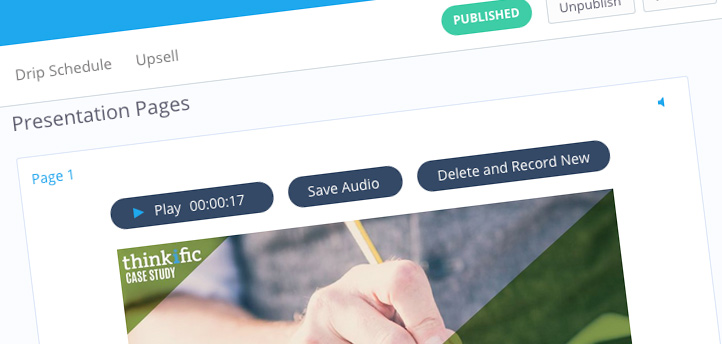 Since launching this, we've seen people creating online courses faster than ever. You're able to go from PowerPoint to a complete online course without any extra tools or software. If you've already got a presentation ready to deliver, you can use Thinkific's presentation tool to easily create an online course.
Sign up for a free account now to try it out today! Or if you're already signed up, give our presentation tool a try and see how easy it is to create online courses.


Free Download
As a bonus, we've put together a free resource with the 5 Best Presentation Practices used by our most successful course creators.
Knock your next presentation out of the park with these 5 Best Practices
Click To Tweet
Note: This guide was created in April 2015 and was updated in August 2021 with updated steps on how to do voice-over PowerPoint.