A message from our CEO & Co-founder, Greg Smith.
When I started my own online course back in 2008, I quickly discovered how hard it was to build a course, host it, brand it, market it, sell it, and most importantly design and deliver an amazing learning experience to help people really learn.  So, we started Thinkific with a simple goal: to make it easy for anyone to build a business by sharing their knowledge, expertise, or passion with the world.

At Thinkific, we've made it easy for you to create courses under your own brand and deliver a customized learning experience all while driving incredible revenue for your business. 

Against this backdrop and with our business at a critical inflection point, we're excited to share the news of our largest funding round to date — a $22 million investment from Rhino Ventures. We'll be using this funding to fuel continued innovation and to scale our team, so ultimately, we can help even more people reach their dreams of becoming successful knowledge entrepreneurs.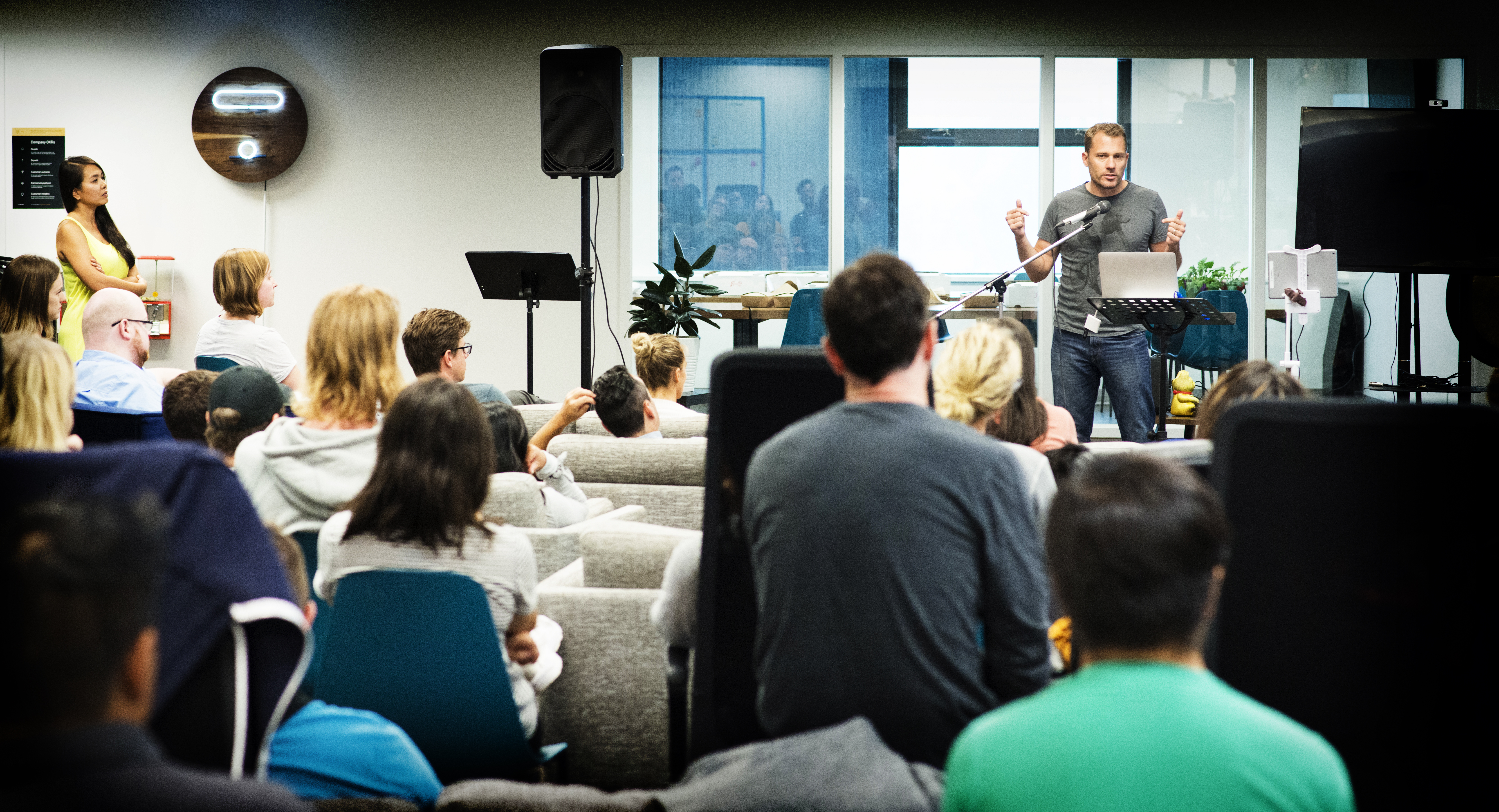 Investing in the future of entrepreneurship
Analysts have predicted online education will become a $350 billion industry over the next 5 years, and that was before COVID. Since the pandemic hit, we've seen a 200% increase in people making courses. The future has been brought forward and has underscored the need for tools that empower current and prospective course creators. 
Both Thinkific's growth and the incredible stories I hear from our customers every day reinforce my belief in what we are building and its ripple effect. Stories like those of John Michaloudis, who was able to grow an Excel course to $20,000/month in just 6 months, or Tim Vipond, co-founder and CEO of Corporate Finance Institute (CFI), who's been able to train 600,000 financial advisors, show how we can impact both the lives of our customers and their students. These are just a couple of the success stories we see every day at Thinkific ranging across every industry. They show what's possible when we focus our efforts on ensuring technology functions as a platform for human ingenuity. 
Today, over 50,000 entrepreneurs and businesses from virtually every industry use Thinkific to create and sell online courses, and together, they've educated more than 25 million people from 165+ countries. Collectively, they've already earned more than $650 million, and this revenue is expected to top $1.5 billion in 2021.*
Empowering our customers — and our team — to succeed 
From the beginning, we have prided ourselves on enabling entrepreneurs to build courses without constraints on their vision – from how they customize and personalize the learning experience to how they sell and market their courses. With this funding, we'll be investing in continued innovation that prioritizes customer success in three key ways:
Ease of use

: Making it even easier for you to use our tools to launch, market, and sell a course and ultimately build or grow your business.

Customization

: Ensuring your course looks, feels, and operates exactly as you envisioned it with no limitations or barriers.

Course growth

: Helping you generate revenue, sell more courses, and get more enrollment.
We'll also be doubling down on partnerships with developers and designers that bring new technical functionality and design flexibility to Thinkific – making it even more powerful for Thinkific customers.
Thinkific wouldn't be where it is today without our 180 employees (and counting!). I'm grateful and humbled that I get to work with such an exceptional team every day. By next year, we will grow our team to 500 people, bringing on hundreds of talented, diverse, and entrepreneurial-minded team members who live our values and want to join one of Canada's Most Admired Corporate Cultures. (And when I say that we're hiring, I mean it –– we're hiring almost a person a day right now. Come join us!)
Unleashing the potential for positive impact
When I think about where Thinkific will be in 5 or 10 years, the vision is clear: We want to help one million knowledge entrepreneurs grow successful businesses. Why is this important? It's because we believe education is the most powerful force for positive change in the world –– and when you couple education with business, you give it rocket fuel to make real change happen.
Our job at Thinkific is to give people the right tools to do just that: to make it easy for you to build a business by creating, selling, and delivering beautiful online courses. You don't need any technical knowledge; just a topic that you're passionate about and a desire to share it. Thinkific gives you the ability to brand and personalize it to match your vision and create a business that you own and control completely. We do this on a platform that scales with your success so that you know, no matter how big your business gets, we'll be here to support you.
Thank you to everyone
Everything we do here at Thinkific is about helping our customers become more successful in their business by sharing their passion, skills, and knowledge with the world. I don't typically look at raising money as a big win for a company. It's never been what we're about at Thinkific. However, we're celebrating today because this financing gives us that much more fuel to innovate and continue to help our customers thrive. 
To our course creators: We are so excited for what the future holds, and thank you for choosing to be on this journey with us. It's an amazing, chaotic, and uncertain world full of opportunities for entrepreneurs. There's no group more resilient, more persistent, and more able to find solutions and success in uncertain times than you. 
This funding marks an extra investment in not just your individual success, but in the differences we know your courses can make in the lives and communities of your students around the world.

Original announcement posted on Business Wire here.
*Figure based on direct platform sales plus estimated course sales via off platform payments processors
**All numbers in this article are listed in $CAD.
This website includes forward-looking statements and forward–looking information within the meaning of Canadian securities laws. Often, but not always, forward–looking information can be identified by the use of words such as "plans", "is expected", "expects", "scheduled", "intends", "contemplates", "anticipates", "believes", "proposes" or variations (including negative and grammatical variations) of such words and phrases, or state that certain actions, events or results "may", "could", "would", "might" or "will" be taken, occur or be achieved. Forward looking statements on this website include statements regarding our expectations of future results, performance, achievements, prospects or opportunities or the markets in which we operate. Such statements and information are based on the current expectations of Thinkific's management, and are based on assumptions, including our ability to maintain existing relationships with course creators, our ability to continue to expand our course creators' use of our platform and our ability to acquire new course creators, and are subject to risks and uncertainties. Although Thinkific's management believes that the assumptions underlying these statements and information are reasonable, they may prove to be incorrect. The forward–looking events and circumstances discussed in this news release may not occur by certain dates or at all and could differ materially as a result of known and unknown risk factors and uncertainties affecting Thinkific, including the risk that our growth may not be sustainable and depends on our ability to attract new customers, retain revenue from existing customers and increase revenue from existing high-volume customers and other risks described in more detail in Thinkific's public filings on SEDAR (www.sedar.com). Although Thinkific has attempted to identify important factors that could cause actual actions, events or results to differ materially from those described in forward–looking statements and information, there may be other factors that cause actions, events or results to differ from those anticipated, estimated or intended. No forward–looking statement or information can be guaranteed. Except as required by applicable securities laws, forward–looking statements and information speak only as of the date on which they are made and Thinkific undertakes no obligation to publicly update or revise any forward–looking statement or information, whether as a result of new information, future events or otherwise.