Online learning is rapidly growing across all industries. 98% of large companies in the U.S. are estimated to currently use a learning management system as of 2021. Learning management systems (LMS) help organizations create, publish, and manage informational content, from public education systems to employee training.  
LMSs can be an excellent tool for your business regardless of how large or small your business is. Learning management systems give business owners the ability to monetize their knowledge or expertise and create products like online courses or coaching programs that they can then offer to people interested in learning from them. 
In this article, we've curated 5 top learning management systems specifically for online course creators. But first, let's dig deeper into what an LMS is. 
Skip ahead:
What is a learning management system?
An LMS is a software-based service that allows a business to create, publish, and manage digital content. Different organizations may have other goals for their programs.
For example, a business may use an LMS to conduct training for new employees in their onboarding process. In this instance, the goal is to educate. People or small businesses looking to create online courses are often looking to share knowledge and educate as well.  
LMSs typically offer a wide range of tools to help creators customize courses and programs to their specific needs. Users may be able to utilize built-in testing features, synchronous or asynchronous video conferencing, gamification features, and more.  
Read More: What Is A Learning Management System? Features, Examples, Best Practices
How to choose the best LMS system
Determining which LMS is the best platform for your business goals can be challenging. We've curated a list of top learning management systems for course creators, but you should start with some brainstorming before diving into the research. Here are some questions to ask yourself:
How many courses do you plan to launch?

What marketing features are important to your strategy?

Will you need the ability to host live video presentations? 

Are gamification features like tests and quizzes important to you?

What metrics and data would you like to track? 
This is not an exhaustive list of the things you should think about while choosing an LMS for your business, but it's a good start. Understanding these things will help you determine which LMS features you need most and will make choosing an LMS just a little bit easier. 
---
Try using this LMS feature comparison evaluation checklist to help compare Learning Management Systems you're interested in:

---
Now, let's look at our top picks for LMSs. We'll cover a brief introduction for each platform, break down pricing, and highlight key features.
The 5 best LMS systems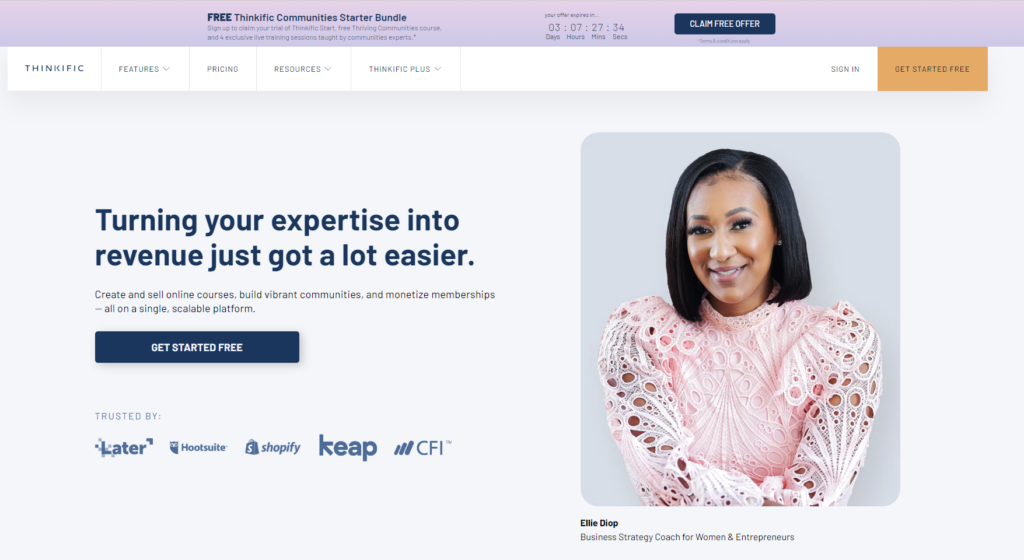 Thinkific is a robust platform that allows people to share their knowledge through online courses and membership sites. Thinkific offers users the tools they need for every step of their journey, from drag-and-drop course builders to bulk student emailers. They also offer popular third-party integrations like G Suite, HubSpot, MailChimp, Paypal, Zapier, and Zoom. 
Designed to be quick, easy, and efficient, Thinkific offers customizable course sites and allows users to access gamification tools on all plans. While they don't offer a mobile app at this time, the platform is optimized for mobile use so students won't have any trouble accessing their courses on a mobile browser. Should creators need help throughout their experience, Thinkific offers various support options tailored to your specific plan.  
Key features
Customizable courses with included website themes

Integrated payment processing, memberships, and payment plans

Unlimited students on all plans and a generous free plan
Pricing
Thinkific offers 4 monthly plans: Free ($0), Start ($74), Grow ($149), and Expand ($374). The free plan offers just enough for beginning creators to build a comprehensive course customized to their needs. If you need more than one course, you'll have to upgrade to the Start plan, which allows unlimited courses. Features like live lessons, website code editing, API access, coupons and discounts, and advanced building options are available on the paid plans. 
---
Launch your online learning product for free
Use Thinkific to create, market, and sell online courses, communities, and memberships — all from a single platform.

---
Absorb LMS is a platform marketed toward businesses looking to train their employees, but they're also an excellent resource for online course creators. Absorb LMS is a platform known for its highly intuitive user interface. Its interface makes it easy for course creators and students to navigate and access the content or features they need.
It also gives creators the ability to customize how they want their students to engage with the courses; social learning, certifications, and badges are tools that Absorb LMS can use to do this. Creators can also configure and customize analytics reports measuring things like learner activity, progress, and certifications. 
Key features
Great access to third-party integrations

Offers an Absorb LMS mobile app allowing students to learn from multiple devices easily

Comprehensive reporting analytics and statistics
Pricing
While exact rates for Absorb are not publicly available, Absorb does boast a best-fit model. Under this model, Absorb gives users the choice to pick their pricing model. Their pricing models include pay-per-user, pay-per-active-user, perpetual license fee, and open-source. We believe most online course creators will find the best value in their pay-per-user or pay-per-active-user models, but we've broken down each of the 4 models below.  
Pay-per-user
This model means course owners pay per user in the LMS, regardless of whether they're active in that billing cycle or not. 
Pay-per-active-user
In this model, course owners only pay for the number of active users within a given time frame. While this prevents you from having to pay for inactive users, it can lead to unpredictable bills. 
Perpetual license fee
Users pay a flat rate for the use of the software under this payment model. Licensed use of the platform extends the length of a set contract. This model generally has a high upfront cost and does not include technical support should any issues arise. 
Open-Source
Users can utilize Absorb LMS for free with the open-source model. However, they'll also have to set up the system, build customizations, and handle maintenance themselves. Most users will likely have to pay for a developer to handle these things, meaning this model doesn't come without high costs for most people. 
 
Moodle 4.0 is an open-source platform that allows educators to host free online courses. The platform offers tons of customizations, third-party integrations, and features; however, the open-source nature of Moodle means users will find setting up courses more challenging than with non-open-source learning management systems. If that doesn't sound like the right choice for you, MoodleCloud is a comparable service that isn't open-source but is more expensive. 
However you choose to build a course on Moodle, the platform is known for its accessibility, support for learning from various devices, and security and privacy. Moodle offers on-the-go learning with a mobile app allowing creators to reach a broader audience and students to access courses from almost anywhere. This platform will also allow you to incorporate gamification and certifications into your courses. 
Key features
Open-source software gives creators the ability to access Moodle for free

A wide range of integrations and customizations are available

An updated interface makes navigation easier for users
Pricing
Moodle is open-source for general public use. This means you can create a course using Moodle for free if it is self-hosted. Because not everyone can or wants to self-host an online course, Moodle has recently expanded to offer Moodle Cloud. This option allows users to host their courses on Moodle servers at a cost. Moodle Cloud plans start at $120 per month for 50 users and can go up to 1,000 users for $1,670 per month. While Moodle may be difficult to set up, we recommend opting for the self-hosted version because of the cost associated with Moodle Cloud. 

Canvas is a renowned learning management system known for its use at top universities. Canvas boasts mobile learning and accessibility, open-source customizations and integrations, and gamification integrations like quizzes, rewards, badges, and levels. Course creators can also use Canvas to engage with their students in various ways, including LIVE chat, learner uploading, discussions, video conferences, and more. With a refreshed user interface, creators will find this LMS easy to use and navigate. 
Key features
Open API access

An extensive list of integrations available to course creators

Robust content management (menus, navigation, files, etc.)
Pricing
Unlike the other LMSs on this list, Canvas' pricing plan is not transparent. Canvas is free and open-source, which means anyone may create a course for free (similar to Moodle). However, community forums suggest larger groups or institutions may become customers if they wish to build integrations into their courses. Unfortunately, this means there is no clear answer on how much this LMS costs.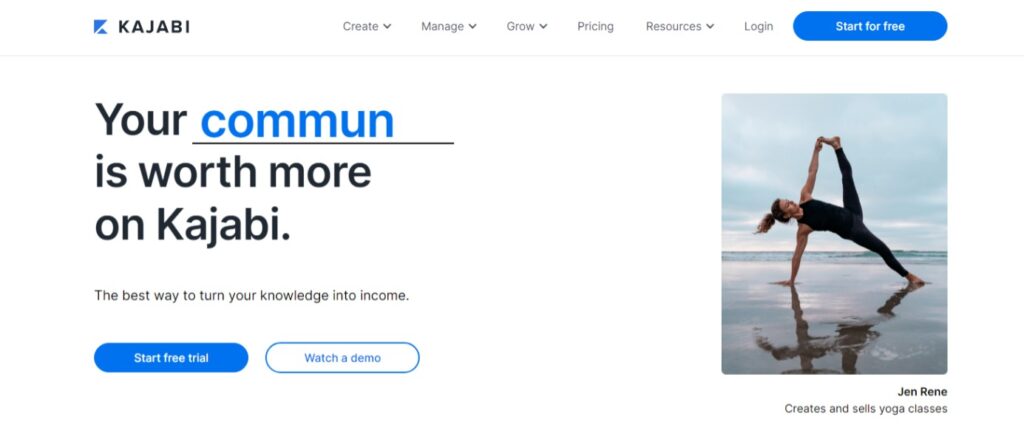 Kajabi is an excellent tool for course creators. Kajabi allows creators to manage a website, products, sales, marketing, and students, all within the same learning management system. Products businesses can create include online courses, mini-courses, membership programs, coaching, and drip courses. New creators can easily launch their online course business with free templates for all available products, not just templates for courses. The platform also allows creators to offer coupons, sales, and affiliate programs. 
Kajabi's marketing features include email campaigns, pipelines, automation, events, and forms. These tools allow creators to market their course in ways other platforms don't. Like other LMSs, Kajabi also offers a mobile app, allowing educators to give students on-the-go access. 
Key features
Unlimited bandwidth and storage space for video, image, text, audio, and other files

Easy-to-use payment features, including coupons, upsells, free trials, and subscriptions

Email and marketing integrations
Pricing
Kajabi offers 3 monthly plans: Basic ($149), Growth ($199), and Pro ($399). All plans include unlimited landing pages and marketing emails. The Basic plan allows users to create and sell only 3 products, the Growth plan permits 15 products, and the Pro plan allows 100. If you are interested in an affiliate program or removing Kajabi branding, you'll have to opt for one of the larger plans.. 
Next Steps
Any of these top learning management systems will help you build and grow a successful online course business, but the best one is dependent on what you need from a learning management system. Your next step is to pick the one that's best for you and start building your course!