The average US adult watched 157 minutes of digital video content in 2022 – and that number is expected to hit 184 minutes by 2026.
That's over 3 hours of video viewing time every day.
Between school, work, and unmissable cat videos – there are a lot of topics users want access to online. Video content is fast, easily accessible, and available anywhere you have internet (and even available offline if you download it in advance). Suffice to say, there's an ever-increasing demand for video content.
So, if you're a video content creator, it's time you monetize your work! 
Here's a quick overview of the best video monetization platforms for your business in 2023 – plus top features to watch out for. See one you like? Click on it to skip ahead for more details.
Skip ahead:
Platform name
Designed for
1.

Thinkific

Creating and selling online courses and communities 

2.

Youtube Live

Creators with small budgets who don't need editing and management support

3.

Cleeng

Growing and maintaining loyal subscriber audiences

4.

Muvi

Creators with bigger budgets that want to take home 100% of the revenue

5.

Lightcast

Getting custom-built apps on many platforms

6.

JW Player

Businesses that rely heavily on video (eg. newscasters)

7.

Connatix

Intelligent video recommendations to users in a cookie-less world

8.

Patreon

Sharing multiple media types (eg. podcasts, books, video) with the same audience base 

9.

Vimeo

Beginners who might want to hire a professional to help
What is video monetization?
Video monetization is an approach to driving revenue through videos. Anyone can use video monetization to bring in additional revenue, regardless of the type of content you're producing in your video. For example, professional chefs can sell subscriptions to video cooking classes. Or, music videos can play advertisements for related brands before the consumer is allowed to watch. In most cases, getting started with video monetization strategies requires little financial investment and only requires basic video capturing and editing skills. 
Related: Content Monetization Explained: Models, Platforms, & Strategies
Ways to monetize your video content
Ad-based video-on-demand (AVOD):

This strategy uses ads before and after the video content – these ads are paid for by an advertiser to the person who is offering the core video content. 

Transactional video-on-demand (TVOD):

A pay-per-view approach to making revenue off your media. Users who want to see your content can pay for just the video content they want to see, without requiring monthly subscriptions.

Subscription video-on-demand (SVOD):

Gives users access to a collection of video content for a fee, often as a monthly subscription. 

SVOD and TVOD hybrid models

: Some content creators offer a hybrid model so that a selection of content is always available through the subscription fee and premium content is available pay-per-view on-demand. 

Live streaming:

Users pay to view content as it happens live. Payment can be made ahead of accessing the content or pay-as-you-go which charges by the amount of video content watched. Paid ads strategies can also be integrated into live streams.
8 things to look for in a video monetization platform
Clear and flexible pricing structure
You want to be able to grow with your platform. When you're just starting out, you're going to be looking for something that's easy to use and affordable. But as you grow, you're going to need more functionalities, more storage space, and the capability to run more users through your content. Look for a platform that offers a flexible pricing structure that accommodates your growth.
A little hint: don't look at the platforms that maintain the same pricing despite your audience size. A great platform will decrease the pricing per view as your audience grows, meaning that it rewards you for growth and helps you scale more effectively. 
Easy payout options
The big value in working with a video monetization platform is that it manages and automates a lot of your content selling process for you. Almost every platform will accept payments on your behalf. But if your platform of choice isn't making it easy for the payments to hit your bank account – you might need to keep searching for a better platform. Getting revenue from your videos should be frequent, on-demand, and in a method that works for you (for example, many content creators prefer working with PayPal to accept payments). 
Remember that your bank or payment processor might have additional fees associated with each customer transaction or on payouts, so make sure this is included in your business' financial plan.
Supports multiple monetization strategies
Go for a platform that lets you offer multiple video monetization strategies. Most platforms already accommodate hybrid strategies and live streaming, so this shouldn't be hard to find in the market. By offering your customers multiple ways to pay for and consume your content, you open up the number of ways you can earn revenue. 
If you're just starting out, it might feel overwhelming to build out multiple types of content at once while also building out pricing strategies for each one. Start small with one strategy, and work towards the second one only once the first strategy thrives. Even if you only plan on working with one strategy, for the time being, having a platform that accommodates multiple strategies gives you room for growth in the future.
Advanced paywall function
Beyond thinking about how you'll receive income, also consider how consumers will pay for the content. Here's some things to think about:
Are there multiple ways

(eg. currencies or payment plans)

that users can pay for your content? 

Do you want to be able to offer promotions to your customers?

Are you offering tiered pricing that limits access to videos to certain plans?

Is group pricing or bundled pricing something that is important?
Those questions help you think about the consumer experience. For your own backend operations, you'll also want a platform that can give you insights into your payments. Look for a platform that provides a comprehensive dashboard with information about recent payments, average value of your orders, and most popular content. This helps you measure if your business is on the right track – and target best-performing revenue generation channels.
Multiple currencies accepted
Your audience is limited to the amount of currencies you can accept. If you plan on offering content to multiple countries, this is super important! For example, even if your content is created in English, you might attract viewers from the United States, Canada, Australia, New Zealand, and the United Kingdom (not including viewers from other countries across the world that also speak English). Look for a platform that can accept and convert a wide variety of global currencies. Make sure to look at fees for conversions (either incurred by the monetization platform or your bank) to see if it will affect your financial planning.
Ability to translate into multiple languages
Only offering your content in one language can leave you isolated from new target audiences. A lot of platforms offer translation services, usually through delivery of translated subtitles that can be embedded into your videos. It is possible to do the translations yourself or to outsource them, but that can require a lot of time and budget. Doing the translations directly through your video monetization platform is a quick way to gain access to a lot more of the world, which increases your ability to earn more income on every video.
High customizability
If you need a lot of customization, aim for a platform that has APIs or is open-sourced. This feature allows you to build unique features and customer experiences. Working with APIs and open-source software does require some level of coding experience, so this is more of an advanced option for those who have the technical skills!
Integrated security features
When it comes to video monetization platforms, security features are often underappreciated and overlooked – but they are probably one of the most important things you want to look for when comparing platforms. There are a lot of ways that security can be integrated, such as through dynamic tokens, multi-factor authentication (MFAs), and secure payment channels. This helps protect your content's integrity and prevents fraud from occurring through your channel.
9. Does the platform have a built-in audience?
Different video platforms offer varying levels of audience reach, and monetization control – and there may be a tradeoff between reach and monetization.
Here's an example of this tradeoff, and how you could use two platforms together.
Large potential reach, with serious earning potential per view once you make it big. But it's an investment of time and energy before you'll see payouts.
| | |
| --- | --- |
| Benefit | Limitations |
| Potential to go viral, and grow your audience | Limited control over monetization, and less revenue per follower |
Pay a software fee for the tools to create and sell digital products; like video courses, access to a community, ebooks, templates, and worksheets, or even memberships directly to your audience.
| | |
| --- | --- |
| Benefit | Limitations |
| Full control over monetization by selling directly to your audience. | Platform does not have a built-in audience of followers to bring you. |
Creators could use these two platforms could be used together, with YouTube's ad revenue and audience growth; paired with the ability to sell premium digital products directly to your audience on Thinkific.
9
best
video monetization platforms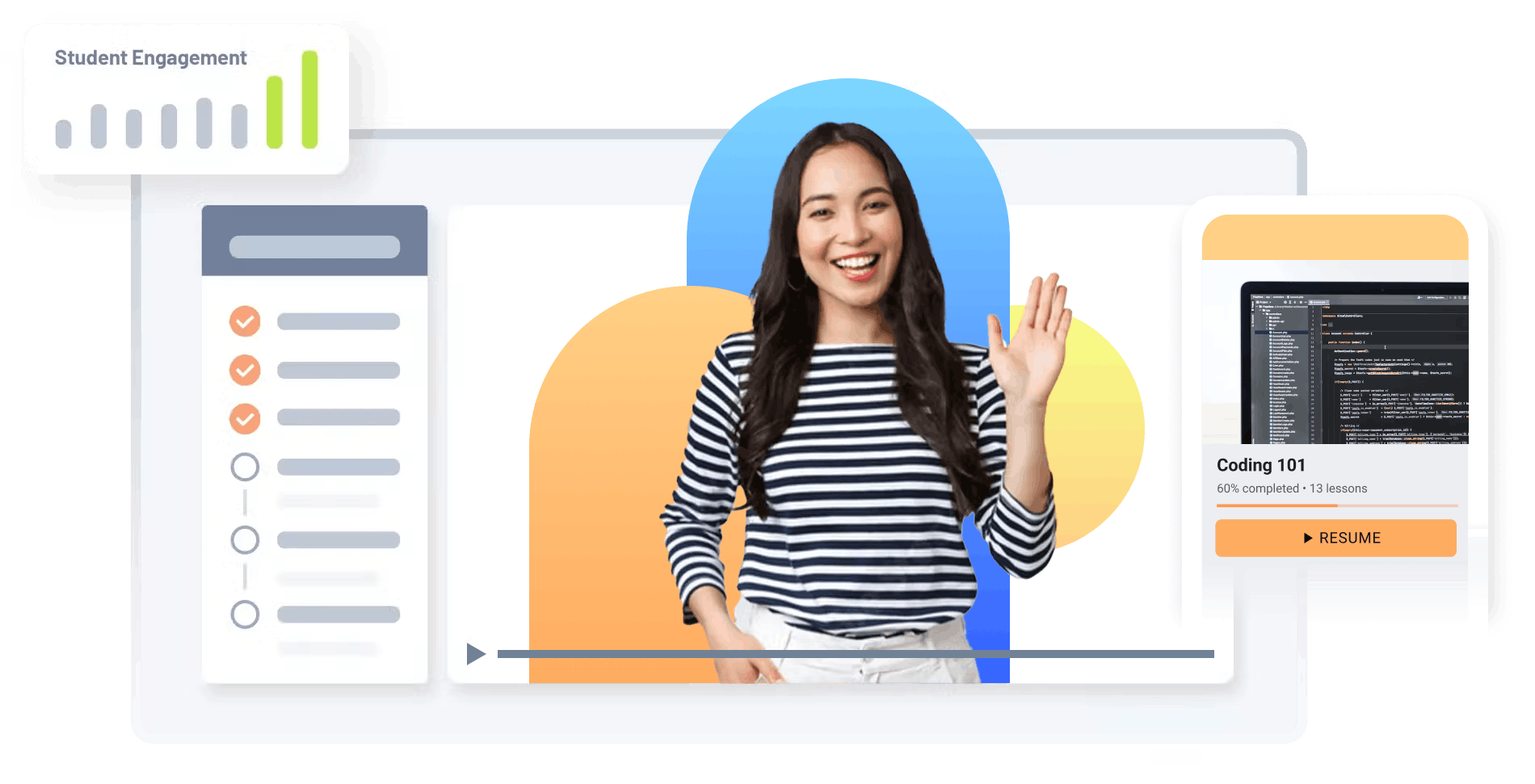 Thinkific is a platform designed to help content creators build and launch their own courses and online learning communities. Through the platform, creators can upload pre-recorded videos or set-up sessions for live streamed classes. This content can be paired with other educational resources like quizzes, discussion forums, and downloadable readings to make sure that students get a comprehensive learning experience. And with add-on features like Branded Mobile, you can offer your students a mobile learning experience, where they can access your content with your brand at the forefront.
Key features:
Integrated marketing, payments, and bookkeeping tools

Multiple interactive tools for students to get engaged

Support for building and nurturing online communities

Build a website to market your business

Monetization strategies supported:
Pricing:
Has a free plan

Paid plans start at $36USD per month

25% discount for purchasing an annual subscription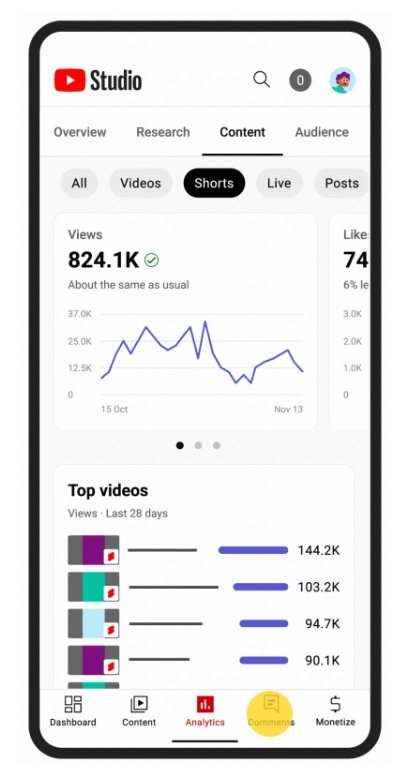 YouTube is a popular social media channel and search engine, making it a great overall choice for sharing and monetizing video content globally. YouTube Live integrates into Youtube, allowing creators to instantly livestream on the platform. 
Key features:
Use multilingual translation tools to convert your video content for global audiences

Embed livestreamed videos onto social media platforms for distribution

Chat with viewers in real time
Monetization strategies supported:
Pricing: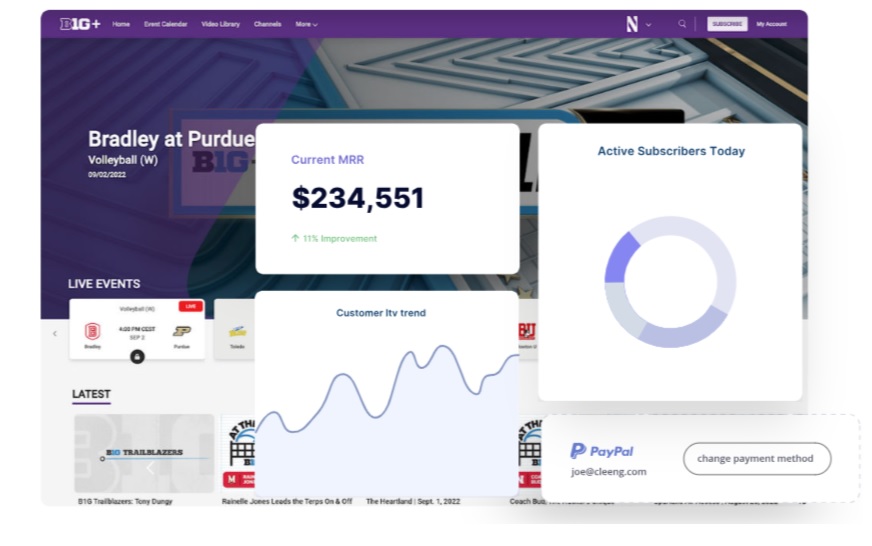 Cleeng is a subscriber retention management (SRM) platform that helps you market, sell, and maintain an audience. The platform leverages AI to make payment processing, market segmentation, and customer care activities much more predictable. Therefore, it's easier to be proactive about your business! 
Key features:
Integrated authentication elements to maintain content integrity and fraud prevention

AI

tools

to

help reduce churn and

trial new payment methods

Detailed analytics page
Monetization strategies supported:
Pricing:
Free trial available

Starts at $0.325 per managed user (ie. subscriber)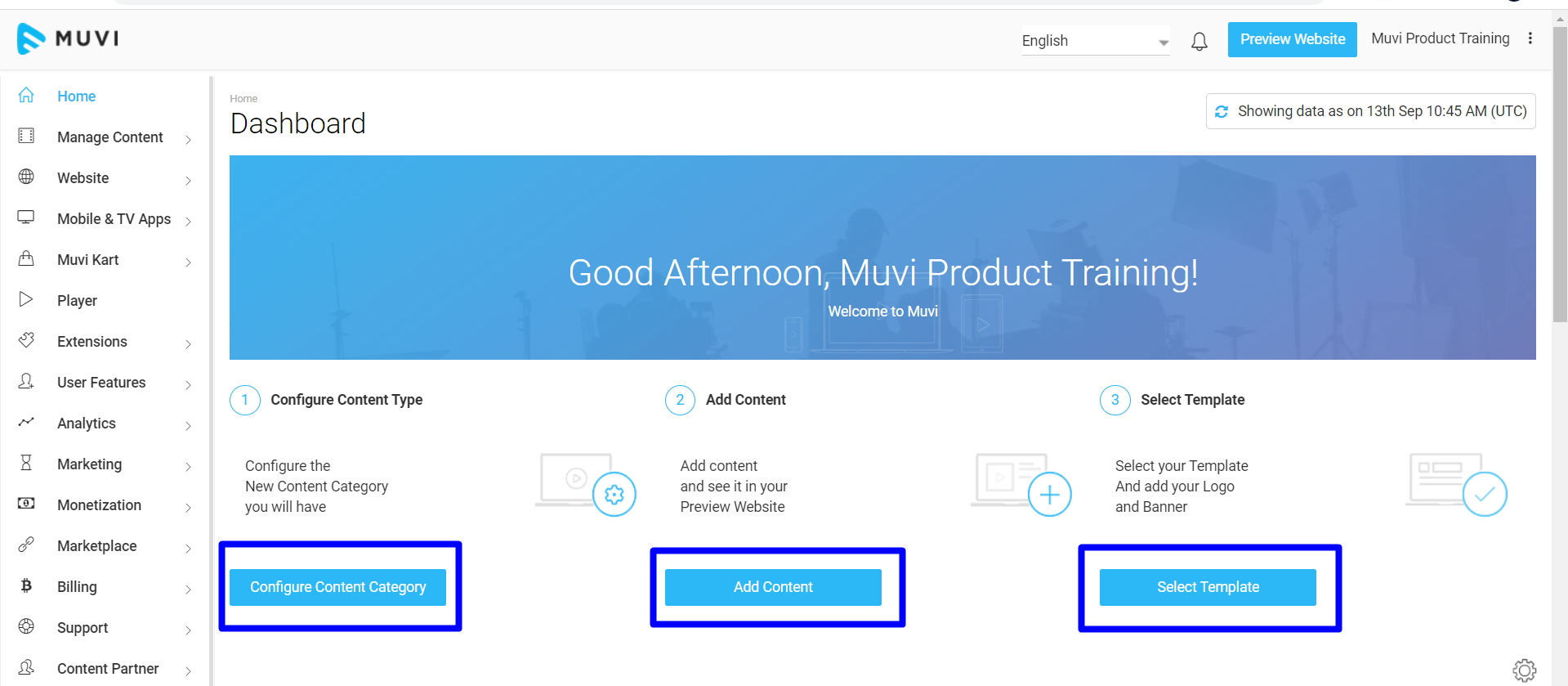 Muvi is a leading over-the-top (OTT) media platform that allows creators to build their own white labeled streaming channels. While it offers comprehensive management into the channel and does allow creators to keep 100% of the revenue earned from viewership, it is one of the more expensive platforms with a fee-heavy pricing model. 
Key features:
100% no coding required

Collect reviews directly on the platform

Content schedule management

Built-in content delivery network (CDN) for fast video speeds
Monetization strategies supported:
Pricing:
Free trial

Starts at $399 USD per month + $299 per month per app + infrastructure fees

15% discount for subscribing to an annual plan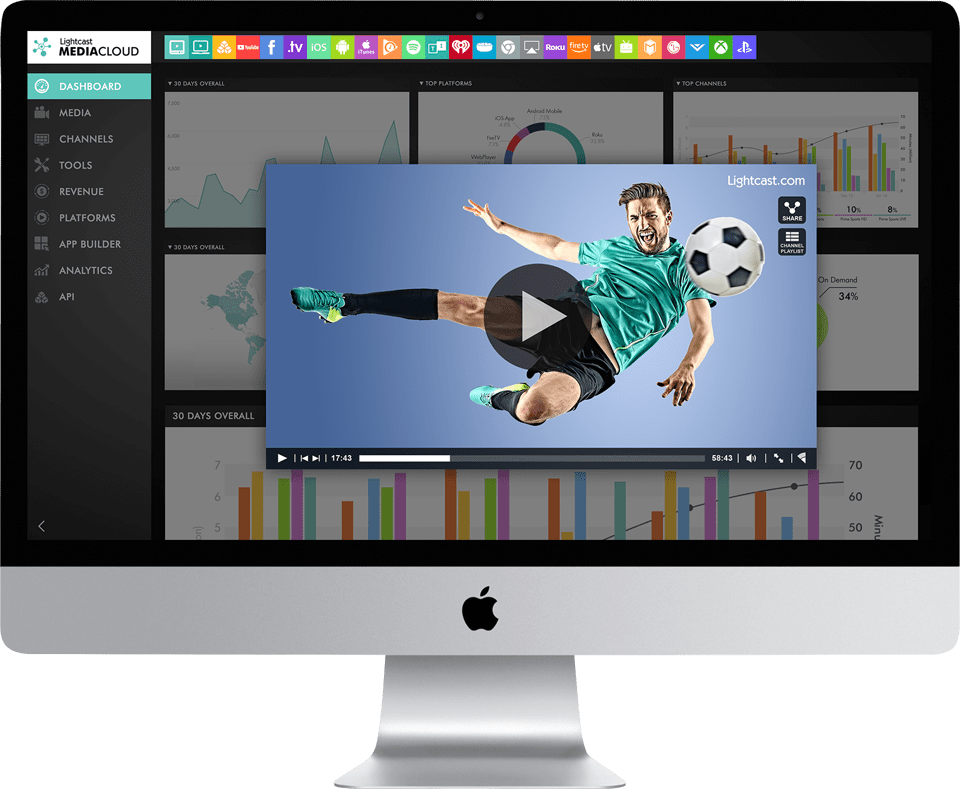 In addition to video content delivery, Lightcast also supports the development of mobile apps, web apps, and TV apps – and helps you manage the content on all apps from one place. This makes it quite a comprehensive streaming service provider! 
Key features:
All content is white-labeled so you can add your own branding

Extended features to make distributing your videos to social media and app stores easy

Build websites to host and promote your videos
Monetization strategies supported:
Pricing:
No free plan available

Starts at $199 USD per month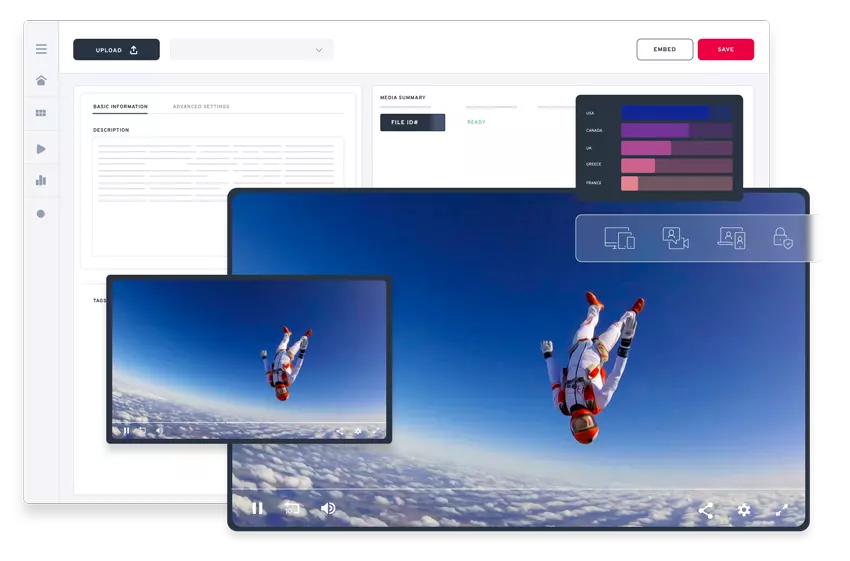 JW Player (previously known as InPlayer) is designed for businesses that rely on video monetization like publishers, newscasters, and musicians. All content is hosted in the cloud for speedy delivery, and includes support for distributing media across the web.
Key features:
Integrated digital rights management (DRM) tools

Flexible and custom payment models

Intelligent video recommendations to boost engagement
Monetization strategies supported:
AVOD

SVOD

TVOD

Livestreaming
Pricing:
30-day free trial available

Custom pricing per business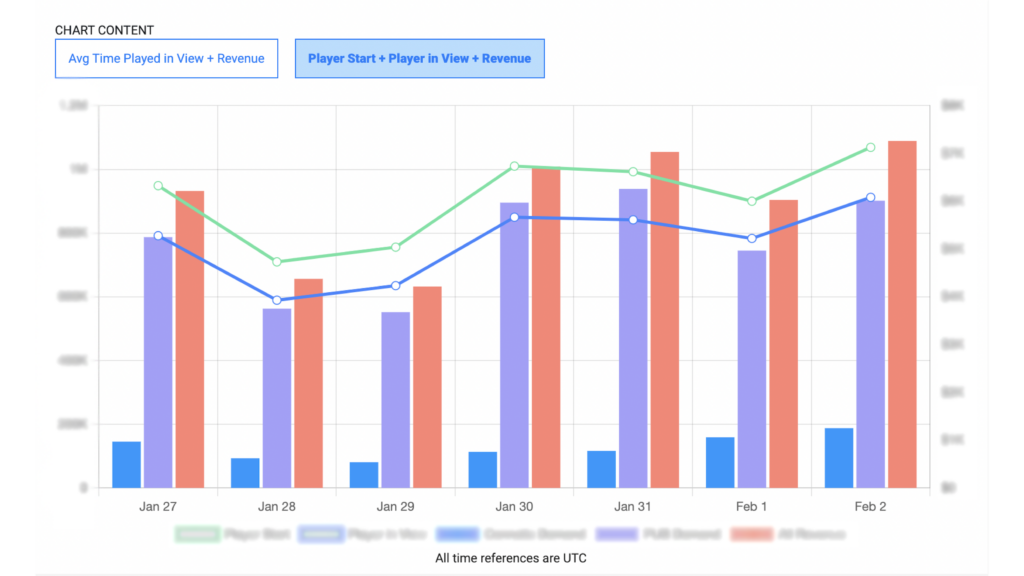 Connatix leads the way with insightful usage of digital signal processing (DSP) tools that can sense what users are most interested in and recommend them relevant video content. As Internet browsing authorities contemplate switching to a cookieless world, this approach is going to be useful to offer customers targeted options. 
Key features
Strong DSP integrations

Ability to launch and manage marketing advertisement campaigns

Deep analytics on video performance and engagement

Built-in video creation and editing tools
Monetization strategies supported:
Pricing:
No free plan available

Custom pricing per business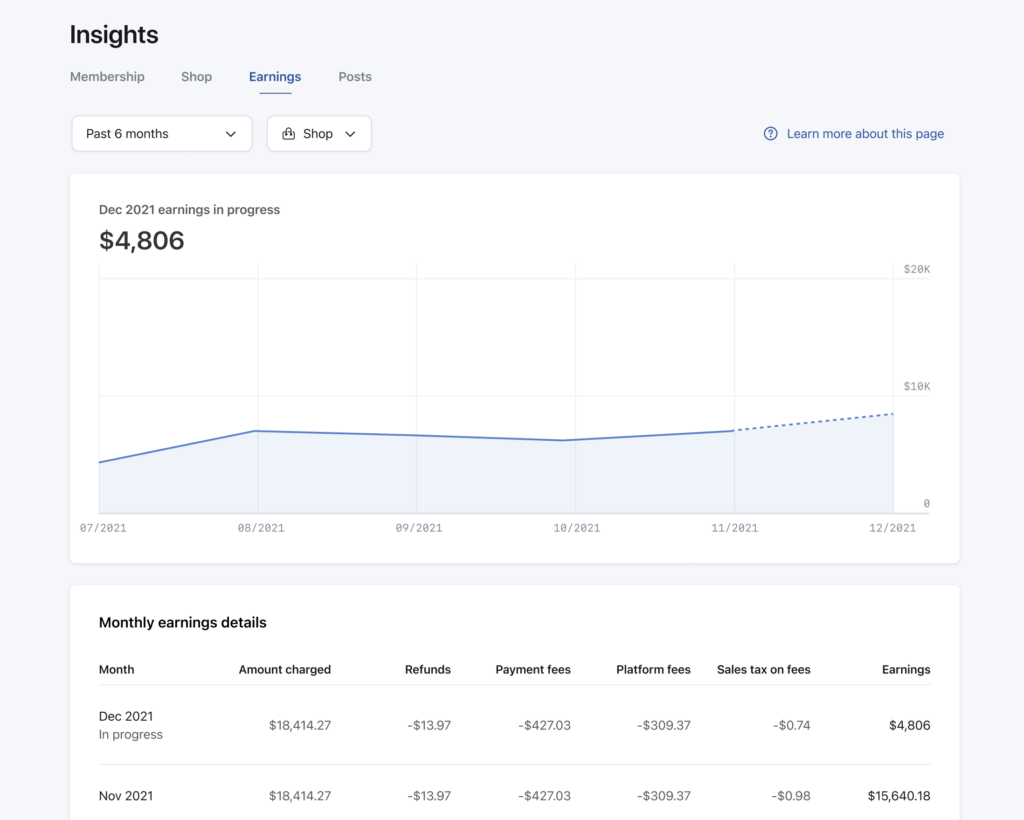 Patreon began as a paywall for creators who wanted to monetize existing content. For this reason, it's possible to put any kind of content into a Patreon page, including videos, books, downloadable templates, podcast episodes, and more! Creators with dedicated followings can also receive donations from their audience through their Patreon page.
Key features
Marketplace for viewers to find and purchase content

Unlimited app integrations

Support for global currencies and distribution
Monetization strategies supported:
Pricing:
No flat fees

Between 5-12% of the revenue earned on a channel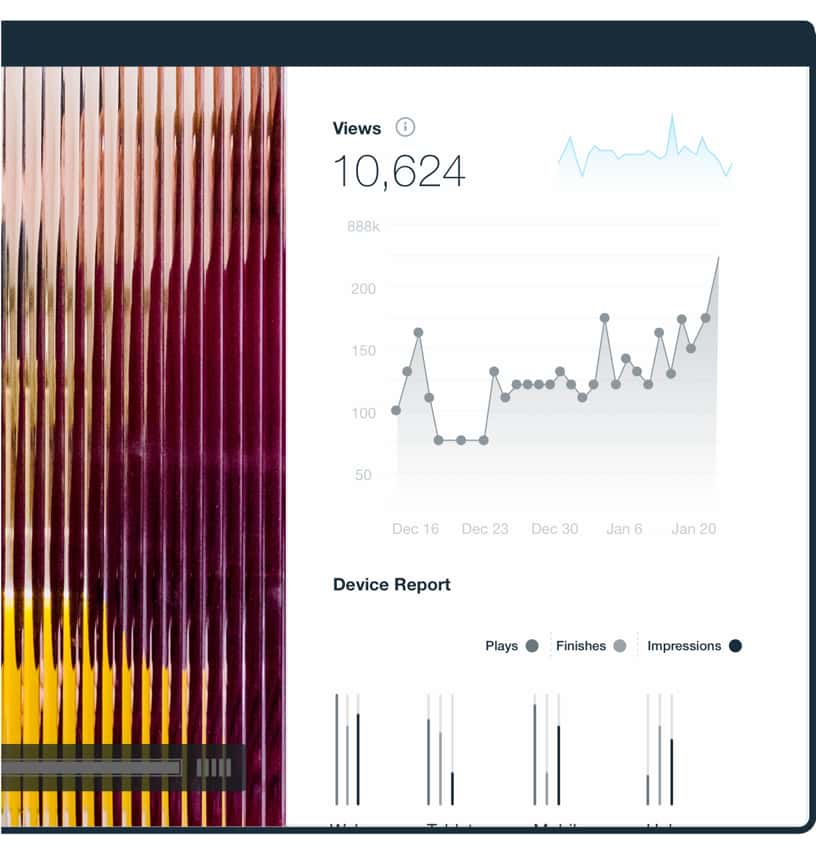 If you're just starting out with video monetization, Vimeo is a great place to look! It has a wide variety of monetization models, has built-in creation and editing tools, and also allows you to hire a professional video editor if you need it. This can help improve your videos' professional look, which improves engagement with your viewership! 
Key features
Capture videos through screen recordings

Features to boost interactivity while customers are watching a video

Integrated video and event marketing tools to grow your audience
Monetization strategies supported:
AVOD

TVOD

SVOD

Livestreaming
Pricing:
Starts at $9 USD per seat per month
Start monetizing your video content
If you're producing video content in 2023 and beyond, you're in luck. It's the best time to start monetizing your content as users continuously reach for more engaging and more educational content throughout their day (especially if you're focusing on mobile-friendly material).
No matter which monetization strategy you choose for your business, it's best to start small and get super familiar with one channel before growing your monetization operations. Get comfortable with what video monetization is all about and pull as much revenue as possible from each individual strategy.
Learn how to get started with video monetization on YouTube today! Get the free downloadable resource: Monetizing YouTube with Online Courses.
---
This blog was originally written in December 2022. It has since been updated in August 2023 to include the most relevant information.