Customer education is a problem every company struggles with. But as digital services and business toolkits have become more complex and customer needs more specific, businesses need to find new ways to provide appropriate guidance and knowledge. 
It's not enough to give a few pointers or a video tutorial. Customers need to be able to go deeper into the material and learn at their own pace.
Welcome to the online academy. 
For companies looking for an effective customer education program, online academies are a perfect solution. They offer customers a comprehensive and personalized learning experience that can help them become more familiar with your product or service. 
In the past, creating online academy material could be a time-consuming and expensive undertaking. That's where we come in. This guide will take you through the process of quickly (and cost-effectively) building an online academy for your business or organization.
Skip ahead:
What is an online academy?
If you're picturing an individual course that walks a customer through a specific subject, think bigger.
An online academy is a collection of courses and materials that allow your customers to learn what they need, when they need it, at their own speed. It can include videos, tutorials, webinars, quizzes, and more. 
The key difference between an online academy and other forms of customer education is the breadth of content offered. The courses offered in your academy can take your prospects, partners and customers just far enough to solve a specific problem they are having or all the way to becoming an expert in your product or service – maybe even one that could teach a course!
Let's take a closer look at some prime examples of online academies: 
Interested in social media marketing? You've probably heard of Hootsuite. The massive social media management platform originally had just a few video tutorials helping customers get familiar with their dashboard. 
Today, it's a massive academy that offers lessons in everything from social media marketing to analytics.
More than 450,000 students have enrolled in the Hootsuite Academy, and they continue to grow with the goal of becoming the "world leader in social media education."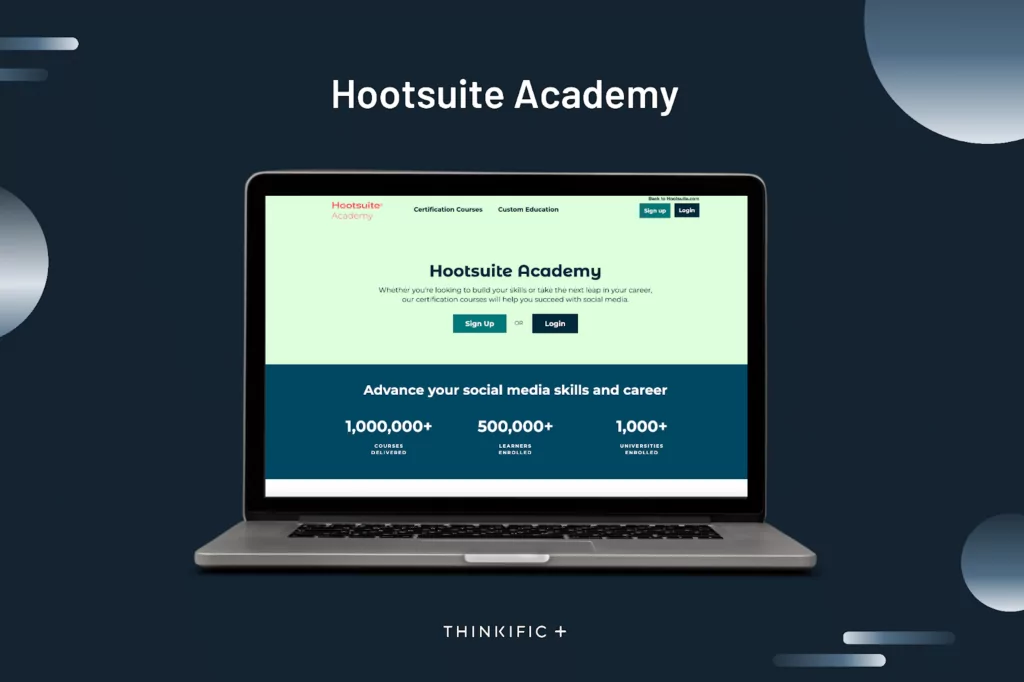 In 2019, school website design company Schudio launched their unique online learning platform SchudioTV. 
Schudio TV was built for customer education and product training purposes, hosting a wide variety of online courses with specialized content to help Schudio's clients successfully manage their school websites and connect with their communities online.
"Moving our training online, from the point of view of our website clients and our team, has completely transformed the business. We have been able to solve massive problems for the schools, and for ourselves." Ian Richardson, Founder and CEO, Schudio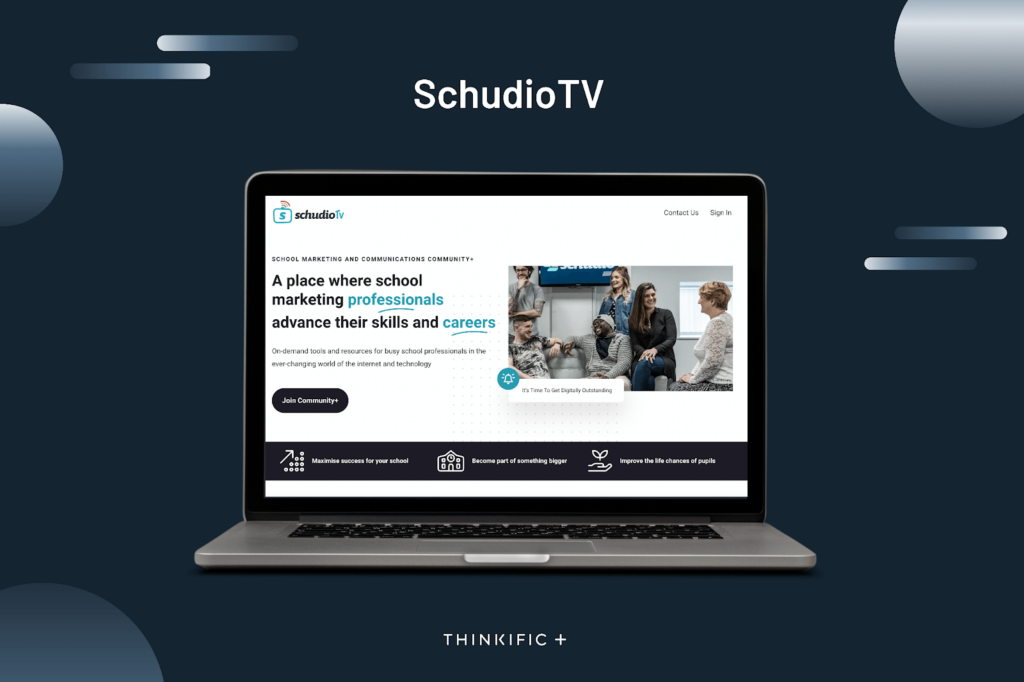 Looking for a way to reduce your onboarding time? So was Keap, an all-in-one growth machine for small businesses. They launched a partner education academy and quickly saw a 30% decrease in onboarding time. 
Switching from a traditional learning management system to an online academy allowed them to provide a more comprehensive and personalized customer experience.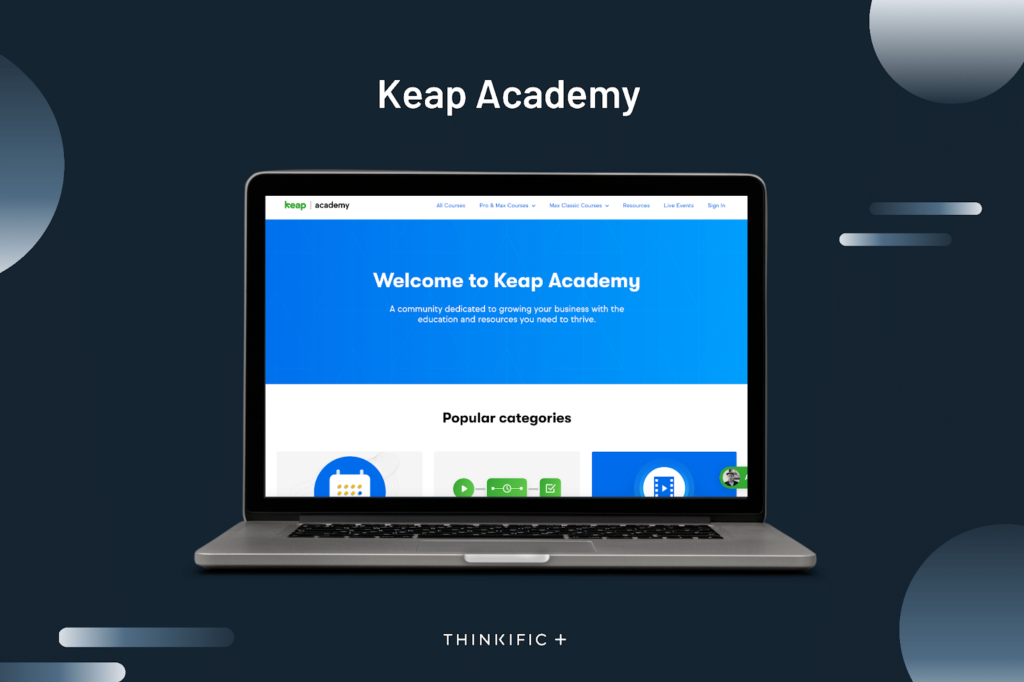 In early 2020, the Echosec Systems team launched Echosec Essentials – its online customer education program built to enhance Echosec users' expertise and overall product adoption.
Before creating Echosec Essentials, the company provided live onboarding sessions for each of their customers. The sessions were followed up with other materials, such as quickstart guides, user guides, and access to a knowledge base. While this information was helpful, customers continued to request video tutorials to help with their ongoing platform training. 
The Echosec Systems team realized there was a gap between the educational materials they were providing and what their customers wanted. As a result, some features and capabilities were underutilized, indicating customers were not using the platform to its full potential.
With the customer training materials already developed, the team built out their customer onboarding course and then program with Thinkific Plus. The launch of Echosec Essentials resulted in increased product adoption and customer engagement for their team.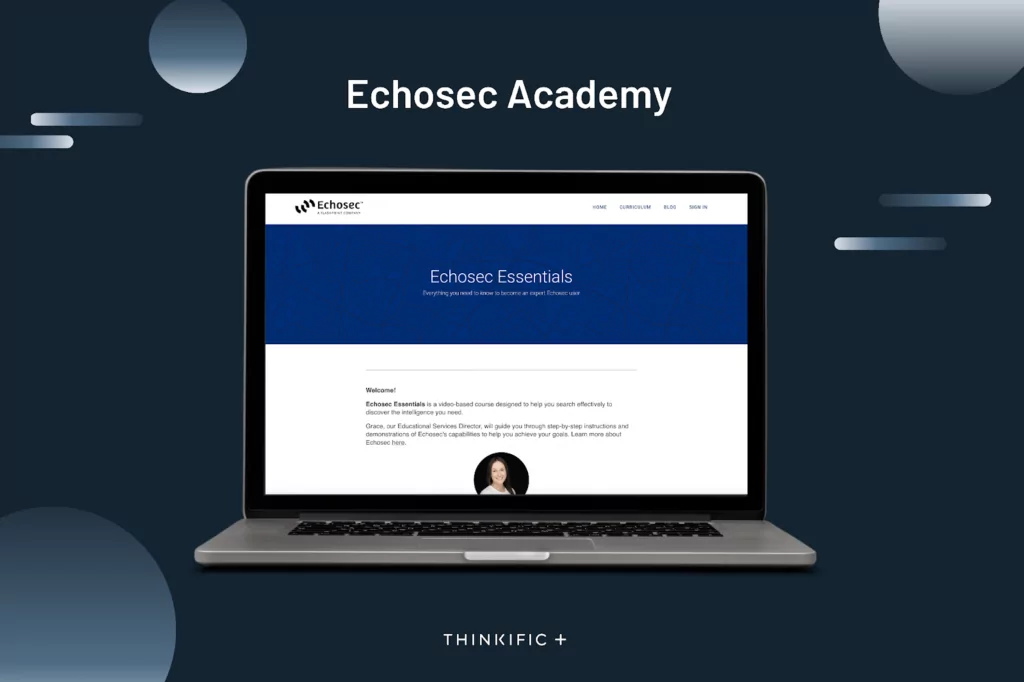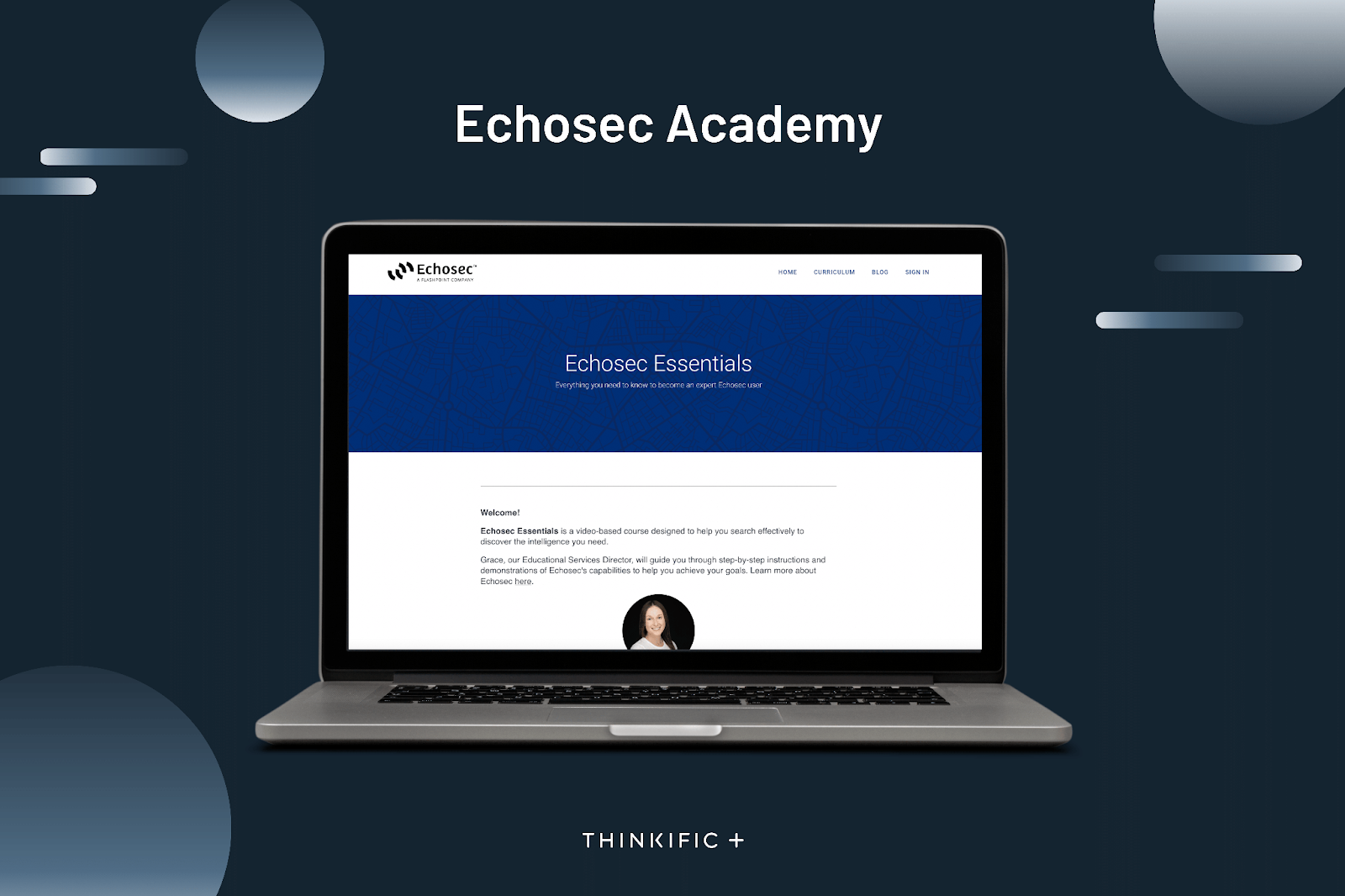 Why is an online academy beneficial for your business?
Okay, so it has worked for those businesses and organizations – but what is the business case for creating your own online academy?
It breaks down into a few core benefits.
Thought and category leadership building 
An online academy allows you to become a thought leader in your industry. It's an effective way to share your business or organization's knowledge and expertise, while also positioning yourself as an authority in the space.
By offering comprehensive and high-quality educational materials, you can add value to your customer's experience. In fact, a study from LinkedIn showed that 65% of people believe thought leadership significantly changed their perception of a company for the better. 
Positioning yourself as not just an expert but the expert in a given field can be incredibly powerful.
Lead Generation: Capturing (and nurturing) leads
That same study showed that 64% of people believe thought leadership is a more trustworthy way to asses capabilities and competency than regular marketing materials. Consumers are getting savvier, and they can spot a sales pitch from miles away.
An online academy offers you the opportunity to capture leads, while also providing them with valuable information that builds trust and loyalty. By offering free courses or tutorials, you can attract potential customers, who will then be more likely to convert into paying clients down the line. 
Revenue generation
And let's be honest – it's paying customers that you are after!
An online academy can also be a great way to generate revenue. You can offer paid courses or even certifications, which will help you monetize your educational efforts. This is especially true if you are in an industry that requires formal certification – such as health and safety, finance, etc. 
Critically, it is also a helpful tool in retention, allowing those that may have otherwise left quickly to stick around because of your next-level customer success programs.
Customer education
One of the most important benefits of an online academy is that it provides your business with the opportunity to provide a comprehensive customer education program for your customers. This is especially important if your product or service is complex and requires customers to have a certain level of knowledge to use it effectively. 
An online academy allows customers to learn at their own pace, while also being able to go deeper into the material as they master each concept. 
With an effective curriculum, you can help customers get up-to-speed quickly and easily – which will ultimately lead to more successful outcomes for them (and increased loyalty for your business). 
Buried in help tickets that are tying up all your resources? A more informed user base is the answer.
Key steps to create your own online academy
Building an online academy doesn't have to be difficult or expensive. Here are the key steps you need to take when building an online academy for your business or organization.
Analyze the market
Any new business venture needs to be based on a thorough analysis of the market and its needs. To understand what your customers are looking for, start by researching industry trends, preferences, and current offerings. This will give you an idea of what content to include in your online academy.
Then find a "gap" that needs to be filled. This might be a common problem that most customers are facing or an area where your competitors are lacking. Focus on creating content that:
Is built for your target customer or

"user persona"

Speaks directly to your ideal customer's job responsibilities or

"Jobs To Be Done"

Gives them the knowledge they need to succeed right away

Helps them build skills that take them to the next level
Don't be afraid to think long-term. Consider not just the immediate needs of your customers but also how you can help them in the future.
Leverage your expertise
This is the part of the process where you will want to lean on your business or organization's thought leaders and experts. Make sure you are bringing in the right people to help you create content. This might include industry veterans, educators, or subject matter experts who can provide valuable insight and thought leadership on the topics you plan to cover.
You'll also want to involve other departments within your company, such as product teams and customer service representatives who interact with customers daily. They can give you real-world feedback on what is working and what isn't so that you can design an online academy that meets customer needs. 
Even if you think you know everything about your product or service, pretend you're coming into it as a blank slate. Try to imagine what it would be like to learn about something for the first time. This will help you create content that is accessible and useful for a diverse audience.
Develop your learning sequences
You aren't building just one course – you're building an academy over the long term! This will one day be an end-to-end learning experience that takes customers from novice to expert, or anywhere in between. 
To make sure you're providing the best education possible, structure your content in a way that allows customers to progress through different levels and build upon their existing knowledge.
Think about sequencing your material so that it follows a logical flow. Here's a hypothetical example.
Academy:

The School of Digital Marketing

Bundle:

Social Media Masters

Course:

How to Use Influencers

Chapter:

Finding a Brand Match

Lesson:

Negotiating Contract Terms

Media item:

Example of deliverable
You can see how this structure provides a natural progression for customers to work through. As they move from one level to the next, they gain more understanding and confidence in their skills.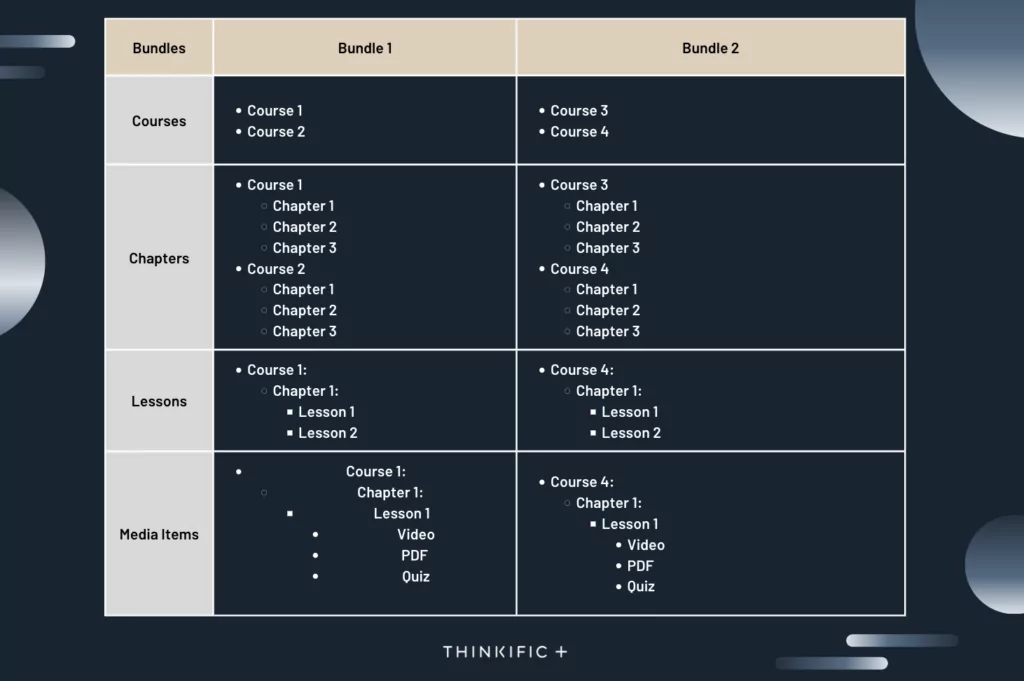 Build and launch your first course 
Now that you have created a plan for your business or organization's online academy, it's time to create your first few courses. Take some time with your team to evaluate your current customer journey by creating a customer journey map. 
Doing this will help you identify gaps, and areas of opportunity in the customer experience so you can prioritize the first courses you will be creating for your online academy. 
Learn more: 10 Steps To Creating A Wildly Successful Online Course
Promote and launch your academy
Once you've put in the hard work and created your academy, it's time to get the word out. Promotion is key if you want people to find and sign up for your program.
Start by creating a landing page with all the necessary information about your academy – cost, course structure, enrollment and registration process, etc. Make sure it looks professional, is custom-branded and has easy navigation so customers can quickly understand what they'll be learning from you. 
From there, leverage a mix of your internal and external channels to reach potential students. Finally, don't forget the power of word-of-mouth. Ask your existing customers to spread the word and give you feedback on their experience.
With enough promotion, your online academy can become a major source of revenue and growth for your business and an invaluable resource for customers who want to learn more about what you have to offer.
Evaluate your success
Key. Performance. Indicators. 
Building an online academy is a long-term investment, and you need to track its performance over time. Keep tabs on the number of signups, course completion rates, and nature of customer feedback you receive. This will give you an idea of what's working (or not working) in your program so that you can make adjustments as needed.
Finally, don't forget to celebrate your successes! Successful online academies are a great way for businesses and organizations to build brand loyalty, increase their revenue, drive customer success and gain recognition within their industry. That's something worth celebrating!
If one of your customers has become an expert on your product or service thanks to your online academy, make sure to give them the recognition they deserve. Certifications are a great way to give your customers tangible proof of the work they have done to learn the knowledge and expertise you provided them in your courses, and they can help you generate revenue as well. 
Take social media management platform Hootsuite as an example: they created Hootsuite Academy with the goal of attracting new customers and nurturing current ones and since launching their academy on Thinkific Plus, they have enrolled over 450,000 students and awared over 72,000 certifications. The team has grown the company's revenue, thought leadership, and customer success as a result of their online academy. 
Optimize your customer journey and make those support tickets disappear
Don't wait. Your customers need guidance, and you could use some help getting a few of those support tickets to disappear. Building an online academy is a great way to provide customers with the knowledge they need at key moments of their journey to create opportunities for growth while saving your business time and money.
Follow these easy steps and with a little bit of effort and dedication, you can build an online academy that will benefit both your business and customers alike.
Begin optimizing your customer experience today by downloading your free Customer Success Guide: