In 2019, Jonathan Pemp Ng started what's now OXG Media in his dorm room at the National University of Singapore.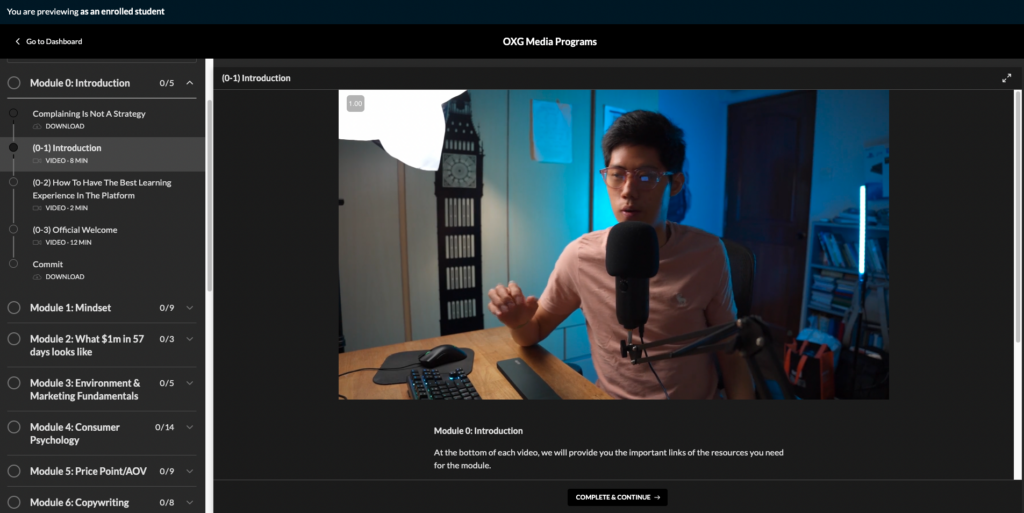 Nearly four years later, OXG Media — a marketing agency that helps people to scale their e-commerce businesses to $100K per month — gives customers two options: They can either hire the OXG Media agency to scale their business for them, or they can purchase Thinkific courses and learn to do it themselves. "We're transparent about the fact that if customers hire us, everything we do for them is outlined in our signature course, The Accelerator. If they want to do it themselves, they can," he says. 
Since launching his online course side of the business in 2020, his Thinkific products have served over 80 students and have brought in over $60K in revenue.
But Pemp Ng's success didn't happen overnight; in fact, he had a discouraging start. When trying to find his first client over LinkedIn, he was ghosted multiple times. He says that many people didn't have time for him; not only was he faced with the challenges of cultural differences, he was halfway across the world from the prospective clients that he was speaking with, which were mainly American.
He didn't give up easily, though. Pemp Ng had a vision for OXG Media and he was determined to make it happen. Hoping he wouldn't be ghosted yet another time, he wrote a blog post that spoke specifically to his prospective client's business and what he could do to help. This blog post struck a chord with his client, who ended up hiring him. "It was the right message to the right audience," he says. 
His clientele grew from there. According to Pemp Ng, his success wouldn't have been possible unless he'd honed in on the transformation he was providing clients — both through the agency and through his Thinkific courses. His goal: help people level-up their businesses so that they never have to worry about money again. 
Here's how he does it:
Skip ahead:
A year and a half into running OXG Media, Pemp Ng wanted a way to showcase the agency's methods for scaling e-commerce brands. 
He realized that there wasn't much honest information out there from people actually succeeding in e-commerce.
"I've been taught by the same gurus as everyone else. I know that a lot of people are jaded in the industry; they don't believe what a lot of people say. Big promises are made and then they don't deliver."
So, in 2020 he began creating YoutTube videos that showcased how his agency helped people scale their businesses. He also launched a Facebook group.
His YouTube channel has since grown to nearly 2,000 subscribers, and his Facebook group has grown to approximately nearly 1,000 members.  "My Facebook posts get 600-700 likes," he says. "Normally, once people find me on Facebook, they'll find me on YouTube as well. Both channels grow that way."
He describes his YouTube channel as having slow growth since he creates long-form content that isn't clickbait-worthy. But these long-form videos provide his audience with a ton of value; some get up to 3,000 views and help to build a relationship between him and his viewers, which aids in converting them to online course customers. "I use YouTube as an evergreen, consistent flow of content," he says. 
A few months after launching his YouTube channel, Pemp Ng was looking for a way to serve those who didn't qualify for the agency; he consistently spoke with people who were interested in working with OXG Media, however his team only works with businesses making over $80K per month. Online course creation was the natural next step.
"I thought, I'm already talking to these people on the phone and spending time with them. I might as well down-sell them something." 
Now, he has one signature course, The Accelerator, which allows people to apply all of the agency expertise to their businesses themselves rather than outsourcing it to OXG Media.
Plus, he has five other courses that hone in on specific skills, like email marketing, Facebook ads, sales reps training, organic content marketing, and high ticket conversion.  "Our courses provide frameworks for creating million-dollar campaigns," he says. 
But before creating the whole suite of courses he now provides, he ran a beta version of The Accelerator in 2020 — an approach that he recommends other online course creators take.
He sold 12 seats at $1,000 each and delivered the course live. This way, he could get testimonials from day one. "This made my marketing material much stronger because I had social proof," he says. "Plus, these students were the ones who would refer my courses to other customers."
"I try to make my courses as affordable as possible. I even try to make things free. But this has proven that when people pay more, they take the course more seriously."
He realized that price point-wise, it's better to go upmarket. "I think there are a lot of limiting beliefs among course creators," he continues. "Many think that they need to price a course for cheap so that everyone can get access to it. But the thing is, people don't want cheap, they want results. It doesn't matter what price you choose; if they're legitimately serious about something, they'll buy it."
Through YouTube and Facebook content, he was able to build a small but loyal email list, which now has over 5,000 subscribers. "I can monetize a large percentage of that list," he says. "So even though the email list isn't massive, it's a very engaged place."
Pemp Ng describes his audience as "a broad spectrum of people" who have tried and failed at e-commerce in the past. His audience is mostly male and includes people as young as 19 to as old as 40. 
For him, the most helpful tool when it comes to course sales is Thinkific's one-page, built-in checkout. "It's the most impactful thing that's happened in my Thinkific experience," he says. 
Pemp Ng only creates content that would resonate with his audience, applying the "right message, right audience" mindset. "I don't believe in creating tons of content," he says. "If you're sharing your content with the wrong audience, then you're completely wasting your time. You need to be targeted and not just create content for the sake of it."
In order to deliver the right message to the right audience, he encourages people to speak in their audience's language in order to create a connection between the business and the customer. "As long as you can be extremely targeted, you should be able to grow your business," explains Pemp Ng.
For example, his website content has a blunt, to-the-point tone; its purpose is to convey transparency and honesty. "We only want to attract the right customers for us and people who are serious about scaling their businesses," he adds.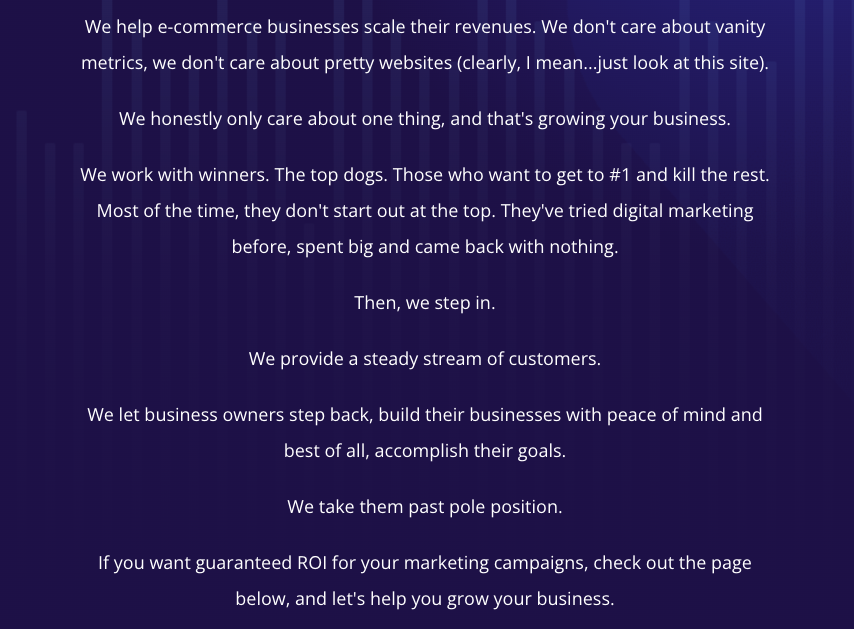 Pemp Ng's customer journey starts when people find him on YouTube.
"My funnel is very simple; they watch this one video and then they usually convert into a customer."
For The Accelerator, customers are instructed to book a call with Ng, who can answer any of their questions. For the other, lower-ticket offers, they can purchase them right away.
Most of his leads come in through organic traffic on YouTube, Facebook, and word-of-mouth; when people reach out to Pemp Ng, he says he doesn't have to work hard to sell them his courses. "Often, they're coming onto the call already ready to buy a course and just want more information about it," he explains.
In fact, he no longer actively markets his courses; everything comes in through referrals and warm leads. 
He delivers his course content all at once rather than using a drip schedule feature. 
The only course that has a prerequisite to gaining access to the rest of the content is The Accelerator; students have to complete the 'Mindset Module' before unlocking the rest of the content, which is a feature available on Thinkific's Grow plan. 
In the 'Mindset Module,' he shares his story of starting OXG Media with limited resources. This helps his students see that success is obtainable. "A lot of people don't believe that they can be successful because they don't personally know someone who is," he says. 
He made this module mandatory because, while he wanted to help students feel optimistic about their success, he also wanted to increase course completion rates. Plus, this module helps students to reflect on why they signed up for the course. "Once you remind people of their motivation behind being there, they become more disciplined," he explains.
On the agency side of his business, he has a team of four. On the Thinkific course side, it's just himself and a video editor based out of the Philippines, who edits and exports each of his course videos to help save time. His video editor also works as his customer success manager. This means he checks in on his students once they're enrolled in the course and ensures they have everything they need.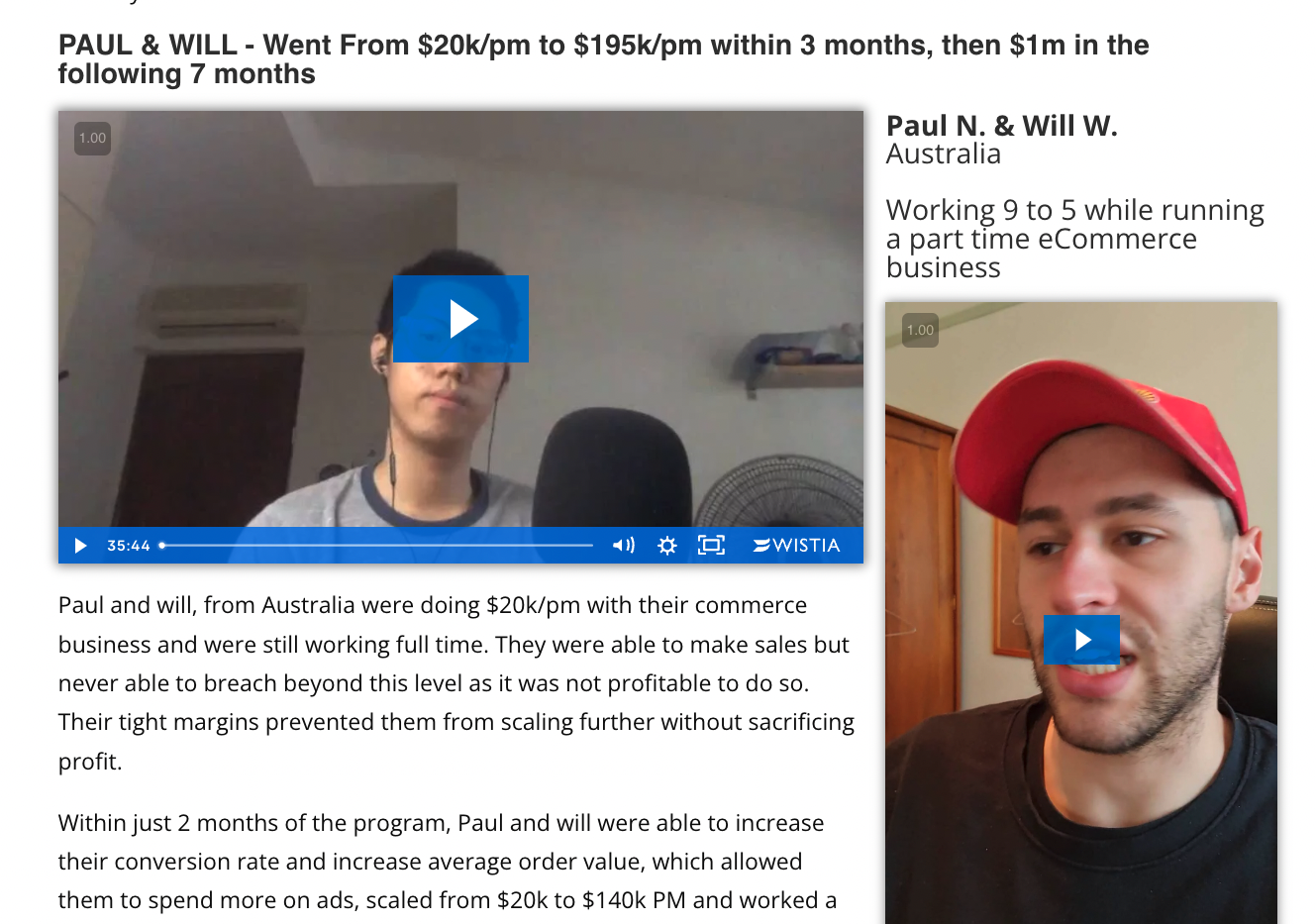 In The Accelerator, Pemp Ng gets on a call with his students every week. This increases participation, accountability, course completion, and — ultimately — results. On each call, he gives his students weekly homework. "I tell them, if you don't do your homework, don't bother coming to the call," he says. "The accountability is ingrained in them; they know that they determine their own success rate."
These calls also help students learn from one another. "They give input into other people's queries," he explains.
Plus, students have access to a course Facebook group. He encourages students to post their questions there, which are answered by other students and the client success manager. 
Once students complete his courses, Pemp Ng doesn't directly upsell them anything. However, he says that some students realize that scaling their business is harder than it looks. In that case, they come to the agency for extra help.
So far, he says his biggest accomplishment has been seeing his students succeed. For example, one of his students entered his beta program making $20,000 per month. Within two months, he 10x'd his revenue, bringing in $200,000 per month. Then, over the next nine months, he scaled it to $700,000 and recently exited his business. "People are taking what I've taught them, doing it for themselves, and changing their lives for the better," he says, excitedly.
His best piece of advice for content creators is to get clear on the transformation they're offering their students.
"A lot of people create courses for the wrong reason; they just want money. This is why many aren't successful. They don't understand that if you help people to get the transformation that they need, then they'll get the money."
Once the online course creator is clear about the transformation they're offering, they must communicate it clearly with their audience. "Some transformations are intangible, and you need to justify why people should purchase your information," he continues. "You're serving the other person, so talk to them in a language they understand."
Aside from providing a clear transformation, Pemp Ng also advises that course creators teach what they know — and what they're confident about. "I only teach something I do every single day," he says. "It's like muscle memory to me. I'm transferring all of the information in my brain and then documenting it."
If you're ready to use your knowledge to help people transform their lives for the better, sign up for Thinkific today. 
---
Want to read more creator stories? Sign up for the newsletter below, or check out more stories here.