In 2018, Suzana Somers went from third grade elementary school teacher to leading instructional technology for an entire school district.
Despite her promotion, Somers had no formal background in technology, and little experience. In fact, she only had basic tech skills. She decided to feign confidence and equip herself with the tools she needed to succeed in her role — albeit in a non-traditional way. Rather than watching YouTube videos and taking Excel courses that she describes as boring and taught in a monotone voice, Somers started collecting data around the TV show she watched, The Bachelor. "I taught myself how to use Google Sheets and Excel and realized that a lot of what I would do manually could be replaced by formulas," she says. "Using The Bachelor as a case study was a fun way to learn how to capture data."
Inspired by what she was learning, she started sharing photos of her spreadsheets on The Bachelor subreddit — a community of people who watched the show and talked about it on Reddit. To Somers' surprise, she began to build an audience through sharing her data in creative, visual ways on the platform. Gaining momentum and engagement, she launched an instagram account — Bachelor Data — that has grown to nearly 95,000 followers in just over a year. On this account, she shares data that tracks everything from contestant's screen time, dress colours, and Instagram growth. Since launching, Bachelor Data has been featured in outlets like Newsweek, Vulture, US Weekly, Mashable, Vanity Fair, and The Hollywood Reporter. Plus, Somers has launched a data analysis course on Thinkific to teach her followers how to capture data like her by using Google Sheets and Excel.  "Bachelor Data started as a fun way for me to learn how to use spreadsheets. Then, when someone asked if I thought of teaching a course on it, I thought it was a great idea."
But what's unique about Somers' story is that she let strategy take a back seat and let courage lead; unafraid of imperfection and the possibility of course correcting, Somers says she simply put content out there and waited to see what happened. "The stakes were low in my head. I would just put stuff out there and see what the engagement was. I figured that even if I received negative feedback, it would help me reflect, learn, and grow quickly," she explains. "I tried not to get tangled in the details. I'm building the plane as I'm taking off."
Related: 10 Steps To Creating A Wildly Successful Online Course
Here, Somers shares how she grew her audience, the process of turning her passion into a business, and how having the right mindset can lead to success in any niche, even when you're self-taught:
The power of data visualization
When Somers first began posting photos of her spreadsheet cells on The Bachelor subreddit, she didn't get the engagement she was expecting. "I thought that tons of people would engage with my posts, but a meme would get thousands of upvotes and mine would get around 50," she says. "I slowly started to learn that data visualization is a powerful tool."
She started experimenting with different ways to show her data and cater to her audience, quickly learning that her audience engaged more with her posts depending on the colours she used and the types of graphs she displayed. As her engagement increased, she started The Bachelor Data Instagram account two weeks before the pandemic hit to have more control over her content and the audience she engaged with. 
View this post on Instagram
Example of Suzana Somers' instagram posts.
Now, her audience is made up of 94% women, the majority of which are aged 24-34 and the rest between the ages of 18-44. "Most of my audience watches the show or used to watch the show," she says. "Normally, they're not liking the season, but they're sticking around because they like my data. There are also some people who are interested in data and have random questions about it."
At first, she kept herself separate from her brand. However, when she started to show her face on camera, her brand started to develop her identity. "The first day I did this, I got a DM from someone who thought I was a man in my mom's basement that didn't see sunshine," she laughs. "Now, I'm incorporating myself a little more into my brand."
Turning her passion into a business
When Somers was reached out to by The Hollywood Reporter earlier this year, she realized that this passion project — a project that was meant to hold her accountable to learning Google Sheets and Excel for her day job — had legs for a business. 
The reporter reached out to her during a tumultuous time of The Bachelor; while the show had cast a diverse set of contestants, most of the screen time was taken by white folks. There was also controversy around the statements that the show's host, Chris Harrison, made in regards to race. Plus, her findings related to Instagram growth revealed that white contestants' accounts grew much more rapidly than people of color. "My data about this silly show has turned into really impactful data. It's shed light on race representation," she says. "This data helped me have difficult conversations with my own family members around white privilege."
When The Hollywood Reporter article came out on February 23, 2021, Somers says that it drove a lot of traffic to her Instagram account, growing it exponentially. Around this same time, she launched a Patreon account to provide paid subscribers with bonus content. "It was surreal that my data went from this small passion project to suddenly being used in really important conversations," she said. "I realized that what I was doing could be a business and was something useful for a lot of people."
Since The Hollywood Reporter article was published, Somers' Bachelor Data has been featured in multiple notable online publications and podcast interviews, resulting in big spurts of gaining followers. Aside from being featured in the press, she says her account has grown from people tagging friends in the comments section of her posts and sharing her content in their stories. Plus, at the time that the article went live, the world wasn't only still in the throes of the Black Lives Matter movement, the pandemic was still in full swing. She explains that this time brought the importance of data into greater focus. "With the onset of covid, everyone was learning about data," she says. "Also, they were learning that data analyst roles weren't being cut. This shed light on the fact that no matter what happens in the world, the one thing it boils down to within business is data and having numbers to back up your decision-making."
Creating a course
Somers describes there being two types of people that make up her audience: those who are interested in getting stats about the show, and those who are interested in learning how to capture data. The latter is what spurred her to create an online course to teach her followers how to use Google Sheets and Excel.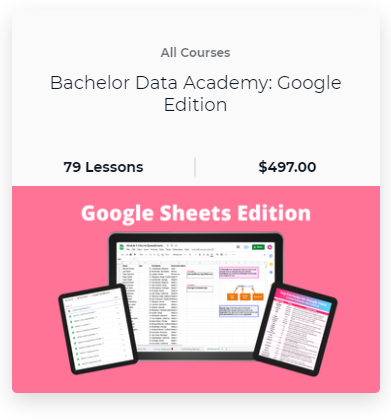 With an influx of followers sliding into her DMs to ask advice about working with spreadsheets, Somers chose Thinkific as her course hosting platform for its ease of use and pricing model. "With Thinkific, it took me about five minute to navigate the platform, which was great. It's so easy to use, and having the live chat support is the best part," she says. "I also loved the pricing philosophy on Thinkific. Seeing that other platforms would take a percentage of my sales was difficult to swallow."
As she began to build her course's curriculum, she created a Google Form with the purpose of  collecting emails of everyone who was interested in being notified when the course was available for purchase. She linked it in her Instagram bio for the six weeks that she was creating the course, as well as created a swipe-up link to the form whenever she talked about the course on her Instagram stories. Then, she filtered out any duplicate emails and imported the emails to ConvertKit.  "Less than 1% of my audience signed up to be notified, but I still think that over 2,000 people is a major win," she says. "I was amazed that this many people even wanted to be notified about it."
When building out her Google Sheets curriculum, she went to Google's learning center to see what they outlined as different steps within learning the application. "I started to group these steps into modules, and built out workbooks about what I would teach in each lesson," she explains.
She credits Descript as a helpful tool in editing her course videos; it helped her to create voice overs and text layovers. "It's an awesome tool that makes video editing way easier. I feel much less intimidated making videos now," she says. 
My course on Thinkific is where the sweet spot is going to be in terms of creating a sustainable business.Suzana Somers
Listening to her audience
Before the course was ready, she asked her audience questions to learn what people needed help with. "I talked about my course explicitly, as well as asked my audience questions about their skill level with Excel and what frustrated them about using it. Not only did this help people get excited about me creating a course, it also helped to give me feedback on how to market it and what words to use when launching the course," she explains.
She had 10 people test the course prior to launching it to gain feedback and make changes before putting the course out to her audience. To make this process as easy as possible for her beta testers, she asked them to email her their thoughts as they watched the course. In hindsight, she says she should have determined a better way for collecting feedback; with 10 people going through nine modules and emailing her their thoughts in random bursts, it was time-consuming to sift through. "Next time, I'd probably create a Google Form in which beta testers can input their feedback," she says.
Once Somers had completed building her course, she posted two posts about it on her Instagram feed and talked about it on her Instagram stories.
Creating compelling content
When growing her business and selling her course, Somers says that her only PR strategy is to  create compelling content. "I've been totally self-taught in this whole process. I don't know anything about Facebook marketing or advertising. I see now that there's entire departments that do this for business," she says. 
Somers says that the only time she strategically targeted a post was in 2020; she reviewed which podcasts were created by past contestants of The Bachelor, and which ones were more successful. "That created a ton of hype amongst the podcasters who talked about it," she says. 
Making sure that every piece of content tells a story is key, according to Somers. "I feel like storytelling is the one thing that we can't get rid of in humans," she explains. "For me, it's always important to ask what story you're trying to tell when creating content."
"Ironically, I didn't do a good job at telling a story on my website," she continues. "I can tell a great story through data visualization, but when it comes to marketing, I have a lot of work to do. I thought about hiring a copywriter, but I figured I have to learn how to tell a good story and design a website if I want to succeed in the long run."
While compelling content that tells a story has been a huge factor in Somers' success, the biggest thing that Somers credits her business growth to is her niche. "I've created a niche that hasn't been done before. Anybody can teach Excel and data visualization, but if you can make it interesting rather than a boring class, it's a win-win," she adds.
Customer journey
Prior to launching her online course, Somers says that her customer journey was to guide people to her Patreon account for bonus content. However, she still plans on keeping her Patreon going while her course is for sale as she says it's been a great revenue stream. "My plan is to keep offering bonus content through Patreon and teach people about Excel and Google sheets through livestreams there. I'm hoping to convert my Patreon subscribers to buy my course because they're already paying me for content."
Somers feels that her Thinkific course is where the sweet spot is going to be in terms of creating a sustainable business. "I'm hoping to go into the evergreen webinars sphere to try to convert my new followers to become course purchasers."
One of her goals with Bachelor Data is to instill the idea that women are fully capable of using spreadsheets and telling powerful stories with data. "There's somebody who signed up for my course recently who's a social worker. She got by in life not knowing how to use spreadsheets, but now she works at a startup and needs to know how to use Excel because she works for a brand that helps to prevent suicides using technology. I want to create a way for people to have fun with data and learn it in a non-stressful way."
Why creators must overcome perfectionism
While Somers could have been held back by imposter syndrome — which is defined as doubting your abilities and feeling like a fraud — she decided to keep taking steps forward and not get caught in the trap that is perfectionism. "I think the biggest thing I've learned — and that I hope people are learning from me — is to just put stuff out there. I tried hard not to get caught up in all the details around my course because if I go back and watch all of the videos in my courses, I'm going to nit pick and want to re-record the whole thing. I'll get stuck in this perfectionism loop rather than just getting out there and getting feedback that helps me learn," she explains.
"Now that my course is out there, I'm getting so much from the community," she continues. "I made a private Facebook group for us to chat about spreadsheets and troubleshoot stuff. Getting stuff out there quickly helps you to get feedback and grow."
Perhaps the most empowering part of Somers' business journey is that not only is she self-taught, she's honest with her audience that she's not a formally trained data scientist. Aspiring course creators can learn that when they don't overthink things and instead follow their curiosities, they'll find an audience that resonates with them.
---
Feeling inspired? Check out more Thinkific Creator Stories!