Wondering what's the best way to make money on YouTube?
You're not alone. 
Monetizing your channel takes more than simply uploading videos and growing an audience. You need a strategy to leverage your network in a way that builds a sustainable and profitable business.
Many YouTubepreneurs are turning to online courses as a key way to monetize their channels, recognizing the distinct advantages they provide over traditional ad revenues. 
To help you learn how to use courses with your channel, we sat down with Ben Czegeney from the popular adventure travel YouTube channel, High on Life. 
Ben is the Creative & Brand Manager on the team, helping create and distribute inspiring lifestyle travel content. With over 620,000 YouTube subscribers, and 1.1 million followers on Instagram, the team has successfully built an engaged following in their niche. 
High on Life offers two online courses. Each generated over $100,000 within four days of launching. 
Want to know how they did it? Check out his story below.
Watch the video below to learn how High on Life uses online courses to monetize their YouTube using online courses, and strategies for building and launching your first course:
Monetizing YouTube: Why Online Courses Are A Good Option
Using online courses to monetize your YouTube is a good method for a few reasons. They provide distinct advantages where other on-platform methods fall short. 

A few common ways to make money on YouTube are: 
Advertising revenue

– earn revenue using AdSense to run on your videos

Offer a channel membership

– offer exclusive content through

Sell off-platform products

– this could be physical or information products, like online courses.

Brand deals and sponsorships

– work with brands to earn revenue from branded content placements

Affiliate marketing

– earn recurring revenue by recommending products or services
While each of these can serve as great ways to monetize your channel, each comes with a unique set of challenges.
For starters, in order to 'turn on' the monetization feature on your channel, you must first be accepted into YouTube's Partner Program. From there, you have a few different options to experiment with, like a few mentioned above. But each one comes with its own eligibility requirements, in addition to minimum view and subscriber accounts. 
On top of that, if your monetization strategy is solely through YouTube itself, you're at the whim of YouTube's changing policies and monetization criteria.
This leads directly into the advantages of selling online courses…
Benefits of Selling Online Courses
Through online courses, you hold the keys to the creation and distribution of your content. When coupled with an engaged YouTube audience and marketing engine, courses are a powerful source of increasing your income. 
Ben speaks to many of these benefits in his video above. Here are a few that the High on Life team has seen positively impact their own business:
Financial stability
With courses, you're able to achieve location independence in addition to passive income. If scaling your business operations is one of your goals, online courses can help make it happen. Courses make up a key chunk of High on Life's business income, making it possible for them to travel the world and create content for their channel.
Growing your client base through student enrollments
Beyond the financial benefits, courses help you rapidly expand your network and develop relationships. By engaging with your students, you'll meet people you otherwise wouldn't. Many of High on Life's students have gotten involved in their business in other ways, from joining the core team, to becoming consulting clients, and providing support as industry peers.
Connecting to the course creator community
As more content creators are choosing online courses, you'll be joining a thriving community of course creators. By plugging into this community through events and masterclasses, High on Life has seen their business elevated as a result. "Being a course creator has allowed us to connect with some of the world's most successful entrepreneurs who also offer online courses. Those connections have been invaluable," shares Ben.
Getting Started With Online Courses
High on Life offers two online courses. Their first course, IG Millions, teaches students how to go from 0 to 100K followers in 48 hours. Their second course, JetSetter Boss, teaches how to become a successful lifestyle travel influencer.
The team decided to create their first course after getting so many questions about how they were able to grow their Instagram following so quickly. Their audience wanted to know how to do the same.
Both of these courses saw six-figure launches within the first four days. 
Here are Ben's three essential steps to monetizing your channel through online courses:
Decide what you will teach

Create and launch your course 

Build community
To hear Ben walk through their entire strategy for validating their course topics, creating their content, and their method for launching their courses, watch the video above! For a summary of key points, keep on reading. 

Decide What You Will Teach
Before jumping into choosing a topic, how do you know if you're ready to create an online course?
High on Life asked themselves the same question at first.
When their audience first asked them how to become a travel blogger and grow their Instagram to one million followers, the High on Life team realized one thing: they weren't ready to teach it yet. 
Although they were seeing success in their own business, High on Life only wanted to offer courses once they were certain they had refined a unique methodology for transforming someone else's business for a similar result. 
So if you're thinking about making an online course, Ben encourages you to ask yourself: do you have the insights and tools to get your audience to their desired result? Is your audience going to get value from your content?
If the answer is yes, then you should definitely make an online course!
The first thing you need to do in choosing a topic is to ask your audience what they want to learn. Here are a couple of ways Ben suggests to validate your course topic:
1) Put up a poll
What do you get asked all the time? What does your audience always want to know about you?
If you don't know, ask them.
Create a poll using YouTube's community section, or use the poll options on Instagram to gather audience feedback. Ask your followers, if I made an online course, what would you want to learn form me?
2) Create a promo video
Another great way to test out topic ideas is by making a video to pique interest in a topic, and seeing how engaged people are.
For example, in launching IG Millions, High on Life created a series of 8 videos on their channel, demonstrating in real-time how to grow an Instagram from 0 – 100K followers in 48 hours.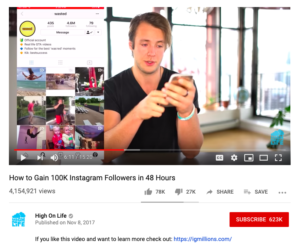 This video garnered significant views and comments, sparking ideas for how the team could refine their course topic. 
With this option, make sure you have a method for capturing email addresses. 
Analyze how many emails you get, and the comments and questions you receive on each video. That feedback should be the backbone for your online course.
High on Life's promo videos sparked a ton of questions from their audience on topics they wanted to learn. The team then made follow-up videos to these questions, capturing emails from any viewers who were interested in more in-depth training. 
The team finally took all the questions they received and put them all together to create their online course outline. 
Here's how you can apply this strategy to your own business:
Write down three questions you get asked all the time. 

Make a video about one of these. 

Evaluate the response you receive and determine what your audience wants to learn from you most.

Creating Your Online Course
Once High on Life had decided on a topic and had worked up a basic course outline from their audience research, they began to create the courses on Thinkific.  
Here are a few key elements that Ben recommends you keep in mind while creating your first online course: 
Split up your lessons into chapters to make them digestible 

Use quizzes to assess student progress, and identify any gaps you may have in your course content that need revision

Use assignments to engage with students. With Thinkific's assignments feature, students can upload completed work for you to review as the instructor

Use videos to welcome your students. Make sure you have great audio – this can make or break your student experience.
To hear all of Ben's tips for creating engaging online courses, watch the video above!
Selling Your Online Course On YouTube 
So how did High on Life launch their course so successfully, and earn 6 figures within four days from each launch? 
Here are Ben's top tips for doing a six-figure online course launch: 
1 . Collect emails
If you have a YouTube channel and you're not already doing this, start now.
Having an email list of your engaged followers enable you to build rapport and market to them over the long term. Not only that, it minimizes your risk as an entrepreneur. 
Because if YouTube goes down for a day, changes its policies, or heaven forbid, revokes your account for whatever reason, you'll be left with no way to communicate with your audience, much less monetize it. 
Building your email list is the cornerstone of a successful launch. 
Prior to launching their first course, High on Life collected over 20,000 emails, which translated into 100K in a matter of days.
On each of their promo videos, they provided interested subscribers an opportunity to opt-in and learn more. If you have a sizeable following on YouTube, you too can start building an email list of your most engaged subscribers. 
To hear the rest of Ben's strategies for selling your online course on YouTube, watch the video above!
Connect with Ben and and High on Life at www.highonlife.ca and on their YouTube channel.