Ashley Warren fell in love with stories when she was a little girl. Whether she was submitting fictional tales to her local library competition or writing articles for her school newspaper, she knew that she wanted to be a storyteller in some capacity.
She carried this dream of hers into college where she studied English literature, and even into grad school, where she completed a master's degree in literary studies. Throughout her educational journey and into her professional writing career, Ashley discovered that she valued the intersection of writing and learning above all — she felt happiest and most at home as a "lifelong student".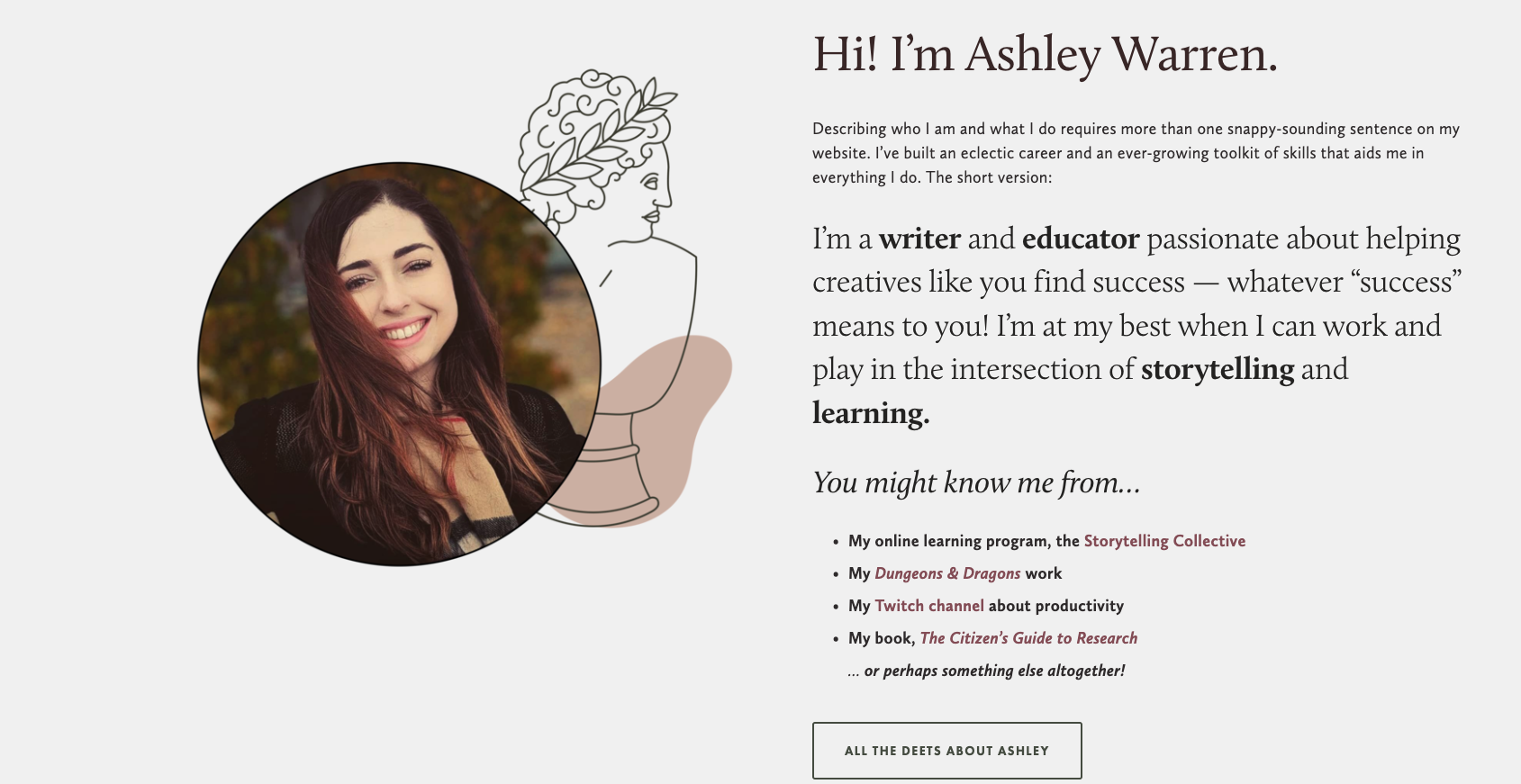 "In my heart, I always knew that I wanted to find my way back to that happy medium. I'm passionate about bringing learning opportunities outside of the traditional school environment because, especially for adults, there's no reason why we can't continue to be students and continue to grow," she says.
Ashley taught English at a community college for a while, where she helped her students fall in love with writing in an environment where they didn't necessarily have an initial passion for it. She didn't realize it at the time, but this experience laid the foundation for something far beyond her.
"I was able to learn so much about the creative process which gave me a strong foundation that I could eventually translate into online learning programs. Online learning is such a wonderful vessel — since I had a background in education, as well as a traditional and non-traditional approach to writing and learning, I could facilitate these types of opportunities online for a global audience."
This realization planted the seed for Storytelling Collective, an immersive online learning program designed for creatives. Yet it wasn't until Ashley started RPG (role-playing game) writing for Dungeons and Dragons that she discovered her powerful niche.
Since 2018, Ashley has welcomed over 12,000 students into the Storytelling Collective community — and her course demand keeps growing exponentially. Here's how she did it.
She embraced her hyper-unique niche
A few months into her personal Dungeons and Dragons (D&D) journey, Ashley realized that no structured RPG-writing program existed. By this point, she had started to build a substantial D&D audience, yet she longed to take her work to the next level.
Lot of folks were emailing me asking for tips like, 'How do you start and finish a project? How do you get your foot in the door? What is your advice for writers?' I started to understand that it seemed people needed resources in this niche area," she recalls.
Read more: How to Find Your Niche
"So I put together a mini email series — it was really informal, and it was solely based on my personal writing process. I put it out on Twitter and I was like, 'If anyone is curious to do a summer RPG-writing workshop, let me know."
Ashley was expecting a dozen people to sign up if she was lucky. But within a week, she had over 500 people requesting to register.
"That was the distinct moment where I was like, 'Oh my goodness, there's something here.' It was an exciting, inspiring, and motivating milestone. Everything started to click at that point," she says. 
"I realized that there was a demand for this, specifically in the Dungeons and Dragons community, because there's a lot of resources on teaching people how to run and play those games, but there's not a lot of information about writing and publishing those games."
Once she identified her gap in the market, Ashley didn't waste any time  — she signed up for Thinkific in 2018 and embarked on her online course journey.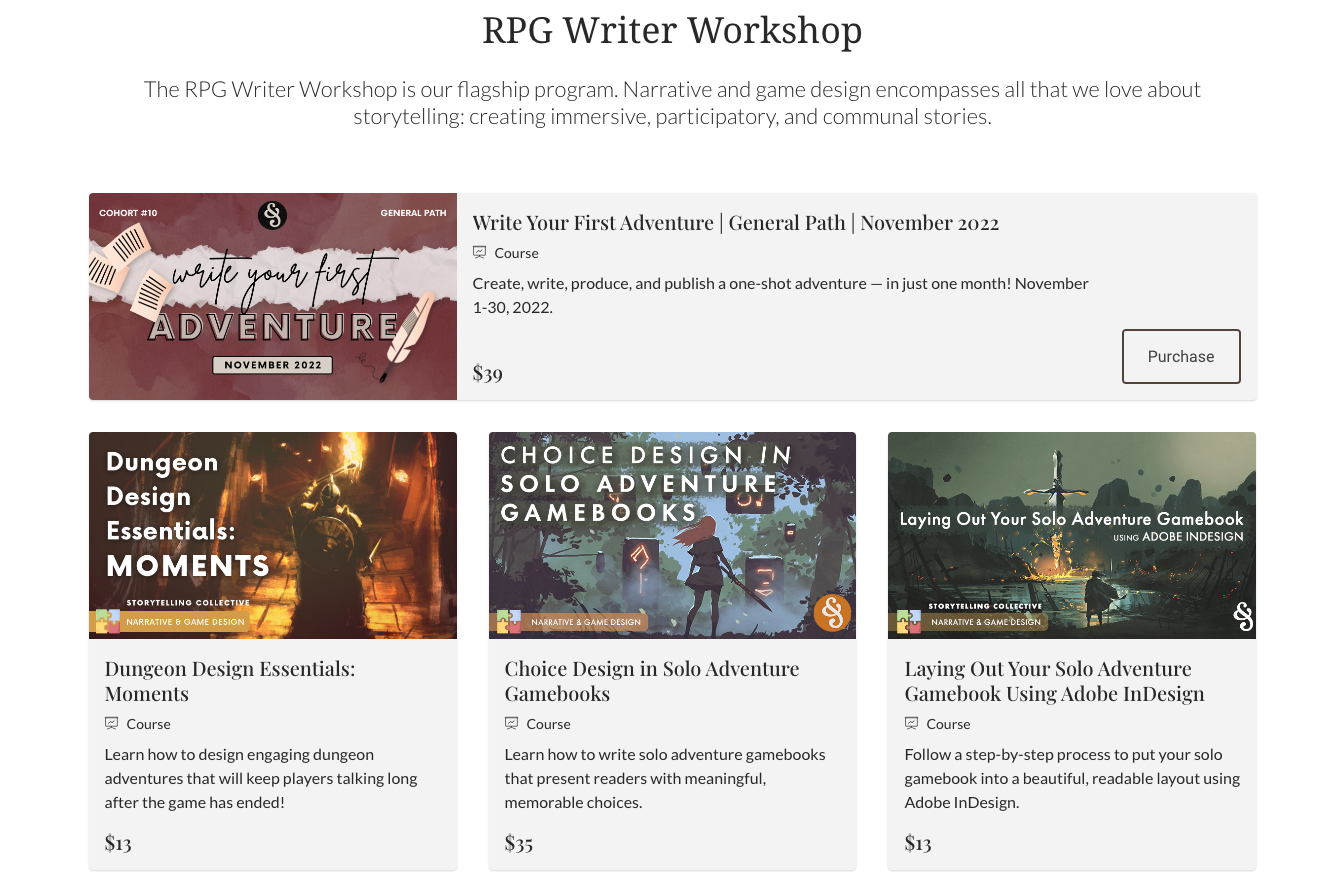 "My goal in signing up for Thinkific was to help my students find their own path to writing within the D&D community. There are endless paths to take — I don't necessarily think that one is greater than the other, and sometimes folks just need to know that there's someone rooting for them," she says.
"Right from the get-go, I was able to start putting together some structured workshops and email series through Thinkific, and that really kickstarted where we are today. Ultimately, taking that initial leap came down to wanting to teach on my own terms, and that's how Storytelling Collective was born," she says.
She remained an active member of her audience's community
When it came to the daunting process of building an organic and loyal audience, Ashley started in the place she knew best — her own community.
"I think the main thing that helped build my audience was the fact that I was really active in my target audience's community for several months before I started offering educational resources. I really established myself in that community as a creative who was supportive of other creators because it goes twofold when you're networking. It's not just about sharing your own work — it's about supporting other people in their work," she says.
"A lot of my initial organic growth is just because I had really invested my time, energy, and support into that community. And so by the time I was ready to share my online courses, there was already the start of an active audience."
Not only did Ashley's intentional approach to audience-building encourage organic growth, it also gave her the foundation that she built Storytelling Collective on.
Read more: How to Start a Community
"I've always wanted to provide an inclusive and supportive environment for writers. I've learned that writing can be a very isolating and solitary activity even when you're doing it in collaboration with others. It can feel lonely to be working on your own little project in your little silo," she explains.
"Storytelling Collective breaks down some of those barriers and provides writers with a global support network. We always say to our writers that we want to be their cheerleaders — they know that there's always someone who's rooting for them to finish and publish their project and to publish your project."
She translated her intentional and community-oriented approach into her marketing methods
Ashley's intentional approach didn't end there — it acted as a continual thread throughout her retention methods. In Storytelling Collective's early days, she relied heavily on word-of-mouth marketing which was encouraged by her active community presence.
"For all of my marketing methods, I believe it's not enough to drop in, share resources, and then bounce. You really have to be a good community creator and reciprocate that support with other people's programs and products," she says.
"During our initial roll-out, word-of-mouth was everything. We were very lucky with how successful it was, but I think it goes back to having been a member of that community for a while. I wasn't just some random person — I'd dropped in with resources, I'd collaborated with people before, and I'd been a part of some big projects. That's what made the marketing resonate."
After successfully soft launching various writing challenges, Ashley began to roll out her email marketing campaign. Her email list has grown steadily over the course of launching Storytelling Collective, primarily because she doesn't heavily emphasize the marketing elements. 
"Email marketing to me is something I believe really strongly in. I'm currently starting another email-based program, which consists entirely of free educational content because I want to have an email list that's not just purely about marketing," she explains.
"Even though the goal is to bring folks into Storytelling Collective's programs, I want to build an educational foundation that reflects the type of content that our students can expect from our community and programs. The free campaigns share gems of creative wisdom to help our target audience understand our approach to creativity and writing."
When it comes to social media promotion, Ashley is wary of solely relying on one tactic or platform. She sees email marketing as a more useful tool to build rapport and gain retention.
"Email marketing is powerful, especially with the changes that are happening in the world of social media right now. It's very turbulent, so it's tricky to rely on one preferred social media platform, because you never know when you're going to have to change everything. But when you have an email list, you can take your audience with you anywhere, and you always have a more direct pathway to them."
When she does employ more traditional promotional methods, Ashley reiterates the importance of testimonials. Similar to word-of-mouth marketing, she sees her students' personal experience as her main selling point.
"When you're trying to get someone to commit a month to your program, the best selling point is to share someone else's experience of how they found success after your course. I try to build off word of mouth by really leveraging testimonials and the experiences of my students — this is something that I can share across platforms," she explains.
"Overall, it's a multi-factor approach. I'm always shifting to determine where our audience is the most active. I've done a lot of market research to figure out where educational material is lacking in some of these storytelling communities and how I fill that need."
She utilized her content-marketing expertise to roll out a "long game" sales funnel
Outside of running Storytelling Collective, Ashley works as a full-time content strategist. Not only has her expertise unlocked new levels of growth within her audience, it has also given her the resources to hone in on her values within her retention techniques.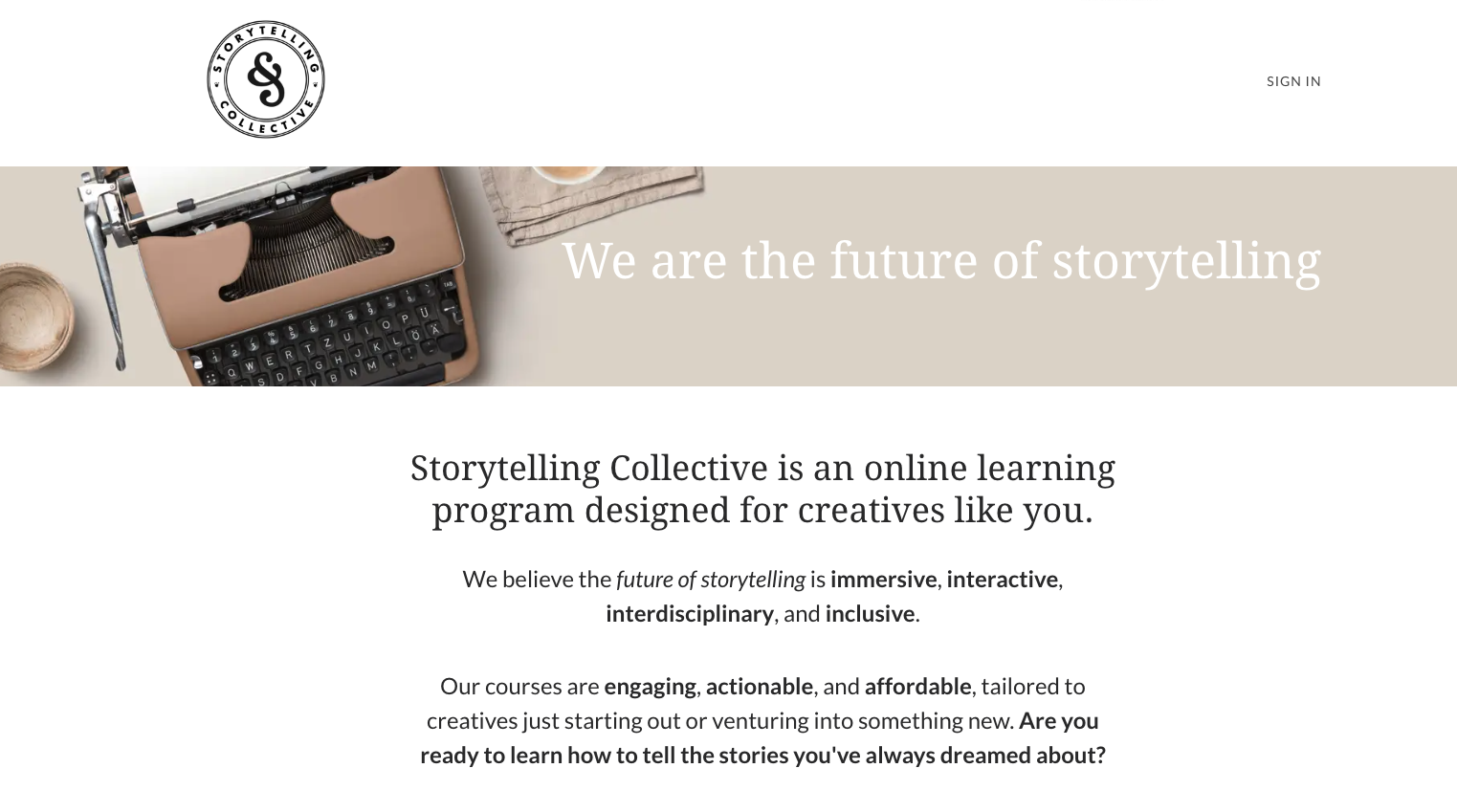 "Everything we do always comes back to a higher-level perspective on education. Through my experience, I've been able to play the long game with my audience. When someone signs up for our email list, they might not necessarily immediately convert to signing up for our program. But if I can have that constant touchpoint with them, I'm basically establishing rapport and perspective," she explains.
"Storytelling Collective has a very specific stance on creative productivity. We try to take an anti-hustle culture approach to creativity — we believe the work you create should be a healthy part of your life, not something that you're constantly grinding to do. Ultimately, we want people to embrace that stance when they're a part of our programs in our community."
Ashley explains that for some people, it takes a while to establish this approach with them. Yet the consistent touchpoints she rolls out through her email campaigns seamlessly share Storytelling Collective's values while also problem-solving with her audience.
"We always try to make a personalized problem-solving approach the focus of our marketing, for example, 'Here's how you can get to the finish line and actually publish a project. We keep that messaging going until it kind of finally clicks for someone and they're like, 'Okay, I'm ready to take the leap,'" she says.
Ashley believes that within any form of content marketing, it's crucial to know that the process isn't made up of immediate conversions — rather it's a process of sharing perspective and building rapport. In her experience, this long game approach is crucial to building a loyal, paying audience. 
"Immediate conversions through social media or paid ads do serve an important purpose in marketing, but my goal has always been retention. I want to grow our community and have those folks stay with us and return for more than one program —  not just enter our funnel and then immediately exit once they're done.
"I really try to think, 'What's my long-term campaign here?' Of course, my goal is to get someone to sign up for our programs, but the goal beyond that is to have them be a part of our community for the long term. We want them to start seeding their own creative process, finding success with that, and feel motivated and supported. Ultimately, taking our program is just one piece of that puzzle."
To take that mentality a step even further, Ashley believes prioritizing community-building over numbers is necessary through all stages of the sales funnel.
"It's really important to help people feel as though they're becoming a vital part of our community. Not only that, but knowing that there's real people on the other side of our campaigns. We're not some faceless corporate endeavor whatsoever — we're just a small team of people who really love what we do," she says.
"We do everything we can to help people see that that's who's on the other end. All we're really there to do is help our students actually meet their real goals. That is the crux of what we try to convey through all of our sales and marketing."
She used a project-based learning model to flesh out her actionable curriculum
Storytelling Collective's core offering started out as an email series that Ashley produced completely on her own — she was able to base her initial curriculum on her expertise both as an English teacher and a professional writer.
She shared her creative process with her growing audience through daily emails over the course of a month. Ashley now refers to this initial roll out as her "D&D short story adventure" where she shared her brainstorming process, outlined how she gathered inspiration through mood boards and playlists, and offered a feasible structure for completing a project in a month.
Through this successful initial launch, Ashley quickly learned that project-based learning was the key to fleshing out an actionable curriculum that would keep her students engaged from start to finish.
"All of my curriculum focuses on, 'Here's how to stay focused on your idea and actually see it through.' I'm a big believer in project based learning where my students can have a deliverable at the end of a program. I never think that there's a one-size-fits-all approach — it's more so a sample creative process that gives people a starting point," she explains.
To develop her flagship course even further, Ashley recruited eight other experts who she had met in the D&D community. These instructors drafted lessons based off her core structure — eventually, it formed a four-part program.
"The four-part structure of taking people through each step of the process, giving them guidance, templates, and feedback has really worked for us. We've had thousands of people publish their work at the end of the program. And again, by implementing that project-based learning model, all of our students come out at the end of the program with something very specific that they can add to their writing portfolio," she explains.
She adhered to a non-passive communication model to increase her course completion rates
On top of this successful learning model, Ashley implements a very intentional model of communication with her students throughout their educational journey.
"I strongly believe in doing regular check-ins to help my students stay on track and feel like they can reach that next goal. Checking in with word count milestones is also hugely effective — I provide really reasonable targets to shoot for because when you can break a big project down into small enough pieces, it's so much more doable and you're still making progress," she says.
"I also created a little writing accountability group where we see how everyone is doing, share feedback and ideas, and hype each other up because it's really motivating to know that someone is actively looking forward to reading your story. It's so important to help my students keep their eyes on the prize while giving them the tools to overcome any sort of creative obstacles that they run into."
Through her own experience as a writer, Ashley realizes that creative roadblocks are inevitable — yet, because of this, she's able to channel her methods of overcoming these roadblocks into an actionable toolkit for her students.
"I talk a lot about having your own toolkits to pull from when you feel stuck. I constantly try to remind my students, 'Here's some tools that you can add to your toolkit. They might not all work for you, but that's why it's a toolkit so that you can pull a bunch of different resources,'" she explains.
"Above all, I just want my students to know that I'm rooting for them and — I never want them to feel like I've abandoned them to their own creative process. Rather, I'm here for them every step of the way."
"Thinkific has brought that goal to life."
---
Want to read more creator stories? Sign up for the newsletter below, or check out more stories here.