As a content creator, the goal for all your activities on social media should be geared towards one thing: providing value for your audience. 
If you're looking to grow your YouTube channel but are not using livestreams as part of your strategy, you're missing out on a unique opportunity to connect with your audience. 
But what does it take to engage and sell to your audience through successful YouTube Lives? What if you don't have a large audience, is it even worth it?
We sat down with business coach Shalena Broaster to help answer this question. As an award-winning speaker and best selling author, Shalena coaches entrepreneurs how to invest in and grow their businesses. Her YouTube channel, shalenadiva, has over 50,000 subscribers where she shares content on how to succeed in business and life. Featured on The Dr. Oz show, Cosmo, and Fox News, she's received well-deserved recognition for her business savvy and ability to coach others. 
Shalena offers a handful of successful online courses on Thinkific, and has experienced first-hand the power of using YouTube Live to increase course sales. 
Watch the video below to learn how to sell your online courses using YouTube Live, even if you don't have a large following:
Getting Started With YouTube Live And Online Courses
Before Shalena built the successful business she has today, her life looked very different. In 2012, she decided to leave a toxic relationship and left everything behind, including her home. This pivotal decision led her to be homeless for two years. 
In looking for ways to create a sustainable income for her family, Shalena found online courses. She attributes much of her present business success to online courses helping her get back on her feet. 
"Hopefully my story shows that anyone can succeed in business, the power of starting an online business and how it can change your life around," she shares.
So how does Shalena use YouTube livestreams to sell online courses?
To demonstrate her strategy, Shalena shared the evolution of her online course marketing strategy. 
Initially, Shalena's primary method of selling her courses was through an in-person workshop she taught. After teaching each class, Shalena saw an increase in the followers on her YouTube channel, on her email list, and ultimately a spike in course sales.
When she followed up with paying students in her course, Shalena found that most of her students found her from YouTube, and had attended a YouTube Live before purchasing.  
"Each time I went live, students were buying my courses. One time I went live for about 90 minutes, and three people purchased courses that were valued at $197. When I did the math and crunched the numbers, at the end of 90 days I realized that I earned $7,500 from going live on YouTube." 
With an average of only 1,000 views on her videos, she was able to generate consistent course sales as a direct result of her livestreams.
Adamant that you don't need a large following to monetize your YouTube, Shalena shares her tips below on how conduct profitable livestreams, every time.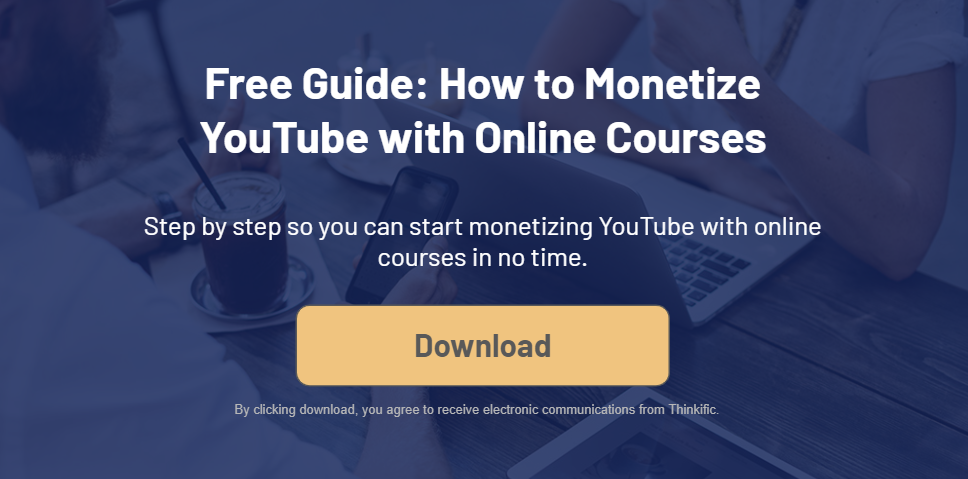 How To Host A Successful YouTube Livestream
Here are Shalena's four tips for hosting a successful YouTube livestream. Your livestreams should accomplish for main things: 
They should support your business efforts

They should sell your product 

They should position you as an expert 

They should grow your brand and your impact
In other words, you should be creating lives that are supporting whatever your sales goals are. 

If you have an online course teaching people how to write books, then your YouTube Live should directly support that business effort. The topic of your livestream could be about teaching people how to write books, for example.
Another key element Shalena emphasizes is to make sure you are considering SEO in creating your content. Although you are creating a live experience, you want to approach it in a way that will allow you to benefit from search engine optimization when the livestream is complete. 
Here are some tips on how to make your videos have lasting impact through SEO:
Choose a topic that is related to your course offering. 

Research SEO-friendly keywords for your title and video descriptions. Make sure your keywords are ones your potential clients are looking for.  

Make sure to include the link to the course or the product that you are selling within the first 140 characters of your video description. 

Write two brief paragraphs about what the video is about, how it will help viewers to learn or what they will be able to do after watching the video. 
If you want to grow your other platforms, Facebook, Instagram, Pinterest, LinkedIn, be sure to add those platforms in there as well. Also plan to include attractive graphics on your video thumbnails – these play a big role in your video views.
To see a demonstration of how Shalena sets up and executes a livestream to sell her online course from beginning to end, watch the video above!
Promoting Your YouTube Live Event
Having a plan to promote your YouTube livestream before and after it takes place is important. 
YouTube favours older content, because it provides content to run ads against. You want to give YouTube every reason to promote your video in its suggested video list. 
So how can you make sure your livestream turns into a video that YouTube likes? 
Here are a few things you can do to drive traffic to your livestream, before you go live: 
Leverage all your social media.

Share your event link on your Instagram posts and stories, Facebook posts and stories, as well as YouTube stories (if you have at least 1,000 subscribers) to drive back to your live event. YouTube stories are great because unlike Facebook or Instagram where your stories only last for 24 hours, YouTube stories last for seven days. 

Encourage people to subscribe.

Make sure to remind people to subscribe to your channel so they'll receive a reminder when you are going live.

Use your community page on YouTube.

If you have at least 10,000 subscribers and have access to a community page, make sure to paste a link to your livestream event there. It's something many content creators tend to overlook for promoting their YouTube lives, but it's prime real estate. Here you can put polls in advance of your livestream to ask your audience questions like,

what do you want to learn more about? 
To see a demonstration of how Shalena uses her community page to promote her livestreams and get tips on what to say on camera, watch the video above!
Your Free Gift – Online Coaching Business Guide
As a gift to the YouTube Creator Summit attendees, Shalena is offering her guide, How to Start Your Online Coaching Biz to help fast-track your profitability as a coach. To grab your copy, watch the video above to get the link to the download page.
Connect with Shalena on YouTube and check out her online school Best Selling Year.
---
Want a roadmap to creating a successful online course? Download this free guide for a step-by-step process to create, market and sell your course.