Matthew Chapman was struggling to scale his online course teaching martial arts. He tried implementing a myriad of different options— writing blog posts, posting YouTube videos, running paid advertisements—all with little to no success.
So when Matthew read about TCommerce and the new integrated selling tools available with Thinkific—and in particular Order Bumps—he knew it was something he had to try… and it worked! Adding Order Bumps to the checkout page increased Matthew's revenue by 20-50% within the first month, accelerating his revenue and business growth.
"After setting up TCommerce, I went into my dashboard and set up my first Order Bump that same day. Within a couple of hours, I got my first Order Bump purchase. It just goes to show how easy it is!"
Read on to learn more about Matthew's business and his tips on using Order Bumps to help drive more sales from new and returning students.
Related: TCommerce: Less Time on Admin and Selling—More Time Teaching
Dwindling traffic and sales
Matthew Chapman has been a martial arts coach for more than eight years. After many years of teaching in-person, he wanted to find a hands-off approach for a more flexible schedule. He decided to pivot to online courses and has been using Thinkific for over three years. He now offers over 50 courses teaching different types of martial arts for all skill levels and has training for those who want to become a martial arts instructor.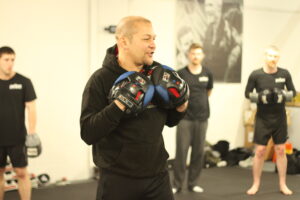 At first, Matthew's business, Mittmaster, didn't perform as well as expected. So, over the next year, he continued to learn about digital marketing, revised his selling strategies, and started to build a larger community of students. While he saw some success, Matthews' challenge remained—it took a long time to find and acquire new customers, and many of those students were not repeat buyers.

But when Matthew implemented Order Bumps three months ago, his sales started to steadily grow. Even though it was still challenging to find new students, once they came to his website, students were now buying more courses and converting to lifelong learners.
Growing Mittmaster with Order Bumps

Matthew has over 50 courses on his site, yet most students just purchase the one course they want without looking through all the offerings. Order Bumps make it possible to suggest complementary products for purchase on the checkout page, increasing exposure to the course library and providing a more personalized shopping experience. For example, if a student is buying Mittmaster's Beginner's Boxing course, he could suggest they add on Boxing Intermediate Drills course as well.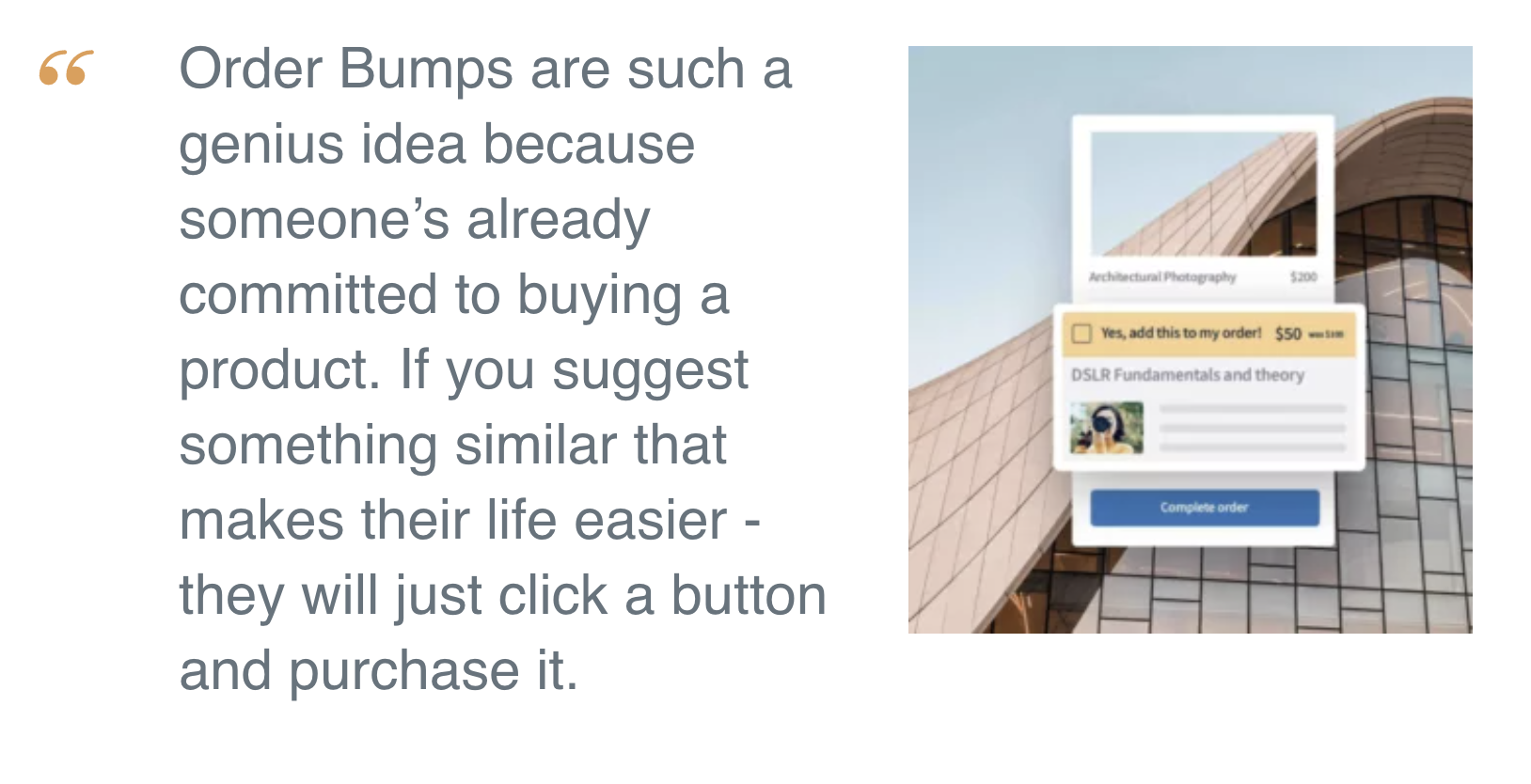 By suggesting complementary courses on the checkout page, Matthew is providing more value to the student's learning experience and is earning more from each student. He is also able to pivot his effort from just acquisition to retention, building a more sustainable business model with a community of lifelong learners.
Matthew explains that Order Bumps also reduce admin work, "It's not possible to create so many different bundles, which is time-consuming and the overwhelming amount of course options might turn students away. Order Bumps are the easiest way for me to pair complementary courses together."
Order Bumps are a perfect fit for Matthew's business because multiple courses on his site serve students with the same interest. He can suggest similar products to the main course a student is already buying.
Related: 6 Different Order Bump Examples To Get You Started
Success with Order Bumps

After implementing Order Bumps, Matthew saw immense growth in his business. The average dollar spent on each order increased significantly, and his revenue increased by an average of 20-50%.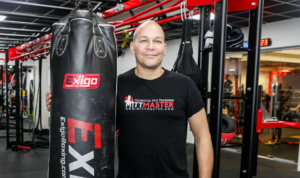 Aside from his business growth, he improved the learning experience for his students. Many of Matthew's students discovered courses and topics they wouldn't have otherwise seen, like Muay Thai courses and self-defence practices, which deepened their interest in martial arts.

With the additional income, Matthew can reinvest into his business. The majority of his spending is on marketing strategies, for instance running Facebook ads, hiring copywriters to write blog posts, and collaborating with digital marketing agencies. All with the purpose of increasing website traffic, reaching more prospects, and converting visitors into students that sign up for his courses.
Mittmaster's tips for Creators
"The key to a successful Order Bump is to make a logical link between courses. What would the student need next after taking this course? Then you know what to suggest to them."
How Matthew is using Order Bumps for his business:
If a student is buying the Beginner's Kickboxing course, suggest the Intermediate Kickboxing course as an Order Bump at a discounted price
If a student is buying Muay Thai Instructor's course, suggest Muay Thai Coaching Syllabus as an Order Bump at 50% off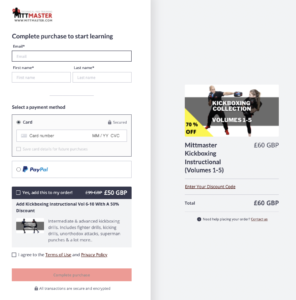 Matthew has additional tips for Creators that want to start using Order Bumps:
Be Strategic. When suggesting an Order Bump, think about the next logical step a student would take once they finish the primary course. Make sure the Order Bump product complements the primary course. To better understand how your courses are linked, list out all your products and then work out how they interrelate with one another.
Keep Experimenting. The first Order Bump you create might not perform well. Keep on testing different aspects of Order Bumps to see what works the best for you. Test the price, different combinations of products, and the Order Bump description. Be patient and you will eventually find one that converts.
Use Discounts & Price Strategically. Offering your Order Bump product at a discounted price will generate an incentive for your students to buy on the spot. Also, the Order Bump product should be priced lower than the primary course, so students don't need too much time to consider and purchase right away.
Be Concise. There are just so many characters you can use in the Order Bump description. Be clear, concise, and straight to the point about your product. If the description is confusing, nobody will buy it!
Related: Tips For Crafting An Effective Order Bump
TCommerce includes even more integrated selling tools
Order Bumps are just one of the integrated selling tools offered to creators on TCommerce. You also get access to a faster checkout, wallet payments, administrative tools and more.
Interested in setting up TCommerce? The first step is migrating to Thinkific Payments, the integrated payment processor. Once you complete this first step you automatically have access to Order Bumps + the other selling and bookkeeping tools.
Already using TCommerce? Set up Order Bumps here, it only takes 5 minutes!
Related: TCommerce: Less Time on Admin and Selling—More Time Teaching