The secret to creating a growing online education business isn't in how you acquire new students, it's in how you facilitate a cohesive, branded student experience that attracts the right people and keeps them coming back for more. Since most of that experience comes after the checkout, paying attention to how you deliver your online courses to students is crucial.
Two of our main promises are that with Thinkific, you can easily build stellar student experiences AND you have total control over your business.
That's why this month, we've doubled-down on creating and updating features that will let you create and customize branded student experiences and give you more control over how students progress and complete your course — and there are more updates on the way!
Read below for a review of all new and upcoming student experience features from Thinkific:
Updated: the New & Improved Student Experience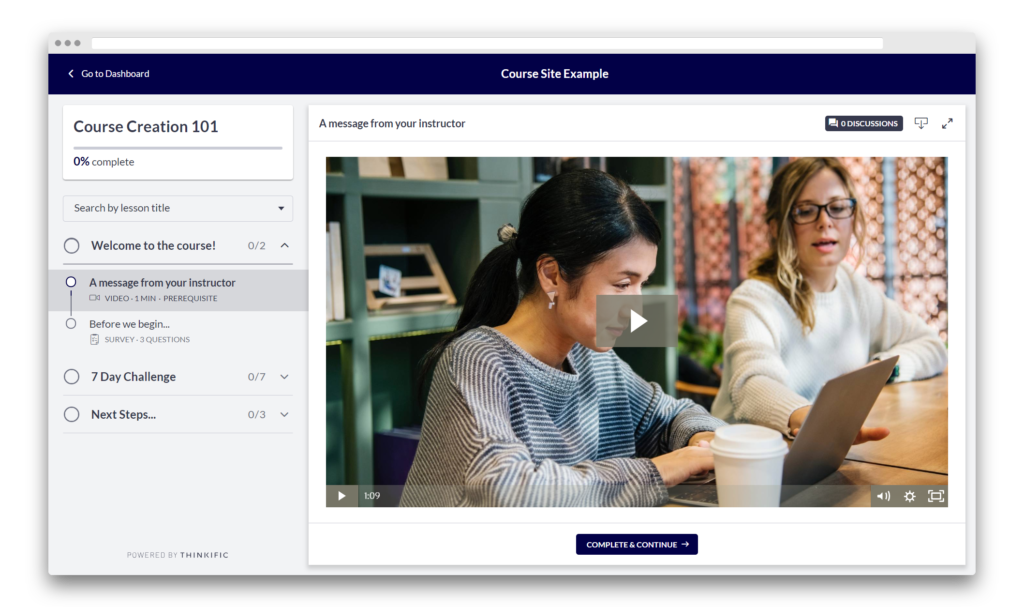 Most of the new and upcoming features mentioned in this article will require you to enable the New & Improved Student Experience — available now for all Thinkific course creators. This feature has been updated since release (more details below).

Customize Course Progress & Completion Settings
New: Video Completion Percentage Required
If you'd like to make sure your students are watching a specific amount of your video lessons before continuing on with the course, you can set a Video Completion Percent Required. This requirement is set on a course by course basis.
Pair Video Completion Percent Required with the following currently available course compliance features:
Quiz Grade Percent Required
If you'd like to make sure students have their knowledge assessed before they continue on with learning, you can set a Quiz Grade Percentage Required. Use this setting for Quiz Lessons to require a specific grade from students before they can complete your course. This option can be set per quiz in your course.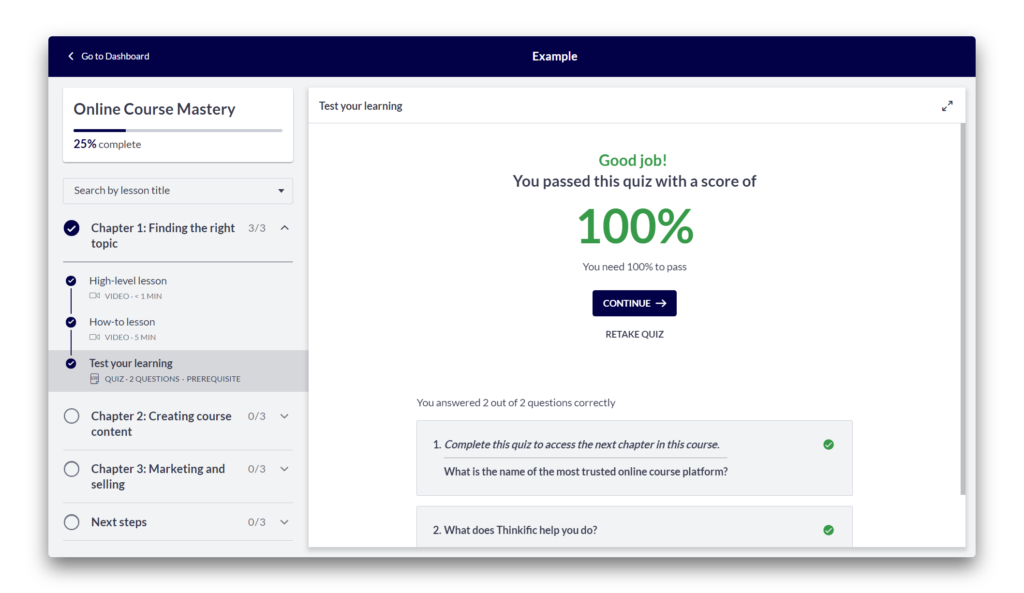 Prerequisite Lesson Completion Required
If you'd like to enforce the order of lessons & chapters your course is viewed in, you can use Prerequisite Lessons in Thinkific to stop students from jumping ahead. Setting a lesson in a chapter as a Prerequisite will require the student to complete that lesson before being able to access lessons in the next chapter.
Combine this setting with a Quiz Grade Percent Required to ensure students are proceeding in the intended order and achieving their learning goals.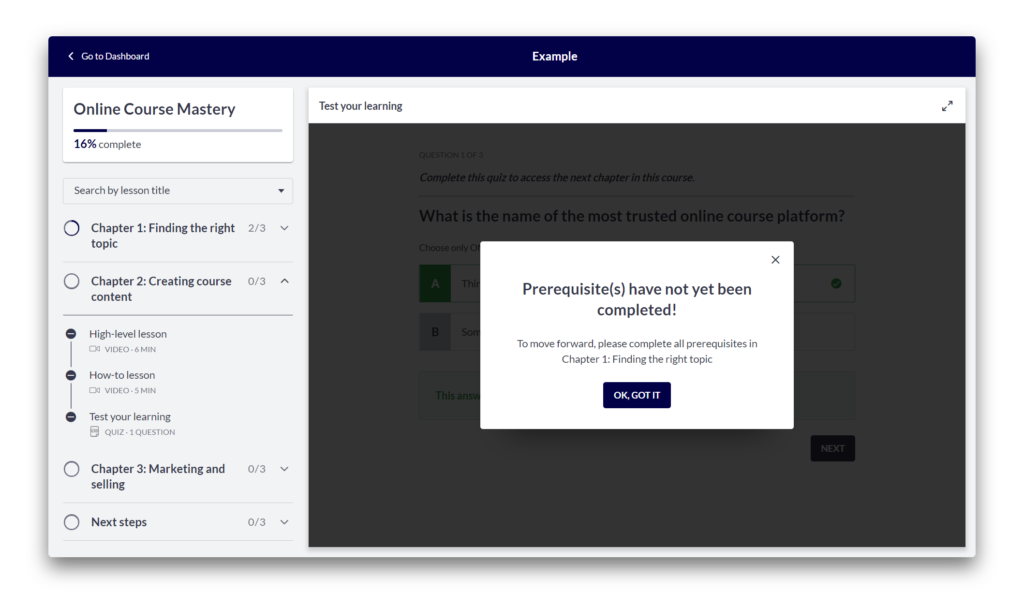 Get access to course compliance features
Sign up for Thinkific's Start or Grow plan and get started creating student experiences that meet the needs of our business.

Branding & Customizing Your Student Experience
New: Video Course Autoplay
You can now set your video lessons in your courses to autoplay with a short break between lessons. Creating an autoplay experience for video courses encourages students to continue with the content and should increase your course completion rates.
Combine this with a quiz lesson at the end of each chapter to create an engaging student experience.
New: On-lesson Discussions
Give your students a community experience with on-lesson discussions that enable students to interact with you and each other. On-lesson discussions appear in a sidebar on your lessons where you've enabled a discussion.
Create opportunities for social learning in your courses by prompting students with a discussion question in your lessons.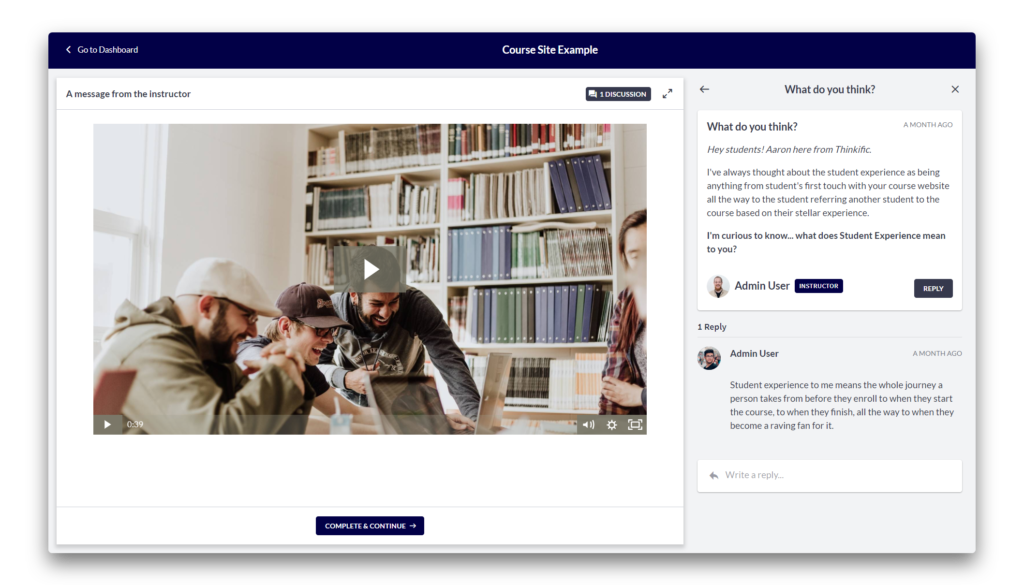 New: Discussion Moderation for Owners, Site Admins, and Course Admins
In addition to discussions happening at the lesson level, topics and replies are now easier to manage. With an updated instructor view in your dashboard, you can easily find, review, and respond to student discussions. Course admins can also reply to and moderate discussions in the courses they're permitted to manage.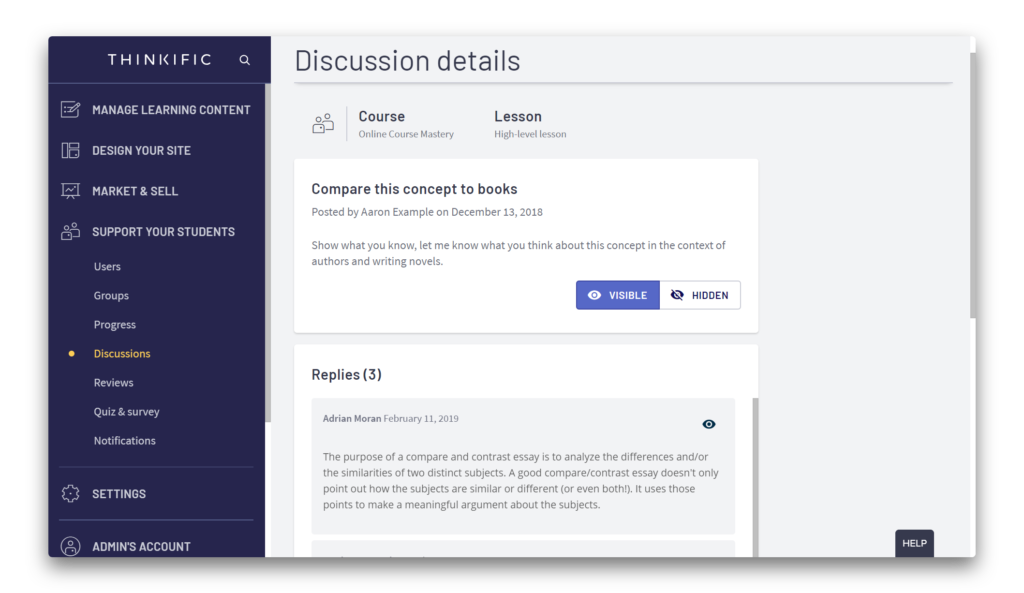 Now available: Custom Branding Per Course
If you have online courses with their own brands on the same Thinkific website, you can now apply unique appearance settings to each of your courses (color scheme, logo, font, and course player theme). This will help you create a cohesive experience from landing page to course player for new and returning students.
Learn more about this feature here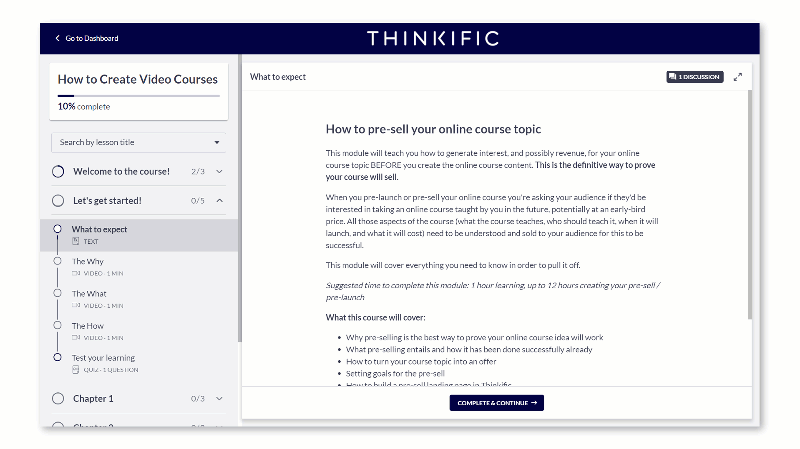 New: Free Preview Custom Messaging
When you want to include an opportunity for students to preview your lesson content for free, you can set lessons to be a part of the Free Preview for your online course. When students view the Free Preview they will register as a student user and view these lessons.
When a student completes the Free Preview, Thinkific will direct leads to purchase the course to unlock the rest of the content automatically. You can customize the messaging for Free Previews to better align it with your brand and offer.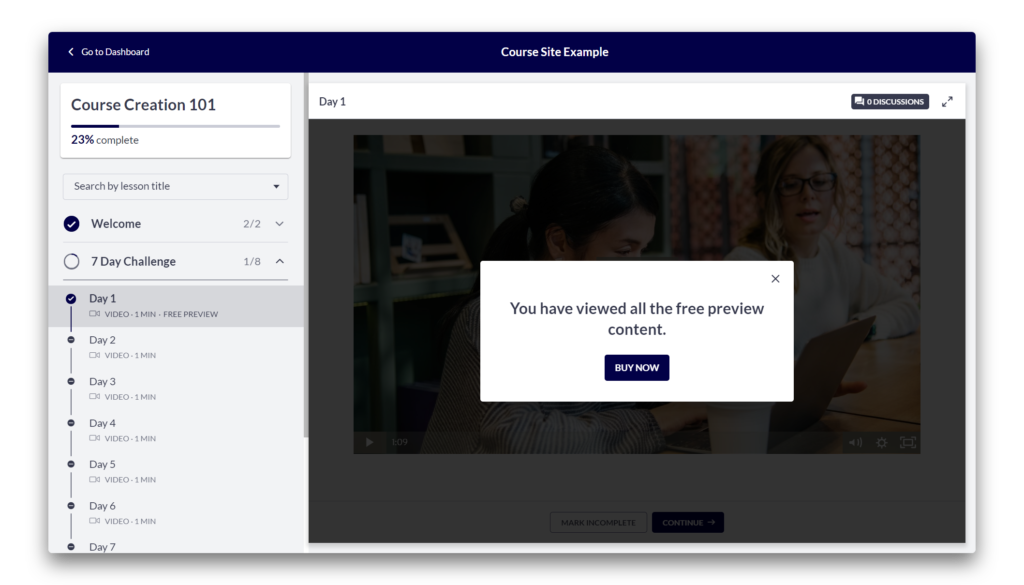 Recent Polish & Fixes
Updated: Remove Margins from Text Lessons
In our recently released New & Improved Student Experience, we heard from many course creators that lesson content width was too small for their student's liking. So we made some changes and started making use of more screen real-estate so your content can shine.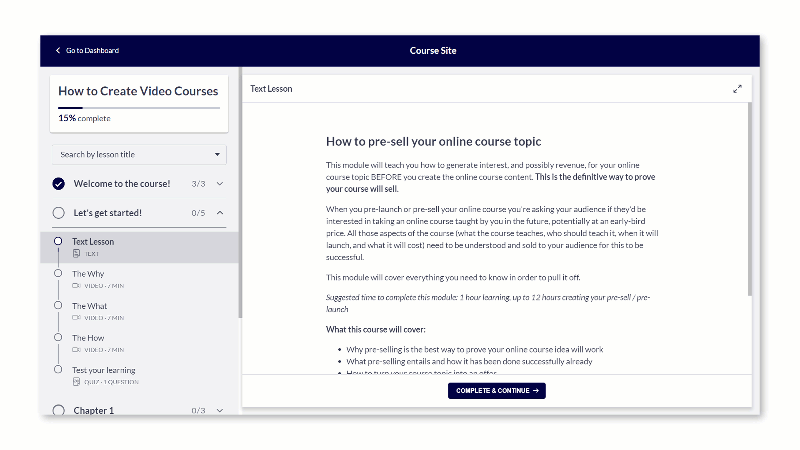 Viewed Lesson State
Thinkific tracks your student progress as they work through your online courses. This includes both lesson viewing and completion. As the course creator, you can see this in your Progress Reports.
In order to help students understand what lessons they've viewed already, but not completed, we've surfaced this tracking in the redesigned course player's table of contents.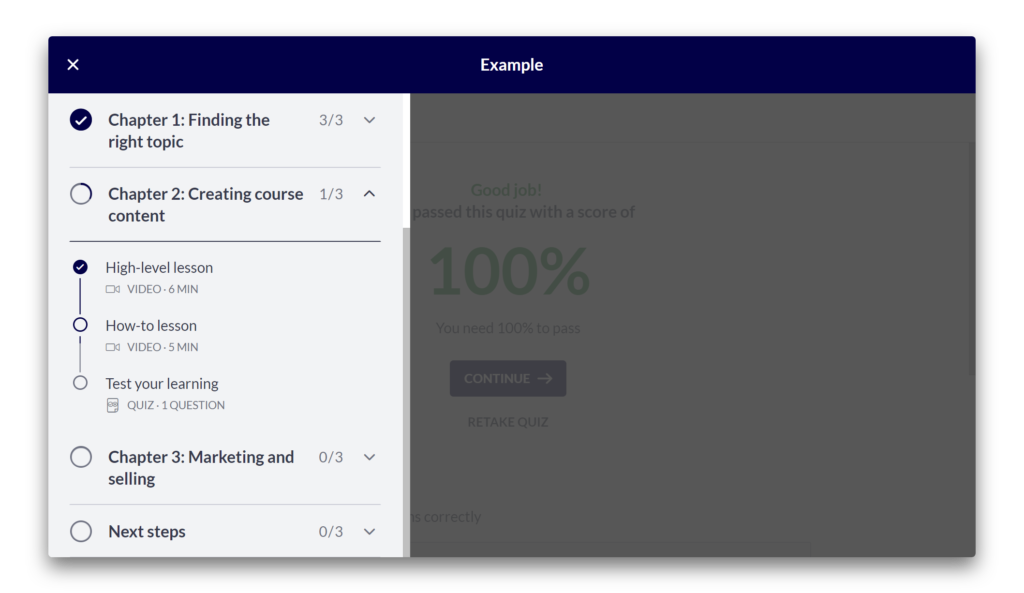 Start creating custom, branded online courses today
Sign up for Thinkific's Start or Grow plan and get started creating custom, branded student experiences for your customers.

Let us know how you're planning on using these new features to create your student experience in the comments below!