Whether you're an educator or digital marketer, you're likely looking for new and innovative ways to interact with your audience.
Online quizzes are great for this. Not only are quizzes fun to take, they can also help you assess your students' knowledge of a topic, build an online community, drive website traffic, and generate qualified leads. But creating and designing online quizzes manually is strenuous and time-consuming.
Thankfully, there are quite a number of online quiz tools that offer templates, features, and integrations that make the quiz creation process easier.
In this article, we'll discuss features to look for in a good online quiz maker, as well as the 10 best quiz tools in the market right now.
Let's dive in.

Features to Look Out for in Online Quiz Makers
There are different types of quiz makers, and some of them are better suited for a certain demographic (e.g. marketers, teachers, influencers, etc.) than others.
However, whether you want to have fun or to drive business growth, you should look for these key features in your quiz maker of choice.
Easy Sharing
With quizzes, you naturally want to get as many responses as possible. But this cannot happen if there's no way to promote your quiz. A good quiz maker should have built-in sharing options that will help you reach more people.
Saves Time
Coming up with the right questions to ask in a quiz is hard enough. You don't want a tool that will complicate things further. The right online quiz maker should have pre-existing templates or layouts that make it easier to set up your quiz. The tool should also have step-by-step guides on how to build quizzes, just in case you experience hitches.
Easy Data Analysis 
What good are the responses you get on your quiz if you can't use them?
A good quiz maker should make it easy to sort through the data you collect and identify key trends. There should also be an option to analyze or export data
Capture Lead Data
If you're a business owner or marketer, you likely want your quiz to capture leads–not just answers. When choosing a quiz maker, ensure that the tool has a built-in feature to collect lead data from respondents. Bonus points if the tool also integrates with your email service provider (ESP) or customer relationship management (CRM) tool.
10 Best Online Quiz Maker Tools
There are dozens of online quiz makers in the market today, and it can be difficult to know which one is best for your business. So we did the dirty work so you don't have to.
Below are the 10 best free and paid online quiz makers, skip ahead here:
---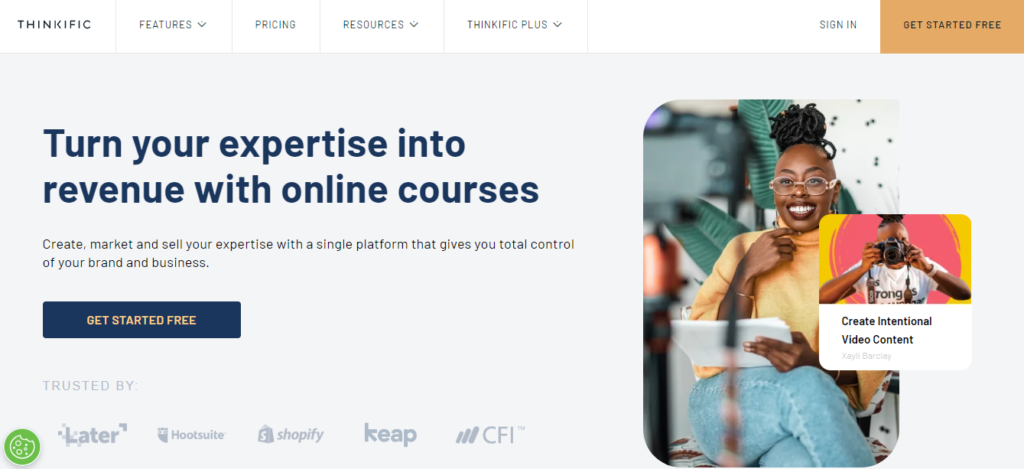 Best for: Small businesses, teachers
Thinkific is mainly known as a platform where teachers and entrepreneurs create online courses for their students and customers alike.
However, Thinkific users can also create quizzes to complement their online courses. This is especially good for teachers who want to test their students' knowledge after each lesson.
With Thinkific, users can create multiple-choice questions for their audience. If you want to, you can include several correct answers in a question. This tool offers a WYSIWYG text editor you can use to embed an image, insert audio or video files within the questions and answers themselves.
To help teachers further, Thinkific's quiz maker has a randomized question bank that generates a unique quiz for every student. Teachers can also set a passing grade requirement within quizzes to ensure that students actually understand the course.
Key features
Intuitive interface
WYSIWYG editor
Randomized question bank
Passing grade requirement
Add images, videos, and audio files to questions and answers
Third-party app integrations
GDPR-compliant
Pricing: Free forever plan. Start, $74/month; Grow, $149/month; Expand $299/month (billed annually); Thinkific Plus (Enterprise), custom pricing.
---
Launch your online learning product for free
Use Thinkific to create, market, and sell online courses, communities, and memberships — all from a single platform.

---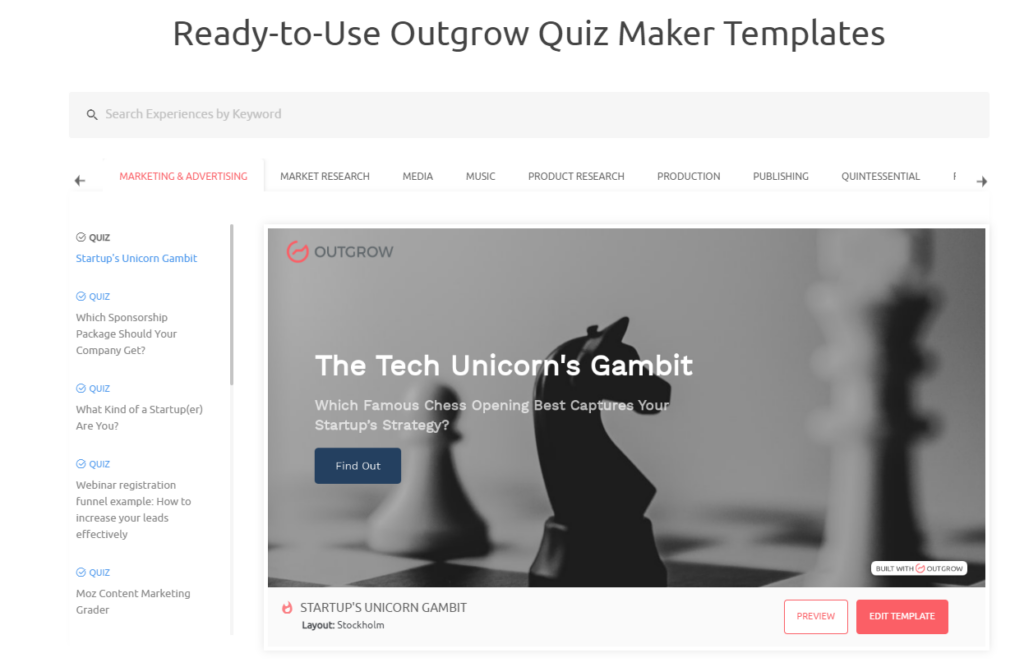 Best for: Content marketers, B2B, B2C, and eCommerce businesses
Outgrow is a tool that allows you to create interactive quizzes, tests, polls, giveaways, chatbots, and surveys, for acquiring leads and driving conversions.
This quiz maker has a user-friendly drag-and-drop builder that allows you to build quizzes from scratch, no design or coding experience required. If you don't want to build from scratch, you can choose from a selection of 1,000+ ready-made templates for different industries (including eCommerce, B2B, and B2C businesses).  You can customize the templates to match your personal brand, and also add conditional messaging and branching logic, depending on your goal.
When your quiz is ready, Outgrow allows you to embed it on your website in different ways, including email, sidebar, modal popups, full screen, chatbot, and floating rectangle.
Outgrow integrates with popular email marketing tools, such as MailChimp, AWeber, and ActiveCampaign. It also has powerful analytics that show you patterns in your quizzes so that you can make adjustments accordingly.
Key features of Outgrow
1,000+ pre-made templates and layouts
Powerful drag-and-drop builder
Multiple question formats, including text input, numeric slider, and opinion rating
Branching logic and conditional messaging
Built-in analytics
Custom branding
40+ third-party app integrations
GDPR compliant
Pricing: 7-day free trial. Freelancer Limited, $14/month; Freelancer, $25/month; Essentials, $95/month; Business, $600/month (billed annually)
Best for: WordPress users, social media managers, affiliate marketers, content creators
Thrive Quiz Builder is a user-friendly WordPress plugin that allows you to create visually appealing, conversion-focused quizzes. With Thrive Quiz Builder, you'll get advanced features, such as branching logic, opt-in pages, progress bars, A/B testing, and analytics to mention a few.
You'll be able to create 4 kinds of quizzes from 3 quiz templates based on your goals (e.g. generate traffic, grow your email list, increase your social engagement, etc.). These templates come with decent customization options and smooth animations. After creating your quiz, you'll be able to see a preview of what it would look like once it's live.
Thrive Quiz Builder offers dynamic content so you can show respondents different results based on their answers. You can also segment your email list based on the quiz results, and send targeted emails to respondents.
You can embed Thrive-made quizzes on your posts and web pages via shortcode.
Key features 
4 quiz types, including surveys
Drag-and-drop quiz builder
Multiple question formats, including text- and image-based questions
Badges for respondents to share on social media
List segmentation
Conditional logic
A/B testing
Dynamic content
Built-in reports and analytics
Third-party integrations
Pricing: Thrive Quiz Builder (standalone plugin), $97/year; Thrive Suite of Plugins (including Quiz Builder), $299/year
Best for: Teachers, website owners, content marketers
While Typeform is commonly known as a form tool, it also offers an intuitive quiz maker tool that helps people create online quizzes and surveys.
Typeform comes with several pre-made templates, including eCommerce lead generation and social media quizzes. All you need to do is pick a template and insert your multiple-choice questions. You can even spice up your questions with images, videos, and GIFs.
With Typeform's Piping feature, you can address quiz takers by their names. You can also use Logic Jump to create a quiz that responds to respondents' answers. For instance, if a quiz taker likes classic novels, they only see classic novel-related questions.
Typeform is especially great for teachers because it offers more functionality that engages students. For instance, a math teacher can include a calculator function during quizzes for their students. Teachers can also organize quiz questions into groups for students with different interests.
Note: Typeform offers one question at a time. Although the interface is attractive and responsive, this format can be time-consuming and even frustrating for quiz takers.
Key features 
400+ stunning templates
Multiple quiz types, with open-ended questions, and score-based quizzes available
Drag-and-drop quiz builder
Add text, images, and GIFs to quiz questions
Branching logic for personalization
Conditional logic
Track visitor behavior
Reports and analytics
Third-party marketing app integrations
Integrates with Google Analytics
GDPR compliant
Pricing: Free Forever plan. Basic, $25/month; Plus, $50/month; Business, $83/month (billed annually), custom plan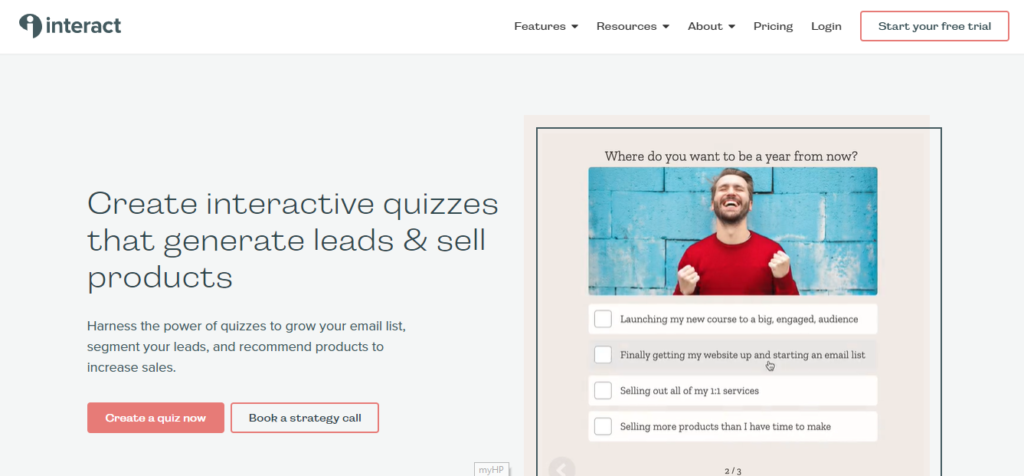 Best for: Marketers (all kinds)
If you want to drive traffic to your website, segment your audience, and generate leads, Interact is the quiz maker for you.
Interact offers 800 templates in over 40 categories to help you design Buzzfeed-style quizzes. You can use the drag-and-drop builder to add questions, images, and branching logic to customize your quiz. You can also match the quiz's design to your own branding.
Interact integrates with major email marketing and automation tools, so you can capture and segment leads based on their answers to your quiz questions. You can also direct respondents to different web pages (e.g. signup forms, blog posts, product pages, etc.) depending on their results.
Interact integrates with Facebook Pixels and Google Analytics so you can track conversions.
Key features 
3 quiz types and 800+ quiz templates
Drag-and-drop builder
Lead capture and audience segmentation
Multiple quiz formats
Branching logic and custom branding options
Built-in analytics
Third-party email marketing app integration
Google Analytics and Facebook Pixel integration
GDPR-compliant
Pricing: 14-day free trial. Lite, $17/month; Growth, $53/month; Pro, $125/month (billed annually)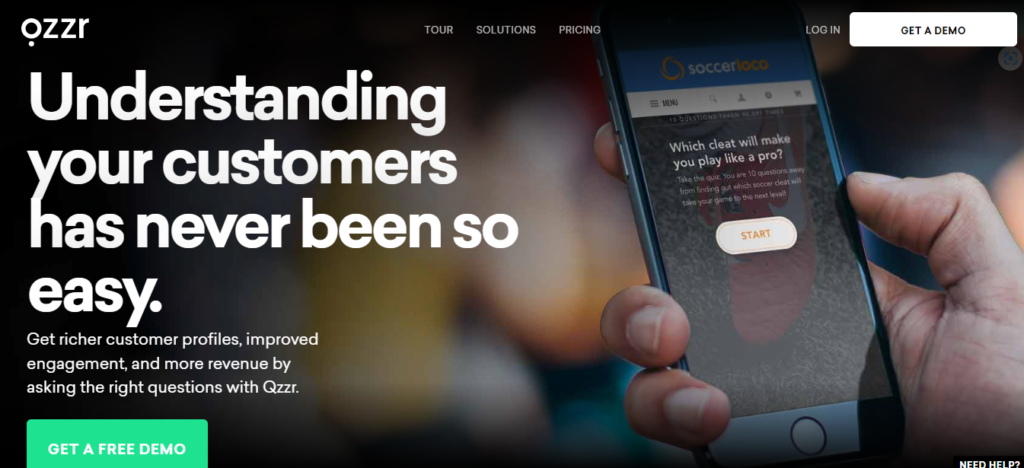 Best for: Inbound marketers, enterprise-level businesses
Qzzr was designed by marketers for the purpose of creating customizable quizzes that capture leads and generate revenue. This online quiz maker has a simple interface that lets you tweak colors, change fonts, and add images, videos, and GIFs to your quizzes.
With Qzzr, you can analyze responses to identify what your respondents care about. This way, you can personalize your messaging and offers based on their answers. For instance, if a respondent expressed interest in a product, you can prompt them to purchase it on the results page.
Qzzr offers a WordPress plugin and a shortcode for embedding.
Key features
Clean, user-friendly interface
Personalize results based on answers
Custom branding
Add images, GIFs, and videos to quiz
Conditional logic
Supports dozens of languages
Built-in reporting and analytics
Customize results page
Seamless marketing app integrations
Advanced segmentation capabilities
GDPR-compliant
Pricing: Basic, $16.67/month; Pro, custom pricing; Business, $10,000 (base price)

Best for: Small businesses and entrepreneurs
Riddle is an online quiz maker that allows you to collect lead data and engage your audience. This tool offers 15 quiz types to help you create score-based quizzes, personality tests, forms, surveys, etc. You'll also be able to customize the fonts, colors, layout, styles, and other elements in your quiz to match your branding.
Riddle allows you to add multiple content forms (text, images, videos, and MP3 files) and even a timer to your quizzes. You're also able to send your respondents to different landing/product pages based on their quiz results. Then, you can send qualified leads to your email marketing tool via Zapier or the native integration.
When you're done creating your quiz, use the WordPress plugin or the embed code to put in on your website.
Key features 
15 types of quizzes, polls, and surveys
Custom branding
Add images, audio clips, videos, and GIFs to questions
Quiz timer
Custom results pages
Built-in segmentation capabilities
Powerful analytics
In-quiz ads
Lead segmentation based on quiz answers
Track conversions with Facebook Pixel and Google Tag Manager
Marketing app integrations
GDPR-compliant
Pricing: 14-day free trial. Basic, $29/month; Pro, $49/month; Team, $240/month; Enterprise, $2499/month (billed annually)

Best for: Marketers and small businesses
LeadQuizzes is a quiz maker that helps you create online quizzes to learn more about your audience and capture leads. With this tool, you can create a quiz using one of the 75+ pre-made templates and its intuitive drag-and-drop builder.
LeadQuizzes offers various quiz types, including personality quizzes, multiple choice, trivia, and true/false quizzes. The branching logic lets you show specific questions or results based on respondents' answers. And the powerful analytics tools help you analyze individual responses, compare drop-off and completion rates, and learn about your audience.
One unique feature LeadQuizzes has is that it can host your quizzes on a different URL if you don't want to host them on your website. Cool, right?
Key features 
75+ quiz templates
Drag-and-drop quiz builder
Custom branding
Branching logic for personalization
Custom results pages
Lead generation features
Multiple question formats, including multiple choice, open-ended, and multiselect
Optional quiz URL
Reporting and analytics tools
Facebook Ads and Google Ads integration
Marketing app integrations
GDPR-compliant
Pricing: 14-day free trial. Lite, $37/month; Growth, $74/month, $186/month (billed annually)
Best for: B2B, B2C, and eCommerce businesses, small businesses, NGOs
Paperform makes it easy for users to create quizzes that are tailored to their audience and brand.
This tool has a variety of free quiz templates you can choose from. It also has an in-app editor that allows you to edit branded images, tweak fonts and colors, and import themes, videos, and GIFs.
With Paperform, you can add conditional logic that hides question blocks, and build a quiz that flows based on your respondents' answers. You can also send quiz results to your respondents' emails, and calculate quiz scores and variables for a more creative experience.
Paperform integrates with marketing apps and CRMs like ActiveCampaign, MailerLite, Zoho CRM, and Salesforce.
Key features
Hassle-free quiz creation process
Free-text interface
In-app quiz editor
Conditional logic
Real-time analytics
2000+ third-party app integrations
Pricing: 14-day free trial. Essentials, $20/month; Pro, $40/month; Agency, $135/month (billed annually)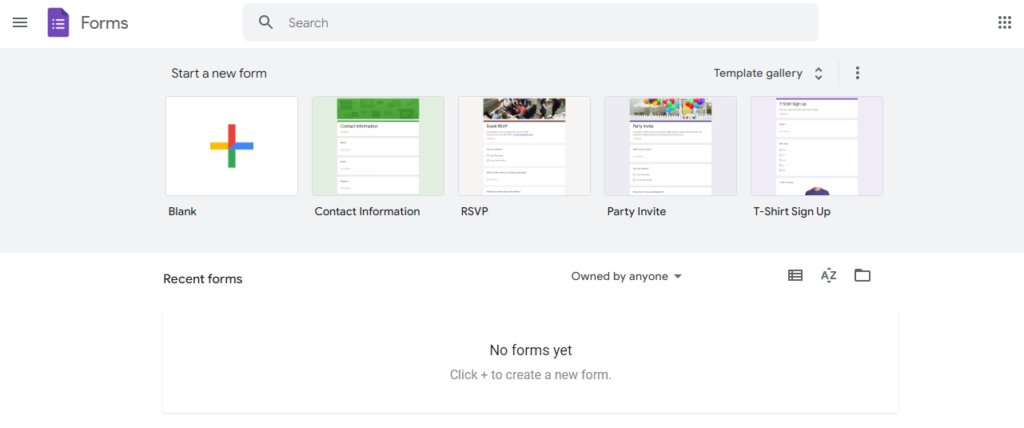 Best for: Small business owners and content creators
If you apply to jobs or participate in online surveys a lot, you've likely come across a Google form.
Apart from forms, you can also Google Forms to create basic online quizzes that capture customer data in just a few clicks. It's as easy as creating a Doc!
Because it's a free tool, Google Forms has basic functionality and the interface isn't flexible. But you can create checkbox, multiple choice, and dropdown quizzes with the tool. You can also choose different question types and reorder those questions with a simple drag-and-drop builder.
After inputting your questions and building your quiz framework, you can customize the fonts, color scheme, and add images.
When someone successfully completes your quiz, this tool will instantly provide you with a summary report of the person's responses, which saves you time for computation and evaluation.
Google Forms has a built-in analytics tool that allows you to track responses and analyze results in real-time. Since Google Forms is a part of G-Suite, you can export data right into Google Sheets for further analysis.
Google Forms doesn't have as much functionality as the rest of the tools on this list, but it gives a ton of value for its $0 price tag.
Key features
3 quiz types
Simple quiz building process
Instant results and data analysis
Integration with other Google products, including Docs and Sheets
Pricing: Free
Choose the Best Online Quiz Maker for your Needs
Each online quiz maker on this list has extensive features that can help you engage with and learn more about your audience.
However, there are some that are best for certain business models.
If you're a teacher who wants to give your student quizzes during an online class or pre-recorded course, Thinkific is the best quiz maker for you. If you're a content marketer or small business, LeadQuizzes, Interact, and Riddle are great options.
B2B, B2C, and eCommerce businesses will find Outgrow, Typeform, and Paperform useful for online quizzes. WordPress users will find Thrive Quiz Builder easy to use, and  enterprise-level businesses will love Qzzr.
But if you're just doing this for fun, Google Forms is your best bet.
---
Launch your online learning product for free
Use Thinkific to create, market, and sell online courses, communities, and memberships — all from a single platform.

---