How can we generate more revenue and increase sales? That's the question on every business leader's mind right now.
What can you do to ensure you reach your sales targets in 2022 when you have so many competing objectives?  A combination of inbound and outbound strategies is the answer.
But first, you must understand the key differences between inbound vs. outbound marketing. 
Both inbound and outbound strategies are critical for growth, but inbound marketing will help establish your business's thought leadership, while outbound marketing will quickly generate top-line revenue.
Getting the attention of B2B audiences is becoming increasingly complex, so you need a clear and effective lead generation strategy to succeed. Keep reading to learn how to use inbound and outbound marketing to generate more qualified leads for your business in less time.
Inbound vs. Outbound Marketing: What's the Difference?
Put simply, inbound marketing attracts interested customers, whereas outbound marketing proactively reaches out to prospective customers.
Inbound marketing: Let's say you have a question about outsourcing some web development work overseas. A Google search leads you to a page that offers a free download of The Complete Guide to Outsourcing Web Development Development Overseas. After it arrives in your inbox and you read more about outsourcing, you click a link to sign up for a free trial of an outsourcing platform, allowing you to put your knowledge into action. 

Outbound: Let's say you're a VP of marketing. You receive an email or LinkedIn message from a software sales rep asking if you're interested in a demo. While this email probably went to many marketing VPs, it's addressed to you, doesn't look like a mass marketing email, and has a link to schedule a meeting. You take immediate action and book a call to learn more about their software.
There are benefits and drawbacks to both inbound and outbound marketing strategies, but most businesses benefit from a blend of these two marketing strategies.
Key differences: Inbound vs. Outbound Marketing
Inbound Marketing
Outbound Marketing

Inbound relies on

educational and informative content

. You'll create content with a specific audience in mind to help solve consumers' problems.

Outbound marketing is more sales-oriented and has a more direct conversion goal. Whereas an inbound call to action (CTA) would be to 'learn more,' outbound uses 'sign up now' or 'schedule a call now.'

Content is produced in forms such as blogs, ebooks, social media posts, case studies, and webinars and is usually optimized for search.

Outbound marketing leverages podcast ads, trade show promotions, direct mailers, or digital display ads.

Reach and conversion rates are measured via marketing tools and software, dashboards, and analytics. 

Effective outbound ads typically lead to people signing up, buying, or booking a call yielding quicker results than long-term inbound strategies.
What Is Inbound Marketing?
The goal of inbound marketing is to attract customers to your products and services. Your potential customers begin their buying journeys by searching for information or products that fulfill a need and solve a problem. 
Google has more than 3.5 billion searches per day or 1.2 trillion searches per year and 58.4% of consumers buy products or services online every week. With an inbound marketing strategy, you'll use informational content to explain how your products or services will resolve their pain points, answer key questions in their niche industry, or satisfy their needs.
One key characteristic of inbound marketing is that although the content is mainly informational, it also weaves in your product comparisons,  testimonials, and customer stories. The top ways to generate inbound B2B leads include:
Email marketing
Even those who are interested in your products or services won't return to your website regularly. To keep them engaged you need to be collecting their email address and sending them valuable content straight to their inbox (e.g. newsletters, discounts, individual offers).
Content marketing
Content is a long-game lead-generation strategy. Blog posts, ebooks, white papers, how-to guides, and FAQs remain accessible on your website for years to come, allowing you to rank higher in search results for various keywords. In the short term, your potential customers see that you update your website regularly, which keeps them coming back to learn more.
Social media content 
Social media also works well for nurturing leads and turning them into customers by telling your compelling story over time. You can attract new customers with hashtags and viral posts. You can also nurture existing customers who follow you on social media to get updates about your company and your products.
Benefits of Inbound Marketing
Drawbacks of Inbound Marketing
Enables you to become a thought leader and build brand affinity

By providing valuable insights and education, even the smallest business can become a highly visible thought leader. 

Does not produce immediate revenue 

Content needs time and sustained effort to gain traffic and momentum. Inbound typically can't be counted on to produce immediate sales and revenue.

Compounding results continue to drive sales

.

A piece of content you create once (like an online course) can generate traffic and leads for years.  

Conversions require more effort and expertise

Increasing conversion rates and performance of inbound campaigns requires some marketing know-how. Most companies that invest in inbound have a dedicated marketing professional or agency responsible for A/B testing, tracking data, and improving overall campaign effectiveness. 

Can be more budget-friendly. 

Because inbound is a longer-term strategy, its strategies cost less to execute than tactics that produce immediate results like outbound. 

Requires a marketing tech stack. 

To execute and measure an inbound marketing strategy, you'll need tools such as customer relationship management software (CRM), marketing automation platform, a content management system (CMS), a social media scheduler, traffic analytics tools, and SEO tools

These tools are necessary to know whether your strategies are effective or if you're wasting your budget. 
B2B Inbound Marketing in Action:
Creating online courses is one of the most effective ways to generate leads for B2B companies. As professionals seek to improve their skill sets and learn new strategies, B2B companies can simplify their complex products, processes and services into easy-to-understand offerings that meet those needs.
For example, John Lee Dumas, founder of the award-winning podcast Entrepreneurs on Fire, used online courses to generate $50K for his business in two months. How? He built up his sales funnel using free and paid courses. As new students enrolled in his free course, he grew his pool of qualified leads. Then, he invited his students to explore other paid courses, such as Real Revenue, where John helps entrepreneurs turn their ideas into action and revenue.
What Is Outbound Marketing?
Outbound marketing efforts are every promotion you don't expect to get, such as display advertising, direct mail, event marketing, cold calls, podcast ads, and TV commercials. The most effective B2B outbound strategy is cold emailing potential customers with relevant messages that address their pain points. The end goal of a cold email is to book face-to-face meetings or calls. Tradeshows are also opportunities to arrange meetings. 
Benefits of Outbound Marketing
Drawbacks of Outbound Marketing
Delivers quicker feedback and results. 

Getting a response, booking a meeting, and eventually closing the deal is an accelerated process compared to inbound strategies. 

Can be viewed as an interruption and easily ignored

Whereas your prospects search for solutions to encounter your inbound marketing, outbound marketing finds them. You'll serve your ads and promotions to people browsing the internet, watching YouTube videos, and checking their inbox. These "interruptions" could be unwelcomed or seen as intrusive.

Requires less effort and preparation to execute. 

Outbound tends to be more straightforward, requiring less planning and executing. The results of outbound are also easier to measure compared to inbound marketing.

Costly. Requires more budget.

 

The cost of paid ads is increasing steadily. Also, whereas inbound can generate free organic traffic, outbound requires you to pay for visibility.

Can have higher conversion rates.

Outbound tends to have a more immediate and direct impact on your revenue, which is a win for every business leader.

Can be a turnoff to your audience 

Outbound approaches can evoke "used car salesman" vibes because they feel intrusive. To avoid negative associations, you should infuse as much humanity and empathy into your outbound ads and offers as possible. 
B2B Outbound Marketing in Action:
Outbound marketing can be done in a variety of ways using email. You can send newsletters regularly, share valuable content, and drip campaigns to nurture leads. Email is one of the most impactful ways to warm up cold leads and connect them with your sales team. The best way to scale these efforts is with marketing automation tools.
While B2B email marketing can take many forms, the main goal is to engage prospects and share value. The B2B buying process is longer and more complex, so providing education about your product or service is critical. 
Outbound email marketing allows you to consistently engage with your leads. Best of all, you can repurpose the content you're using for your inbound strategy to send emails that provide value to increase their chances of converting.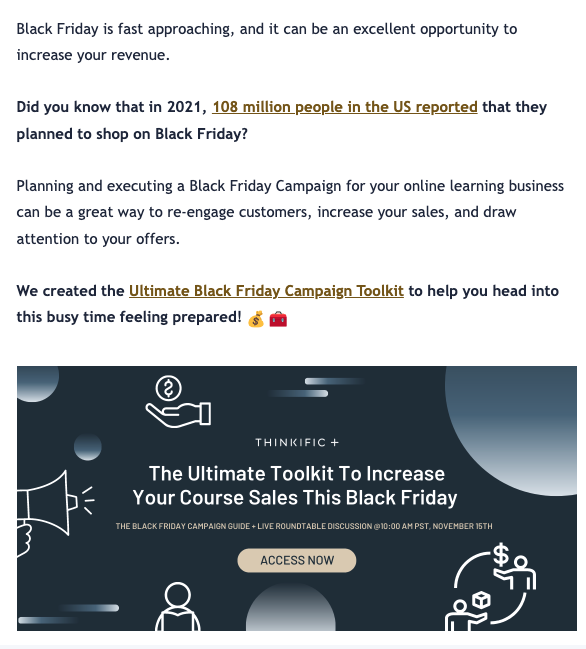 The Bottom Line on Growing Your Business With Inbound and Outbound Marketing
Inbound vs. Outbound Marketing: Which to choose? While both inbound and outbound marketing strategies have pros and cons, most businesses benefit from a combination of both.  Use blog posts, ebooks, and online courses to generate high-quality inbound leads as part of your inbound marketing strategy. With cold email marketing, your outbound marketing will be more sales-oriented and have a greater impact on sales and revenue. 
Looking to start generating consistent quality leads for your business? 
Thinkific Plus makes it easier to transform leads into brand advocates by offering high-value education at every stage of the customer journey. It's so simple to use, that you can focus on generating demand—not worrying about technology.
 Learn more about Thinkific Plus or book a call with our team to try it today.