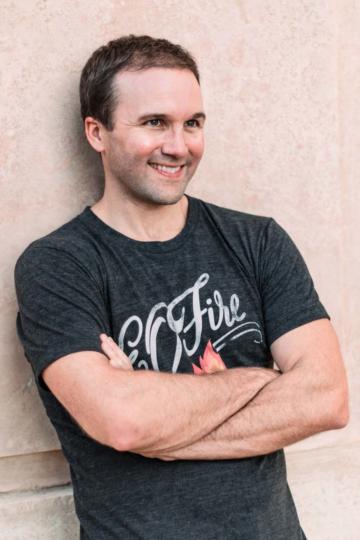 From Podcaster to online course creator
John Lee Dumas is the founder of Entrepreneurs on Fire, an award-winning podcast where he interviews inspiring entrepreneurs each week. Together with his partner Kate Erickson, they help entrepreneurs launch and grow their businesses through coaching and online courses.
John and Kate run a number of successful courses on Thinkific. Podcasters' Paradise, for example, hosts a community of 3,000 students dedicated to learning how to run a successful podcast. John and Kate also offer free courses to generate leads, like Your Big Idea.
Since launching online courses on Thinkific, John and Kate have generated thousands of leads and increased their monthly recurring revenue, enabling them to grow their business.
QUICK STATS
15,000
STUDENTS
5
COURSES
$1.5M+
COURSE REVENUE
"By teaching our audience how to scale and grow their business through online training, we've grown ours. We couldn't have done it without Thinkific."John Lee Dumas
Creating a free online course for lead generation
THE OPPORTUNITY
Since 2012, John and Kate have been creating and sharing content for entrepreneurs through podcasts, blogs, and online courses. 
In listening to their audience, the duo identified an opportunity to educate their community with a new online course: helping entrepreneurs identify which idea to go all in on. John and Kate planned to position this as a free course with the goal of generating leads as the first step in their sales funnel. But they needed a new course platform to make that happen. 
Before Thinkific, they were using a combination of emails, videos and website content to deliver their online training content. While this method worked in the past, they needed a platform that was easier to use, and provided a great student experience.
"If you don't have a way to grab your students' attention and give them what they're looking for really fast, they will find someone else who can."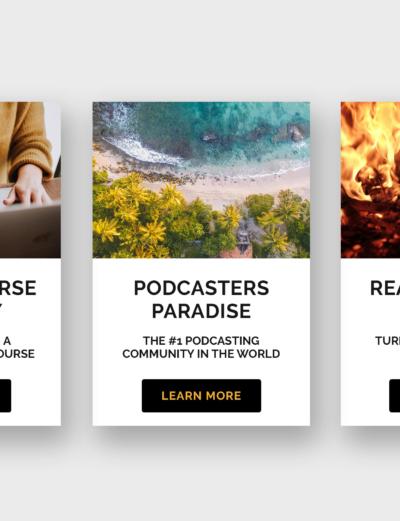 Choosing Thinkific to build an online course for lead generation
THINKIFIC AS THE SOLUTION
John and Kate had previously moved their podcasting membership, Podcasters' Paradise, onto the Thinkific platform and noticed a big difference in their ability to create great experiences for their students. Choosing Thinkific for their new online course was a no brainer.
After talking with Thinkific's support team, they knew exactly how to convert their existing training content into the best possible course outline and flow to reach their students.
In building their new course, Your Big Idea, John and Kate's used many of Thinkific's features designed for student success. Welcome videos engage students from the get-go, and text lessons help get key messages across. Using progress check-ins and surveys, John and Kate also get feedback from students, making updates to improve the course as needed.
As new students enroll in their free course, Your Big Idea, John and Kate increase their pool of qualified leads. These students are then invited to explore other paid courses, such as Real Revenue, where John and Kate help entrepreneurs turn their ideas into action, and revenue.
Reaching more students and revenue with online courses
BUILDING A SALES FUNNEL WITH THINKIFIC
Since launching their free course, Your Big Idea, along with five other courses on Thinkific, John and Kate have grown their email list by tens of thousands.
Within the first two weeks of launching their first free course, they generated over 1,000 qualified leads. As students moved onto their paid memberships and other course products, John and Kate earned over $50,000 in course revenue in two months. 
John and Kate continue to iterate on their course content, and marketing strategies to refine their sales funnel into a revenue-generating machine. 
"We call our course flow the Super Funnel. We continue to improve the content and funnel every day based on feedback from our community."John Lee Dumas
John's favourite Thinkific features
Transformative learning experiences
STUDENT EXPERIENCE
John and Kate's students enjoy an engaging and immersive learning experience on Thinkific. Students are highly engaged throughout the course, providing regular feedback on their learning progress and goals.
Members-only community
COMMUNITY
Entrepreneurs on Fire offers a monthly membership option on Thinkific, where they provide members with exclusive training content, access to the community of 3,000 podcasters, and Q&As with John and Kate. This enables the team to earn monthly recurring revenue, and expand their online community.
Easy content upload and edits
CONTENT MANAGEMENT
John and Kate create new videos and lessons regularly, easily updating their course content while on the go. Being responsive to the regular feedback provided by their students is important to building long term relationships with their students. They use Thinkific's drag and drop features to any restructure content as needed.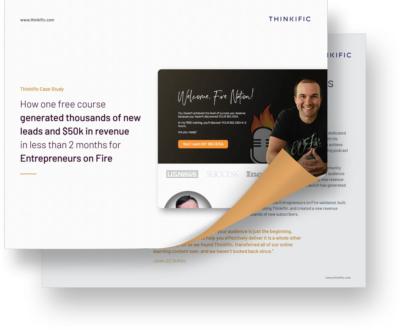 Download the case study for more details on John's story
Get John's step-by-step process for choosing a topic, outlining his online course, and using free and paid courses in his sales funnel.