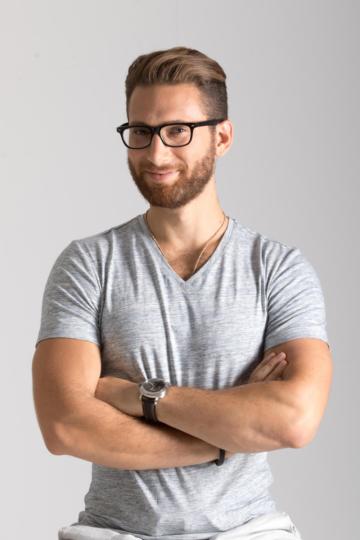 From serial entrepreneur to online course creator
Jonathan Levi is the Founder of SuperHuman Academy, where he teaches students how to improve their learning and memory skills.
Since launching his online courses on Thinkific in 2016, Jonathan has taught over 120,000. Through Thinkific, he offers 12 courses covering how to optimize productivity, lifestyle design, and personal finance for richer and happier lives.
In addition to being a successful course creator, Jonathan is a TEDx Speaker, award-winning podcast host. Between his books, podcasts and other media products, his team has worked with over 135,000 customers in 203 countries.
QUICK STATS
120,000
STUDENTS
12
COURSES
11K
YOUTUBE SUBSCRIBERS
"I got into online courses as a side thing. I took a growth hacking course, and saw how others had created an entire business selling online courses. Since I knew a lot about speed reading and learning, I decided to create my first course on that."Jonathan Levi
Moving from a course marketplace to Thinkific
HOW IT BEGAN:
Before courses, Jonathan was a serial entrepreneur, creating and investing in different online and tech businesses. In looking for new opportunities, he noticed more entrepreneurs creating and selling courses successfully. 
Realizing the potential of online courses as a business, he created his first course and uploaded it on a popular online course marketplace. 
While he experienced some great initial course sales and exposure from hosting his course on the online marketplace, its limitations became quickly apparent. The platform controlled both the price of his course, and the branding of his content. Flash sales would often see more than 50% of his profits going to the platform. 
With the goal of building a profitable and scalable business, Jonathan decided to create premium online courses hosted on his own website.
"It started to grind on me, that when someone pays $10 for a course, the marketplace takes $5-7.50 of that. With Thinkific, we far outpace our marketplace sales, and have more control over our pricing and branding."
Choosing Thinkific to run his online learning empire
THINKIFIC AS THE SOLUTION
Creating a premium course spurred Jonathan to switch up his marketing strategy. With Thinkific, he now had full control over his site branding, course content, and product pricing.
Jonathan decided to sell his courses at a premium, for a several hundred dollars each. With his increased revenues, he could afford to experiment with different marketing and advertising strategies, attracting even more qualified customers.
As a learning expert, Jonathan was focused on crafting a comprehensive learning journey for his students. Using Thinkific's built-in features, he uses a combination of videos, interactive assignments, and text-based lessons to deliver his content.
With his higher price point for each course, Jonathan also increased the production quality of his content to match. Creating a custom, branded website in addition to high quality photos and videos enabled him to provide a better experience for his students overall.
Reaching more students, revenue, and impact with online courses
BUSINESS GROWTH WITH THINKIFIC
Since launching his first online course on Thinkific in 2011, Jonathan has earned over $2 million through his premium courses. 
Without the restrictions of operating on an online course marketplace, Jonathan has been able to significantly increase his income, and impact more students through Thinkific.
As part of his business growth, Jonathan has also expanded his team. He hired a full-time video editor so he is able to focus on the things he does best: creating new content, serving his customers, and growing his business.
"Thinkific is like the Shopify of online course platforms. The uptime is really solid, and above all, the support has been phenomenal. I feel like you're working to constantly improve my experience and the experience of my students. That's huge." Jonathan Levi
Jonathan's favourite Thinkific features
Course bundles
MARKETING
Custom pricing options have played a big role in Jonathan's success with courses. He leverages the Bundle feature to sell his courses in custom collections for a slight discount. In general, the more he charges for his courses, the more likely it is for his students to have higher completion rates.
Transformative learning experiences
STUDENT EXPERIENCE
Jonathan's students enjoy a comprehensive learning experience, thanks to the rich multimedia content that Thinkific supports. His students love the interactive exercises slick online learning environment, and frequent updates to improve student experience.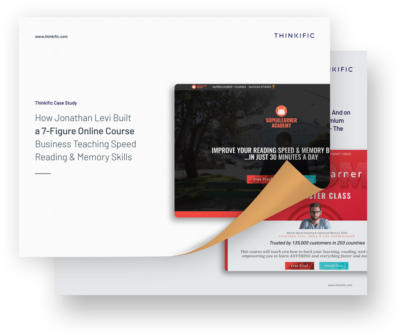 Get more details on Jonathan's online course strategy
Read Jonathan's strategy to creating and launching premium online courses, and how he increased his revenue moving from an online course marketplace to Thinkific.