How to integrate mobile learning into your education business
Mobile phones have become integral to everyday lives. Individuals across age groups depend on them, whether it's for shopping, streaming or learning.
Survey figures suggest that 71% of Americans check their phones within 10 minutes of waking up, and another 47% feel 'addicted' to their mobiles. Imagining life without smartphones is difficult now and holds relevance in nearly every aspect of life, including learning. 
Skip ahead:
Mobile learning enhances accessibility, productivity and motivation
The Ambient Insight Worldwide Mobile Learning Market Report reveals that 74% of learners now use smartphones for online learning.  The use of mobile devices in education has several benefits. Statistically, it has been seen that
64%

of respondents in a survey confirmed that mobile device accessibility led to better online learning. 

43% of mobile users

witnessed increased productivity compared to desktop users.

70%

of learners felt more motivated to learn when they could learn on their mobile devices and navigate through course content easily. 
Such numbers indicate that it is advisable to optimize training programs and courses to suit smaller screens and enable learning anytime, anywhere learning. This article examines ways you can integrate mobile phones into teaching and learning.
What are the different ways to use mobile phones in teaching and learning?
As an online course creator or someone with an education business, integrating the use of smartphones in education can help you deliver effective learning. You can incorporate mobile technology into your online courses in several ways:
Allow students to complete their homework on cell phones
Most course creators design their content to suit a desktop interface and assume people can access the same material on their smartphones. However, that doesnt happen. Ensuring that your videos, course material, and task submissions are mobile-optimized can help your students to complete their course on their mobile devices effectively. 
Research suggests that 72% of participants in a study have reported enhanced engagement with mobile learning compared to traditional learning. If engagement is enhanced, students should be able to turn in assignments and homework more easily. 
Implement a gamification strategy in mobile learning 
Gamification makes learning enjoyable, and cell phones support the immediacy needed to incorporate a gamification strategy. Savvy educators understand this, as gamification is expected to grow to $2,317 billion by 2026 in the learning market. 
With gamified lessons, you can enable students to collect reward points, compete with others, and participate in polls just like they would while engaging with online gaming communities. Incorporating this feature in your lessons can be particularly be helpful when you need students to complete time-sensitive tasks. 
Facilitate remote learning
The beauty of online learning lies in the fact that course participants can access it irrespective of location.  Post-pandemic, 73% of students reveal wanting some of their courses to be entirely online. Moreover, access to laptops or desktops may only sometimes be possible during travel. In such cases, mobile-friendly courses can facilitate continued learning and timely assignment completion.
Communicate via push notifications on cell phones
Regular communication and notifications are a great way to ensure that students remain tethered to your course. Push notification campaigns often see click rates as high as 30%.  Thus, you can easily send updates and communicate with your students by embedding mobile notifications, . 
For instance, when a particular live online class is rescheduled, or new assignments are added, you can notify via push notifications promptly. They're more likely to view the notification instantly in that case.
How to integrate mobile learning into your business
Here are some steps you can follow to implement the use of smartphones in education:
Understand your audience 
Understanding your audience is key to enhancing their learning experience and the resulting success of your online course. If you know exactly what your students expect, you can structure your course better and intertwine mobile phones seamlessly to create compelling online courses. 
To study your audience carefully, you may use tools like SurveyMonkey, Typeform, and even Google Forms to conduct mini-surveys, request feedback, and study mobile usage behaviour. You may also install AI-enabled chatbots such as MobileMonkey and ManyChat to help your students leave useful feedback regarding improving your online course content. You can then use insights from all this data to augment your existing online courses to suit mobile devices.
Find a vendor who can help you with mobile technology
Compelling online courses are responsive and demonstrate enhanced interactivity. If you lack the know-how to design a mobile-responsive online course by yourself, you must consider identifying a vendor who will help you bring mobile and education together.  
For example, Thinkific has two mobile app options depending on what you're looking for. 
The Thinkific mobile app allows you to get started building your course entirely on the app, as well as give access to students who prefer mobile more easily. Thinkific also has a branded mobile option for creators looking to fully customize their mobile learning experience with their brand.
Adopt a mobile-first strategy while designing your course content
Ensuring an immersive mobile learning experience demands planning your course content and assignments well in advance, with the goal to be completed smoothly on mobile phones. 
Mobile-first strategies typically give priority to mobile interfaces over desktop versions. This may take the form of websites enhanced for smaller screens suitable for smartphones and tablets, a focus on mobile applications, and encouraging users to remain on their smartphones/tablets while accessing information. To adopt a mobile-first strategy while designing your course content, you can do the following:
Ensure that your students can access course content on smartphones and tablets

Optimize your online course content for the smaller mobile screens

Explore if mobile applications cater to the needs of your students, based on insights you generate from feedback forms and surveys

Allow students to complete assignments, and receive push notifications on their mobile phones without needing to use their laptops or desktops. 
By adopting a mobile-first strategy, you can ensure that your students can access course content, and complete the necessary assignments without needing to use their laptops or desktops. 
Plan communications in advance
A successful mobile learning strategy is also a lot about effective communication. Thus, you must always plan and schedule communication well in advance. Push notifications support communicating effectively and ensure that your notifications are more likely to be viewed. This can help eliminate unpleasant surprises or missed notifications that disrupt the smooth rhythm of learning. 
Encourage mobile learning among students
While a mobile-first strategy is something you should adopt as a priority, it is also crucial to help your students warm up to using their cell phones for learning.  As a habit, during challenging situations, students tend to wait till they can access desktops and laptops to learn. Supporting mobile learning can ensure they can learn just as well when on the go. 
Further, your course participants may include older audiences who aren't that mobile-savvy and can benefit from preliminary guidance. 
Thus, as an instructor, you can stress the importance of using cell phones to learn, turn in assignments, and remain updated immediately. You can also share explanatory videos or conduct live sessions explaining how to access your courses and complete them on mobile devices.
Mobile-first strategies are crucial to success in modern-day education
Given the deep-rooted mobile penetration, smartphones and tablets are essential pieces of the online learning puzzle today. Thus it is advisable to design your course structure compatible with them to make learning easier, accessible and more engaging. 
If you find it challenging to implement the use of smartphones in education, seek the help of specialized services. With Branded Mobile by Thinkific, rely on our trusted team of experts to create and manage your custom white-labeled mobile app for your courses and communities, so you can focus growing your business.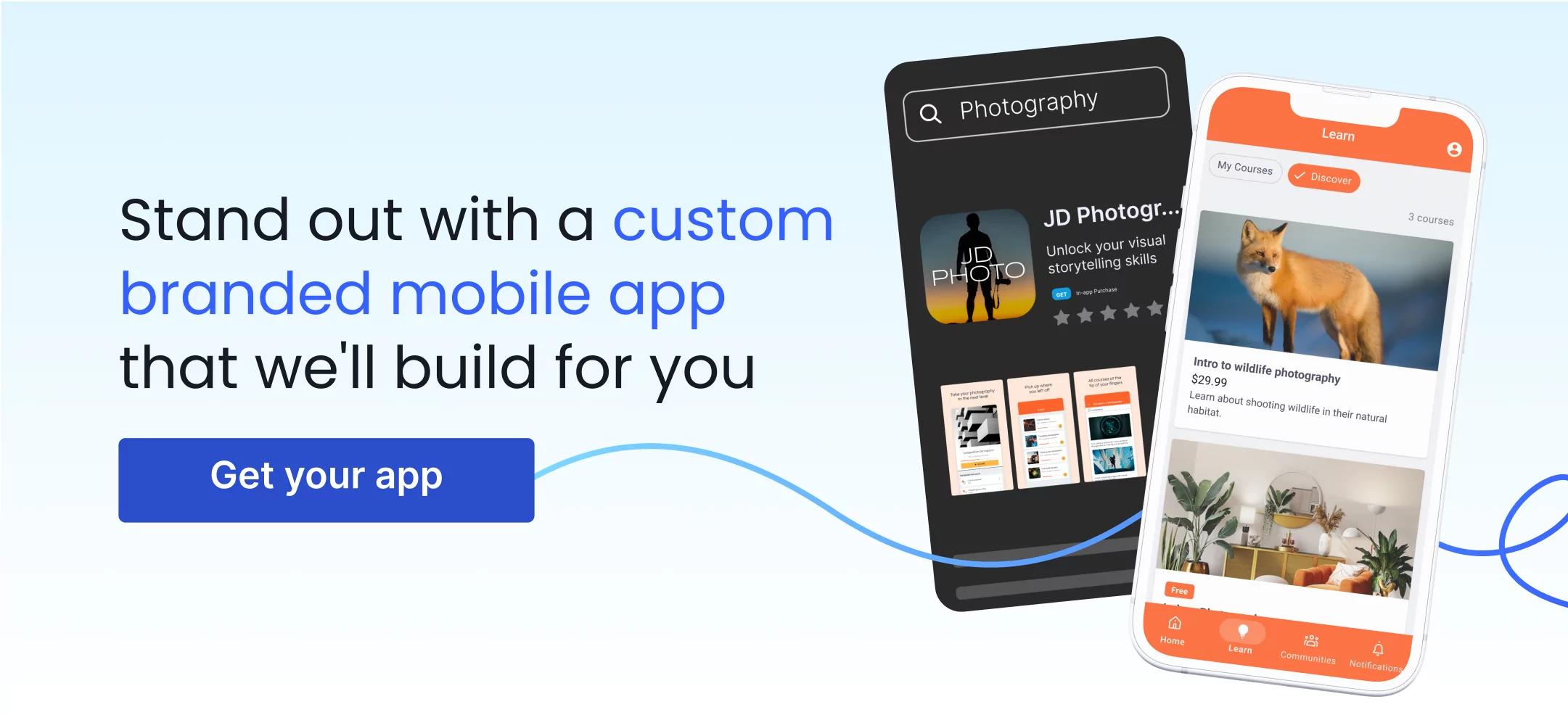 ---
Sign up below for more online learning tips and tricks delivered straight to your inbox! We promise not to spam you ;).