Sean runs a $57k/month educational service business helping students with ADHD.
But we're here to talk about how he launched a digital one in addition to this full-time business— that has grown to $2-4K per month!
When you meet Sean, he is generous with what he knows. He builds out loud and is willing to take anyone ready to roll alongside his course creation journey.
From working as a public school special education teacher to an executive function coach, he began craving more flexibility and control over his income once his first-born daughter arrived. And as many of us find out, working in a job, you could have the best ideas and be the best teacher ever but still get the same pay or salary, coasting your way to retirement. 
So this needling desire for growth launched Sean onto the path in his specialty of training kids with ADHD to improve their executive function skills to better manage school in his local community. 
As demand grew, Sean decided to hire and train other teachers in this field. To drum up interest, he created a web page on Wix explaining the steps to becoming an executive function specialist. Surprisingly, this webpage became the number one search result on Google, leading to an influx of traffic. Ten months later and $20K to $30K in one month, a conversation with Kat Norton (Miss Excel) about turning his knowledge into a course became his side business on Thinkific, starting with a 2-hour speech he had previously given, charging $97. 
Using monthly webinars and pop-up boxes on his website, Sean promoted his course and steadily built his mailing list. Although slow initially, his webinar attendance and sales began to increase as he engaged with the Thinkific community and learned from other successful course creators about bundling offers and introducing a membership program.
I pulled Sean for a chat to share his journey, starting as far back as January 2022 (his Thinkific join date) to now consistently making $2,000 to $4,000/month on the platform. 
Everyone always tells you what you should do, but Sean had a different approach, here's what he stopped doing to start gaining traction.
#1 Stop Thinking About Money
In the world of online education and the creator economy, success often follows those who dare to break away from traditional norms. As the host and program manager of the Thinkific Accelerator, I often encourage creators to embrace engagement and participation as core strategies for amplifying their courses and content in the program. 
While this might seem counterintuitive to those fixated on monetary gains, it is exactly this shift away from an obsession with money that Sean, a seasoned entrepreneur and educator, exemplifies.
Sean's journey echoes the philosophy that you can't truly succeed by focusing solely on financial outcomes. At its inception, his strategy was rooted in the notion of adding value, participating genuinely, and engaging authentically within communities. "Don't think about money," Sean advises, acknowledging the challenge this poses, especially for those struggling to generate income. Yet, this paradox of concentrating on value creation before profits is one that has proven remarkably effective for Sean.
One of the first courses he took as part of the free Thinkific membership was Neil Patel's $1,000,000 Webinar Sales Funnel. A course that unearthed invaluable insights. Central to this transformation was the realization that showing up as a knowledgeable, helpful presence within communities is a powerful approach. 
"You have to trust the process, and if you do, it's a game changer. If you really show up, then you'll know what you know or what you don't. You can't help someone with something you have no idea about. But you'll figure out quickly where you can actually add value." — Sean McCormick

#2 Stop Over-Creating
We're often dominated by the race to create too much content—one that Sean passionately argues against. He boldly underlines the pitfalls of overthinking and overanalyzing, which often hinder progress. Rather, shift from excessive content creation to a more strategic approach of "pre-selling."
Sean's process resonated with Thinkific's mantra of pre-selling, a method that bypasses excessive content generation in favor of gauging audience interest and preferences first. As a strong advocate against creating a 6-part course that could take you months, pay a videographer that could cost you $5,000 to film it, and then end up hearing crickets when you release it.
Instead, Sean gets in the weeds of understanding his target audience and allowing the content to evolve organically based on their needs and feedback. In this sense, content creation becomes a collaborative effort, a process of building with the audience rather than for them. The exact format The Accelerator follows.
#3 Stop Waiting For Opportunity
Success is often the culmination of a series of breakthroughs. And Sean's narrative demonstrates his transition from one-off courses to a membership model. One that marked a pivotal moment in his journey. Inspired by a podcast interview with Peter Fitzpatrick, Sean reimagined his offerings, bundling multiple courses into a membership. Going from $300 monthly sales to $600, and then $1,500 a month each launch. 
Sean's journey also speaks to the power of incremental evolution. He shifted from a membership model to launching a six-week program. The results were transformative, catapulting his earnings into $6,000 months. This continuous process of learning, adapting, and launching reflects the essence of Sean's approach—embracing change and capitalizing on every learning opportunity.
#4 Stop Giving Your Time For Money
A pivotal revelation in Sean's journey—trading time for money has its limitations. Drawing from his experience as a special education teacher, he recognized the potential for a more scalable model. Sean's entrepreneurial DNA, inherited from his family, drove him to seek a business framework that surpassed one-to-one exchanges.
Sean knew he loved working with kids, but also wanted the flexibility to work one day a week. If, at some point, he wanted to take his own kids on an RV trip around the country or go on a sabbatical he wanted to have digital products making income for him in the background. That's always been the vision for Sean.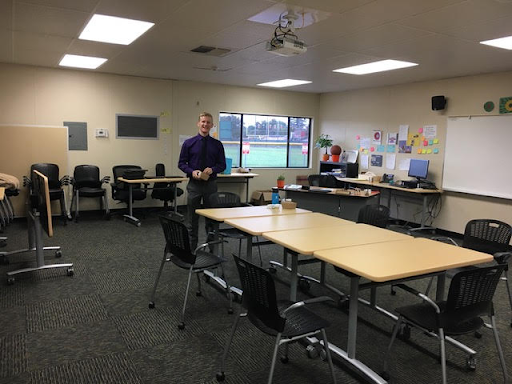 So then the question is, "All right, what do I have to be doing today?" To inch towards it (my vision) because it's not going to happen overnight. — Sean McCormick
The journey from tutoring students to sharing his expertise with a wider audience of coaches unfolded organically for Sean. He recognized that his insights were more valuable beyond individual interactions and that set him on the path of course creation. By breaking down his expertise into a structured curriculum, he liberated himself from the confines of one-to-one transactions and embraced the unlimited potential of one-to-many.
#5 Stop "Planting Trees" 2 Years From Now
Sean's journey underscores the importance of timely action. While his path from personal tutoring to course creation spanned close to two years, allowing ample time to fine-tune his approach, teach a team, and ensure his initial success was not a fluke.
He still promotes the value of a more accelerated approach. 
Hindsight is 20/20 now, and Sean recognizes he didn't need to take as long. If he had started earlier, creating his courses, he would have gotten clarity sooner by building with an audience and supporting them each step of the way. And that's part of the value of converting your expertise into a process—you can teach in a course but he recommends no more than 3 to 5 steps to get started now.
Feeling inspired? Check out more creator stories here.
Want to join the same Accelerator program that Sean McComromick participated in to create Executive Function Coaching Academy? Check that out here.