You never get a second chance to make a first impression, and that holds true for your customer's experience after they buy. If your customers can't immediately begin using your product or find the experience messy and haphazard, your chances of keeping customers engaged and repeating a purchase drop significantly.
That's where Customer Onboarding Software comes in. Your customer onboarding process sets the tone for the customer experience and makes that pivotal first impression, and by using new customer onboarding software, you'll streamline the process of bringing on customers so they can gain quicker time to value. 
Customer onboarding software systematizes how you welcome and guide new customers, providing them with the product or service-related information that helps them get started quickly and easily without being overwhelmed by too many details or too much information at once.
In this post, we'll share ways to use customer onboarding software, the features you should look for, and how to ultimately choose the best platform for your unique organization and goals. 
Skip ahead:
---
Discover the ultimate resource to make informed decisions about your customer education platform. Download our comprehensive buyer's guide now: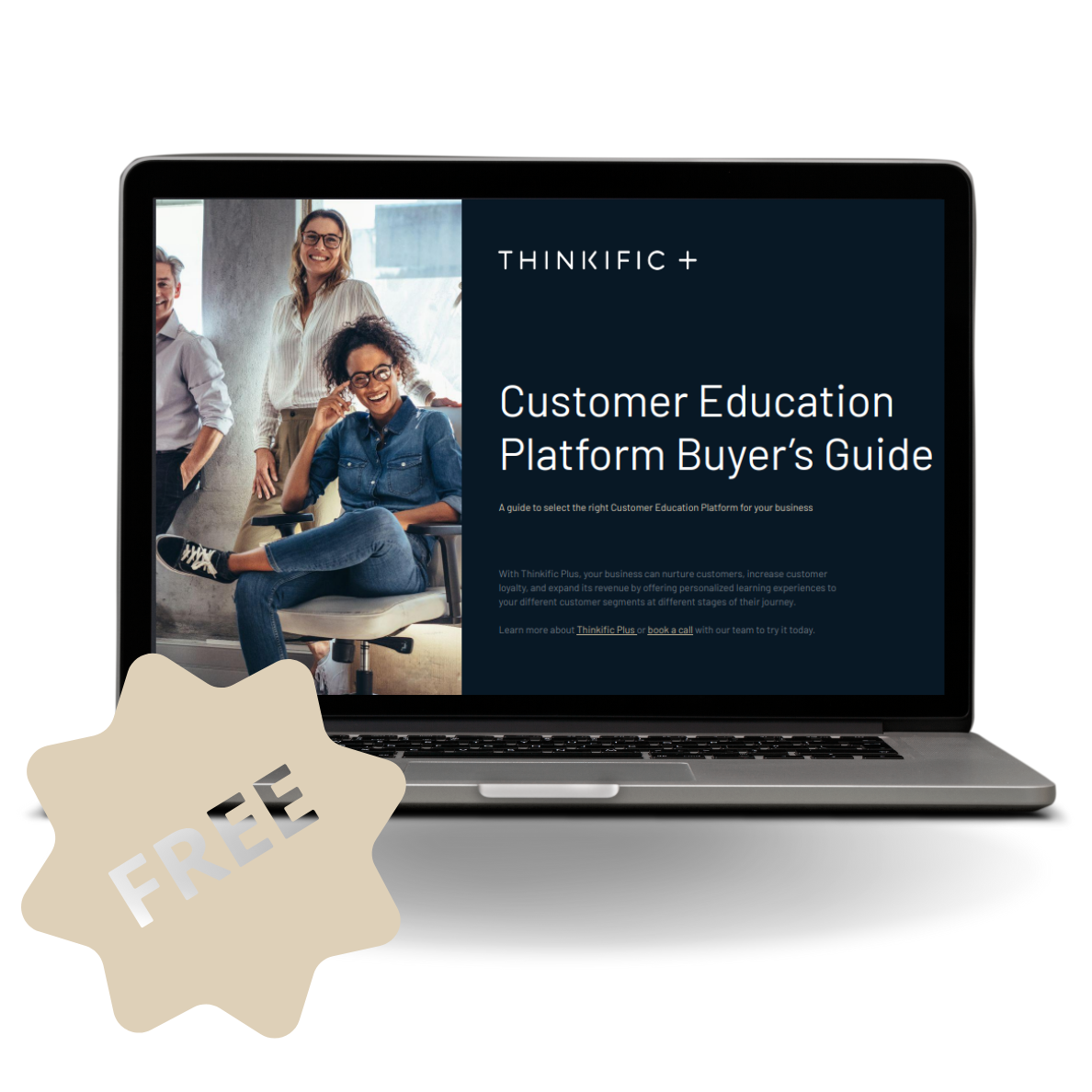 ---
What is onboarding software, and what are the benefits?
Your bottom line and your users benefit from customer onboarding software. Customer onboarding software can help you improve organizational efficiency, boost customer satisfaction, and increase customer retention for your business. You can use your user onboarding software to store and access customer information efficiently, freeing up your team's time on the tasks that really matter.
And that's not all. By automating onboarding processes, it becomes easier for new customers to get started quickly with their account setup process. Because of the software's ability to create personalized experiences for each customer based on specific criteria, SaaS (Software as a service) customer onboarding tools boost user engagement rates over time. 
Key features to look for in SaaS customer onboarding software
When evaluating which onboarding software features you need most, you must first analyze your business or organization's current processes and biggest priorities. For example, if you are in the SaaS industry and find that customers only use a certain percentage of your product's features, you'll want a client onboarding software that allows you to create high-quality audio and visual walk-throughs to increase the adoption of your products. 
Automated onboarding
Scaling companies don't have the time or resources to manually onboard each customer — that's where automation comes in. Not only does onboarding automation software streamline the process for you, but it also allows the customer to instantly start their journey without any manual intervention or paperwork. 
By not having to deal with administrative tasks, your users can engage in more important activities, like learning more about your product.
Tailored customer journeys 
While automation is critical, you also want to give your customers the right level of customization. Onboarding software allows you to customize the process for each user at scale based on pre-set rules. This ensures they have a personalized experience that caters their specific needs. 
For example, some customers may prefer text-based instructions while others may prefer videos or interactive experiences; having customizable options available allows users to get comfortable with your platform faster and become successful users more quickly. In order to encourage your customers to complete key tasks, it's also important that your Customer Onboarding Software of choice allows you to gamify the onboarding process.
Comprehensive reporting & analytics
Your onboarding software needs comprehensive reporting and analytics features so you can measure performance over time and identify areas of improvement within your onboarding process. 
You'll leverage analytics to increase conversion rates and reduce cart abandons during the signup process Additionally, reporting helps you stay compliant with any applicable regulations related to data privacy laws. 
Non-intrusive data collection
To create customized experiences and adjust your onboarding process, you need data. Choose software that enables you to collect relevant information from your users without creating a lengthy, intrusive process. 
Choose a SaaS customer onboarding tool that allows you to collect data without being overly demanding of your customers. The key is to keep them engaged as they move through the onboarding process rather than getting overwhelmed by long forms.
Integration capabilities
Look for customer onboarding software that can integrate with multiple channels, such as web portals, email, SMS, and the most common communication tools your customers use. This allows you to reach out to them through their preferred contact method and increase engagement throughout the process. This will also help you understand what channels lead to the highest conversions so you can double down on those strategies.
Customer Success All-star: Echosec Systems 
If you're looking for an example of a well implemented onboarding strategy, look no further than our very own Thinkific Plus client Echosec Systems and their onboarding course "Echosec Essentials"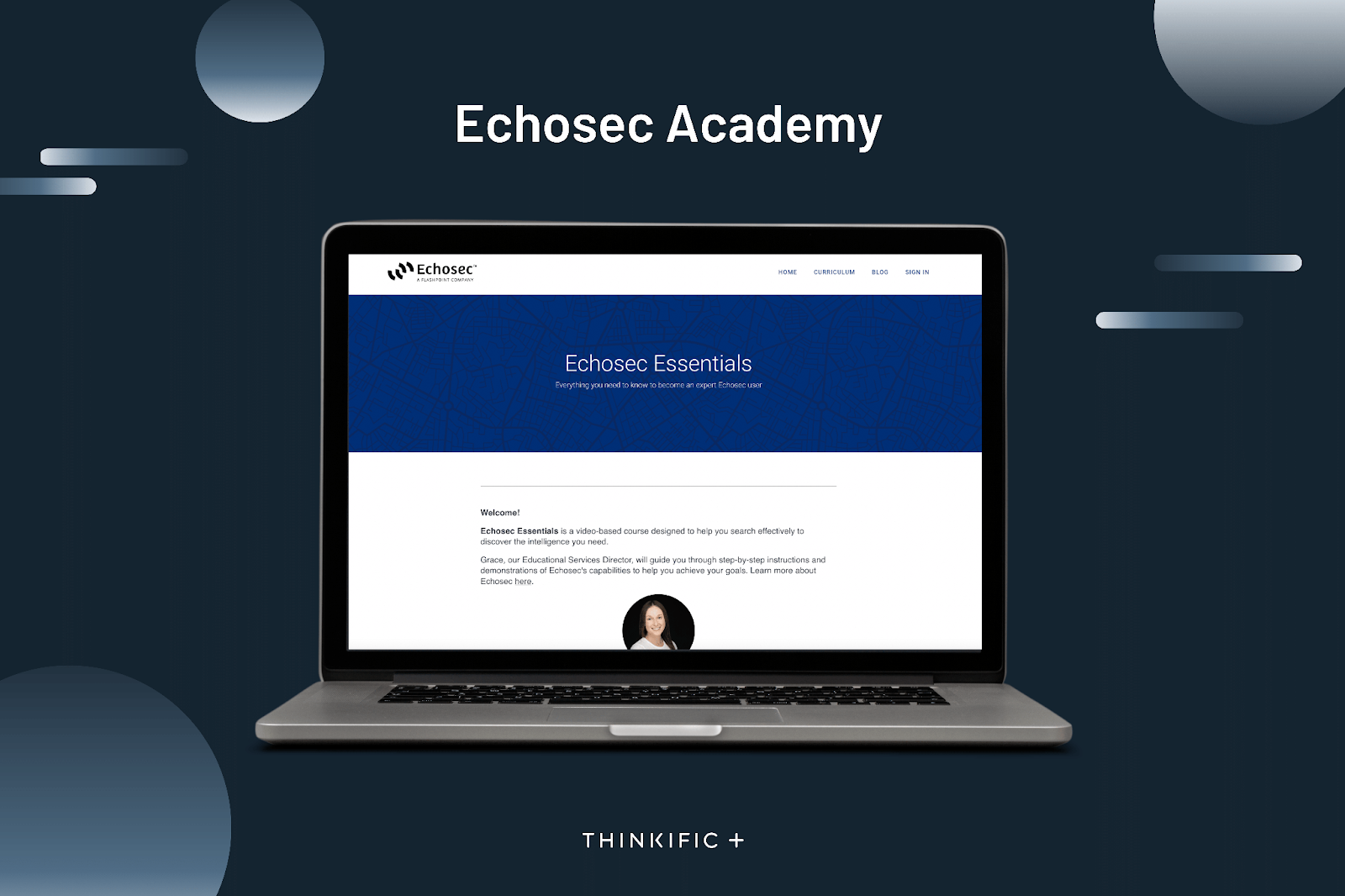 Echosec Systems delivers web-based data discovery tools for threat intelligence.
In early 2020, the Echosec launched Echosec Essentials – its online customer education program built to enhance Echosec users' expertise and overall product adoption.
Before creating Echosec Essentials, the company provided live onboarding sessions for each of their customers. The sessions were followed up with other materials, such as quickstart guides, user guides, and access to a knowledge base. While this information was helpful, customers continued to request video tutorials to help with their ongoing platform training. 
The Echosec team realized there was a gap between the educational materials they were providing and what their customers wanted. As a result, some features and capabilities were underutilized, indicating customers were not using the platform to its full potential.
With the customer training materials already developed, the team built out their customer onboarding course and then program with Thinkific Plus. The launch of Echosec Essentials resulted in increased product adoption, use of features, and customer engagement : 
"The program has heightened the learning outcomes for our newer customers. They are taking the time to go through all of our features to gain a solid understanding of the platform from the outset. It's also proved to be effective for our existing customer base. They've learned about some of our advanced features that they didn't know existed before."

– Grace tilmont, head of Customer success, echosec systems 
The 7 Best C
ustomer Onboarding Software Solutions
Here are the best Customer Onboarding Software Solutions. Click the links to skip ahead.
Pros

Dedicated Customer Success Team
Advanced Customization
Open API & Automations

Cons

Pros

UI Intelligence
Deep insights
Solutions Accelerators

Cons

Steep learning curve
Some of the latest features (such as Adaptive Flows) are only available for use on select platforms.

Pros

Survey Implementation
User Segmentation
Audio-visual Walkthroughs

Cons

Limited integration capabilities

Pros

User segmentation
No code user onboarding flows and checklists
NPS surveys

Cons

It is challenging to target elements by class in some cases.

Pros

Calculate Customer Health Score
Custom reporting and dashboards
AI opportunity identification

Cons

Limited customization of reports

Pros

Project Mapping feature
Baselining/KPI goal setting feature
Discussions feature

Cons

Limited storage based on plan
Many tools and featured come with a pricing premium compared to other "project management" tools

Pros

Mass updates
Issue tracking
Checklists

Cons

Limitations with Salesforce custom field integration
---
Best for:

Companies that prioritize customer retention and rely on renewal revenue

Price Range: Ready to make an informed decision on your next LMS? Request a call with Thinkific Plus experts today to discuss pricing options and get a live demo. Elevate your online learning with Thinkific Plus – your success, our expertise.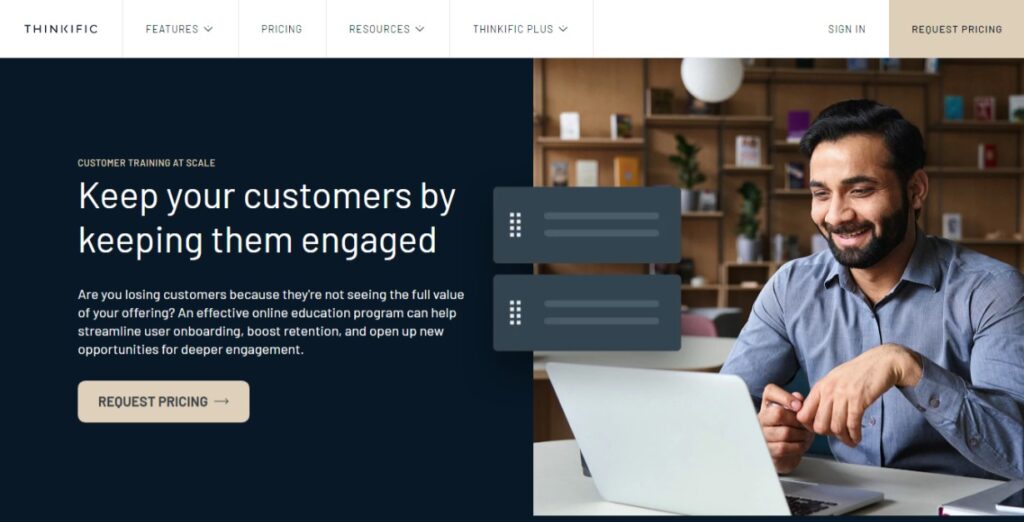 Are you losing customers because they're not seeing the full value of your offering? An effective online education program can help streamline user onboarding, boost retention, and open up new opportunities for deeper engagement.
Thinkific Plus makes it a breeze to build an engaging, effective onboarding flow that gets users to that I'm-so-glad-I-signed-up-for-this moment sooner. It's *actually* easy to use, unlike many enterprise-grade customer platforms. You and your team don't have to waste time coding to provide an incredible user experience and will benefit from faster learning, increased staying power, and less overload. 
You can also take it a step further and offer subject matter training that goes beyond product knowledge,
to help your customers become more successful—and loyal—customers.Your plan to scale your customer onboarding efforts should include Thinkific Plus if you know growth will be in your future!
Key Features 
Dedicated Customer Success Team:

Launch and scale your customer training programs, confident that you have the support of a

dedicated team

behind you.

Advanced Customization:

Create seamless user experiences with white-labeling, SSO, and CSS customizability.

Open API & Automations:

Design the best experiences for your customers with our robust API and apps.

Enterprise Reliability & Security:

Trust that your customer data and content are safe with reliable and secure cloud hosting, including SSL certificates.

Multiple Environments:

Build and manage unique experiences with multiple Thinkific sites to support different products or use cases.

Content Storage and Management

: How you store and manage your content is key to ensuring your customers consume it. Thinkific Plus has superior functionality to store, organize and search all training content.

24/7 Availability:

Your customers will learn on their own time with convenient access to courses 24/7. 
Ratings 
Related: Top 7 Customer Education Platforms: How to Choose the Best One
---
Best for:

Product-led businesses interested in creating heatmaps of customer activity that require a no-code solution for SaaS products

Price Range:

Contact sales for a custom quote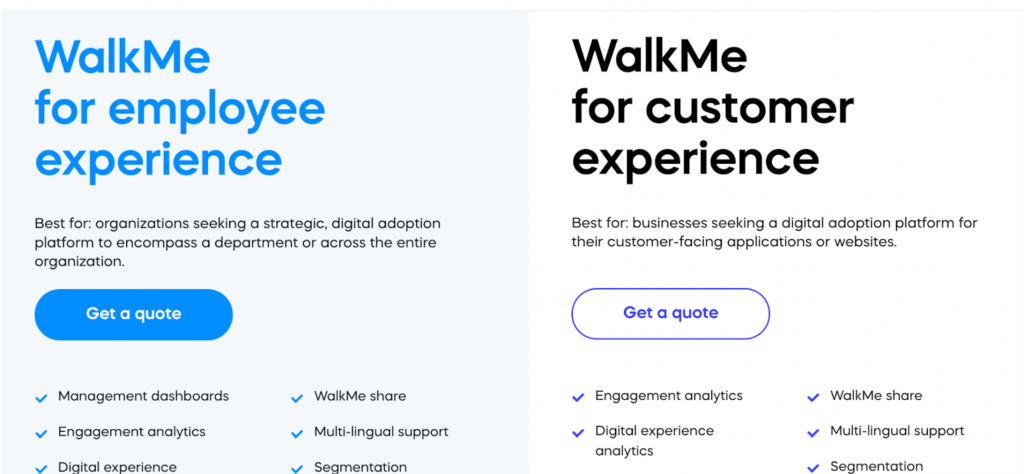 WalkMe's cloud-based Digital Adoption Platform takes a user-first approach to software adoption enabling you to provide high-quality customer experiences that directly impact your bottom line. WalkMe allows CIOs and business leaders to easily spot areas users struggle in, improving employee and customer productivity without having to write a single line of code.
Key Features 
UI Intelligence:

Instantly pinpoint the friction points within your business processes using AI-driven analytics that detects form-usage issues across multiple platforms. Then, use that information to create content that has an immediate impact by using 
Insights:

Gain a deeper understanding of how your customers are using the platform so you can improve the user experience and increase adoption.
Solutions Accelerators

: WalkMe uses preconfigured platform-specific solutions that show you the top use cases, making the WalkMe building process faster and easier than ever.
Ratings
---
Best for: Tech companies and SaaS providers who want to make their evolving products more intuitive to use
Price Range

Userpilot helps product, UX, and customer success teams increase user adoption via highly customizable experiences you can build right on top of your product. Using Userpilot, teams can improve onboarding for new signups and trigger interactive tips that guide users at the right time. As your product evolves rapidly, Userpilot makes it easy for users to discover new features.
Key Features 
Survey Implementation

: Easily distribute NPS surveys to users at scale
Audio-visual Walkthroughs

: Offer high-quality audio and video-based walkthroughs based on how your users prefer to consume content
Ratings 
---
Best for:

Companies focusing on increasing user onboarding and activation metrics by providing an easy-to-navigate product walk-through

Price Range: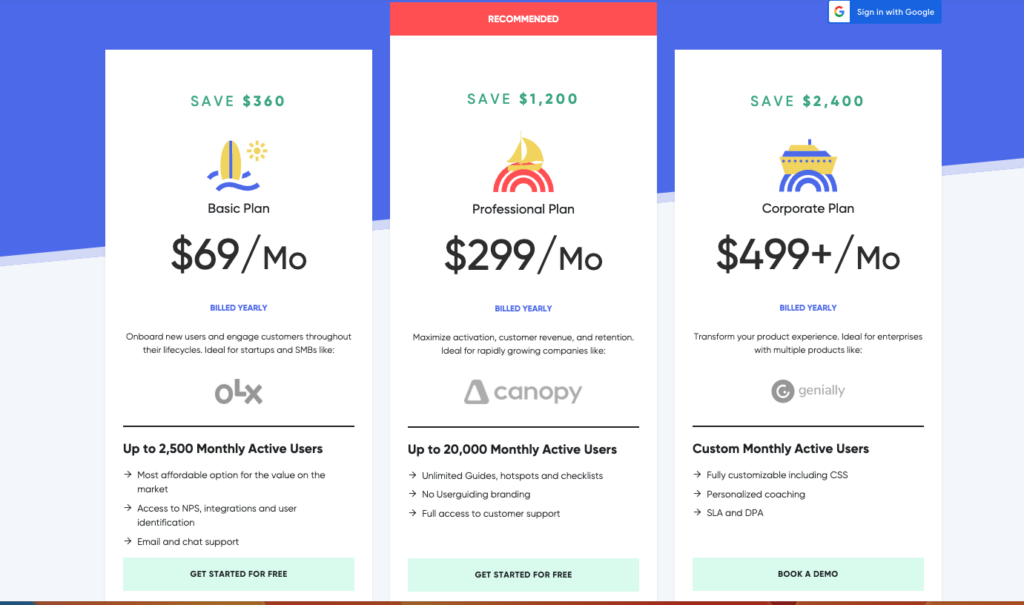 You'll love UserGuiding if your goal is to increase the use of your product and helping customers get value right away. Onboarding experiences are critical to customer satisfaction and lifetime value, and UserGuiding makes it easy to wow customers with detailed guidance and support. UserGuiding is a great tool for providing your customers with an intuitive onboarding and quicker product adoption experience.
Key Features 
User segmentation:

With UserGuiding's segmentation feature, you can customize each user's experience. Each user goes through a unique learning experience to reach their goals.
No code user onboarding flows and checklists:

Easily design and create user onboarding flows and interactive checklists with tutorial popups that highlight new features. Turn your customers into power users by guiding them step by step and increasing product adoption.
NPS surveys:

NPS surveys capture important user insights and measure satisfaction. Utilize automated user feedback prompts to gather data and make important product decisions.
Ratings 
G2 Score 4.7 out of 5

Good reviews:

"Great product backed up by the BEST support team I've ever seen."

Bad reviews:

The analytics felt a little elementary
---
Best for

: Businesses that want to increase retention and decrease churn by closely monitoring account health
Price Range:

Contact sales for a custom quote.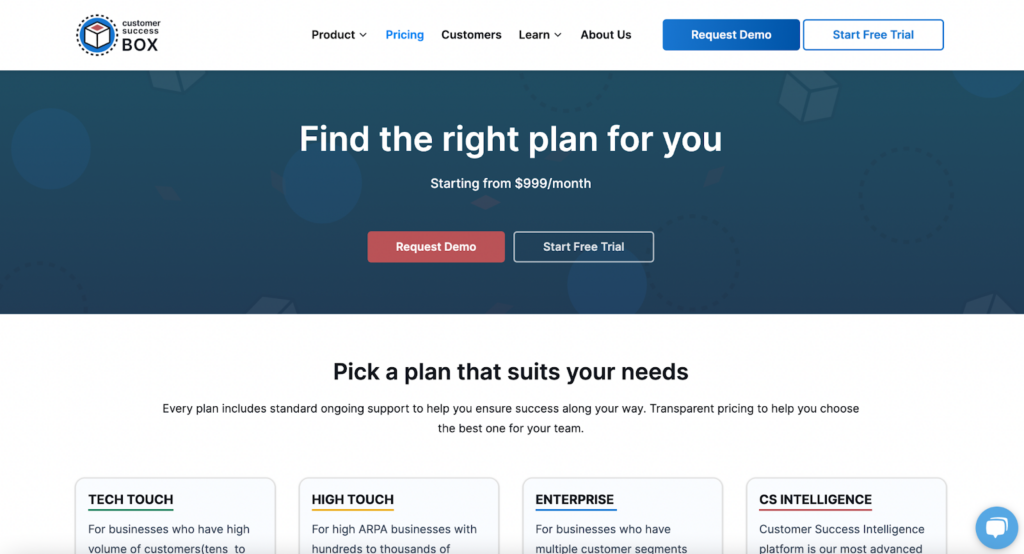 CustomerSuccessBox is an AI-powered onboarding software built to deliver "proactive" customer wins. Built specifically for B2B SaaS companies, CustomerSuccessBox tracks product adoption so you can understand how your customer onboarding is performing. CustomerSuccessBox helps you deliver a consistent customer onboarding experience, improve customer retention, reduce churn, and expand your business.
Key Features
Customer Health Scores:

Calculates a score for each customer based on their overall satisfaction, so you know which customers to prioritize 
Reporting & Dashboards:

Access to both pre-built and custom reports and dashboards so you can choose your own customization journey
Opportunity Identification:

Using AI, the platform highlights cross-sell, upsell, and white space opportunities, enabling you to become a revenue-generating machine.
Ratings
G2 Score: 4.5 out of 5

Good reviews:

"Great tool for a 360-degree view of your accounts"

Bad reviews:

"It is time-consuming to configure"
---
Best for:

Organizations that need seamless collaboration between teams via document collaboration and communication

Price Range:

Rocketlane creates for seamless customer onboarding and implementation experiences. Notable enterprise companies use Rocketlane to improve project predictability and profitability, shorten time-to-value, and elevate the customer experience.. You can easily keep track of resources, time, portfolios, budgets, and business intelligence so that all projects remain within budgets and timelines. Rocketlane combines project management, document collaboration, and communication into a smooth experience
Key Features 
Project Map:

Easily map your projects using milestones, due dates, deliverables, and interdependencies. 
Baselining / KPIs:

Understand how each project is performing every step of the way with key performance indicators or baseline assessments.
Discussions:

Improve collaboration and community with the ability to involve multiple users in public or private discussions 
Ratings
G2 Score: 4.7 out of 5

Good reviews:

"Straightforward Interface & Excellent Support Program"

Bad reviews:

"Good Application with a lot more corrections needed."
---
Best for:

Companies that need to build onboarding roadmaps and aim to shorten implementation time for their customers

Price Range:

Contact sales for a custom quote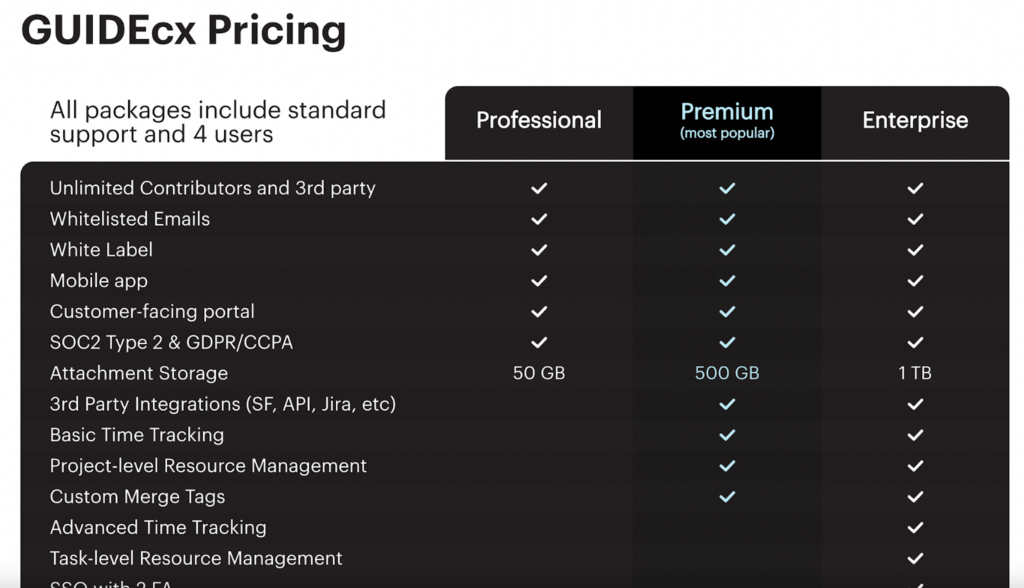 GUIDEcx allows for that seamless handoff between the sales and implementation process, creating a wow-worthy customer experience. By making customer onboarding easier than ever, they help companies drive engagement, increase efficiency, and expand capacity without sacrificing the quality of customer service. Best of all, their platform easily integrates with existing tech stacks.
Key Features 
Mass Updates:

Allows users to update multiple tasks simultaneously across multiple projects allowing for consistent, accurate data at scale
Issue Tracking:

Track issues at the project or task level and manage resolutions so to ensure every customer is taken care of and satisfied
Checklists:

Generate checklists to monitor the progress of onboarding projects, leaving no stone unturned in the onboarding process.
Ratings 
G2 Score: 4.7 out of 5

Good reviews:

"Best & Most Thorough Collaborative PM Tool Accompanied by the BEST staff"

Bad reviews:

"The software looks good, but custom field integration with Salesforce is an issue"
---
Conclusion
A customer onboarding software solution is an essential tool for if you want to build long-term relationships with your customers by providing them with unforgettable customer experiences.  Your team will no longer have to spend time on tedious tasks such as setting up accounts, answering basic questions, and maintaining customer records by leveraging customer onboarding software. 
When looking for the right customer onboarding software solution for your unique needs, look for customization options, analytics capabilities, scalability options, and integration abilities. 
With the right customer onboarding software in your toolkit, you'll create stand-out customer experiences that make a pivotal first impression and lead to customer loyalty and recurring revenue. 
Thank you for exploring these LMS options with us.
Making the right choice is crucial for your online learning success. If you're ready to take the next step and get personalized guidance, pricing details, and a live demo, don't hesitate to reach out to our experts.
Request a call with a member of our Thinkific Plus solutions team today, and let us help you unlock the full potential of your online learning journey.