We have entered the era of side hustles. The era of being your own boss. Living in abundance. Owning your own sh$t. 
Selling digital products online is one of the best – and quickest – ways to diversify your revenue stream and earn a passive income. 
It's time to get your creative juices flowing! We are here to help you out by letting you know the inside secrets on the 10 best marketplaces to sell your digital products on.  
Whether you are just getting started on your journey into selling digital products online, or if you're a seasoned digital product mastermind, this blog will help set you up with the best tools and platforms to expand your online business to the next level. 
Follow along or skip ahead: 
Related: 4 Ways to Diversify Your Income as a Freelancer
Why sell digital products?
Selling digital products is a great way to earn some extra change in your pocket without trading your time for money. 
You may be wondering, exactly what is a digital product? Digital products are any intangible, virtual items that can be downloaded immediately after purchase. 
What makes selling digital products so great is the fact that there is no shortage of digital products that you can sell online… whether you dive into a super niche area of selling digital tamagotchi pet ID tags or a more broad category of selling printable cookbook templates, this virtual world is your oyster. 
Popular categories for selling digital products include planners, templates, checklists, journals, worksheets, cards, coloring sheets, digital stickers, and sewing patterns. 
Here are a few more perks of selling digital products:
Design once and replicate as often as needed

Instant delivery with automatic shipping 

No need for warehouse storage or manufacturing 

Less room for quality returns or recall 

High profit margins

Passive income 
The digital product industry is booming, and creators are finding ways to create a sustainable living through highly lucrative digital product niches. 
Digital products are changing the way that people consume products, and this evolving market is only trending upwards. 
How to choose the best marketplace to sell your digital products
Now that you have a digital product in mind that you would like to sell, how in the world might you choose a platform to sell your creations on? Don't worry – we got you covered in this area. 
There are so many different marketplaces available to sell your digital creations on, and it can seem daunting to try and pick the best one. No need to sweat – that's why we have scouted and picked the very best marketplaces for you to sell your digital products on. All you need to do is choose the marketplace that aligns most with your business values and goals. 
Here are some things to keep in mind when choosing the best marketplace to sell digital products on: 
Think about if you want to sell your digital products through your own website or through an ecommerce platform. Selling your creations through your own website allows you to reap 100% of the profits, whereas you may have to pay a small fee selling through a separate ecommerce platform. Both options have pros and cons for transaction fees: if you're new to the digital marketplace, selling through an ecommerce platform takes the weight of all the logistics off your shoulders – whereas using your own website gives you more freedom and control.
Consider the different payment options platforms have, as this will directly affect how you make a living. Choose the platform that allows you to get paid in the most convenient manner. 
Existing ecommerce sites come with a built-in user base, meaning they already have regular customers frequenting the site. Having your own website would require more marketing techniques to drive customers to your business. 
Think about how you want your business account presented and managed – evaluating the kind of platform support is essential in case something goes amiss. It's also important to have a reliable hosting account that's both secure and well-managed.
Having a professional-looking website that looks good is a key factor.
Think about what your niche is and who your customers are. You will want to meet them where they already are. Sell your digital products where you will gain the most amount of exposure and reach to your specific audience. 
With these factors in mind, let's get to it!
10 best marketplaces for selling your digital products 
We have curated a list of the best marketplaces to sell digital products on – these are the perfect platforms to display and sell your digital creations.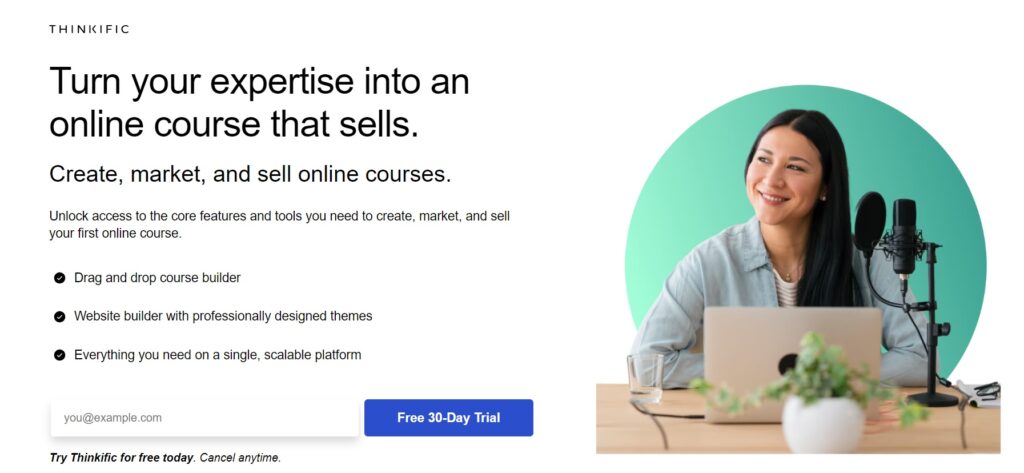 If you are looking to create and sell online courses, look no further than Thinkific. 
Thinkific is an easy to use, dedicated online course platform designed for both new and experienced creators. This platform can accommodate any size of business, and is the perfect option for those looking to scale as they eventually grow.
This all-in-one platform allows you to utilize their high-quality features and communities – they even have Thinkific Academy for course creators looking for a little extra help. With advanced security and 24/7 support, this is one of the best platforms for those just starting out in the digital creator industry. 
Best digital product to sell on this marketplace
Thinkific is known for helping creators market and sell their online courses, learning products, and webinars. 
Key features and helpful tips for using Thinkific 
Create and customize courses to match your brand

Quickly upload, drag, and drop content to create the perfect curriculum

Includes a pre-built instructor, curriculum, key learnings, and course review sections

Built-in marketing and e-commerce features

Wide selection of ready-made, customizable themes and templates for creating a professional web storefront 

Many different

available apps

and integrations

0% transaction fee
Platform prices 
Thinkific offers four monthly plans: 
Free ($0)

Basic ($49)

Start ($99)

Grow ($199)
Tip – choose annual billing, and you'll save 25%. If you decide to jump right in and try Thinkific Plus, you'll receive a custom quote tailored to your specific needs.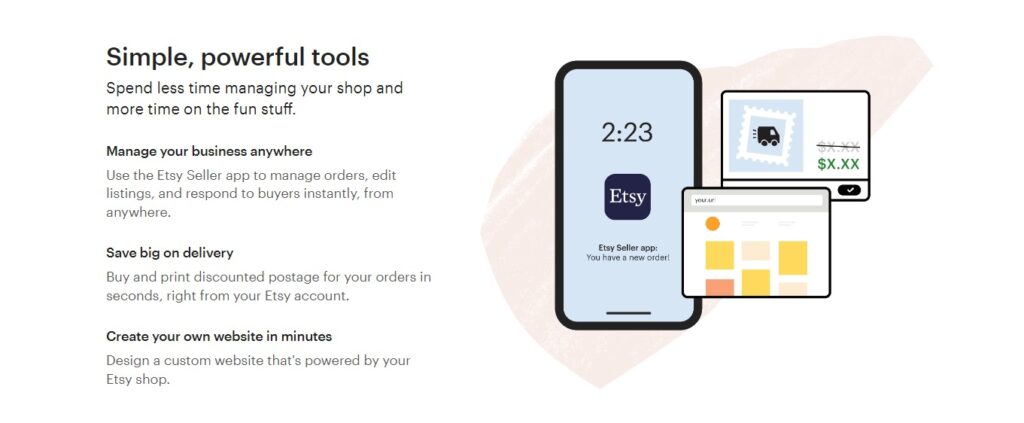 Etsy is your one-stop shop for those unique and custom products you wouldn't find anywhere else. It is the home of crafters and DIYers, making it the perfect place to start selling any kind of digital product. 
Best digital product to sell on this marketplace
The sky's the limit with Etsy… you can create any kind of niche digital product, from planners to templates – there really isn't anything you can't try to sell on Etsy.
Key features and helpful tips for using Etsy
Huge built-in user base – no need to focus on marketing your products as much to make them visible

User-friendly, straightforward platform that gives creators the visual tools needed to sell aesthetically-pleasing digital products that fit any niche

Reach out to Etsy support specialists anytime you need a hand or tips for success

Made-to-order files are automatically sent to the customer upon completion 

Option for an unbranded online store using

Pattern

– this allows you to build a website as unique as your brand 

When creating listings for your products, pay attention to the keywords, and learn some SEO tactics to help your products become more searchable 
Platform prices 
Only a small percentage is taken from each sale, so it's relatively cheap to start selling digital products on Etsy.
Listing fees are billed for $0.20

You only pay transaction (6.5%), payment processing (3-4%), and offsite advertising fees (15% – optional for most sellers) when you make a sale
Read more: How to Sell Digital Products on Etsy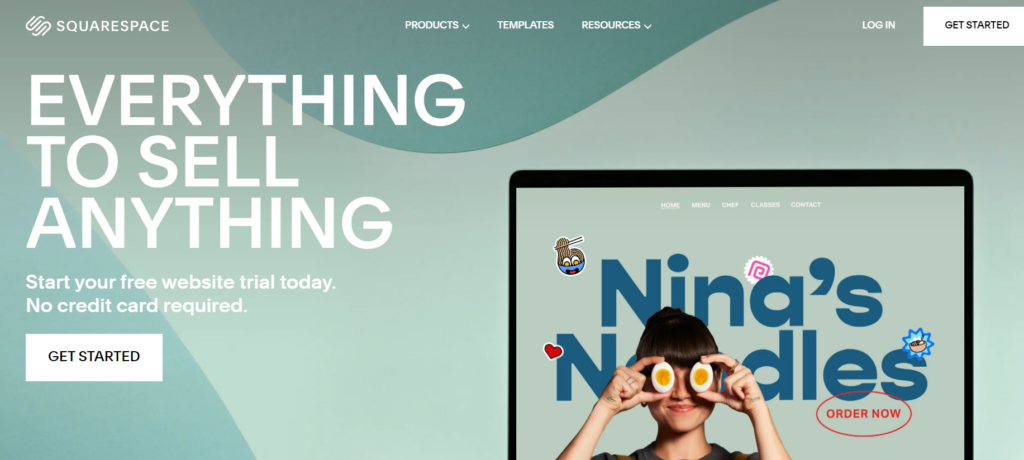 Squarespace is the marketplace that gives you the complete freedom to sell any kind of digital product through your own website. 
Whether you're just getting started as a creator or are an established brand, Squarespace offers a powerful ecommerce website builder that will help your business thrive.
Best digital product to sell on this marketplace
You can sell any kind of digital product using Squarespace by simply creating your own website and growing your ecommerce business with the help of their user-friendly platform.
Key features and helpful tips for using Squarespace 
Choose website templates, designer fonts, and color palettes from their wide selection of options that best fit your business' style and needs

Their website builder is easy to navigate for beginners to use with flexible template styles that you can modify anytime

Ability to add multiple tools such as setting up an online store, booking services, scheduling appointments, or adding third-party extensions

Option to add membership sites – from virtual classes and workshops to newsletters, podcasts, and video series

No coding experience required – customize your website with their simple drag-and-drop tools

Free unlimited hosting, 24/7 support and security available, and dependable resources to help you succeed
Platform prices 
Squarespace offers a 14-day free trial to test their service out, but after that their pricing models include: 
Personal ($23/month)

Business ($33/month)

Commerce ($36/month)

Advanced Commerce ($65/month)
There is also the option to save up to 30% if you choose an annual plan. Each plan has their own unique features, and you can compare them to find the one that fits just right.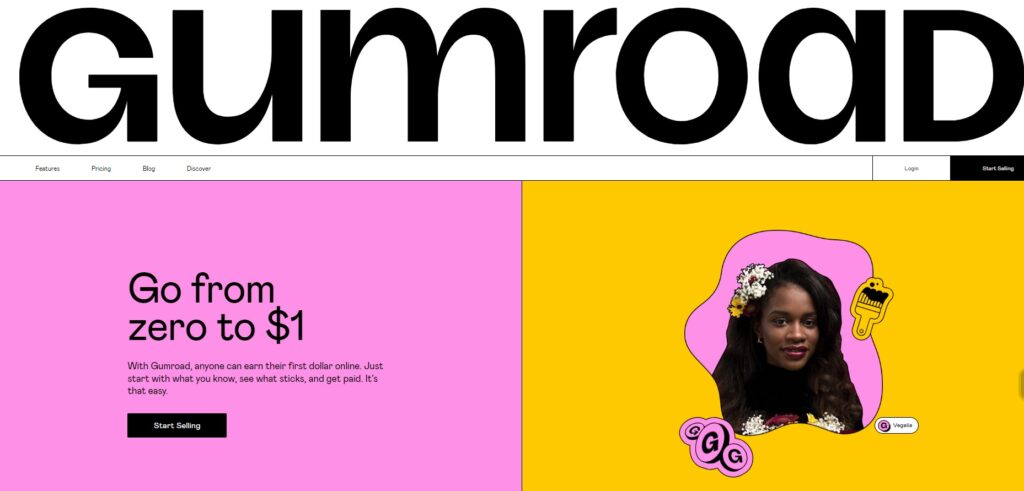 Gumroad is a marketplace that caters to anyone and everyone – they help you pave your own path and give you all the tools you need to figure out your creative ventures. This marketplace is great for beginners just starting out as entrepreneurs in the digital space. 
Fun fact: a whopping $3,171,557 is the amount of income earned by Gumroad digital entrepreneurs last week, proving this marketplace can sell.
Best digital product to sell on this marketplace
Their motto is: sell anything! From video lessons, monthly subscriptions, digital products, and physical goods… Gumroad was created to help you experiment with all kinds of ideas and formats.
Key features and helpful tips for using Gumroad
Simple e-commerce platform that offers a wide selection of tools

Create and customize your storefront with their all-in-one platform or choose to use your personal site instead

Build a loyal following with simple posts, email newsletters, and automated workflows

Accepting payments from a global audience

Let your customers pay what they want or choose between one-time, recurring, or fixed-length payments in your currency of choice

​​Create discount offer codes for your products, as a percentage or fixed amount

Using Zapier, you can seamlessly connect your Gumroad account to thousands of different apps
Platform prices 
Gumroad wants their creators to succeed, and not focus on fees or membership subscriptions. This is why their pricing model is very simple: they only take 10% flat of each sale and have no monthly charges. 
Read more: How to Make Money on Gumroad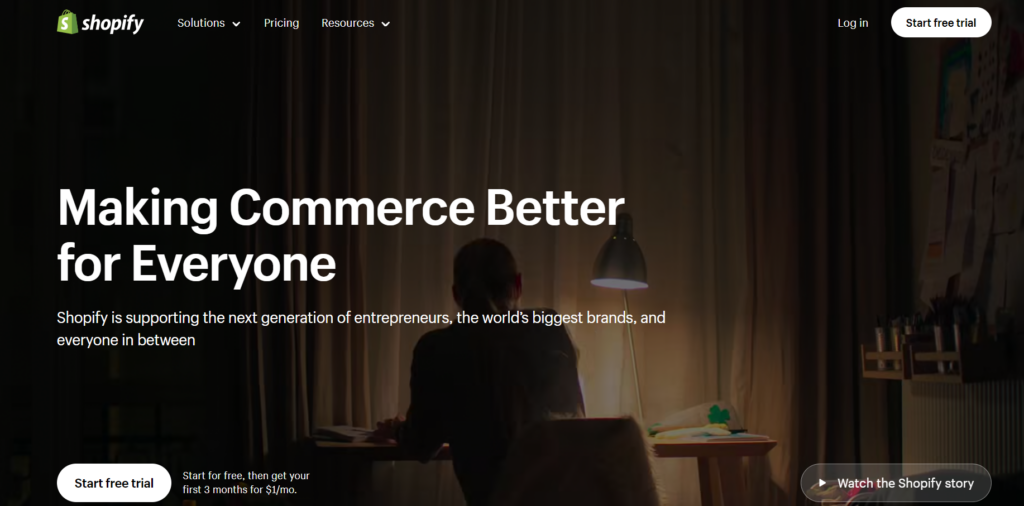 Shopify is a popular global commerce platform where you can build up your business of any kind, selling online or offline, however you want to run your business. 
Best digital product to sell on this marketplace
Use Shopify to build your custom online store just the way you want it. Using their online store builder, you can sell digital and physical products, and everything in between. 
Key features and helpful tips for using Shopify
No coding experience necessary – their helpful drag-and-drop store creator allows you to build the online storefront of your dreams

Extensive list of custom templates 

Add more features and functionality to your storefront using Shopify apps 

Back your business with Shop Pay – the one-click checkout that's built to convert

Leverage of their marketing tools to help with SEO tips, social media, and content marketing tools

Build custom email campaigns and access integrated messaging tools to connect with customers

Use their data analytics to track your growth and progress

Manage your money where you make it with their flexible funding 

Shopify offers 24/7 email and live chat support 
Platform prices 
You are able to start on Shopify for 3-days no charge, then enjoy $1/month for 3 months. Afterwards, they have different payment options with the ability to save 25% on yearly plans:
Basic ($51/month)

Shopify ($132/month)

Advanced ($517/month)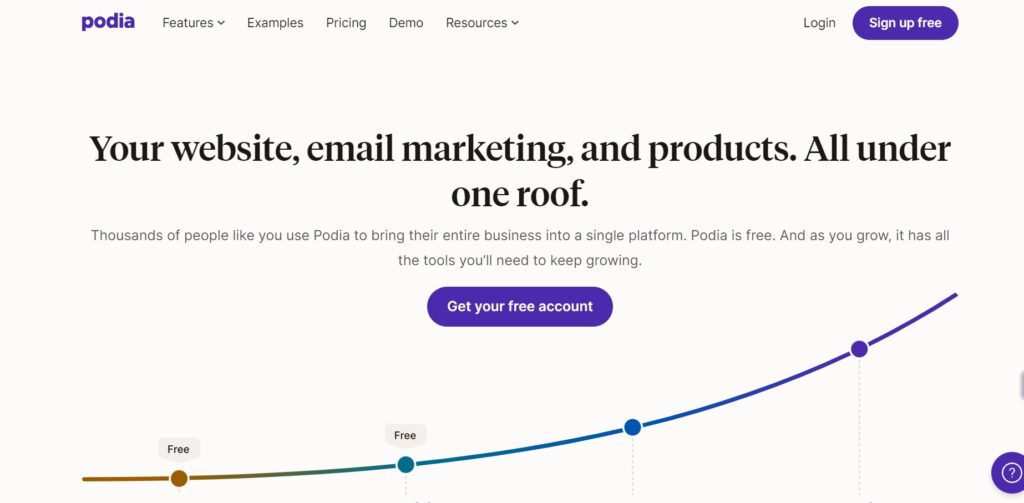 Podia is a professional website-building platform that puts your website, digital products, and community in one platform that's easy to use.
Best digital product to sell on this marketplace
Podia is a great place to sell your digital products hassle-free, especially for beginners. Sell anything from digital downloads, courses, coaching, ebooks, webinars, and workshops. 
Key features and helpful tips for using Podia
Sell directly from your website

No code or design skills needed

Flexibility to create paid communities, free communities, and memberships on a platform you own

Email marketing (with premade templates) is in the same place as your website, digital products, courses, and community

Your website is free forever

Access to hundreds of articles and resources, and a support team that's available 7 days a week
Platform prices 
Podia offers a free account with a full website that is yours to own. They only charge 8% in fees, or you can choose monthly plans (pay yearly and save 17%) with no extra fee charges: 
Mover ($33/month)

Shaker ($75/month)

Envato Market offers the ultimate creative subscription to help bring your entrepreneurial ideas to life – no matter what skill level. The two marketplaces under the Envato Market umbrella that are best for selling digital downloads include ThemeForest and Codecanyon. 
Best digital product to sell on this marketplace
The marketplaces under Envato Market give you the opportunity to sell anything and everything that's digital and creative, from website templates to stock footage.
Key features and helpful tips for using Envato Market
Maintain your identity, build your brand, and promote your work to the community – however you like

CodeCanyon

contains thousands of plugins, code and scripts for Bootstrap, Javascript, PHP, WordPress, HTML5 and more, allowing you to sell digital code-work

From WordPress to Shopify themes,

Themeforest

is a great market to sell premium website templates and digital artwork 

Join the discussion with fellow Envato Market Authors to get help and feedback

Simple and easy to use platform for staying on top of your sales and monitoring the best times to market your products
Platform prices 
There is no initial setup fee for Envato Market, but all your products must be approved before you can start selling them. This marketplace charges an Author Fee that depends on your level of sales and if you are working exclusively on Envato Market.
Non-Exclusive Author Fee: 55%

Exclusive Author Fee: 12.5% – 37.5%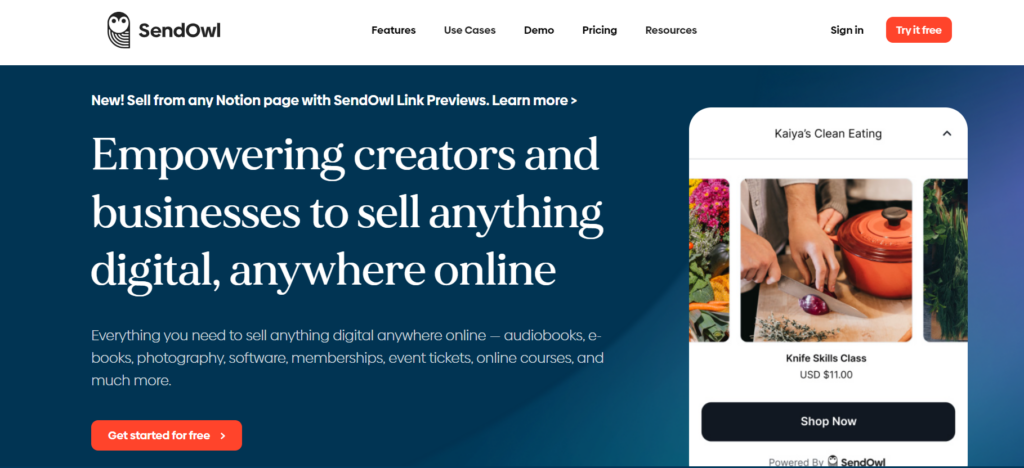 SendOwl is an all-in-one marketplace that empowers creators and businesses to sell anything digital, anywhere online. This platform gives you the freedom to choose how, where, and when you sell your digital products.
Best digital product to sell on this marketplace
From audiobooks, e-books, photography, software, memberships, event tickets, online courses, this platform gives you the tools to sell anything you desire. 
Key features and helpful tips for using SendOwl 
Integrate SendOwl with your existing website or blog – pair with platforms such as Linktree, Notion, PayPal, Stripe, or Shopify

Ability to sell anywhere with no-limit payment links (i.e. sell on social media or use their API)

No need for your own website to sell digital products 

Create your own checkout templates, custom checkout fields, embedded buttons, and email templates to provide a consistent branding experience

Automatic, fast, and secure

Limitless digital product instant delivery 

Automate and scale your marketing workflows with 1-click upsells, cart abandonment, affiliate marketing, and product update emails

Take advantage of a single feature, or bundle them together
Platform prices 
SendOwl offers a generous 3-month free trial, and then afterwards the monthly prices are:
Starter ($9/month)

Growth ($15/month)

Pro ($39/month)

Custom pricing available for high-volume selling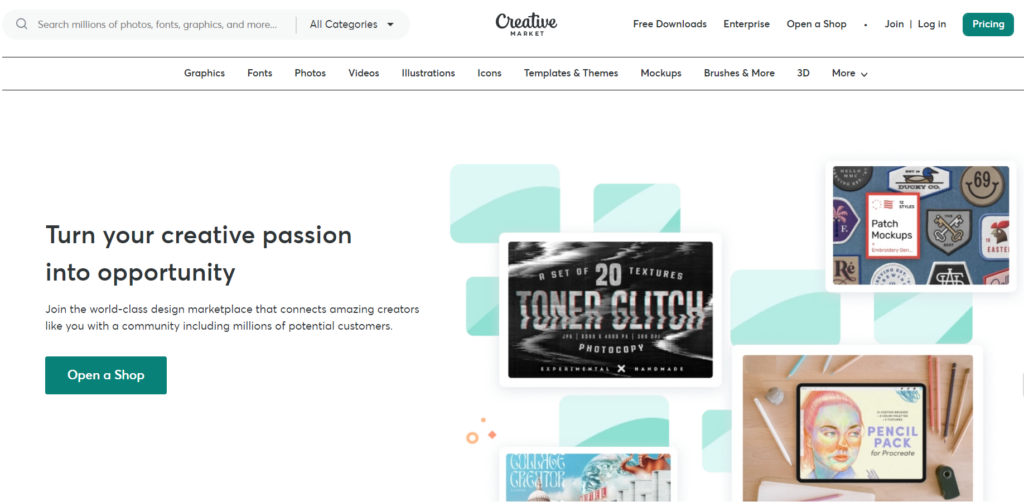 Creative Market is a world-class design marketplace that connects creators with a community of millions of potential customers. Turn your creative passion into opportunity when you open a shop with Creative Market.
Best digital product to sell on this marketplace
This platform is best suited for all of the visual artists out there – it's a marketplace designed specifically for niche artistic categories. You can sell anything from graphics, fonts, photos, illustrations, templates and themes, mockups, and more.
Key features and helpful tips for using Creative Market
Built-in user base, with a network of 10 million potential customers using the platform

No exclusivity lock-in – you can sell with them, on your own site, and beyond

No per-product approval, your product will go live instantly 

Instant delivery that's safe and secure 

Set your product's prices and change them at anytime

Includes a simple messaging system to respond to requests

Stay on top of your products with up-to-the minute stats
Platform prices 
Setting up a shop on Creative Market involves no initial setup fees, but your account must be approved before you can start selling your digital products. Once your account is approved, shops will earn 50% of their list price for each sale. Commission rates do vary per shop/product.

Sellfy has all the features you need to successfully sell your digital products in one place. They give you the option to sell your products however you wish – whether it's through your own Sellfy digital storefront or with their embed cart on your preferred platform.
Best digital product to sell on this marketplace
With Sellfy, you are able to sell just about any digital file imaginable. If you need some inspiration, some categories include: ebooks, online events, tutorials, digital art, online memberships, photography and effects, videos and films, just to name a few ideas. 
Key features and helpful tips for using Sellfy
Grow your revenue with built-in marketing tools

Discounts and coupon codes available to incentivise your customers

Let your customers choose how much they'd like to pay for your products with minimum pricing and no upper limit

Add as many products as you want and have unlimited traffic to your store with no extra cost

Host and distribute large digital files with up to 10GB per product

Secure and safe transactions
Platform prices 
Selly offers a 14-day free trial, and after that they have monthly plans with no transaction fees or hidden costs. They also include yearly and two-year price plans that are discounted: 
Starter ($29/month)

Business ($79/month)

Premium ($159/month)
Comparing the top marketplaces
Whether you want to add selling digital products alongside your 9-5 job, or if you are looking to solely work as a creator, selling digital products online has some serious advantages.
When choosing the best marketplace to sell digital products for your business, choose the platform that resonates with your professional business needs and goals. 
Think about what digital products you want to sell and compare which marketplace features are most important to you – we suggest using the free trials to your advantage to really get a feel for which marketplace works best for your business. 
Hopefully, these 10 marketplaces for selling digital products give you a solid foundation of what to expect from the journey of creating and marketing your digital projects. Happy marketplace hunting!