Black Friday can be a chaotic and challenging time of year for many businesses to wrap their heads around. With the ever-increasing demand for massive price cuts, discounts, and deals, many businesses feel pressured to please their consumers. 
However, as an online retailer, there are many ways to run a successful Black Friday special by adding value to your online course.
In this blog, we'll go through our ultimate 4-phase Black Friday Checklist that will help you create an irresistible online course offer that will not only boost your sales, but will attract and unlock new audiences. This article contains tips from our recent webinar sales funnel course with Neil Patel, and other accelerators we've run in the past.
Related: How To Promote Your Course On Black Friday Without Discounting
---
Get the Thinkific Black Friday deal. Everything you need to launch for less, plus a head start for just $396 USD.
60 days of expert online course training + 6 months of Thinkific Pro* + Free LinkedIn training & VIP webinar
All for just $396 USD for a limited time. BONUS: $100 in Fiverr credit

---
Here are the four phases to launching your online course during Black Friday:

---
PHASE 1
Get product-market fit
This is the crucial step before creating an online course product and brand. Before you create a sales funnel, you need to make sure there's a demand for your product. You can validate your course by first getting product-market fit. Once you have this, everything else gets a lot easier.
For this milestone, you can have a ready-made course, or decide to pre-sell your course before it's made.
The main goal is to test your product in the market. If you do not have a ready-made course, we suggest pre-selling your course before you build it. Running your first test as a live cohort experience enables you to get real-time feedback and help students get results faster. This close experience allows you to craft your content based on their needs without spending lots of time producing a course before validating it.
Once you're done with the first live course, you can then repurpose the recorded videos in your next reiteration and improve the content with every launch. Then, you can invest in new and better content once you've made sales.
Your #1 goal: Before creating a sales funnel for your online course, you want to make sure your course is going to meet the needs of your audience. You can consider your online course topic as "market validated" when you have proof that your audience would purchase it. You can do this before building your course content by pre-selling the course topic to your audience and earning sales. If you have a course, you will still need to test it with the market.
Step 1: Define Your Audience
A key step to building a successful funnel starts with the foundations – knowing exactly who you are  selling to and what they want. Start with a basic understanding and keep refining the knowledge of your ideal customer and how your product helps to solve their problems. The key is to refer to this information whenever you create content. You can skip this step if you already feel confident about your market niche, topic, and audience.
Step 2: Prevalidate Your Course
If you've already created your course, skip to Option B: Beta test a ready-made course.
Option A: Pre-selling
Imagine this: you spend months creating an online course only to launch to crickets. 
That's why, before you go on spending hours on a course, you want to create a test to confirm your assumptions that your audience will be interested in paying for it – this is called "validating the demand." 
You can do this by pre-selling your course before you make it and running your first course as a live experience.
We recommend running a live experience first, because it reduces your time to produce content while enabling you to gather real-time feedback for your test.
Option B: Beta test a ready-made course
If you've already created your course on Thinkific, we still recommend that you conduct a beta test launch to gather feedback from at least 10 people. You can choose to sell this course or simply run it for free to test your content.
When you test a course with your audience, it's important to collect feedback from students. This will help you reiterate your course based on things your students liked and disliked.

---
PHASE 2
Create your premium offer for Black Friday
When you have confirmed that there's a market for your course and that people will pay for it, it's time to take it to the next phase – turning it into a premium offer that allows you to charge your ideal price.
You can accomplish this through:
Stacking your value

Making improvements to your course offerings

Pricing your course
Stacking your value
You don't necessarily have to discount your offer to run a black friday promotion, there are other ways, and value stacking is one of them. 
There are several ways to stack value onto your offer, but the key here is to remember what kinds of assets will be most pivotal to the success of your students. 
Adding bonuses allows you to sell your courses at the regular price while also incentivizing customers to take action. The key here is to articulate the value of the additional bonuses so that customers realize they're getting a good deal. These include but are not limited to:
Strategy calls

Personal or group coaching

Access to a private group

A content piece, like a PDF, video, or email series
Think about your unique strengths, and what you could provide to best support your students. To make the offer more enticing, try offering bonuses with real scarcity (ie. limited time offer for those who want group coaching with you,  because you will only take 30 participants. Or a cohort-based course only accepting enrollments until a certain date).
Making improvements to your course offering
Now that you have planned how you will increase the value of your offering, it's time to plan how you'll make further improvements to your course itself, based on student feedback. Write down what you will do to improve your course before you launch. For example: Remove slide about X, dig deeper on X topic, clear up confusion on lesson X, and so on.
Pricing your course
If you were to break down each item you are offering in your course, how much would each item cost? Use this as a guideline for how much you can charge for your premium offering.
Alternatively, you can price your course based on your business goals. How much money would you like to make per launch/month? If you said $10,000/month, then you would need 10 sales at $1000, or 50 sales at $200. In either case, choose your ideal price and work to make the course match it's worth in value.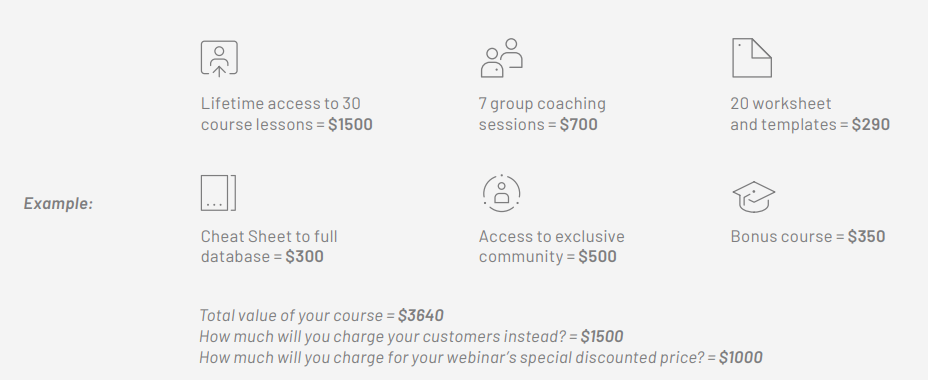 Bundles
If you have more than one online course, consider bundling two or more of them and selling that bundle for a better price than if someone were to purchase each of the courses individually.
We get it, you may not want to water down the perceived value of your course with discounting – that's not what we're saying here. Offering a discount to incentivize your customers to make bigger purchases is a perfectly valid strategy.
For example, Miss Excel offers three courses priced individually at a price of $738. But students can purchase them all together as a bundle for $497.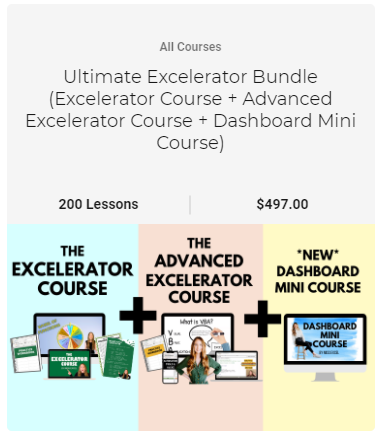 Students win because they're getting more content for less, and Miss Excel wins because bundles increase her average revenue per customer.
Setting up bundles in Thinkific is really easy. You simply create a new bundle like you'd create a new course, and then select the courses that are part of that bundle.
For Black Friday, you can create a bundle that's public for a limited time and then set it as Private so that it's no longer available after Black Friday weekend to help create urgency for your customers.
Coupons
With Thinkific, you can create a coupon code that discounts your course by a specific percentage or dollar amount. You can (and should) also set a limit on the coupon (so that a limited number of people are able to use it) or an expiry date (so the coupon no longer works after a specific day). 
Both of these options help to create a sense of urgency among your prospective customers and gives them an incentive to purchase your course right away.
---
PHASE 3
Launching your course: Sales & Marketing
By now, you should have an offer that you're ready to take to market.
Related: How to Market Online Courses
Step 1: Designing your course's sales page
The first step, which you may have already taken if you chose to presell a course, is to create a sales page for your course.
Your sales page has one goal, and that is to persuade the reader to sign up for your course (even if your course is free!). That's it. Every word on your sales page must contribute to the accomplishment of that goal.
Here a few key elements of a high converting landing page:
A compelling headline

– Effective headlines clearly state both the offer and your unique value proposition. Your sub-headline should fill in the blanks by adding in additional key details.

Visuals –

An eye catching image or introduction video.

A unique value proposition (UVP)

– Like an elevator pitch. Who is your course for? What does it help them do? And why is that beneficial to them? For example, "My course helps

couples

learn how to

communicate with each other effectively

so they can

argue less and enjoy a loving and fulfilling relationship together

."

Copy

– Is your landing page copy readable? Is the font legible? Does it compel the reader to take action?

Urgency

– Adding terms like "now," "limited time offer," and "act today" can all compel sign ups.

Risk Reversal

– such as money back guarantee, or a trial.

Social Proof

– what are past students saying about your course?

Social Proof

, such as reviews and testimonials help reinforce the value of your offering with trust.
The success of your marketing is measured by the number of clicks to your landing page; and the success of your landing page is measured by the conversion rate from visitors to customers.
Step 2: Launching your course
What is a course launch?
A course launch is a marketing campaign sent to your existing audience, that serves to build awareness of, and facilitate enrollments in your online course – within a set period of time. Course launches are typically done over a period of 3-4 weeks, via a series of emails or social media posts, and consist of three phases that take as many people from your audience from 
Unaware → Problem aware → Solution aware → Most aware
The three stages of a course launch are:
Creating awareness and building hype

Official launch/cart open

Cart close
A. Creating awareness and building hype:
Here, you begin by addressing your audience's problem (through your content) with NO mention of your course whatsoever. 
For example, if you teach dog training, you could share a listicle of the top ten signs your dog needs training – but that's it. Meaning, you should not be doing any direct selling of your course, or leading customers to your sales page yet! 
At the very most, you may want to mention that you're working on "something big" and that it will be launching soon, but really, this phase is about priming your audience, and getting them into the right mindset for your course launch.
B. Official launch/cart open:
Now is when you'll start sending customers to your sales page. Your campaign's focus at this point is to get as many people as possible to purchase your course. This phase will be the bulk of your launch campaign, and can be broken down further:
Launch

Problem

Solution

Benefits

Social proof & FOMO

FAQs & Risk Reversals
C. Cart close:
In the last 2-3 days of your campaign, you'll want to ramp up your touchpoints, communicating with your audience much more frequently to keep their attention, and to keep your course top of mind right before closing your cart, for those who are still on the fence.
When should I launch my online course?
You should only launch your online course once you have a completed product – beta versions are fine, but it shouldn't be missing entire modules, or other large components of the course's offering. The exceptions are if you'll be using a drip schedule to release your content slowly over a number of weeks, or delivering content live. In these circumstances, you can continue to work on your course content as you go – so long as you have a very clear idea of what needs to be done, and you aren't 'winging it' week-to-week.
Note: Your first launch will likely be most popular with the people in your audience who are already ' warm' to your brand (since you've already been priming followers with your content and/or community). Therefore, it's also important to plan to think longer-term about how you'll bring a new audience to your course after your initial launch. You'll need to eventually create a way to consistently drive traffic to your course, ie. a growth engine. Luckily, your initial launch gives you a great headstart on that, as it allows you to create a basic online course sales funnel which you can build upon over time.
Step 3: Automate your funnel with Lead Nurture:
Automation means setting everything on autopilot. You automate when you know your sales funnel is working to help you save time and scale its impact on your business. It's like doubling down on a bet you know will win.
Most people want to jump straight to automation, but automating something you aren't sure actually works isn't a good idea. Skipping to automation too early could mean doubling down on something that isn't going to help you grow your business. When you are just starting out, sometimes you will have to be more hands-on before you can automate and scale.
In our guide, we've outlined a launch sequence spanning 30 days and provided templates for each step for you to use or get inspired by.
Example Funnel: Build a simple webinar sales funnel:
Before creating a massive funnel, you want to start simple at first and experiment and grow over time. Hence, this milestone is about getting started with a MVP sales funnel. The most important thing is to get started and learn each part of the process, so that you may refine and test each part of the process over time. Your goal here is to create and set up a simple webinar sales funnel to launch your premium course as a first test.
Create and setup your webinar:
Once you've validated your course, it's time to create the webinar to sell your course. This is the #1 marketing asset that will sell, so it's important that you spend time providing value to your audience.
Create an email campaign:
Now that you've set up the webinar, you will need to get people from your email list into the webinar where you can then show the value you can offer and give your sales pitch.
This is where email marketing comes in, one of the most important parts of a successful sales funnel. Start with six emails first and then work your way up to more complex strategies as you experiment.
Setup a closing strategy:
Your closing strategy comes right after your sales pitch in the webinar. Here is where you direct leads to purchase your product. There are a few options for closing a sale. You can direct customers to:
A purchase page. (where they input their credit card details)

A course sales page.

A sales letter email.

And/or a consultative sales call.
You can use a single method or try using a combination like pushing webinar attendees to book a consultative sales call and sending those who missed the webinar to a sales page. The most recommended way to start is to close with a consultative sales call, because you are better able to understand your customer problems and help them see the benefit of your product while gathering useful feedback on your target audience for future launches.
Sometimes, you have to start in an unscalable fashion, before you can automate and scale. You first want to make sure your funnel converts well, and that happens by starting small and digging deep.
Launch and test:
By this point, you should have everything prepared for your launch campaign: webinar, emails, and closing strategy. NOTE: Test the entire funnel first as a customer before launching it completely. You can send the email to a friend to help go through the entire process to ensure there are no typos, missing links, or broken experiences.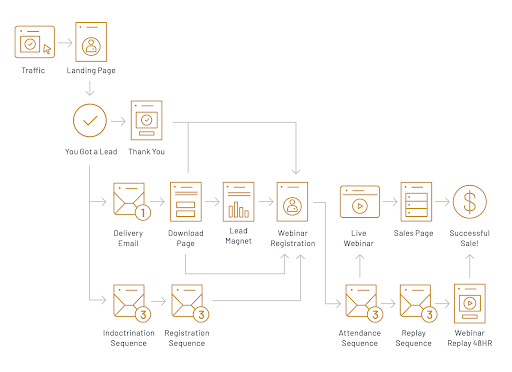 Step 4: Drive more traffic to your sales funnel
Without a steady stream of new traffic you can't keep testing your sales funnel. If your current traffic strategy is not working (or if you don't really have one to begin with), below are a few strategies Neil Patel's team has shared as effective ways to grow your traffic.
Paid advertising:

Pay-per-click advertising

Use Facebook retargeting ads, and then

integrate Google Pixel with Thinkific

Social media:

Use

Facebook Groups

Partnerships

Partner with someone and send a dedicated drop-in email

Be a

guest on a podcast

or

start a podcast

Recruit affiliates

to promote your course for commission
Note: Paid advertising is a great way to get more customers fast, but it's a strategy that's only recommended once you have product- market fit, a sound understanding of your customer, and you're willing to spend time and money honing your strategy (i.e. willing to lose some money figuring things out for a later return).
Related: 57 Ways To Market Your Online Course & Increase Sales in 2021
---
PHASE 4
Experiment, grow, and scale
Once you've built a sales funnel, the next step is to keep experimenting and optimizing it for higher conversions. Ultimately, you want to build a sales funnel that converts well before putting it on autopilot.
If you are here, it means your course has product- market fit and you have a sales funnel ready to experiment with and improve. 
This is where you start implementing more advanced tactics shown in the course like building partnerships that help you generate 7-figures. 
Keep in mind, partners only make money when you make money, so that's why you NEED a funnel that works well before you can do that.
Analyze and experiment
Before knowing what elements of your sales funnel to experiment with first, it's important to find problem areas to prioritize your efforts. 
As you continue testing your sales funnel, you will also need to drive more traffic into your sales funnel. This is the phase where you build a growth engine and earn more revenue in your business.
It's important to set up ways to get feedback on your course content from your students – like feedback surveys. With that in place, you can then launch and sell your course knowing you've created a feedback loop for yourself to help you improve your course post launch.
Scale up
Most successful online course business didn't happen overnight. They started with humble beginning and testing before they were able to build their full funnel and start scaling. If you've reached this stage, congratulations!
Once you have a mix of promotional activities that convert well, it's time to grow and scale exponentially. This is where you can take a funnel from $10k or $100k to the millions and really start building a big brand.
At this point, you should have been testing out your main traffic strategy and gaining traction. To grow, you'll want to start diversifying your traffic strategies to drive even more traffic to your automated sales funnel. You can also start scaling by introducing and upselling new products.
---
Ready to launch your course for black friday?
Get the Thinkific Black Friday deal. Everything you need to launch for less, plus a head start for just $396 USD.
60 days of expert online course training + 6 months of Thinkific Pro* + Free LinkedIn training & VIP webinar
All for just $396 USD for a limited time. BONUS: $100 in Fiverr credit

This blog was originally published in November 2020, and was refreshed November 1st, 2021.